52 Views
August 19th, 2020 12:00 AM
We're committed to finding, researching, and recommending the best products. We earn commissions from purchases you make using links in our articles. Learn more here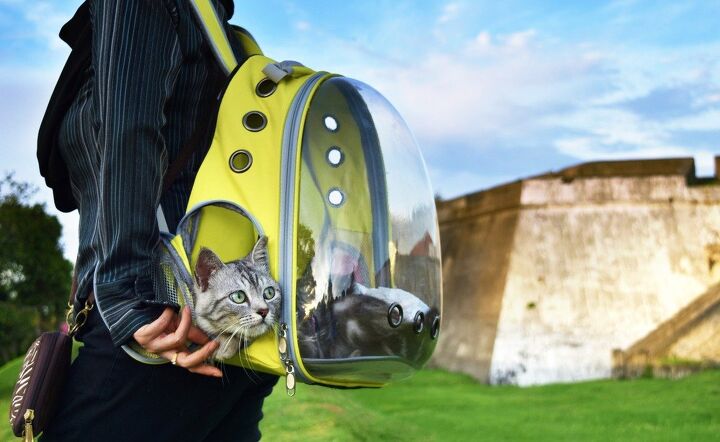 Are you in search of a cat carrier that you can wear as a backpack to make it easy to transport your pet or head off on a fun adventure in the great outdoors together? Well, there are a lot of these products on the market today, so you can select the one that will fit all your needs while also giving your frisky feline a comfortable place where she will feel safe and secure until you reach your destination.
What to Look for in a Cat Backpack
When shopping for a backpack for cats, pet owners often look for features like cushioned, adjustable shoulder straps that ensure a secure and comfortable fit, a soft interior for their kitty, and a reinforced structure that ensures the backpack will maintain its shape while in use.
Beyond that, a product that gives you storage pockets, and that has plenty of windows for your cat to see outside and get plenty of fresh air, is also worth looking into. And you want a backpack that will be easy to clean and simple to store away when you aren't using it.
To help you find the right cat backpack, we have compiled a handy list below. The products are showcased in no particular order, but they give you an idea of the myriad options available.
1. Gen7Pets Geometric Roller
The airline approved Gen7Pets Geometric Roller with Smart-Level Dog & Cat Carrier Backpack is a versatile product. You can wear it as a backpack to carry your cat around, but you can also carry your pet by hand while she's inside. And you can even use the wheels to roll the carrier along. Plus, this product also features safety tethers and a seatbelt strap that will help keep your furry companion safe and secure when traveling by car.
Because it has a Smart-Level Platform, the odds of your pet tipping over are reduced even when you are pulling this backpack carrier. At the same time, the Smart-Comfort Pad, which is machine washable, will ensure that your feline friend will be super comfortable while in this backpack.
This backpack for pets features front and top doors that are made of mesh, and there are also mesh side windows, so your kitty will have a great view of what's going on around her, and she will get plenty of airflow as well—that's important! Plus, for your convenience, there are storage pockets on the sides that you can use for things that your adventure cat would need while on the go, such as her leash, toys, and treats.
This is a medium size backpack that comes with a 1-year limited warranty. It can hold up to 20 pounds of weight. Interior measurements are 15" x 9" x 16", while the exterior dimensions are 18.5" x 11.5" x 18.5", so you can be sure your cat will fit comfortably inside.
2. Primetime Petz Hauspanther KittyPak Collapsible Cat Carrier Backpack
Another option in the world of backpacks for kitties is the Primetime Petz Hauspanther KittyPak Collapsible Cat Carrier Backpack, which features a really fun and cute design of a cat's face. This unique product has two transparent windows that make it easy for your pet to see what's going on while you take a walk with her, and there's also a mesh door that provides ventilation for fresh air.
What's also nice about this backpack is that it has shoulder straps and a sternum strap that are adjustable, and the shoulder straps are padded, so you can find the most comfortable fit when you want to take your cat out for a little adventure. Then, when you are all done using the backpack, you can fold it flat to store it away easily.
This backpack is designed to hold up to 10 pounds, so if your kitty weighs more than that, this would not be the right product for her. Also, the interior dimensions are 16" x 9" x 8", and the exterior dimensions are 16" x 9" x 12.5", so you can also take that into consideration when determining if this backpack would be large enough to let your cat turn around, sit, and stand in it comfortably.
3. Pet Gear I-GO2 Escort Cat Carrier Backpack
With the Pet Gear I-GO2 Escort Cat Carrier Backpack, your furry friend will have a cozy place to sit while being able to watch the scenery go by as you walk. But what's really nice about this backpack for you is the fact that it can be used five different ways.
In addition to being able to wear it using the shoulder straps, you can also carry it like a tote, and it can act as your cat's carrier whenever you need to take her somewhere. Or, you can use it as a car seat to keep your pet secure while riding in your vehicle. Plus, you can use it as a roller bag on wheels with a telescoping handle to make travel with your fur baby easier on both of you. And you can use it to take your cat on a plane as well.
On top of all of that, this backpack, which measures 14" x 9" x 19", also has sides that you can extend out to give your cat even more room (an extra 3") while she is on the go. The pad that is inside for her comfort can be removed to make it easy to clean whenever you want.
The storage pouches on the side allow you to pack whatever you need to take with you, such as cat treats or your pet's leash so she can go for a walk in the great outdoors. And, for extra security, this backpack also features a tether that you can attach to your kitty's harness.
4. JesPet Dog & Cat Carrier Backpack
The JesPet Dog & Cat Carrier Backpack is designed to be durable, lightweight, portable, waterproof, and foldable, and it's great for short excursions into the outdoors or long travels with your furry best friend. Plus, it's airline approved.
This pet backpack is spacious and well-built, and it features a large mesh door on the front, along with another on the top, so your cat will be able to enjoy the view. Plus, the panels on the side will help provide extra airflow. She'll feel secure, safe, and comfortable, and this backpack should also be roomy enough for your pet to stand up and turn around with ease. Also, the soft fleece pad, which is removable and washable, will ensure your kitty is nice and cozy too.
For your convenience, there are pockets on the side where you can store things that you need to take with you when you head out with your pet. Plus, the handle and the shoulder straps are padded for your comfort, the material on the back is ventilated, and there are waist and chest straps to help you achieve a snug fit that minimizes bounce when you walk so your kitty can feel at ease.
Measuring 17" x 13" x 12", this product also boasts a reinforced structure that keeps it from collapsing while your pet is inside. There are self-locking zippers, and there is a safety clip built in as well.
5. Petique 5-in-1 Pet Carrier
The 5-in-1 Pet Carrier from Petique is another great choice when you are looking for a versatile cat backpack that you can use in various ways. It is approved by most airlines, it's collapsible so you can store it away easily, it's made using heavy-duty materials, and it's lightweight.
You can carry this product using the strap handle, you can roll it on the ground using the wheels and the telescoping handle, or you can wear it on your back with the backpack straps. In addition to all of that, it can also be used as a car seat for your fur baby, as well as a stroller if you secure it onto a stroller frame, which is sold separately. Plus, you can even attach it to your luggage to make travel easier.
Other nice features include the five pockets that make it easy to pack everything you need for your excursion with your kitty, and the big ventilated windows that give your pet a good view and good ventilation. On top of that, the four entryways give you plenty of options when it comes to getting your cat into and out of this carrier.
The cushion cover inside the carrier, which can provide your pet with a comfortable spot to relax on, is machine washable, and you can also spot clean this backpack as needed. This product measures 13" x 11" x 20.87", so you can figure out if it is roomy enough for your companion.
6. Snoozer Pet Products Roll Around 4-in-1 Travel Dog & Cat Carrier Backpack
What immediately stands out about the airline approved Snoozer Pet Products Roll Around 4-in-1 Travel Dog & Cat Carrier Backpack is the large mesh window on the front. If you want to provide your kitty with the most visibility possible, this is a good place to start. In addition to that, there are mesh panels on three sides of this backpack, so it's also a great choice when you want to ensure your pet will always get plenty of airflow.
This is yet another product that comes with a convertible design, so you can use it as a backpack, as a car seat, and as a carrier on wheels with the multi-stage telescoping handle that you can set to the right height for your needs. It can even be used as a pet bed.
This backpack, which comes with a 1-year limited warranty, is available in two sizes: medium and large. To determine which one is right for your cat, check out the dimensions. The medium size is 11" x 14" x 20", and it can hold up to 15 pounds. The large, on the other hand, measures 12.25" x 15.5" x 23", and it can hold up to 30 pounds.
7. Texsens Innovative Traveler Bubble Backpack Pet Carriers for Cats and Dogs
Texsens Innovative Traveler Bubble Backpack Pet Carriers for Cats and Dogs are also designed with large mesh windows to give your furry companion a great view of what's going on. In fact, this product provides 180° viewing, along with a skylight window and three entrances, which is unique.
To make it easier to carry your cat securely and comfortably, this product also has chest buckles that can help reduce the burden on your shoulders, as well as prevent the shoulder straps from slipping.
The interior of this carrier features a cozy mat for your cat, and it's removable for cleaning. Plus, this product is sturdy and scratch-resistant, it is airline approved, and it's designed to make it easy for your kitty to stand up and sit down comfortably.
8. KOPEKS Deluxe Travel Airline-Approved Dog & Cat Carrier Backpack
Another good option in the world cat backpacks is the KOPEKS Deluxe Travel Airline-Approved Dog & Cat Carrier Backpack. It makes it simple to take your pet with you when you're on the go, thanks to the handle with reinforced stitching, the adjustable shoulder straps, and the telescoping handle and smooth spinning wheels that give you three ways to carry it.
Boasting oxford fabric, this backpack provides your kitty with plenty of visibility for those little adventures into the great outdoors that she loves. Thanks to the three ventilation mesh panels, she will also enjoy plenty of airflow. And the two big pockets on the sides will ensure you have room for the little things you want to take with you when you head off.
This backpack measures 13" x 12" x 20", and it is airline approved. However, it is important to note that it is not recommended for cats with chewing behavior.
9. PETKIT Cat Backpack Carrier
You have likely already seen some of those backpacks with the circular bubble window that lets your cat look out. Well, the PETKIT Cat Backpack Carrier is similar to those. Quite different from the other products on this list, this is another option that is worth considering. It has a larger window to give your cat good visibility, and it is a dark brown window that is designed to reduce the environmental stimuli that might bother your cat.
This durable, lightweight (it weighs about 3 pounds), and ergonomic backpack has a ventilation system that provides plenty of air circulation with vent holes, mesh, and a mini fan that is built in and has settings you can choose from. It even has an LED bulb built in to provide some light at night. And, for your comfort, there is a shock absorbing back plate, ventilated back pad, and shoulder straps that are designed to reduce the amount of pressure on your body.
Appropriate for cats weighing less than 18 pounds, this airline approved backpack measures 13" x 12" x 18", and it also features reflective tape, three buckles on the inside to help keep your pet secure with a harness, a hidden back pocket, a self-locking zipper, and a back panel that is foldable when you unzip it.
10. K&H Pet Products Backpack Pet Carrier
Finally, there's the durable K&H Pet Products Backpack Pet Carrier, which is designed to allow you to comfortably carry your cat around while leaving your hands free. It features adjustable straps, along with side pockets that are convenient for packing what you need. Plus, you can also buckle this carrier into your car by using the attached strap. And, when not in use, you can break it down easily for storage.
The large zippered mesh window/doorway on the front will allow your kitty to enjoy the fresh air while taking in all of the views. And you can enjoy greater peace of mind, too, thanks to the tether that's included and will attach to your pet's harness for additional security and safety. Plus, the sherpa pad inside is removable to make it easy to clean, and this product comes with a 1-year limited warranty.
Head Outside Safely with Your Cat by Using a Pet Backpack
With the right backpack that suits your needs, as well as your cat's needs, you can confidently head outside to let your kitty enjoy some fresh air, sunshine, and exhilarating sights and sounds. Just be sure to read the specifications before making a purchase. That way, you can be sure you'll get a product that's strong enough to support the weight of your pet, as well as large enough for her to be totally comfortable and at ease. We hope our list above has helped shed some light on what's available!

Lisa Selvaggio
Lisa Selvaggio is a freelance writer and editor, and our resident cats-pert, with certifications in pet nutrition and pet first aid. She enjoys producing content that helps people understand animals better so they can give their pets a safe and happy home.
More by Lisa Selvaggio
Published August 19th, 2020 12:00 AM