2.3K Views
Best Cat Food Storage Containers
September 29th, 2021 12:00 AM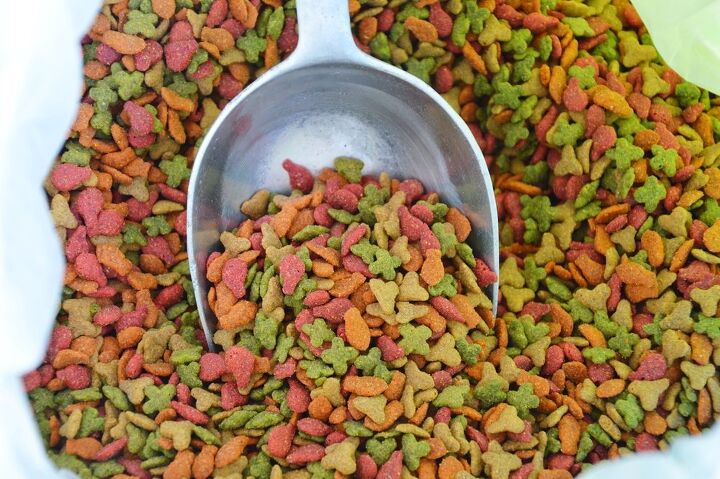 Once you open your bag of kitty kibble, where do you store it? If you're looking for a solution, we've got our list of the best cat food storage containers.
If you feed your cat dry food, purchasing a good quality pet food storage container is a smart move. Rather than opening up a bag of dry food and then leaving it to be exposed to humidity, air, and pests, a good storage container will create an airtight seal that can help keep moisture and insects out. This may help maintain the nutritional quality of your pet's food by preventing it from degrading and spoiling quickly, and it might also help reduce the risk of bacterial contamination.
Whether you're looking for a small container that's easy to pick up to pour food into your cat's bowl, or you would prefer a large container with wheels that can hold a lot of food for several kitties, there is something for every pet owner. In addition to looking at dimensions, though, we also recommend always reading through a product's details carefully to ensure it is made of high-quality materials like food grade plastic that is safe for pets.
Below is a compilation of some of our top picks of the best cat food storage containers available, listed in no particular order. These can help keep your kitty's food fresh, and they are easy to clean on a regular basis too. After all, you should thoroughly wash and completely dry your pet's food storage container every time it goes empty so you can remove residues and oils that are left behind on the plastic.
1. Editor's Choice: Paw Prints Pet Food Storage Container, 15-lb
This 15-pound food storage container by Paw Prints features a modern marble print with the words meow the front, and it can help keep your furry friend's food nice and fresh, thanks to the airtight gasket-sealed lid.
This product is made of BPA free plastic, and it also comes with a 1-cup scoop that conveniently locks into the lid. And it can sit flush against a wall so you can store it out of the way while still keeping it within easy reach when you need to feed your pet at mealtime.
When your cat's dry food is stored in this container, it will be less likely to go stale. Plus, this product is easy to clean and durable. All you have to do is hand wash it with some dish soap whenever necessary, and then dry it well to ensure no water or moisture remains before filling it up again with more of your kitty's food.
2. Runner Up: IRIS Airtight Food Storage Container & Scoop Combo
The IRIS Airtight Food Storage Container and Scoop Combo is a really convenient option because it includes both a 25-pound (33-quart) dry food container and a 10-pound (12-quart) treat container, which are stackable, along with a 2-cup food scoop. The storage containers feature airtight seals, as well as snap-lock latches that will help keep everything from pests and moisture, to humidity and your curious kitty, out. This means that, with this one product, you can keep all of your cat's dry food and treats fresh, dry, and tasty.
Another nice feature is the fact that these containers are transparent, so you can quickly see just how much food is left before you need to purchase more. Plus, because it has four rotating casters, you can simply move the container to wherever you need it to be for easy access.
Also, when you need to clean this container, you can wash it by hand with warm water and nontoxic soap. And you can remove dried-on residue with a plastic brush or sponge, before rinsing with water and allowing it to air dry completely. Then, just fill it up again with more dry cat food.
This food storage container comes in multiple color options, including navy/gray, garnet red/gray, blue moon/gray, chrome/black, pink/white, brown, and dark gray. It is made using heavy duty, FDA compliant food grade polypropylene plastic. The plastic is BPA free and acid free, and this product is made in the USA.
3. Best Durable: Gamma2 Vittles Vault Plus Pet Food Storage
The Gamma2 Vittles Vault Plus Pet Food Storage container comes in several size options, including 15 pounds, 20 pounds, 25 pounds, and 35 pounds. Designed to keep your kitty's food fresher for longer, this container is made of food grade plastic that is heavy duty for durability.
This product also has an easy opening screw lid that creates an airtight seal to keep pests and moisture out. And it comes with a measuring cup that makes it easy to scoop out the right amount of food for your companion. To close and seal this container, you just have to spin the lid to let it close to the perfect setting.
This cat food storage container, which is made in the USA, boasts a space-saving square design, along with a granite stone finish, so it's a little different from a lot of the other options on the market. Plus, it is BPA free and BPS free, it can keep food odor contained within the container, and it is easy to clean, as you can put the container in the dishwasher and wash the Gamma Seal Lid by hand.
4. Best Airtight: Bergan Smart Storage
The Bergan Smart Storage pet food container has an airtight gasket seal that can help keep your kitty's kibble fresh, and it is also designed to keep insects out. Plus, it is made of durable, BPA free plastic. And you can select from three sizes: small holds 10 pounds, medium holds 24 pounds, and large holds 50 pounds of food.
The large size is stackable, so if you need more than one container and you want to save space, that's definitely a convenient feature. And the small and medium sized options make it easy to pour the food right out of the container and into your pet's bowl. No matter which one you choose, the lid will snap securely into place for peace of mind, knowing your pet's food will remain fresh. And like other products on this list, this plastic food storage container will also be easy to clean on a regular basis as well.
5. Best Dispenser: Buddeez Bag-In Pet Food Dispenser
With the Buddeez Bag-In Pet Food Dispenser, you can rest assured your cat's food will remain as fresh as the day you first opened the bag. This container is made in the USA, and it is made of food grade, BPA free plastic.
What makes this container unique is the fact that it boasts what's known as a "bag grabber" design. This lets you keep your pet's food in its original packaging, so it's one less thing you need to worry about because you won't have to empty the bag into the container and then scoop the food out or pour it out. And this also means that you can keep the food's packaging, just in case you need the product information on the label for any reason. Plus, some pet owners prefer this type of container because it means the food won't be exposed directly to the plastic, and this might help with keeping the container cleaner for longer. And the fact that the container is clear means you can see the bag that's inside, which is convenient if you have more than one pet and they consume different foods.
You can choose from 3 sizes, including a 6-quart option that can hold up to 8 pounds, an 8-quart option that can hold up to 10 pounds, and a 16-quart container that can hold up to 18 pounds. No matter how big or small this container is, though, it is designed to make pouring your cat's food into her bowl easy and comfortable, thanks to the container's EZ-Grip handle and EZ-Pour spout. These features allow you to pour your pet's food into the bowl without making a mess.
6. Best for Decor: Morezi Pet Food Container with Scoop for Cats
An elegant and practical way to keep all your kitty's chow and yummies in one place, this container will make sure that the food stays fresh and that the style matches your kitchen instead of sticking out like a sore thumb. Made from sturdy and durable carbon steel, it is completely pet safe and will last you for years to come. All the better because the retro farmhouse style never goes out of fashion!
Morezi Pet Food Container comes in grey, white, or black, and has a sturdy and elegant wooden handle. This stylish container can hold up to 5 lbs of yummy goodies. And as an additional bonus, this container comes with a matching steel scoop for measuring out kibble for your pet's meals.
7. Best Basic: Van Ness Pet Food Storage Container
The sleek Van Ness Pet Food Storage Container comes in several sizes, including 5 pounds, 10 pounds, 25 pounds, and 50 pounds. Designed to provide value and quality, this food storage container for pets is made with U.S. FDA food contact approved plastic and colorant, so it is safe for animals and their owners. And, thanks to the airtight seal, you can rest assured that the food will remain fresh for longer, and you don't have to worry about pests and moisture getting into the food and spoiling it.
These containers are also designed to be simple to lift, thanks to the easy grip handles on the bottom, and they are transparent so you can clearly see how much food is left inside and when you need to refill it. Plus, both the 25-pound and the 50-pound options have four removable wheels that you can use whenever necessary to quickly and easily move the container to wherever it needs to be for added convenience.
Below is a breakdown of the dimensions for each of the sizes available, so you can select the one that will hold enough of your pet's food while still being compact enough to fit in your home without being in the way.
The 5-pound container measures 10.13" 10.75" x 6.5"
The 10-pound container measures 10.13" x 10.75" x 12.5"
The 25-pound container measures 12.5" x 14.5" x 16.25"
The 50-pound container measures 17" x 17.88" x 20.5"
8. Best with Wheels: IRIS Airtight Pet Food Storage Container, Clear/Almond
To help keep your cat's food fresh, you can also check out the IRIS Airtight Pet Food Storage Container. The 15 quarts capacity container can hold 12.5 pounds of food, and thanks to the wheels on the bottom, it is easy to move around.
The container itself is clear, so you can see how much food is still left inside, making it easy to determine when you need to purchase more. It is made of durable plastic that is BPA free. And the airtight seal made by the almond colored cover helps ensure moisture from humidity, as well as pests, are kept out so you don't have to worry about the food going stale or developing mold. Plus, when you need to scoop the food out, the top is wide enough to make it easy to do so.
9. Honorable Mention: Komax Biokips Large Food Storage Container
In multi-cat households, organization is everything and a large, airtight food container such as this one can really make your life easier. Meant to hold up to 10 lbs of dry cat food, Komax Biokips Large Food Storage Container will keep the kibble fresh and protected from insects, rodents, or your curious feline friend. The lid is airtight but the food is easy to access (to you, not your pet) through a door hatch, so you won't have to open the whole lid every time you refill your pet's bowl. It also comes with a measuring scoop (holds a cup of kibble) so you can easily portion your pet's meals without any trouble at all.
In addition to being heat-resistant and dishwasher safe, this cat food container is also made from food-grade BPA-free recyclable material that is fully safe for pets and humans alike. Best of all, Komax Biokips Large Food Storage Container is stackable, so you can get a few of these to store all your pet's food and treats while saving up on space.
10. Also Consider: Green Joy Pack Pet Plastics
We love this pair of pet food containers. It is always helpful to have more than one flavor on hand so the two containers work perfectly. It comes with its own connected measuring cup so you will never have to guess how much to dole at dinner. And because I am a little messy, the funnel top ensures that I am not going to end up with a kitchen counter covered with Princesses favorite kibble! They have created a comfortable carrying and pouring design that will make sure you are able to grasp on to the container no matter how full or how empty. It has a tight seal and is compact enough that it can be kept in your kitchen cabinets. It is easy to take apart and wash in your dishwasher and made of pet-safe material that has no smell and won't leak harmful substances in the food. Fill 'em up with your cat's favorite food flavors or treats and enjoy a stress free feeding. Each of the containers has a 2.5 liter capacity, which means they hold 2 pounds of dry food per container.
Storing Your Cat's Food to Ensure Freshness Is Easy with the Right Container
Feeding your feline friend a high-quality diet is important, but if you aren't storing it properly, you might end up giving your furbaby food that isn't as nutritious as you think it is. With the right cat food storage container, you won't have to worry so much about pests making their way into the bag of kibble, or moisture causing your pet's food to spoil right away. We hope the list above has given you a better idea of what's out there so when you're ready to purchase one of these containers, you can make the right choice for you and your companion.
What should I consider when choosing food storage containers for my cat?
When choosing food storage containers, the first thing to pay attention to is the size and the capacity of the container. You want something that will not be too bulky and clunky in your kitchen but capable of holding enough food for one or multiple cats. The next feature to consider is the material of the container: you want something durable and pet-safe, such as BPA-free plastic, stainless steel, powder-coated metal, or silicone. Whichever material you opt for, though, make sure that it has a tight-fitting lid and an airtight seal to keep the food fresh and safe for as long as possible. Last but not least, there are various design perks and features, such as wheels on the bottom, bonus scoops, or pour spouts, that could make or break your choice.
How long can my cat's food last in a storage container?
When stored in a quality container with an airtight seal that doesn't let air in or out, your cat's food can last in it for up to 6 months. While this is the maximum time food can last inside a tightly closed container, it's best if you don't rely on it to keep the food fresh for months at a time. It's better to buy smaller quantities of food if needed, to avoid situations where air leaks through the lid and makes the food go stale.
Does dry cat food go bad once opened?
It all depends on the way you are storing it. If you just open the bag and leave the food inside it, especially if it's somewhere where it's not cool, dark, and dry, it will go bad real fast. On the other hand, if you store the food properly (inside a food container), it can last for up to 24 weeks after the bag has been opened – but be sure to first check if the best-by date doesn't expire before that.
Should unopened cat food be refrigerated?
Unless you live in an extremely hot climate, there's no need to refrigerate unopened cat food, be it wet or dry. You should keep unopened food in a cool, dry, dark place and once you open it properly stored – if it's dry food, it should be in an airtight container and if it's wet food, it should be refrigerated after opening. Pet food can go stale or bad really fast, so be sure to store it properly to avoid upset tummies and food going to waste.
How do you know if dry cat food is bad?
It's not always easy to figure out if kibble has gone bad – to be fair, it smells pretty bad to our human noses to begin with. But, if you have a trained nose, you will be able to pick up the rancid smell, and so will your cats, which will avoid eating the spoiled dry food. Any changes in color or texture of kibble after it's been opened can also indicate that it has gone bad or stale.
How often should I clean my cat's food container?
Pet food containers should be thoroughly washed between refills. And the timing for that depends on how many pounds of food fits in the container and how fast your kitty goes through it – it might be every week or it might be more than a month before you need to refill the container. What's important is that, when you clean the container, you use warm water and pet-safe detergent to really get all that fat and food bits out to prevent them from going bad and contaminating fresh food. After that, thoroughly dry it to prevent moisture from turning into bacteria, mold, or mildew.

Lisa Selvaggio
Lisa Selvaggio is a freelance writer and editor, and our resident cats-pert, with certifications in pet nutrition and pet first aid. An advocate for better treatment of all animals, she enjoys producing content that educates others, helps them understand animals better, and inspires them to help, whether that means volunteering at a shelter, fostering strays, or simply giving their own pets a safe and happy home to live in.
More by Lisa Selvaggio
Published September 29th, 2021 12:00 AM