5 Views
Top 10 Purrfect Gifts For Cat Lovers
December 6th, 2017 12:00 AM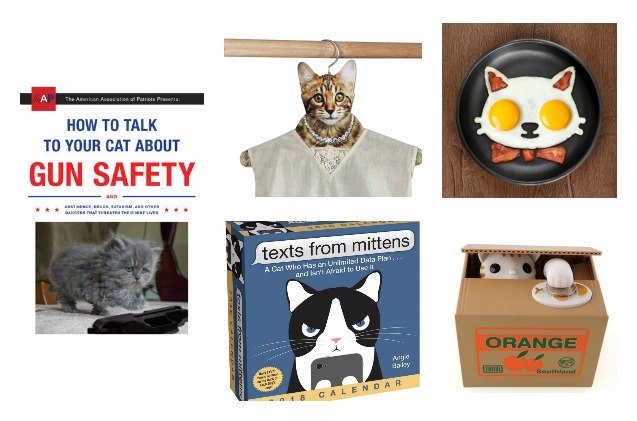 What do you get your crazy cat lovin' friend for the holidays? Well, take a look at our Top 10 Gifts for Cat lovers and take your pick!
Have you got lots of kitty-loving friends on your holiday list? If they've all been super nice this year, you'll want to pick up a few of these items to put under the tree… or else you risk a hiss-y fit!
1. Text From Mittens Calendar
This hilarious cat calendar features text message exchanges between Mittens the cat and his owner. Mittens has an unlimited data plan, and he's not afraid to use it, so you'll get an inside peek at the mind of a cat. Which is pretty elusive, wouldn't you say?
So, cats can be a bit…blunt, no? This mug pretty much tells the world you're the best cat mom, evah, and anyone who doesn't like it or believe it can go fly a kite! In fact, if honest, this mug tells the world you may be drinking coffee or you may be having a little hotty totty but it's none of their damned business either way!
3. How To Talk To Your Cat About Gun Safety.
Okay, so finally someone has addressed the hard-hitting issues that a cat faces in each of its nine lives, and every cat lover will basically find this a Bible. How to Talk to Your Cat About Gun Safety: And Abstinence, Drugs, Satanism, and Other Dangers That Threaten Their Nine Lives looks at real life for cats and gives you hilarious practical advice for dealing with it. And, as the author says, together, you and your cats can make America great again.
4. Crazy Cat Lady Action Figure Set.
Look, if you don't have a Crazy Cat Lady Action Figure Set, I'm pretty sure you are about to have your 'cat lover' card revoked! Don't let that happen! Make sure every cat lover you know has this 'vinyl' action figure, complete with the 'wild-eyed look' and make their holiday season complete!
Baby, it's cold outside! This Knit Cap will keep you and your purrrrty ears nice and warm, and let you look like a cat boss while you're doing it. We're not sure why the model of this hat looks so darned aggravated, but we're guessing there may a hairball involved.
6. Cat Stealing Money Piggy Bank.
My son loves cats. If my husband wasn't allergic, we'd have one. But since he is, this may be the next best thing for my little guy. This adorable kitty peeks out of a box and takes your money, for safe-keeping of course. I have to say, it may be a bit of an addiction to watch!
What says, "I love cats!" better than a mold to make your edible breakfasts look just.like.a.cat? Bonus? When your cat is being a jerk to you, you can make yourself an egg and eat it ear by ear…right in front of your pretty kitty. She won't care, but you'll feel like you're making a statement!
8. Sterling Cat Nose Print.
Here's a great way to have a piece of your furry feline friend with you wherever you go. This kit gives instructions for getting your kitty's nose print (Good luck with that, by the way!) and then they'll cast it in sterling silver for you to have forever. A conversation starter for sure!
9. Cat Butt Refrigerator Magnets.
If you want to let people know you really love cats, sticking a whole bunch of acrylic cat butts on your refrigerator will pretty much seal that deal! Let your office mates know your true love, and keep yourself organized with cats' rears. Yes, we assume you'll want two sets!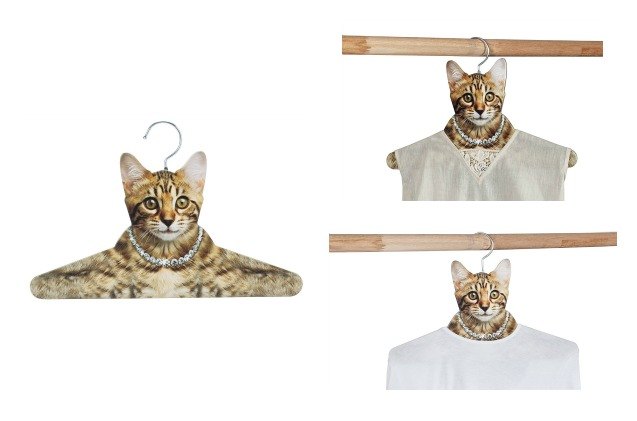 10. Cat Hanger Closet Organizers. So, if you've ever wondered what your cat would look like in your clothes, these hangers make you wonder no more! Hang your best duds on hangers that look like your best cat pal, and put a smile on your face every morning you open your closet!

Published December 6th, 2017 12:00 AM