13 Views
10 Sweet Stocking Stuffers for Your Dog
December 5th, 2016 12:00 AM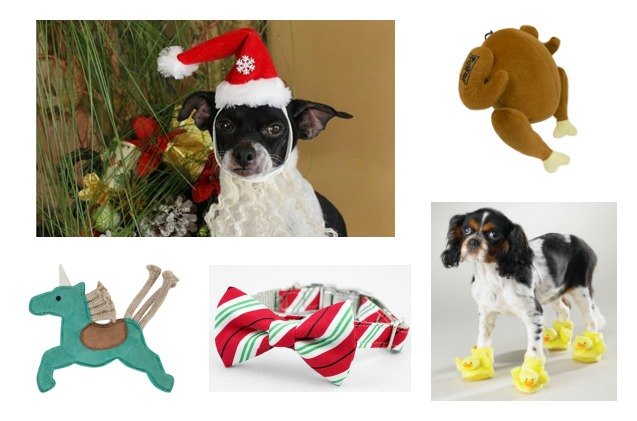 Your dog should have a stocking hanging over the fireplace mantle. Stuff it with these awesome holiday gifts that will put your pup in the festive spirit.
Now you won't have to worry about the dog begging for a piece from your plate. Even better – this plush turkey squeaks.
Who says poop can't be stylish? Not us! Carry your extra bags in this super fun poop bag dispenser, so you'll always be prepared.
Fold it and wrap it up! The BendiBrush has flexible bristles and a bendable body, perfect for detangling and removing knots and excess undercoat, as well as getting to hard-to-reach places.
This exclusive line from country crooner Miranda Lambert for Petmate has us singing her praises! We're fans of these Faux Suede Animals and Rescue Mutts (your purchase helps to fund the MuttNation Foundation).
This will be a Christmas Oscar will always remember – thanks to his personally engraved ornament from Barked Moments Keepsakes.
Barko Booties Yellow Duckie Dog Slippers
The floor is too cold for his tender paws. When he's got to get out of bed, he'll want to slip on these adorable Duckie Slippers!
Planet Dog Orbee-Tuff Toys
Planet Dog's holiday-themed toys are full of surprises. The Orbee-Tuff Bulbs have a secret spot that can be filled with your dog's favorite treat, and the Orbee-Tuff Mints offer fun for Fido year round.
Time for Joy Holiday Cookies
When there are cookies to be had, it's got to be a joyful time. You may be tempted to nick the Time for Joy Holiday Cookies, but these crunchy and sweet treats are made just for your dog.
Ho-ho-ho! I mean…bark, bark, bark! Whether or not your dog decides to dash through the snow, he'll look the part with the Santa hat and beard ensemble.
Candy Cane Stripe Dog Collar & Bowtie
Add some holiday style to your dog's daily attire. Your dog will look sweet with the Candy Cane-inspired collar and bowtie.

Amy Tokic
Amy Tokic, Editor of PetGuide.com, is a passionate animal lover and proud pet parent of Oscar, a Shih Tzu/Chihuahua cross, and Zed, a Japanese Chin. Her love of animals began in kindergarten, when she brought her stuffed dog Snoopy into class with her every day. Now, she writes about her adventures in pet ownership and tirelessly researches products, news and health related issues she can share with other animal enthusiasts. In her free time, Amy loves perusing used book and record stores, obsessing over the latest pet products available and chasing squirrels with wild abandon (a habit attributed to spending too much time with her pooches).
More by Amy Tokic
Published December 5th, 2016 12:00 AM