148 Views
Top 10 Dogs Dressed Up Like Hot Dogs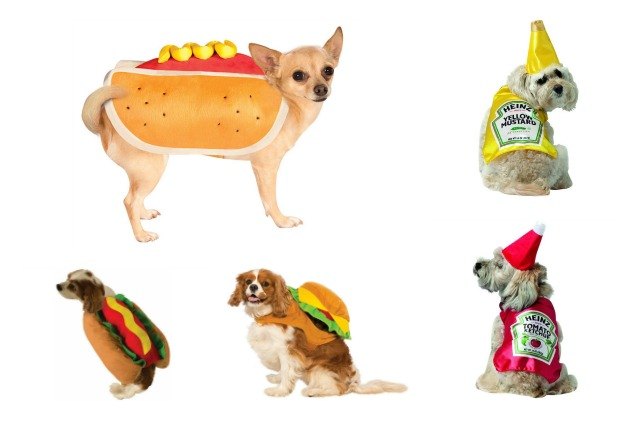 It's National Hot Dog Day! That gave us the idea – we should totally dress up our dogs like our favorite BBQ food. If you'd like to join in on the fun, check out these wieners!
2. We said Ketchup, not Catsup!
Care to top off your dog with a squirt of Heinz ketchup?
3. Why Does the Mustard Keep Passing Gas?
If you want to get the mustard out of this furry bottle, just lightly pat his bum!
When you just want a hint of condiment between your buns.
Because smooched up tomatoes just aren't your thing.
Hey – not everyone is into hot dogs!
7. Everything's Better With Bacon
Is that crispy bacon I smell? Well, sadly, no it isn't – it's just this mouth-wateringly crispy dog costume shaped like a fried slice of bacon that's making you dream of tastiness. Perfect for a quirky dog masquerade or food-themed Halloween parties, this unique costume is sure to make your doggo the center of attention. Made from 100% polyester, it is durable, stays shaped, and is perfectly safe for your dog's skin.
Made as a single-piece costume, Rasta Imposta Dog Bacon Costume features a sturdy velcro closure, making sure the costume stays on even through some rough and rowdy dog fun. Designed for all dog breeds, this costume comes in sizes ranging from fitting dogs that weigh 2 pounds to those that weigh 180 pounds- and it is ideal if you want to transform your pet into an eye-catching piece of bacon. And if you want to really make an impression maybe you could dress up as sunny-side eggs to match your pooch- who doesn't like breakfast food, after all?
How did a Taco make it onto our list of hot dogs?!?
We hope your next barbecue has a make-your-own-sundae bar.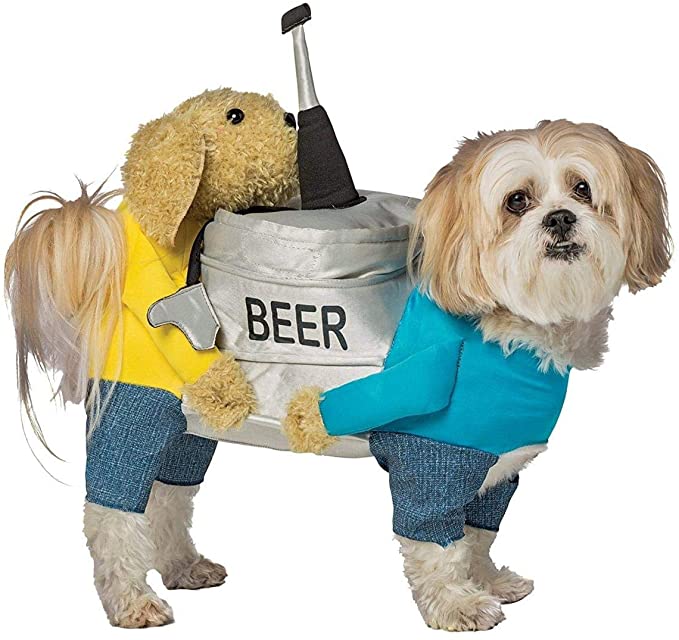 It is kind of difficult to imagine all those dogs eating hot dogs without having some cool beer to wash them down. We think you will agree that once the dog in the Rasta Imposta Beer Costume starts milling about, he (and his friend) are going to be serving a line of thirsty dogs. The Dog Beer Keg costume gives the brilliant illusion that there are two dogs carrying one keg of beer. This hilarious pet costume includes a full body suit for your dog which is completed with an attached stuffed dog who is helping to carry the back end of the keg. "Both" dogs are dressed casually for the occasion in cutoff jeans tee-shirts and have "their" paws holding on tightly to that keg of beer. The costume for your dog comes in four sizes so make sure you use the dropdown chart when ordering so your keg isn't too big for your pooch.

Amy Tokic
Amy Tokic, Editor of PetGuide.com, is a passionate animal lover and proud pet parent of Oscar, a Shih Tzu/Chihuahua cross, and Zed, a Japanese Chin. Her love of animals began in kindergarten, when she brought her stuffed dog Snoopy into class with her every day. Now, she writes about her adventures in pet ownership and tirelessly researches products, news and health related issues she can share with other animal enthusiasts. In her free time, Amy loves perusing used book and record stores, obsessing over the latest pet products available and chasing squirrels with wild abandon (a habit attributed to spending too much time with her pooches).
More by Amy Tokic
Published May 4th, 2021 12:00 AM