35 Views
Top 10 Totally Terrific Toques For Dogs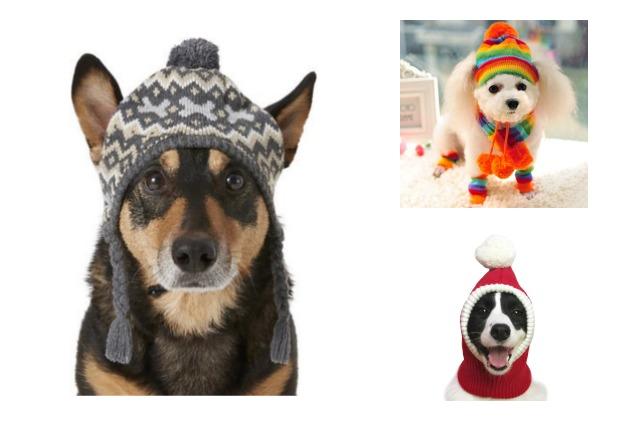 Get a-head (get it?) of winter fashion trends. Top your pooch with a toasty warm (and utterly adorable) Canadian-inspired toque.
Let your pup get all footloose and fancy-free while staying toasty and warm in this adorable toque and legging set for well-dressed pooches everywhere. Why do we all of a sudden have "Let's get Physical…" running through our heads?
2. Mihachi Snowflake and Reindeer Toque
Say hello to festivity with this scarf and toque set! The knit set is super soft and cozy and will have pups everywhere painting the towns red! Or whatever color they want to paint them because they'll be so stinking adorable as they do!
This doggie hat had soft and comfy ties to keep it on your pup and his head nice and warm on any cool outing. There are side-seam openings to keep it on, so you can also use the ties as a decorative show for that ever-so-casual look your dog might be going for!
This cozy snood (toque with some extra neck and ear covering…similar to a balaclava) will have your pup looking festive all the time, but he'll just love how warm and toasty he is! Santa Who? Oh, yes! Santa Paws!
And if you're looking for something a bit more fru-fru, check out Hip Doggie's Snood will get you in all the feels. The super-soft yarn is winter-weighted and will keep your dog's neck and ears warm the whole season long.
6. Zoo Snoods Fox Dog Toques
Don't worry, they will forgive you. They always do. But could you honestly forgive yourself if you don't buy this adorable fox snood that will keep your canine truly warm this winter? Zoo Snoods have a handy sizing chart so you are sure to get the right fit. Each snood is handmade an won't itch as it is made from a super soft, hypoallergenic yarn that will help keep them warm and allergy free. It is made for full coverage so it will keep your pet's neck, hears, and head warm in the cold winter weather. Admit you are going to have them wear it inside too, and we don't blame you! It is so cute!
What's better than a soft and snuggly toque to keep you warm this winter? Why one that has a matching scarf that comes with it, of course! Made with soft knitted yarn, you can scrunch the scarf over your dog's collar for a snug fit and they'll look super stylish in their matching set! Matching matters, you know!
8. Pup Crew Fair Isle Bones Knit Toque
Who doesn't love a Fair Isle Print? This soft pom-topped toque will keep your furry best friend warm (while looking cool) wherever you go this winter. It has an elastic chin strap that keeps the hat in place and it's the perfect addition to your dog's winter wardrobe. Because you know he has to have one!
9. Aviation Trapper Toque
Dogo Design's Trapper channels aviator dogs of old, but keeps them adorable and warm at the same time today. Made with soft faux (of course!) fur lining and denim backing for the vintage look, it's what the outdoor doggos are digging this season.
10. Festive Trapper Toque
And if you'd like to jazz a trapper toque up, this Pup Crew Red Plaid will do the trick! It's the classic trapper design with shearling lining so your doggo's head is warm on chilly winter days. The ear holes make it a comfy fit, and the chin strap keeps the toque in place without you worrying about ears and head getting cold!

Published May 5th, 2021 12:00 AM