373 Views
Best Aquarium Power Filters
February 5th, 2022 12:00 AM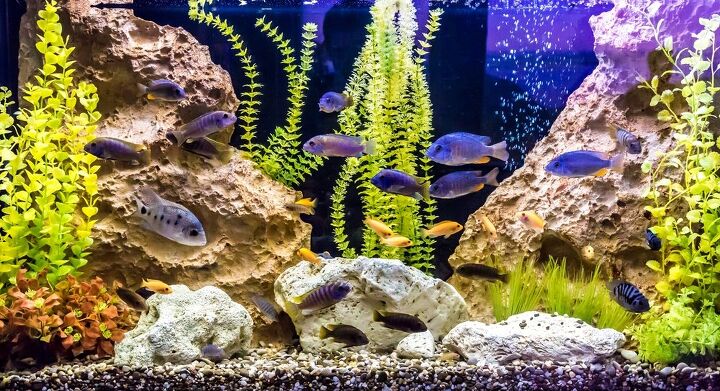 When you're stocking your aquarium, don't forget about the right filtration for your tank. Here are our picks for the best aquarium power filters you can buy.
If you want to keep your aquarium water clean and clear for the benefit of your fish, filtration should be a top priority. An aquarium is a captive environment, so not only do your fish live and breathe in the tank, but they also produce waste which breaks down over time. Installing a quality filtration system is the key to removing solid and dissolved waste products to keep the water clean for your fish.
In this article, we'll explore the subject of aquarium filtration and talk more about what to look for in an aquarium power filter.
Best Aquarium Power Filters
When it comes to choosing an aquarium power filter, make sure you choose one rated for the size tank you have or larger. You should also make sure that it comes from a reputable brand so it will last – the last thing you want to do is waste your money on a filter that needs to be replaced after a few months.
Here are our top 10 picks for the best power filters for aquariums:
1. MarineLand Penguin Bio-Wheel Filter
Easily one of the most popular aquarium power filters on the market, this MarineLand model features three-stage filtration with the use of activated charcoal and a bio-wheel. This filter is rated for 50 to 70 gallons and boasts a 350gph flow rate. Plus, it is affordably priced under $30 for this size.
2. Aqua Clear Power Filter
Another popular model in aquarium power filters is this model from Aqua Clear. It comes in five sizes rated for tanks as small as 5 gallons and as large as 200 gallons. It is quick and easy to set up and comes equipped with the filter media you need to get started.
3. Tetra Whisper EX Silent Multi-Stage Power Filter
Available in four sizes ranging from 10 to 70 gallons, this Tetra Whisper power filter is designed to run quietly. With Timestrip technology, it is ready to use right out of the box and it takes two Large carbon filters to run.
4. Aqua-Tech Power Aquarium Filter
If you're looking for a large power filter to keep your tank water clean and clear, try this one from Aqua-Tech. It features a dual-sided filter housing and advanced three-step filtration. It comes in three sizes rate for 5 to 60 gallons and comes with the filter media you need.
5. Whisper IQ Power Filter for Aquariums
This power filter is designed to run quietly, and it also features StayClean technology. It is quiet, durable, and easy to use and maintain, plus it offers flow control which is important for planted tanks and skittish aquarium fish.
This power filter comes in three sizes and offers five powerful stages of filtration. It offers a generous 264gph flow rate and is equipped with a cleaning indicator that shows when the foam filter media needs to be replaced. Plus, its clip-on design is easy to install.
7. Penn Plax Cascade Hang-On Aquarium Filter
Available in five different sizes, there is a Penn Plax Cascade for every aquarium. This filter features the revolutionary bio-falls quad-filtration system and an adjustable flow knob so you can customize your filtration to your tank.
8. Aqueon QuietFlow LED PRO Power Filter
This filter comes in six different sizes ranging from 10 to 400GPH and it offers three-stage filtration. It is a self-priming filter that starts up automatically after cleaning or losing power and it has an LED indicator light to show when it's time to replace media.
9. AZOO Aquarium Mignon Filter 150
If you're looking for a power filter for a small aquarium and you don't want to spend a lot, try this filter from AZOO. It is affordably priced under $20 and features a quiet, efficient design that hangs right on the back of your aquarium.
10. Aqueon QuietFlow E Internal Power Filter
For small aquariums, you don't always have a lot of space on the back of the tank. If that's the case, try this Aqueon internal power filter. It hangs just inside the tank and features an auto-start pump that automatically restarts if power to the unit is interrupted and restored. It comes in four sizes rate for 3 to 40 gallons and is highly affordable.
What to Look for in an Aquarium Power Filter
There are many different types of aquarium filter and some are more powerful than others. If you're looking for an option that is affordable and gets the job done, consider a power filter. These filters come in many different sizes and they hang on the back of the tank
Here are some things to look for in an aquarium power filter:
Tank Size – Power filters come in many different sizes, so choose the one that is the best fit for your aquarium. It never hurts to go up a size, either, but don't go with anything too small.
Filtration Type – There are three types of filtration – mechanical, chemical, and biological. Mechanical removes solid wastes while chemical removes dissolved wastes. Biological filtration involves cultivating a colony of beneficial bacteria to maintain the nitrogen cycle.
Filter Media – The filter media is what facilitates the three stages of filtration mentioned above. Look for options like activated charcoal, bio balls, and a bio wheel.
Features – On top of providing powerful three-stage filtration, look for a power filter that offers additional features like an automatic shutoff to keep it from running dry and burning itself out.
Filtration is extremely important for the health and wellness of your aquarium fish, so don't skimp on this valuable piece of equipment! Choose a filter that is appropriately sized for your tank and that provides three-stage filtration. If you're still not sure where to look, try one of our recommendations!

Kate Barrington
Kate Barrington is the loving owner of two cats (Bagel and Munchkin) and a noisy herd of guinea pigs. Having grown up with golden retrievers, Kate has a great deal of experience with dogs but labels herself a lover of all pets. Having received a Bachelor's degree in English, Kate has combined her love for pets and her passion for writing to create her own freelance writing business, specializing in the pet niche.
More by Kate Barrington
Published February 5th, 2022 12:00 AM