882 Views
Best Natural-Looking Aquarium Decorations
December 6th, 2021 12:00 AM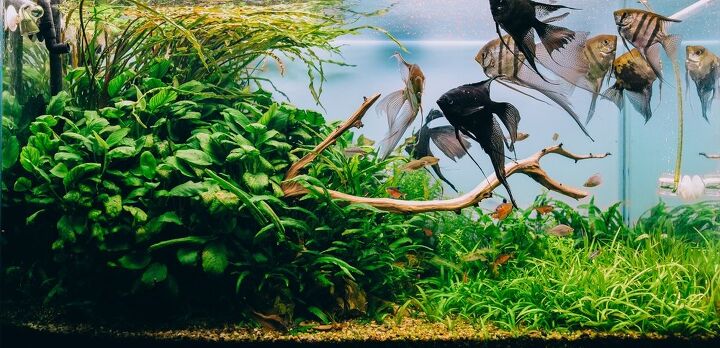 When decorating your aquarium, you may want to create a look inspired by nature. We've picked out some of the best natural-looking aquarium decorations.
When it comes to starting a home aquarium, there are many factors to consider. You'll need to decide what size tank you want, choose your equipment, and think about the type of fish and other inhabitants you want to cultivate. On top of all of that, there's one more thing to consider – decoration. If you want to create an environment that mimics your inhabitants' natural habitat, go with a natural décor scheme.
In this article, we'll talk about creating a natural décor scheme in your home aquarium. We'll talk about how to make your tank look more natural and you'll receive our top picks for the best natural-looking aquarium decorations.
Best Natural Decorations for Aquariums
Decorating your aquarium is half the fun of having an aquarium. It's entirely up to you how you choose to decorate, but a natural-looking aquarium can be quite stunning when done well. Start with a natural-looking substrate, an aquarium background, and some live plants then top it off with decorations.
Here are our top picks for the best natural-looking aquarium decorations:
1. Editor's Choice: NilocG Aquatics Natural Cholla Wood
If you're looking for a simple decoration to add to your aquarium, these 5-inch pieces of natural cholla wood are a great place to start. Cleaned and sustainably sourced from a pesticide-free location, this cholla wood will add a realistic, rustic touch of decor to your aquarium. Small shrimp and fry can swim in and out or around the holes, which make excellent hiding places, particularly for the vulnerable babies. Since they are fertilizer- and pesticide-free, completely safe for all aquarium inhabitants. Boil prior to use to increase the rate at which the pieces sink.
2. Runner Up: Natural Slate Stone for Aquariums
Rocks are an essential décor item for any natural-looking aquarium and these are the perfect option. These 3-to-5-inch pieces of natural slate stone can be used separately or stacked in a pile to create a cave. They are 100% natural and perfect for aquascaping an aquarium. Owing to their popularity with aquarium enthusiasts and their exceptional quality, these natural stones have been awarded the Amazon's Choice title.
3. Customer's Choice: Hygger Small Trunk Log Aquarium Ornament
If you prefer not to risk contamination with natural wood pieces, this resin log is a great option. This log aquarium ornament is made from resin in a natural shape and hand-painted. It can be used as a shelter for small fish, providing them a hiding spot and a place to explore and swim around, or you can anchor live plants to it. The size of this small trunk makes it a good choice for tanks up to 20 gallon capacity.
4. Best All Natural: Nautical Crush Trading Barnacle Cluster
Give your marine aquarium a boost of natural décor with this barnacle cluster. It is all-natural and measures 5 to 7 inches in diameter. Pair it with other nautical-themed items like shells and starfish – and if you're unsure where to start to create a realistic-looking environment in your tank, you'll be glad to know that this barnacle cluster comes with a complimentary PDF copy of "A Practical Guide for Nautical Décor" eBook by Joseph Rains, which is delivered by email.
5. Best Realistic Plant: Marina Naturals Pennywort Plant
It may seem odd putting a fake plant into your aquarium, but let's be honest, planting in your tank can take a lot of time to maintain. Thankfully, there are a number of wistful, realistic looking silk plants from Marina Naturals. The Pennywort plant is made to have its leaves undulate under the water with the current of your aquarium. Marina Naturals offers this particular plant in two different sizes. All of their plants are made out of a non-toxic, fade resistant silk that will not affect the water chemistry in your tank. They are super easy to install as you just bury them under gravel or rock in your tank. Now we know that one pond plant wont give you the underwater look you are striving for, but the low prices and large selection of the Marina Naturals plants will make it easy for you to design a colorful marine life tank without the hassle of living plants. Now you can just focus on your fish.
6. Best for Smaller Tanks: Hygger Betta Log Hollow Tree Trunk
Another option in natural-looking decorations is this resin hollow tree trunk from Hygger. This decoration is perfect for small- to medium-sized tanks (5 to 50 gallons) and gives smaller fish a safe place to hide. Plus, it has a flat base so it sits stably on the tank bottom, undisturbed by currents or fish.
Made from quality resin and durable, this piece of decor is friendly for all types of fish and aquariums – it will fit in great in freshwater or saltwater tanks. A very detailed imitation of a real tree trunk, it will create a realistic-looking natural landscape inside your tank without limiting your view of its inhabitants: you can still easily see the tiny fish swimming around it through 3 side holes.
7. Best Resin: Marina Décor Polyresin Cave
Also made from resin, this rock-like cave is completely safe and non-toxic for aquarium fish. It also includes three small fake plants to boost the natural appeal. It measures 5.1" in length, 11.4" in width, and 7.7" in height so it's a good size for tanks 20 gallon and up.
8. Best Eco-Friendly: MyLifeUNIT Artificial Seaweed Plants
Add color and dimension to your natural-looking aquarium with these artificial seaweed plants. They come in a bunch of 10 individual pieces, each made from eco-friendly, non-toxic pvc materials with a ceramic base for stability. This means that these artificial plants won't contaminate the water and that their colors won't fade – they are durable and fish-friendly. What's more, the faux leaves are so soft and gentle that they can't scratch the more sensitive fish (such as bettas with their flowy fins). Suitable for freshwater and saltwater tanks, these artificial seaweed plants come in green, purple, or wine red color.
9. Best Cave: SunGrow Coco Cave
Give your fish a place to hide with this coco cave made from 100% natural coconut shell. It features smooth edges and a soft texture that is completely safe for fish and you can purchase it for less than $10.
10. Honorable Mention: Jangoster Natural Sea Shell Ocean Conch
Another excellent decoration for marine tanks is this large conch shell. It measures a full 7 to 8 inches long and is completely natural. Just make sure you clean it well before using it in your aquarium.
Tips for Creating a Natural Décor Scheme
Aquarium decorations do more than just create visual intrigue in your tank. Certain types of decorations can be used to provide shy or nocturnal species with a place to hide – they can also break up sightlines and divide the tank into territories for more aggressive species. Decorations also provide a surface for beneficial bacteria to colonize and some decorations, like live plants, can actually improve the quality of your tank water for the benefit of your aquarium fish.
Here are some tips for creating a natural décor scheme in your aquarium:
Start with a natural-looking substrate that is suited to the type of tank you want – sand is a great option for most tanks but if you want to create a planted tank, you may need to add some planted tank substrate as well.
Add rockwork to create natural decorations of different sizes and heights in your tank – be sure to purchase rocks marketed for aquarium use or rinse the rocks very well to ensure that they are safe for your tank inhabitants.
Consider including pieces of driftwood in your tank, especially as an anchor for live aquarium plants – again, be sure to soak it well to remove any tannins that might stain the water and affect your water chemistry.
Add live plants of different sizes throughout the tank – keep taller plants at the back and sides with shorter plants in the mid-ground and foreground.
Throw in a natural-looking aquarium background if the other decorations don't cover the back – this is a great way to hide tank equipment and cords in addition to boosting the natural look of your tank.
How you decorate your aquarium is entirely up to you. You can choose to go with a whimsical décor scheme, including bright colors and funny elements, or you can go with something more natural. If you prefer the natural look, consider some of the top 10 aquarium decorations reviewed above.
Do fish like decorations in their tanks?
Anything that helps mimic a fish's natural environment is something your fish will like, including decorations. And it's not just about the realistic appearance of some decor, as much as it is about its function: fish are prey animals and instinctively seek hiding places. Having an aquarium without any decor means that there are no nooks and crannies your wish can hide in, so they will feel stressed and scared all of the time.
What is the best way to decorate an aquarium?
There isn't a single "best" way to decorate a tank – different people have different tastes. While some aquarists want a minimalistic, modern look for their tank, others strive to create a realistic replica of a fish's natural environment, and so on. The style of decor is up to you, but the general rule is choosing decoration that is safe for your fish, appropriate for the tank size, and can enrich the tank's environment by serving as a hiding spot, adding oxygen, etc. The rest you can choose to suit your personal preference!
Can I put bamboo in my fish tank?
Real, traditional bamboo is not an aquatic plant so it can be added to aquariums as flora, but lucky bamboo (Dracaena sanderiana), which looks almost the same as real bamboo, can successfully be grown in aquariums. Not only that, but lucky bamboo is usually easy to grow even if you are a beginner, it will add interest to the tank, and most importantly – it lowers nitrate levels in the aquarium. Naturally, lucky bamboo can only be grown in freshwater tanks.
We are committed to finding, researching, and recommending the best products. We earn commissions from purchases you make using the retail links in our product reviews. Learn more about how this works.

Kate Barrington
Kate Barrington is the loving owner of two cats (Bagel and Munchkin) and a noisy herd of guinea pigs. Having grown up with golden retrievers, Kate has a great deal of experience with dogs but labels herself a lover of all pets. Having received a Bachelor's degree in English, Kate has combined her love for pets and her passion for writing to create her own freelance writing business, specializing in the pet niche.
More by Kate Barrington
Published December 6th, 2021 12:00 AM