67 Views
November 22nd, 2021 12:00 AM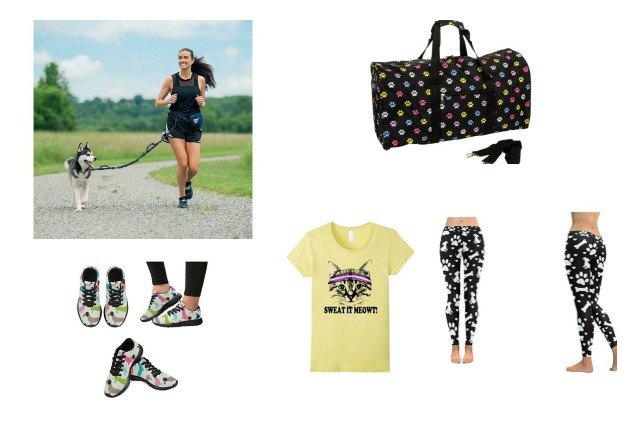 We know it's hard to get to the gym and wanted to give you a boost of motivation. Here's our list of the best pet-themed gym gear — guaranteed to your butt moving!
1. Editor's Choice: I'm Not Going Racerback
This racerback yoga tee shirt is essentially me to a … well, tee! It reads my sentiments exactly, and the main reason I don't work out. Well, that and I am lazy, but mostly, I'd miss my dogs!
2. Runner Up: Tuff Mutt Hands-Free Pet Leash
One of the best pieces of workout equipment you can get if you have your pet training alongside you is a hands-free pet leash. This hands-free dog leash from Tuff Mutt allows you to run, walk, or bike without holding the leash with your hands, leaving your hands free to work out how you please. It makes for a more comfortable workout for both you and your pup.
The Tuff Mutt Hands-Free Pet Leash has an easy glide belt clip that helps the leash stay in one place even when you're moving a bunch. The belt itself is lightweight and you won't even notice it's on you. But it also gives enough flexibility to move side to side as you move, making it a seamless training session. The five-foot least space gives you plenty of room to move and gives your dog plenty of space too. There is also a two-handle system that keeps pulling your dog along without you having to break stride. The reflective handle helps you both be seen in low light as well. To get the full benefits of the leash, your pet should weigh at least 30 pounds, as smaller dogs are not strong enough to utilize the bungee design.
3. Best Stroller: Pet Gear Pet Stroller

But, if you want to have a little resistance while you run, or your pup is not a fan of putting paws to the ground, this stroller allows you to take your exercise and your pup to the next level. This Air Ride lets you lock the front wheel so it'll be a smooth ride for your pup while you get your run on.
4. Best for Apple Watch: Laffav Compatible with Apple Watch Band

What kind of modern fitness enthusiasts doesn't have a smartwatch to track their workouts, distance walked, calories burned, and all that important health data? Well, with this paw print band you can upgrade your Apple Watch to a pet lover style without much hassle. Whenever you lift your arm to check your progress, you'll get to see these adorable paws! Made from high performance TPU material, this band is oil and sweat-resistant, dirt-proof, and waterproof and the print won't fade, either, thanks to water transfer printing technology.
5. Best for Hydration: My Dog Loves Me Water Bottle.

Everyone knows that water is a key element to any good workout (or daily life!) and these stainless water bottles will keep you hydrated and tell the world that your life is made better because of your pet. Winning at water and winning at pet ownership! Measuring 10.5" with lid and 9" at its widest point, this water bowl has a 17 fl oz capacity – more than enough to keep you hydrated at the gym.
6. Best Stretch: Dog Pilates/Yoga Pants.

Bring a whole new meaning to Downward Dog with these stylish and comfortable pilates/yoga pants with dogs and paw prints all over them. And they're so cute, we won't tell if you just wear them and don't even bother exercising in them! These yoga pants are made with polyamide with a matte finish and should be hand washed in cold water to prevent shrinking and color run. They come in various sizes from 2X-small to 5X-large.
7. Best for Running: InterestPrint Cross-Training Dog Print Shoes

You can take the gym out of the dog lover, but not the dog lover out of the gym. With these cross-training shoes from InterestPrint, you can bring the spirit of your pup with you to the gym. Or on the trail. Or on a walk. Or to lift heavy weights. Whatever your workout, these shoes can support it – they are perfect for indoor or outdoor use, walking, running, exercise, you name it! They are made with an ethylene vinyl acetate sole and lightweight canvas material so they are light yet supportive. They are extremely durable and are anti-moisture so they will stay dry even when you're sweating up a storm.
There are three dog-centered prints available. Black and white paw print, black and white dog bones, or rainbow paw print. No matter which you choose (maybe all three?) you will love adding these shoes to your workout wardrobe. Size chart is available to make sure you get the size you need.
8. Best for Lifting: French Bulldog Mesh Tee

This mesh shirt keeps sweat at bay while exercising and keeps you nice and cool. Although, the awesome French Bulldog keeps you looking even cooler when working out, and everyone you sees you in it will know you're the big dog on campus! Made from high-performance polyester fabric that's breathable and has moisture-wicking properties, this pet lover tee is perfect for workouts and comes in US standard sizes.
9. Best Funny: Sweat It Meowt Tee

Nothing says committed to a new routine and a new you like a throwback to the headbanded 80's workout look on a very determined kitteh face. Roomy and comfy, the perfect shirt to bring the inner Richard Simmons MeOUT! The design is available in 5 colors, for men, women, or youth, and is made from breathable and soft fabric. Solid colors are 100% cotton, heather grey is 90% cotton, 10% polyester and all the other heather colors are 50% cotton and 50% polyester. Machine wash cold with similar colors and dry on low heat to make your new gym tee last longer!
10. Best for Cool Down: Are You Kitten Me? Sweatshirt

Believe it or not, there are people who want to run even when it is cold out. I know, right? Still, those diehards need to stay cool and comfy while working the holiday baggage out, so this sweatshirt will keep them nice and warm. Even if they're crazy enough to go running in winter!
Additional Resources
We are committed to finding, researching, and recommending the best products. We earn commissions from purchases you make using the retail links in our product reviews. Learn more about how this works.

Published November 22nd, 2021 12:00 AM