671 Views
December 28th, 2022 10:12 AM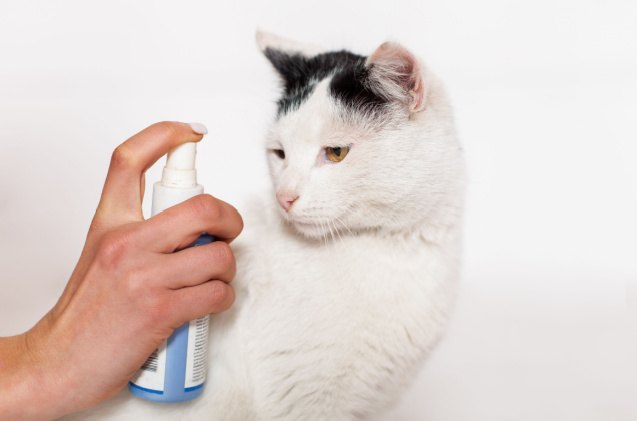 You might love your kitty to bits but that doesn't have to mean that they get free reign of the house – some areas might need to be restricted for them, either for their own safety or to keep your possessions intact. As you probably already know, some cats, due to various reasons, may begin to display some destructive behavior. This can include chewing on items, scratching things (and people), spraying urine to mark territory, or generally causing a ruckus. Besides all this, the cats are endlessly inquisitive. They will want to snoop everywhere, especially in places that seem tucked away or off-limits. In order to successfully counter such behavior, you will need a reliable cat spray deterrent. It is a simple but super-efficient solution that will ensure your destructive little kitten doesn't get into trouble or ruins your valuable possessions. Here's our pick of the 10 best cat spray deterrent products to keep your feline on her best behavior!
Editor's Choice: SmartyKat Scratch Deterrent Spray for Cats
One thing is certain– kitties love to scratch. Whether it is your furniture, table legs, shoes or pillows, precious plants, or favorite house slippers, they might feel the short end of your cat's claws. Of course, this is no reason to despair. While such behavior can be remedied with some training, it is much faster and more efficient to use a nifty cat spray deterrent such as this one from SmartyKat. With a blend of lemon and eucalyptus oils, this spray will give your cat the signal to steer clear of the no-no items. The spray comes in a nifty 13.5 fl oz bottle and is super simple to apply. The ingredients used in this scent are generally despised by the feline world and will be ideal to protect your furniture. Of course, some stubborn kitties might not react to the spray, and in that case, the special Scratch-Not tape deterrent might remedy the situation.
Pros
Large sized bottle
Easy to apply
Natural ingredients
Efficient
Cons
Some cats might not react to it
Runner Up: PetSafe SSSCAT Spray Deterrent
When it comes to cats scratching things, solutions could be difficult to find. You might have tried a hundred things and dated methods, without success. But this unique cat spray deterrent is a novel solution that will certainly do the trick. PetSafe offers a fantastic design: a motion-activated scent spray that will only sprinkle its deterrent once the kitty comes close! This is a great design that allows you to save your money and not spray in vain. The spray nozzle is fully adjustable and covers up to 3 feet of space. There are between 80 and 100 sprays per bottle, which is plenty to let your cat know that scratching days are over. Easy to use and very convenient in size, this spray is ideal to place in front of those pesky off-limit areas and nooks. And, of course, the spray is odorless and non-toxic to either humans or animals. Ideal!
Pros
Perfect for any and all placements
Hands-free use
Element of surprise
Very efficient
Customer's Choice: Comfort Zone Cat Calming Spray & Scratch Control
Kitties can be stubborn and make your life much more difficult with their mischievous ways. But you need a solution to deal with such behaviors in an efficient, cruelty-free way, and this Comfort Zone cat spray deterrent is just the thing. This is a drug-free, safe solution that will help you mark off the no-no zones with ease, protecting your valuables or keeping your kitty safe. This travel-size package is great to have in your purse, pocket, car, or counter – so you can always be ready to react to your cat's naughty ideas. Recommended by leading veterinarians, this spray is non-toxic - but highly efficient. All that's needed for quick cat control!
Pros
Drug-free
Vet recommended
Reduces cat stress
Efficient
Best Long-Lasting Cat Spray Deterrent: Nature's Miracle Just for Cats Deter Spray
A good and efficient cat spray deterrent needs to last you a long while in order to let your cat learn that some things are simply off-limits. This Nature's Miracle product is ideal in this case, as its specially designed concentrated formula lasts much longer than usual. One spray will be potent enough to last long enough to protect your valuable household items. With lemongrass, cinnamon, and rosemary oils, this product is largely natural-based, and as such is safe for use around pets and children. One of the great things about this formula is that it is quick acting. The results will be obvious in just minutes, as the spray counters the natural scent of cats and quickly gives them the message to flee. Perfect for protecting curtains, pillows, furniture, and shoes.
Pros
Large-sized bottle with 8 fl oz
Long-lasting concentrated formula
Non-toxic
Efficient
Cons
Some cats might not react to it
Best Indoor Cat Spray Deterrent: NaturVet – Pet Organics No Mark Spray For Cats
Almost all of the kitty's destructive behavior will be directed to the indoor areas. And if you are not prepared, it might be quite difficult to keep everything protected. But this unique cat spray deterrent formula is designed for indoor use in mind. No Mark! is a special formula that helps deter cats from their desire to spray urine to mark territory, and to scratch things that should not be scratched. The secret of this design is simulated pheromones, which confuse the cat and make it steer clear of the treated spot. In the first week, the spray should be applied twice daily, and after that just once per day. This is the ideal approach for the best and quickest results. So, if you have cats that love to spray their urine around the house, this spray will quickly deter them from that natural but nasty habit. The spray has no foul odors and leaves no traces on the sprayed surfaces. This makes it ideal for indoor use on any material!
Pros
Simulates pheromones for best results
Easy to apply
Quick results
USA-made
Best Scratch Cat Spray Deterrent: Harbors Cat Repellent and Scratch Deterrent
One of the things that almost all cats will do in their life is scratch. This is just their natural need to keep their claws maintained, but it can be a huge hassle for their owners. Either way, you will need a potent weapon in your arsenal to counter this. And this Harbors repellent is just the thing! With its special 3-in-1 formula, the spray will stop scratching, chewing, and trespassing. One simple spray and all that unwanted behavior are gone. This spray is ideal for training your cat to be nicer and not to destroy your items - its formula is designed with natural ingredients, such as citrus essential oils, which cats naturally find repelling. Another great detail about this product is that it comes in eco-friendly, recyclable packaging.
Pros
Eco-friendly product
Natural ingredients
Made in the USA
Efficient
Cons
Some cats simply do not react to the spray
Best Outdoor Cat Spray Deterrent: Colton's Naturals Outdoor Cat Repellent Spray
The destructive behavior of cats is not reserved entirely for the indoors. Your yard, the precious flowers, and young trees – all can suffer the wrath of a cat's claws or the stinky urine marks of visiting stray kitties. Luckily, there are safe and non-toxic solutions for your yard as well! This Colton's Naturals formula is specifically made to be organic, natural, and non-toxic, as to protect the greenery in your yard. With 100% natural ingredients, it is safe for kids, pets, and plant life. The repellent is super efficient, lasting for 2 to 4 weeks, and – with repeated application – boasts fantastic results. With just a few applications to the no-go spots, any cat will quickly get confused and then completely steer clear of them. This is also ideal if you have a problem with the neighborhood stray cats who like to pry into your trashcan or try to barge into your home!
Pros
100% Natural and organic
Easy to apply
Efficient control of your yard
Great against intruding stray cats
Cons
Some might find the scent strong
Best Training Cat Spray Deterrent: Bodhi 3-in-1 Cat & Kitten Training Aid
Cat spray deterrents can be such an effective way of training your kitty to become a calmer and better-behaved pet. Of course, it is best if you start the training early on before the destructive behavior even begins. To let your cat know which areas are simply not for her to traipse through, this Bodhi 3-in-1 spray comes in handy. Designed as a training aid, it effectively creates boundaries and prevents scratching and chewing. With 10x the active ingredients, it is potent and acts very quickly. It is totally safe for indoor and outdoor use and contains bitter, an ingredient that will prevent cats from chewing on things. The formula is long-lasting and efficient and is not toxic. Still, areas should be well-ventilated after application.
Pros
Great for early training
Easy to apply
Has added bitter
Safe for indoor and outdoor use
Cons
Requires proper ventilation of rooms
Best Heavy-Duty Cat Spray Deterrent: Nature's MACE Cat Repellent
Sometimes, especially with more stubborn cats, you need a powerful and efficient spray deterrent in order to make your message clearly understood. For such cases, this powerful Nature's Mace comes as the perfect solution. Ideal for both indoor and outdoor use, this spray has a scientifically backed formula with much more active ingredients than other repellents. This makes it all the more potent, with lasting results and a quick turnaround time. This large, 40 oz spray bottle will last you a long while, making Nature's Mace a great year-round solution for your cat problems. Thanks to its non-toxic and safe formula, this product is safe for use both indoors and outdoors, solving all your problems wherever you need it to!
Pros
Large-sized bottle with 40 oz
Works both indoors and outdoors
A great number of active ingredients
Efficient for training your cat
Cons
Has a powerful smell to it
Best Plant-Safe Cat Spray Deterrent: EBPP Stop The Scratch Cat Spray Deterrent
One of the biggest concerns of cat owners looking for a good cat spray deterrent is the well-being of their household plants. You want to save your precious plant babies from your kitty's inquisitive chompers and claws, but of course, flowers won't react well to potent sprays and chemicals you would spray to deter your cat from them – so the concern is understandable. Luckily, this potent cat spray works well without being harmful to your plants. The ingredients are mostly natural, with lemongrass and rosemary oils, and a pleasant scent that is calming to cats. As such, this cat spray deterrent is very efficient and gives you that much-needed peace of mind when it comes to your precious household plants.
Pros
Decent-sized bottle with 8 fl oz
Easy to apply
Natural ingredients
No harm to your plants
Are Cat Spray Deterrents Toxic for Cats or Plants?
If you are worried that a cat spray deterrent might harm your pets, kids, or indoor plant life, you are not alone. Many owners list this as their number one concern. Well, you'd be glad to know that most such sprays that you can purchase online or in your pet store are completely safe. The secret to this is the ingredients. Cats have a natural dislike of scents such as citrus, rosemary, cinnamon, and so on. Utilizing this, many brands use these essential oils in their products, offering a natural and effective solution, without having to rely on dangerous chemicals to get the results. As you can see from our list, all these cat deterrent sprays are safe for both indoor and outdoor use and are not harmful to kids, pets, or plants. Of course, you should still read all the instructions and ingredient lists – without exceptions. Labels are important, and knowing what you use around your pet is crucial for all pet owners. But for the most part, there is nothing to worry about!
We are committed to finding, researching, and recommending the best products. We earn commissions from purchases you make using the retail links in our product reviews. Learn more about how this works.

Angela Vuckovic
A proud mama to seven dogs and ten cats, Angela spends her days writing for her fellow pet parents and pampering her furballs, all of whom are rescues. When she's not gushing over her adorable cats or playing with her dogs, she can be found curled up with a good fantasy book.
More by Angela Vuckovic
Published December 27th, 2022 10:51 AM