166 Views
Best Multivitamin for Puppies
November 1st, 2022 9:52 AM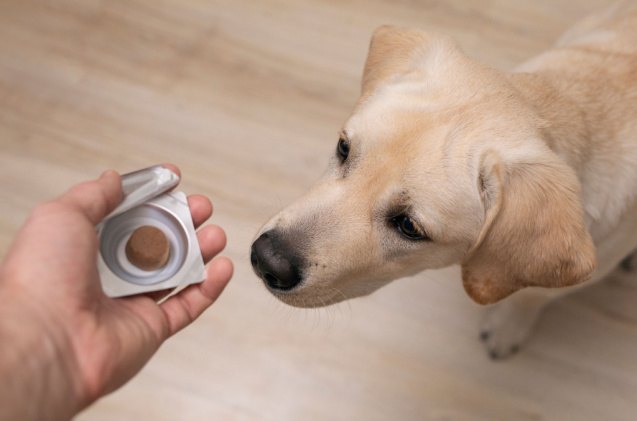 Congrats on adopting a puppy – you get to enjoy all of their cuteness, but not without the responsibility to help them grow into happy, healthy adult dogs. One of the main things you should pay attention to as the proud owner of a young puppy is their diet and nutritional needs. While most dry foods for puppies are formulated to meet the needs of growing dogs, sometimes they need an additional boost to support their overall health in these delicate times.
This is where supplements come in handy – more precisely, multivitamins for puppies. A multivitamin for puppies should be given on a daily basis, and contain a variety of essential nutrients for a puppy's growth and well-being, from vitamins and minerals to essential fatty acids and other key components. However, finding the right multivitamin for puppies in the sea of formulas and brands can feel like a daunting task – how are you supposed to know which of them will suit your pet the best? To help you make that choice, we've handpicked the best multivitamins for puppies on the market, from those in powder form to liquids and chewables – you can't go wrong with any from our list.
Editor's Choice: Zesty Paw 8 in 1 Bites
Starting off your pooch on a good foot when it comes to their health, this multifunctional multivitamin supplement for puppies will support 8 areas of functional dog wellness for puppies from 8 weeks old to 1 year old. It includes OptiMSM (MSM), Glucosamine Chondroitin, and cod liver oil to promote joint and hip health and improve mobility, Amylase, and Bromelain to optimize digestion, Vitamin C for immune support, CoQ10 and B12 to maintain liver and cognitive function, and Vitamin E, B, EPA, and DHA fatty acids to promote nourished skin and coat and cardiovascular health. What's more, all that goodness is conveniently packed into chicken-flavored chewables your puppy will love to snack on as a treat!
Pros
Covers 8 areas of wellness with a single formula
All-encompassing recipe optimized for the needs of growing puppies
No artificial flavors, colors, or preservatives
NASC quality seal
Made in the USA
Cons
Not all dogs love the flavor
Runner Up: Nutri-Vet Multi-Vite Chewables for Puppies
Formulated to provide nutrients that are essential for growing puppies whose bodies are still developing, these multivitamin chewables are formulated by veterinarians to be used on puppies up to 9 months of age. The formula contains Vitamin A to support skin health and help maintain resistance to infections, Vitamin D facilitates proper absorption of calcium and phosphorus from the intestines, Vitamin E to maintain healthy cardiovascular function, and a healthy circulatory system, and the B-complex vitamins to support the health of the nervous system, skin, hair, liver, muscle, and brain.
Pros
Tasty liver-flavored chews to entice picky eaters
Formulated by vets to nourish growing puppies
Contains essential nutrients for growth and health
NASC quality seal
Made in the USA
Cons
Runs out fast if you have a large breed puppy
Customer's Choice: NaturVet – VitaPet Puppy Daily Vitamins for Dogs
Providing the full spectrum of vitamins and minerals young puppies need to thrive, this multivitamin supplement offers an additional bonus – added breath aid to keep your puppy's breath smelling fresh. The formula of these chewables contains 28 key ingredients, including important vitamins such as Vitamin A, E, D, and B complex vitamins, minerals such as calcium, iron, magnesium, zinc, and many more, as well as folic acid and essential fatty acids. Additionally, the time-release formula provides a balanced absorption of nutrients, so you can rest assured your puppy is getting everything they need, exactly when they need it.
Pros
Vet-recommended and formulated
Affordable price
Added breath-freshening ingredients
Wheat-free
NASC quality seal
Made in the USA in a cGMP facility
Cons
The strong smell might deter your puppy
Best Powder Multivitamin for Puppies: K9 Power - Puppy Gold
Whether you have a picky puppy on your hands or prefer the hassle-free method of adding multivitamins to your pet's chow so you don't forget about it, a powder multivitamin for puppies is the way to go. A daily serving of this puppy and mother formula contains vitamins and nutrients crucial for initial growth during the weaning process and up to 10-12 months of age. It can be given to mothers in pregnancy and one month postpartum, but it is mostly designed for puppies with tailored ingredients – inulin prebiotic for better digestion, milk protein to enhance muscle protein synthesis, lean body mass and overall metabolic health, and vitamin E to support the development of a dog's vision, immunity, and nourish skin and coat.
Pros
Can be given dry, mixed with water to make gravy, or blended into wet food
Suitable for puppies and pregnant dogs
Optimized to support the overall health of growing puppies
Milky flavor dogs tend to love
Easy to dose and sneak in food
Cons
Can cause diarrhea in some puppies
Best Multivitamin Drops for Puppies: Pet-Tinic Pediatric Drops
Just a few drops every day will keep the vet away! Well, not exactly, but this liquid multivitamin for puppies can certainly contribute to their good health overall. It contains iron, copper, thiamine, riboflavin, niacin, Vitamin B6, and B12, which are essential for dogs of all ages, including young puppies. Easy to dose, this liquid supplement comes with a dropper, so you can administer it directly or if your puppy isn't too cooperative, mix it in with their food. This multivitamin is good for recovering puppies and can be used throughout their life when the need arises.
Pros
Effortless dosing and easy administering
Great for puppies that need to recover and build their strength
Meat-flavored and highly palatable
Contains iron, copper, and 5 essential vitamins
Can be given to puppies, kittens, dogs, and cats
Cons
Difficult to dose on puppies under 5 pounds
Best Chewable Multivitamin for Puppies: waggedy Daily Essentials Puppy
Does your puppy go bananas when offered a treat? Then a chewable multivitamin is an excellent way to sneak in some essential nutrients under the guise of a yummy reward! These pork-flavored soft chews will taste like a treat but contain all of the important goodies inside: a potent blend of vitamins and minerals infused with enzymes to promote dental health, optimal digestion, muscle and bone growth, healthy skin and coat, blood circulation, and provide protection against free radicals. The formula is suited for puppies from 12 weeks of age up to one year and will keep your still-growing puppy strong, thriving, and happy.
Pros
Supports overall health of puppies up to 1 year of age
Time-release formula for optimal nutrient delivery
Affordable
Savory flavor and soft texture
Made in the USA in a cGMP and NSF-certified facility
Best Gel Multivitamin for Puppies: TOMLYN TomLyn Nutri-Cal Puppy Dietary Supplement
You can't beat the convenience of supplements in the form of gel, as they are super easy to administer, no matter how squirmy or stubborn your puppy is. Just squeeze out a small amount of the gel and smear it on their nose, paws, or directly inside the mouth – they'll lick it up in no time. Of course, you can also offer it as a lickable treat or mix it with their meal, whichever they prefer. The formula of this gel multivitamin provides a concentrated source of energy, vitamins, and minerals and can promote a healthy appetite, boost the nutrition of picky eaters, help maintain blood sugar levels, and support the growing bodies of active puppies.
Pros
Malt flavor entices even finicky puppies
Stimulates appetite
Concentrated source of essential nutrients
Easy to administer
Contains essential fatty acids
NASC quality seal
Best Organic Multivitamin for Puppies: Dog Greens- Organic and Wild Harvested Vitamin and Mineral
For those that accept nothing but the very best for their pets and want only the cleanest, organic ingredients, this formula is the perfect match. Made from natural human-grade ingredients, such as organic barley grass, organic wheat grass, organic kelp, organic spirulina, and others, this multivitamin supplement is gluten-free, contains no artificial ingredients, fillers, or ingredients from China, and is completely vegan. The blend of superfoods in this supplement contains Coenzyme Q10, Omega 3, GLA, vitamin B complex, Vitamins A, C, D, E, F, K, and many other important nutrients. It comes in the form of fine powder that's easy to mix in your pet's meals and can be given to dogs of all sizes and ages.
Pros
All organic, natural ingredients
Packed with superfoods and important nutrients
Contains a variety of minerals, vitamins, and essential fatty acids
Powder form for easy serving
Suited for dogs of all ages
Made in the USA in a cGMP-certified facility
Cons
Not for dogs with a sensitive stomach or picky eaters
Best Multivitamin with Probiotic for Puppies: Strawfield Pets Puppy Multivitamin + Probiotic
Puppy's digestive system is particularly sensitive in those early, formative years, which is why the addition of probiotics can help stabilize their stool, soothe an upset tummy, and promote better digestion overall. This convenient formula combines vitamins, minerals, and important nutrients with prebiotics and five strains of probiotics to support healthy coat and skin, immune and heart health, digestion, brain, and bone development, as well as hip and joint health in growing puppies from 3 months to 3 years of age. Also, it doesn't hurt that this multivitamin for puppies comes in the form of soft chews with natural peanut butter flavor, so you can rest assured your pooch will absolutely love them.
Pros
Grain-free with natural and organic ingredients
Blend of vitamins, minerals, nutrients, and probiotics + prebiotics
1 million CFU and five strains
Supports overall health of growing puppies
Made in the USA
Do Puppies Need Multivitamins?
Multivitamin supplements for puppies have many benefits – they can promote better digestion, support healthy skin and coat, maintain proper cardiac function, improve cognitive function, preserve hip and joint health during growth spurts, and many, many other things depending on the formula. Needless to say, introducing the right type of multivitamin for puppies into your pet's daily routine can help their overall health, and be used either as a preventative or a form of "boost" for puppies that are recovering.
Of course, it should be noted that, while multivitamins for puppies tout many benefits, they are not meant to replace a healthy diet and lifestyle. Even with multivitamin supplements included in their routine, puppies still need a high-quality diet that is formulated for their specific needs, plenty of daily exercises, mental stimulation through training and playtime, and socialization to truly thrive and grow into happy, healthy dogs.
What to Look for in Multivitamins for Puppies
Multivitamins for puppies are formulated to contain nutrients that are essential for a puppy's growth – some contain more and some less of them, depending on the quality of the formula. What every multivitamin for puppies should contain, though, is vitamins B and A, trace minerals, and preferably essential fatty acids. The rest will depend on your dog's individual needs – some formulas might include digestive enzymes or probiotics and prebiotics to soothe a sensitive tummy, others might have glucosamine to support the joint health of large breed puppies in development, and so on. Pick according to your pet's unique requirements! Another factor to consider is the form of the multivitamin and how easy it will be to administer. Most commonly, multivitamins for puppies come in the shape of soft chews, chewable tablets, powder, liquid, or gel. Some might be more convenient for you to serve to your pet than others – if you have a picky pooch, it's best to go for something flavored and treat-like such as a soft chew, or a sneaky tasteless liquid or powder you could mix with their food.
We are committed to finding, researching, and recommending the best products. We earn commissions from purchases you make using the retail links in our product reviews. Learn more about how this works.

Angela Vuckovic
A proud mama to seven dogs and ten cats, Angela spends her days writing for her fellow pet parents and pampering her furballs, all of whom are rescues. When she's not gushing over her adorable cats or playing with her dogs, she can be found curled up with a good fantasy book.
More by Angela Vuckovic
Published October 28th, 2022 4:07 PM