1.5K Views
Best Supplements for Dog Allergies
November 15th, 2022 10:05 AM
We're committed to finding, researching, and recommending the best products. We earn commissions from purchases you make using links in our articles. Learn more here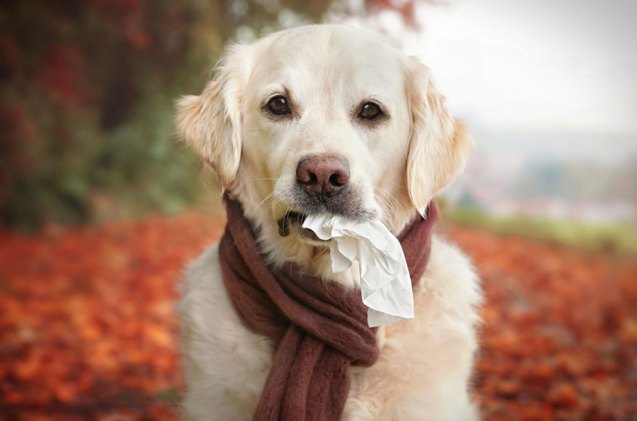 As many as 20% of dogs will develop allergies during their lifetime. Itchy skin is the most common symptom of dog allergies, but some dogs can also experience hives, hot spots, swelling of the face, lips, eyelids, or ears, sneezing, and red, inflamed skin. If your pooch is among those that are affected by these symptoms, supplements for dog allergies can really make their life easier.
Available in different forms, including soft chews, powder, and chewable tablets, supplements for dog allergies are made with natural ingredients that won't make your pooch drowsy or lethargic, like many popular allergy medicines for dogs tend to do. These supplements are completely safe and can be a great preventative measure for seasonal allergies or used to relieve allergy symptoms in conjunction with prescription meds.
With so many different options available, you may need help finding the best formula for your pooch – to help you give your dog some relief, we've found the best supplements for dog allergies on the market.
Editor's Choice: Zesty Paws Allergy Immune Supplement for Dogs
Formulated for dogs of all breeds and sizes, Zesty Paws supplements help maintain normal histamine levels in dogs and boost the immune system and gut health. It's made with human-grade Epicor, a natural yeast that contains vitamins, minerals, fibers, proteins, and antioxidants that are clinically proven to improve the body's immune response. Each lamb-flavored chew contains powerful prebiotics and probiotics, colostrum, omega-3 fatty acids, EPA, and DHA that help with digestion, immune function, and allergies. The blend of natural ingredients, including flaxseed, apple cider vinegar, salmon oil, and astragalus root, provides skin and immune support to dogs with seasonal and environmental allergy issues that cause itchy skin and hot spots.
Pros
Tasty lamb flavor dogs tend to enjoy
Supports a strong immune system
Made in the USA
Seasonal allergy support
Cons
Can cause diarrhea in some dogs
Runner Up: Vet's Best Seasonal Allergy Relief Dog Supplement
If seasonal allergies are causing your dog to lick and scratch obsessively, a quality supplement for dog allergies can support normal histamine levels and relieve seasonal discomfort. This vet-formulated tablet supplement features a blend of plant-based ingredients like nettle extract, perilla leaf extract, and kelp that maintain histamine levels. Vet's Best chewable tablets are formulated for dogs one year or older and can be fed directly or mixed with food. In addition to allergy relief, these supplements support proper nutrient absorption, healthy digestion, and immune response.
Pros
Easy to administer directly or at mealtimes
Promotes healthy digestion
Soothes dry and itchy skin
Carries the NASC seal of approval
Cons
Some dogs don't like how this supplement tastes and smells
Customer's Choice: Pet Parents Immune & Allergy Supplement for Dogs
Whether your pooch is dealing with food, seasonal, or environmental allergies, has itchy skin or just needs a hot spot treatment, an immune and allergy supplement can provide some much-needed relief. Pet Parents soft chews are full of powerful nutrients, including colostrum, Bio-Mos, salmon oil, apple cider vinegar, and quercetin, that boost the immune system and improve your furball's allergy symptoms. Besides these active ingredients, these chewable supplements contain quality inactive ingredients like salmon, sweet potatoes, tomatoes, and carrots which are also loaded with all the good stuff your pet needs to thrive. To provide allergy relief and improve the immune system, give your pooch these supplements daily on their own or at mealtimes.
Pros
Formulated for dogs of all ages
Allergy relief and immunity support
No fillers, only premium ingredients
Improved digestive health
Best Soft Chews for Dog Allergies: Mighty Petz MAX Dog Allergy Relief Chews
Formulated to provide allergy relief and support a weakened immune system, these soft chews are packed with potent natural active ingredients. The ingredient list includes more colostrum, probiotics, fish oil, and quercetin per chew than their competitors, paired with other health-nourishing ingredients such as apple cider vinegar, ginger root, and kelp powder. Together, these natural ingredients encourage a normal histamine response, help maintain healthy skin and coat, enhance immune system response and support digestion and gut health. These soft chews can be given as a treat, as they have natural bacon flavor – and a texture that most pooches adore.
Pros
Packed with potent natural ingredients
Contains colostrum, probiotics, fish oil, and quercetin
10 active ingredients
Supports normal histamine response
Maintains immune health, skin and coat health, and digestive healthy
Made in the USA in a GMP-certified facility
Cons
Not all dogs like the taste
Best Natural Supplement for Dog Allergies: Winpro Advanced Allergy Formula
If you want only the best for your pooch, these natural, grain-free chews are a great choice. Fast-acting and tasty, these supplements help soothe irritated, itchy skin and reduce inflammation caused by stress and environmental, seasonal, or food allergies. This allergy supplement features K-Thrive Formula D, bromelain, nettle extract, and quercetin which fight allergy symptoms at the source, calming irritation and inflammation. Clinically tested and made in the USA, this supplement is certified by the National Animal Supplement Council and is safe for daily use.
Pros
All-natural
Supports skin and coat health
Made in the USA
Fast relief from itching, biting, and scratching
Cons
Not for dogs with sensitive stomachs
Best Chewable Supplement for Dog Allergies: Bark & Spark Itch and Allergy Relief Supplement
This allergy supplement for dogs offers allergy and itch relief, moisturizes the skin and coat, and also supports mobility, heart health, and a strong immune system – kind of an all-in-one deal. These soft chews contain 500mg of omega fatty acids per serving, which help soothe itchy and irritated skin, hot spots and reduce shedding. In addition to promoting better skin and coat health, omega fatty acids help keep your pooch active by supporting hip, joint, heart, brain, and immune health. These supplements are available in chicken and salmon flavors that are a hit even with picky eaters. For best results, serve these supplements at mealtimes based on your pup's weight.
Pros
All-in-one skin and coat supplement
Safe for puppies, adults, and senior dogs
Made with human-grade ingredients
Prevents and soothes allergy symptoms
Best Supplement for Dog Allergies for Picky Eaters: PetHonesty Allergy & Skin Health Supplement
Does your dog turn their nose whenever you try to give them a supplement? PetHonest Allergy supplements are formulated as soft chews and come in irresistible duck and salmon flavors even the pickiest pooches find hard to resist. Formulated to soothe allergy-related skin problems and improve skin health, these supplements address the root cause of most skin issues in dogs and help improve gut and overall health, immunity, and nutrient absorption. Powerful active ingredients like kelp, DHA, and EPA from omega-3 fatty acids, turmeric, quercetin, zinc, and vitamins C, E, and H, promote normal inflammatory response and settle skin-related issues associated with allergies.
Pros
Supports normal digestion and a strong immune system
Made without GMOs, soy, wheat, and corn
Soft chews with a tasty flavor
Made in the USA in a GMP-certified facility
Best Supplement for Seasonal Allergies in Dogs: Finn Allergy and Itch Supplement for Dogs
Dogs with seasonal allergies have itchy and irritated skin and experience skin and coat problems caused by allergens from the air, like pollen, mold, or dust. Made with Alaskan wild salmon, colostrum, bee propolis, prebiotics, probiotics, quercetin, and bromelain, these soft chews boost digestive health and immune response. Finn's Allergy and Itch supplements help maintain normal histamine levels and soothe itchiness and inflammation caused by allergies. Certified by the National Animal Supplement Council, these supplements come in a recyclable, BPA-free tin and are safe for dogs of all ages.
Pros
Made in the USA with natural ingredients
Soothes itchy skin and hot spots
Rich in omega-3 fatty acids that decrease inflammation
Supports immune system response
Cons
Takes some time to start working
Best Supplement for Dog Allergies and Itch Relief: Native Pet Dog Allergy Relief
Made without fillers and artificial flavors, this all-natural formula uses a blend of natural ingredients to regulate your pup's histamine response. These supplements for dog allergies rely on spirulina to protect against reactions to allergens, colostrum to support immune health and reduce inflammation, dried fermentate to supply antibodies that fight allergies, and Bacillus coagulans to support gut health. Together these ingredients provide natural itch relief for dogs and boost the immune system. The ingredients are air-dried to preserve all nutrients and infused with real chicken for a delicious flavor.
Pros
No additives or artificial flavors
Made with nine high-quality ingredients
It provides an all-natural antihistamine
Offer relief for itchy skin and hot spots
Cons
Can cause diarrhea in some dogs
Best Powdered Supplement for Dog Allergies: NaturVet Skin & Coat Allergy Aid Plus Antioxidants
Whether your pooch is a picky eater or you're looking for a hassle-free way to administer allergy supplements, nothing can beat the convenience of a powder supplement. A daily serving of this allergy aid formula contains Omega-3, 6, and 9 fatty acids, quercetin, colostrum, bromelain, and other ingredients that help maintain proper skin moisture and offer allergy relief. This formula is also a source of natural antioxidants that support a strong immune response and assist in preventing allergies. For optimal results, mix this formula daily with your pup's wet food.
Pros
Easy to administer and mix with food
Supports immune response and respiratory health
Made in the USA
Provides itch relief and hydrates the skin
Cons
Not for dogs with sensitive stomachs
Honorable Mention: Kinpur Pet Care Natural Dog Allergy Supplement
Formulated to ease symptoms of seasonal, food, and environmental allergies, these supplements for dog allergies are suitable for pooches of all ages and sizes. This chewable supplement relies on natural ingredients like apple cider vinegar, salmon oil, and colostrum to help with skin and coat problems, provide itch relief, and improve the immune system. Kinpur Pet Care Allergy Supplement comes in the form of soft, duck-flavored easy-to-chew bites that can be offered as treats. Thanks to a powerful probiotic blend, these supplements also support the immune system and digestion.
Pros
Soothes itchy skin, irritated eyes, and runny nose
Easy to administer soft chews
Supports a strong immune system and digestive health
Boosts skin and coat health
What Are the Most Common Allergies in Dogs?
Where humans are concerned, sneezing, watery eyes, wheezing, and coughing are the most common symptoms of allergies. But dog allergies primarily affect their skin, making your pooch extremely itchy and eager to scratch – even to the point of opening wounds on their skin. Dog allergies vary, but the most common ones can be classified into three groups:
Environmental: Pollen, mold, dust, grass, smoke, weeds, and fungi are the most common triggers. However, chemicals and perfumes are also known to trigger an allergic reaction in some dogs. Pooches with environmental allergies can experience symptoms seasonally or year-round.
Food: Dogs with food allergies can experience itching or gastrointestinal problems like vomiting or diarrhea. The most common food allergens are beef, dairy, wheat, eggs, chicken, lamb, soy, pork, rabbit, and fish. Dogs with food allergies are usually allergic to more than one thing. The most common symptoms of food allergies in dogs are itching, scabs, hot spots, and reoccurring ear infections.
Insect bites: Flea bites are the most common insects that bite dogs. Flea allergy dermatitis happens when a dog's immune system reacts to proteins in flea saliva that end up deposited on the skin. Dogs that experience other types of allergies are more likely to develop flea allergy dermatitis.
What to Look for in Dog Supplements for Allergies
Many herbs and natural ingredients can relieve inflammation and itching caused by allergies, but not all are equally effective. Most quality supplements for dog allergies contain omega fatty acids, probiotics, quercetin, colostrum, and bromelain for their immune-boosting and histamine-reducing effects. Some formulas may also contain apple cider vinegar which relieves itchy skin and rashes; turmeric, which helps ease redness, swelling, and itching; biotin, a B-complex vitamin that promotes skin and coat health; and digestive enzymes that promote gut health and reduce swelling. Check the ingredients listed on the product label, and pick a supplement based on the severity of your pup's allergies. When shopping for supplements for dog allergies, consider if it will be convenient to administer them to your dog. Supplements for dog allergies usually come in the form of soft chews, chewable tablets, or powder. If you have a picky eater, powder supplements might be easier to administer than chewable tablets. Your pooch will be none the wiser if you mix a flavorless powder supplement into their wet food, but you might have a hard time getting your dog to swallow a tablet.
As always, consult your veterinarian before including any supplement in your dog's diet, even if it's completely natural. This is especially true if your pooch is already on allergy medications. Your veterinarian knows your pooch and their medical history the best and can tell you if the ingredients in the supplement are safe for your pet to consume.
We are committed to finding, researching, and recommending the best products. We earn commissions from purchases you make using the retail links in our product reviews. Learn more about how this works.

Angela Vuckovic
A proud mama to seven dogs and ten cats, Angela spends her days writing for her fellow pet parents and pampering her furballs, all of whom are rescues. When she's not gushing over her adorable cats or playing with her dogs, she can be found curled up with a good fantasy book.
More by Angela Vuckovic
Published November 14th, 2022 10:19 AM