57 Views
September 8th, 2021 12:00 AM
We're committed to finding, researching, and recommending the best products. We earn commissions from purchases you make using links in our articles. Learn more here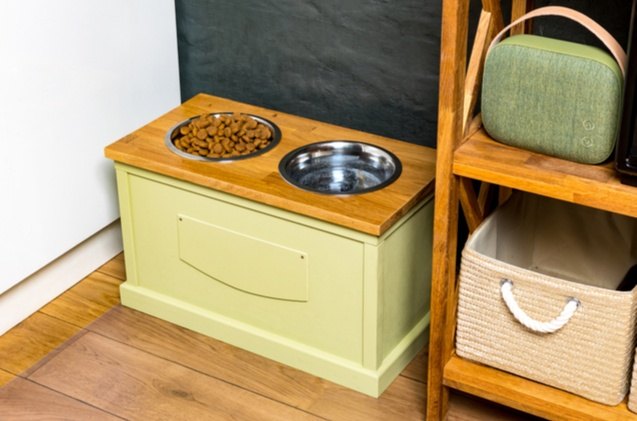 Elevated dog bowls ensure that your pet eats at a healthy pace and can prevent bloating and a myriad of other digestive problems. These raised bowls for dogs will help your pooch's belly get full without any issues after meals!
Nothing can beat a dog's enthusiasm over food. When it's dinner time, the usual scenario involves your dog gobbling up everything you pour in their bowl at supersonic speed. This, of course, is not very healthy and can lead to plenty of issues with digestion and bloating. Another contributing aspect to these issues is poorly designed dog bowls. Usually shallow and low to the ground, they often require a feeding posture that is unhealthy and places extra strain on your dog's neck and shoulders.
A great solution to these issues are elevated dog bowls. They help create a more natural stance for your dog and make feeding slower and healthier. Elevated dog bowls are particularly suited to large and tall dog breeds, but also for dogs that suffer from indigestion, gastrointestinal problems, arthritis, and similar issues. Choosing the elevated dog bowl ideal for your dog can be challenging – so we've listed the 10 best elevated dog bowls on the market to make the selection easier!
1. Editor's Choice: Emfogo Adjustable Elevated Dog Bowl
There are a ton of benefits your dog can get from a well-designed elevated bowl. Emfogo Adjustable Elevated Dog Bowl puts the overall concept of the elevated bowl design one step above the others thanks to its great adjustability. This feeder is made from natural solid wood that shows its wonderful grain and adds a touch of that rustic charm into your home. And it is durable, too! The design puts an emphasis on stability, and to that end, you can notice the special trapezoid sides that make a larger footprint while still sitting snuggly up against a wall. Rubber pads on the bottom eliminate sliding and movement, and special carry handles make it super easy to move the feeder wherever you want. With three different slits notched in its sides, you can find the perfect height your doggo needs – no matter its breed! If you value versatility and a sturdy design, this elevated feeder will give you all that's needed
2. Runner up: URPOWER Elevated Dog Bowls
Inadequate feeding bowls can create a host of issues for your pup. But URPOWER Elevated Dog Bowls offers an alternative with their versatile and durable design. This feeder has three different height settings so you can fully adjust it to the needs of your pet, no matter their breed. The sides of the feeder come off and can be placed vertically or horizontally for two different heights. And by removing them altogether you get the lowest height. Made with highly durable and safe plastic, this feeder is surprisingly robust and durable. Rubber pads are included as are locking mechanisms that keep everything tight and stable. Another great feature is the raised edge which prevents spills from ending up all over your floor. Add to the mix two included dishwasher-safe food bowls and you get yourself an ideal elevated dog bowl!
3. Customer's choice: ZPIRATES Dog Bowl Stand
Natural materials and adjustability are two major aspects of elevated dog bowls that are often overlooked. ZPIRATES Dog Bowl Stand provides a design that incorporates them into one nifty and simple concept. Mate with natural bamboo wood, it doesn't rely on any toxic or artificial components, making it suitable for pets and eco-friendly to boot. Prefabricated and refined to perfection, this elevated bowl stand is connected with simple screws and can be adjusted to match any bowl you want, thanks to the special grooves and notches it has. And even though it can't be adjusted in height, its default size is the ideal middle ground that offers dogs a better eating experience. The wood itself is carbonized and coated to be waterproof, so there is no need to worry about those sloppy eaters. Included in the package are the tools you need for the quick one-minute assembly. And it's that quick setup that makes this elevated feeder ideal for travels, camping, or outdoor eating as much as for regular home use.
4. Best for small dogs: Y YHY Raised Cat & Dog Bowl
Sometimes, all that is needed is just a tiny bit of extra height to make mealtime truly optimal. For those smallest dog breeds, even this little can make a major difference in eating. Y YHY Raised Cat & Dog Bowl doesn't utilize an elevated frame like some other designs, but still offers the same solutions. Thanks to its unique "Tilt Angle" design, this bowl helps divert food to the center of the bowl and makes eating easier. This is particularly important for pets that tend to push the food around and spill it. Raised edges and a considerable depth both increase the capacity of this bowl, which can contain quite a lot of food or water. The bowl is made from durable and high-quality ceramic which isn't only a safe material for pets but is also super easy to clean in the dishwasher. Of course, thanks to this material, the design can be considered quite robust, so there is no need to worry about your pet sliding it about or tipping it over!
5. Best Design: LIONWEI LIONWELI Ceramic Adjustable Elevated Bowl
This is a super unique concept that puts all emphasis on a very important feature – versatility! It also adds some style to your home, thanks to its elegant, art deco-ish looks! The food bowl is made from 100% porcelain ceramic without any toxic additions, while the elevated stand is made from natural, sturdy wood. Both are super easy to clean, eco-friendly, and a non-toxic, pet-safe choice. LIONWEI LIONWELI Ceramic Adjustable Elevated Bowl offers three unique positions to choose from, and all thanks to the six removable legs you receive. By choosing either tall or short legs, you have two basic height levels, but if you mix them up, you get a unique slanted position that offers even more benefits. It diverts food to the center and helps messy eaters, all the while maintaining an elevated position. You also get to choose from different widths and bowl sizes, so you can adapt perfectly to your dog's breed and size.
6. Best Metal: Pet Fusion Premium Pet Bowl
Some dogs can be less gentle than others. When elevated dog bowls are considered, it can be somewhat easy for large breed, burly dogs to tip over, slide, or even collapse an elevated feeder – especially when they get the munchies! That's why it's crucial to have a sturdy and reliable design in these cases. Pet Fusion Premium Pet Bowl boasts a tough design made from food-grade metallic anodized aluminum with a thick profile. This material is extremely long-lasting, and thanks to the color infusion it will not chip. It is also totally waterproof and resistant to corrosion. This elevated feeder has a fixed height of 4" or 8" (your choice) which is an ideal middle ground for most dog breeds. Thanks to the wide design and special rubberized angled legs, this feeder is also very stable. Added are two superb food-grade stainless steel bowls that fit into their appropriate insets to offer perfect depth for both dogs and cats.
7. Best Feeding Station: Brave Bark Wood and Metal Feeder
Two in one- keep your pet's food and water at the same place, with minimal mess, and at an optimal height. Brave Bark Wood and Metal Feeder has a tough and angular steel frame with an attractive natural wooden surface that holds the bowls. This ensures enough stability on the floor while incorporating non-toxic and natural materials as well. Included are two food-grade stainless steel bowls with great depth and impressive capacity- they are dishwasher safe and easy to clean, which ensures proper hygiene at all times. This feeder is available in three heights, each one suitable for small, medium, and large dog breeds.
8. Best for Short-Legged Breeds: Super Design Mess Free Slanted Bowl
A slanted dog bowl can make sure your pet doesn't get bloated or has digestion problems after meals – especially if they have short legs and small stature. Super Design Mess Free Slanted Bowl is a great example of how a smart design can make a big change for your pet's wellbeing. This food bowl is set in a slanted holder with a special 15-degree angle that helps to concentrate the food to the bottom of the bowl and alleviates pressure on the neck. It is made from durable and safe melamine plastic, while the food bowl is made from food-grade stainless steel. And best of all – both are dishwasher safe! The slanted bowl frame has special rubber pads on the bottom that prevent excessive sliding, while the food bowl boasts a high round arc design that prevents your dog from sliding the food over the edge. However, it is important to remember that this design is not suitable for large breeds. Small short-legged doggos will find this bowl ideal!
9. Best for Large Breeds: SPOT Ethical High Rise Single Diner
Large dog breeds can be exceptionally tall, and regular elevated dog bowls simply won't do the trick for these pooches. They will usually lower their heads way down, creating further pressure on their neck and difficulties swallowing food. Thanks to this extra tall high-rise diner from Spot Ethical, tall doggos can finally eat in comfort. SPOT Ethical High Rise Single Diner is made from a durable handcrafted wire stand that can be assembled in minutes thanks to its "snap in" design. It comes with a wide hygienic stainless steel dish that has a great capacity and is dishwasher safe. Of course, one of the advantages of this design is the fact that you can always remove the bowl and use it as a regular floor dish for your tiny doggo as well! This adds to the versatility, especially important if you have a home with multiple dogs.
10. Best Wooden: Pawfect Pets Premium Elevated Bowl
Wood is a natural, eco-friendly solution that usually contains no toxic materials and seamlessly fits in any interior. And Pawfect Pets Premium Elevated Bowl is a great example of how wood can be utilized to its max potential. This raised dog bowl has a modern look and is made from high-quality, durable bamboo that boasts exceptional water resistance. This elevated feeder comes with four stainless steel bowls and two spots for them. You get three bowls with 6 cups capacity, and one with 4 cups capacity, which adds to the versatility. Thanks to the design of slanted sides and bottom support, this feeder is extra stable. It also features added silicone rims that keep the bowls in place and prevent the build-up of moisture and bacteria.
What are the Benefits of Elevated Dog Bowls?
It could be high time to say farewell to the old-school down-low dog bowl. A regular bowl allows your pet to eat too fast and messily, creates unnecessary strain on the neck, and most importantly, creates an unnatural angle from which the dog has to eat. This angle is a common cause of bloating, vomiting, indigestion, and other tummy problems!
A well-designed elevated dog bowl design helps to resolve some of these issues. One of the great benefits of elevated dog bowls is the fact that they promote slower eating. Thanks to a more natural angle of eating, the food will move down the esophagus slowly, limiting the pace at which it can be consumed. In turn, it promotes better chewing and eliminates bloating.
Elevated bowls also help with arthritis. Vets often recommend them for senior doggos that need some pain and pressure relief. Eating or drinking with your head way down low can be a big challenge for dogs, hurting the neck and shoulder joints. When the bowl is elevated, the pain is gone! Of course, the height will help maintain proper posture, so it can be good to implement them from an early age as a preventative measure.
We are committed to finding, researching, and recommending the best products. We earn commissions from purchases you make using the retail links in our product reviews. Learn more about how this works.

Angela Vuckovic
A proud mama to seven dogs and ten cats, Angela spends her days writing for her fellow pet parents and pampering her furballs, all of whom are rescues. When she's not gushing over her adorable cats or playing with her dogs, she can be found curled up with a good fantasy book.
More by Angela Vuckovic
Published September 8th, 2021 12:00 AM