242 Views
We're committed to finding, researching, and recommending the best products. We earn commissions from purchases you make using links in our articles. Learn more here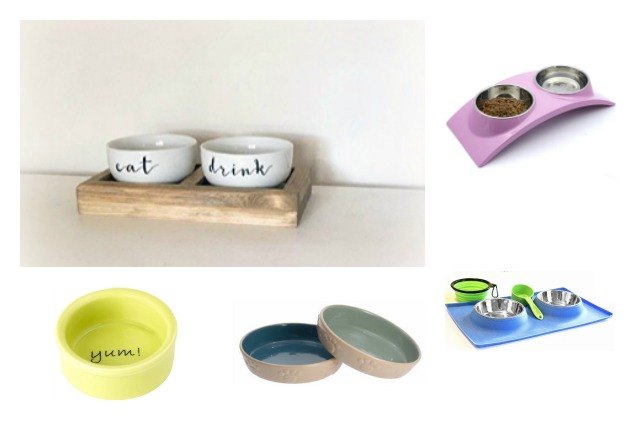 Size does matter! Morkies are tiny, usually no bigger than eight pounds, so finding a bowl for food and water may be tough. Here are the best bowls for Morkies we've found.
They're so stinking cute and often, so stinking small! You want to make sure that they don't have a difficult time reaching their food and water, so getting the just-right-size bowl is important.
1. Editor's Pick: Super Design Stainless set
This helps bring your Morkie's food to her itty bitty mouth in a stainless set on a non-skid mat. It's a unique and delicate design for your little bit, and won't overwhelm her.
2. Runner Up: SPUNKYJUNKY Ceramics Dog Bowl Set
Stylish and functional, this dog bowl set will easily blend in in your modern apartment and minimalistic interior decor. SPUNKYJUNKY Ceramics Dog Bowl Set combines natural and elegant materials- ceramics and bamboo- which doesn't just look great but it is completely safe for your beloved little Morkie. The ceramics used to make the bowls is food grade and free of lead and cadmium, and the bowls come in two capacities- 400 ml or 850 ml each. The bamboo stand prevents slipping and raises the bowls ever so slightly for a more comfortable eating position and less mess. To boot, you get to choose between 5 trendy colors to make sure they match your aesthetics.
3. Best Silicone Base: Loving Pets Bella Blu Bowl
This adorable little bowl is award-winning and made of stainless material for the best food health of your pet. It has a removable silicone base that makes the bowl easy to wash by hand or dishwasher, and keeps it from skidding from your Morkie as she eats.
4. Best for Travel: PopUp Silicone Bowls
Now, we aren't going to be all stereotypical and assume your little Diva isn't a camper, but in case she's not, these are still awesome bowls because they're great for traveling anywhere you take your Morkie. And we know you take her everywhere. They are food grade silicone and they come in several different colors.
5. Best Stainless Steel: Platinum Pets Embossed Stainless Steel Dog Bowl
Platinum Pets uses a proprietary power coating process to get that glean for their steel dog bowls. Beyond that sheen the high gauge stainless steel bowl is scratch, chip and fade resistant. Each bowl is fitted with a durable silicone ring at the base so that your Morkie's bowl won't skip or tip. There size guide will show you exactly the size your petite pup is going to need. For your Morkie they have an extra small size available, and you can pick from their array of 16 shiny colors all embossed with a tiny paw print. Now you see why Platinum Pets produce the #1 selling powder coated pet bowl.
6. Best Design: Super Design Slanted Feeder
This is perfect for Morkies because the slant makes it easy for your little furbaby to eat and digest food. They are in detachable silicone stands and are super easy to wash and care for. They come in several colors.
7. Best Slow Feeder: Outward Hound Fun Feeder Slo Bowl
Some small pooches can have a big appetite! If your Morkie eats too fast, it's time to make them slow down and savor every bite. Outward Hound Fun Feeder Slo Bowl is designed for those greedy little eaters in particular, as its meal-lengthening ridges prevent the dog from gobbling up kibble in record time- instead, they got to put a little work in it. The bowls come in different ridge patterns, some less some more complex, and are made from pet-safe, durable BPA, PVC, and phthalate free ABS plastic. For most Morkies, it's the Small/Tiny size that works best as it holds 3/4 cups of food, but you might also want to consider the Medium/Mini which holds up to 2 cups of kibble.
8. Best Stoneware: PetRageous Embossed Paw Stoneware
We have always loved the quality and choices from PetRageous that is why their hand–crafted paw embossed stoneware bowl for small dogs has made our list. The bowl is just 5 inches in diameter and 1.25 inches tall, holding up to 6 ounces of food. Perfect for your little Morkie. As a pet parent you will love that the bowl is both dishwasher and microwave safe for hot meals and easy clean ups. The bright orange glaze is choice for your personality filled pup!
9. Best Basic: Petrageous Little Lucy's Paws Bowls
These bowls are low, low to the ground and perfect for your Morkie to eat with no issues about bowl size or height. They're 100% stoneware so they're microwave and dishwasher safe.
10. Honorable Mention: Toftee's Paws Pet Feeder
Perfect for teacup breeds, this designer pet feeder is stylish and just the right size for your Morkie. The bowls are lead-free, microwave and dishwasher safe and come in pink or neutral beige.
How often should I clean the bowl for my dog?
You should make sure to clean your pet's bowl after every meal, as bits of food pieces can develop mold or harbor dangerous bacteria. Use a pet-safe dish detergent to remove any food particles and get your dog's bowl sparkly clean after dinner time. When it comes to water bowls, you don't have to clean them on a daily basis- but a thorough clean up once every week is recommended to keep everything sanitary.
How to keep algae out of the dog water bowl?
Algae thrive in the sunlight, so oftentimes, it will grow in dog water bowls that have been exposed to the sun. If algae appears, you have to clean it up right away, because the longer you wait the harder it will be to scrub it all out. Another good trick to prevent algae from forming is to add a tablespoon of apple vinegar cider in your pet's water- it will keep algae from appearing and it's safe and beneficial for dogs, so unless they mind the smell, it's a win win all around!
Additional resources:

Published July 26th, 2021 12:00 AM