94 Views
Best Leashes For Shorkies
August 18th, 2021 12:00 AM
We're committed to finding, researching, and recommending the best products. We earn commissions from purchases you make using links in our articles. Learn more here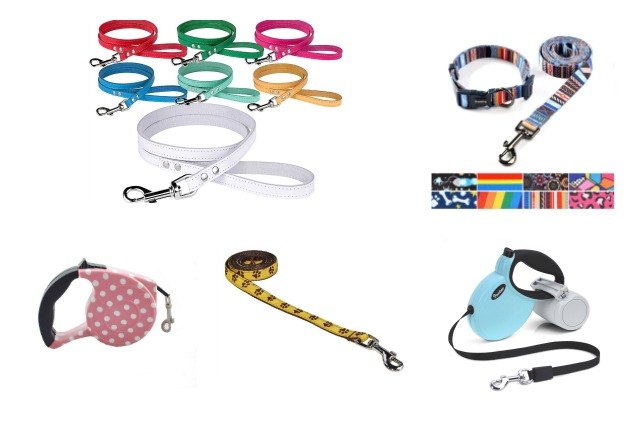 Your Shorkie is the perfect mix of Shih Tzu and Yorkshire Terrier and you want to show him off. Here are the best leashes for Shorkies that we've found.
1. Editor's Pick: BronzeDog Leather Training Lead
It starts as a trainer for small puppies but for designer breeds like Shorkies, it makes a wonderful everyday leather leash as well. We love the color selections BronzeDog offers and the durability of the leather makes it a great choice for wherever you take your Shorkie.
2. Runner Up: Pesp Pearls Leash
Is your Shorkie a true diva? Aren't they all? This pearls leash by Pesp may not be your everyday leash but when you want to make a statement, it's a great way to do it. It's made with reinforced steel and faux baby pearls and it's still lightweight. The reinforced metal clasp makes sure it is safe for your Shorkie.
3. Best Distressed: Mighty Paw Distressed Leather
We love the modern look of this 100% distressed leather leash and it comes in three different leather stains. It's lightweight and durable and a nice fit for your Shorkie and it comes with a money-back guarantee if you don't love it. (But you will!)
4. Best Retractable: Pawaboo Retractable Leash.
We love that this retractable leash has the attached doggy poo bag holder for convenience, and that it still is lightweight and won't bog your Shorkie down. The leash is terylene for smooth movements and the quick break lock lets you give your Shorkie some freedom. It retails for $10.99.
5. Best Nylon: Pupteck Nylon Puppy Leash
Leashes for puppies are sometimes still too big for Shorkies, but this one isn't and it has extra padding for you when you're taking your Shorkie wherever she wants to go. It's durable and machine washable and comes in several colors.
6. Best Print: Sassy Dog Nylon Leash.
Is your Shorkie sassy? Sure she is. So this Sassy Dog nylon leash is a great match! It has durable nylon webbing so it's easy to clean and care for and super-lightweight for your Shorkie's comfort. It's made in the USA.
7. Honorable Mention: Yueton Fashion Retractable
Want your retractable leash to make a statement? (As if your Shorkie doesn't already!) This retractable from Yueton comes in several adorable patterns and colors and will give your Shorkie some freedom to explore as it prances around town. It retails for $7.99.
8. Best Combo: Ihoming Leash Collar Combo
You may not choose to use the collar for your Shorkie (some people prefer harnesses) but at this price for this combo of collar and leash, you can donate the collar because the leash is where it's at! We love the funky patterns and colors your Shorkie can strut and it's super easy to care for as it's polyester and you can just throw in the wash.
9. Best Rope: Pawtitas Reflective Rope
Looking for just a basic rope leash for when you need to have your dog on lead (instead of carry-on)? This is perfect! Its nylon rope is lightweight and sturdy, and the color choices are our faves. It comes in extra small just for teacups.
10. Best Basic: Coastal Nylon Leash
Looking for a teeny, tiny basic leash for your teeny, tiny Shorkie? One that comes in a nice variety of color? Look no further. This is a basic nylon leash, but the colors are bright and vivid and it's perfect for quick trips to vet or friends, or even showing off (because it's all about the Shorkie anyway, right?). One of the most tiny and durable we've found, you can grab a few colors!
FAQs
What should I consider when choosing leashes for my Shorkie?
One of the first things pet owners consider when buying a leash is the material. A leash should be durable as it will see a lot of tear and wear- even though your Shorkie is tiny, daily walks do take its toll on the leash, so go for durable materials such as nylon or leather if you prefer natural materials. Length of the leash is another feature to pay attention too: leash-trained and obedient Shorkies can be walked on a longer leash (e.g. retractable leash) but for training and pets that tend to pull, a shorter leash is a better choice. Of course, don't forget about details, either, as features such as reinforced stitching, reflective trims, and hardware material can tell you a lot about the durability and the quality of the leash.
How to leash train my Shorkie?
Shorkies are smart but they can be stubborn, so it's best to arm yourself with patience when leash training one. Use positive reinforcement methods, rewarding good behavior with praise and treats and never yell or punish your pet- not only it can be cruel to them, but it also won't help them learn what you want them to, on the contrary. Start by introducing the walking gear (leash, collar or harness) to your dog, let them sniff and wear it in the house for shorter periods of time and reward them when they are not trying to take it off and willingly come to be leashed. Practice indoors first before making short trips to the outside, and be sure to use treats until your dog is fully accustomed to walking on a leash.
Additional resources:
We are committed to finding, researching, and recommending the best products. We earn commissions from purchases you make using the retail links in our product reviews. Learn more about how this works.

Published August 18th, 2021 12:00 AM