531 Views
Best Decorative Dog Crates
February 25th, 2022 12:00 AM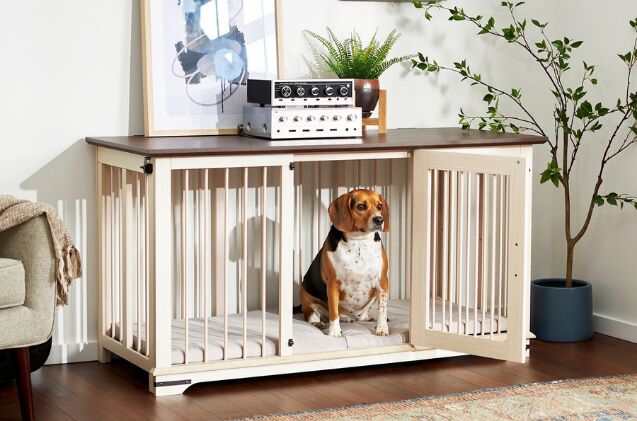 Decorative dog crates combine function and aesthetics into one design. Not only are they beautifully designed and can double as furniture, but they also provide your pet with a safe, secluded nook of their own.
Dog crates can be quite practical – they can help ease dogs with separation anxiety, provide a safe and secluded place for your pet when there are strangers around, and can serve as a special spot your pet can retreat to when they want some alone time. Unfortunately, most dog crate designs are plain ugly. Clunky and wiry, they look more like cages than anything else, which might explain why people tend to be prejudicial about crating in the first place. Luckily, decorative dog crates allow you to reap all the benefits a crate can give to your pet without compromising on style!
Often designed to look and double as side tables, end tables, credenzas, or nightstands, decorative dog crates are well-made and elegantly designed. There are quite a few of these on the market, but we've rounded up the best decorative dog crates around into one list. Read on to find your favorite!
1. Editor's Choice: unipaws Furniture Style Dog Crate with Cushion
Decorative dog crates are a great way to provide an enclosed, private space for your pet that actually matches your interior decor instead of sticking out like a sore thumb. This elegant furniture-style dog crate is made from durable pressed wood and has durable metal bars so you can rest assured your pet is safe when inside, and all the while it doubles as a side table, end table, or nightstand. The unipaws Furniture Style Dog Crate comes in medium (36″W x 23″D x 26.2″H) for dogs up to 40 lbs, and large (40.9″W x 28.3″D x 31.3″H) which suits dogs up to 90 lbs. This furniture-style crate is also available in two finishes, gray or walnut.
Pros
Suited for big or small dogs
Elegant design
Can support 150 to 200 lbs on top
Comes with a cushion
2. Runner Up: FEANDREA Wooden Dog Crate
If you appreciate furniture with a charming rustic flair, this decorative dog crate will surely catch your eye. Made from particleboard and steel, it features a burnt wood finish that goes well with the farmhouse or industrial decor of the house. Apart from being a stylish addition to your home, this crate is quite sturdy and well-designed – options such as two lockable doors and a removable tray at the bottom for easy cleaning make it really stand out from the competition. Easy to assemble, it also has adjustable feet to keep it stable even if your floors are somewhat uneven. FEANDREA Wooden Dog Crate comes in 3 sizes: small (27.2"L x 20.1"W x 23.6"H), medium (32.5"L x 21.9"W x 25.2"H) and large (38.6"L x 25.6"W x 26.8"H).
Pros
2 lockable doors
Removable bottom tray
Can support up to 154 lbs on top
Sturdy
3. Customer's Choice: ECOFLEX Dog Crate
Simple, practical, and stylish – this decorative dog crate has it all. It is made from ecoFLEX, an innovative, eco-friendly, and durable composite material that is essentially a non-toxic blend of recycled plastic and reclaimed wood that combines the best of both materials. The spindles are made from stainless steel tubing, as well as the latches, so you can rest assured that all parts of this crate are sturdy and durable. Another great feature of this decorative dog crate is that the top is removable for easier cleaning – talk about convenience! ECOFLEX Dog Crate comes in small size for dogs up to 20 lbs (23.8". L x 18.1" W x 22" H), a medium that fits dogs up to 50 lbs (29.5" L x 21.1" W x 25.2" H), large for dogs up to 80 lbs (35.4" L x 24" W x 28" H), and even an extra large that accommodates dogs up to 100 lbs (42.5" L x 27.6" W x 30.9" H). There are four finishes to pick from – antique white, espresso, russet, and gray.
Pros
Simple and stylish
A variety of finishes
Size options for any dog breed
Durable, easy to clean materials
4. Best for Large Dogs: Casual Home Wooden Extra Large Pet Crate
Big dogs can sprawl inside a stylish crate, too! This decorative dog crate is designed to suit all types of dogs, including large breeds that weigh between 40 and 90 lbs. The solid wood construction makes the crate durable and sturdy, but also gives it that quality look of more expensive furniture, and as it can double as an end or side table, that's certainly appreciated. Everything is made from real wood except the lockable latch which is, of course, metal. Casual Home Wooden Extra Large Pet Crate comes in black, espresso, white, or walnut finish to match any interior. There are also four sizes, the biggest one being a match for large breed dogs, which measures 31.5″W x 44.5″ D x 30″H.
Pros
Sturdy and elegant
All-wood construction
Choice of multiple color finishes
Lockable latch
5. Best for Small Dogs: BIRDROCK HOME Decorative Dog Kennel With Pet Bed
Petite pooches don't need much space but their crate should still be roomy enough for them to be comfy. This beautiful decorative dog crate is perfect for small breed dogs and puppies as it gives a tiny dog just enough space for coziness. It is made from strong MDF along with metal wire side panels, so it's both built to last and to look great inside any apartment or house. For ease of accessibility, this crate features two entry and exit points (double side door and end door) and also comes with a 2.75" padded, removable dog bed to ensure your pet is always cozy. BIRDROCK HOME Decorative Dog Kennel measures 23" W x 32" D x 26" H and comes in espresso finish.
Pros
Durable materials
Pet bed included
Two entry and exit points
Elegant design
Cons
Assembly can be a bit challenging
6. Best for Living Room: Frisco "Broadway" Dog Crate Credenza & Mat Kit
Why ruin your carefully curated living room with a big, clunky, wire kennel when you can have a stylish, furniture-like decorative dog crate instead? This dog crate-slash-credenza is beautiful enough to become a centerpiece of your modern living space rather than being a sore sight. It is made from wood and reinforced with a metal frame inside so it is sturdy and durable, and includes sturdy double locks and a removable lid for improved functionality. To boot, it also comes with two matching cushions for your pooch's comfort! It even comes in three stylish color options: antique white or black for those that prefer a classic look, and navy blue for a splash of color in your home. Frisco "Broadway" Dog Crate measures 55.5" L x 24.5" W x 30" H and suits dogs that weigh between 26 and 40 pounds.
Pros
Elegant design
Made from durable wood
3 colors to choose from
Removable lid for easier cleaning
2 cushions included
7. Best for Bedroom: Ylovecl Wooden Dog Crate with Storage Drawer
Want your pooch to have a safe haven and a cozy nook right next to your bed? There's no need to sacrifice nightstand space to fit a crate when you can get one that does both! Doubling as a nightstand, this decorative dog crate even has a functional drawer with 1A current charging for your device that goes through it and a sturdy top that can withstand 100 lbs of weight. The crate is made from high-quality fine iron mesh combined with MDF material and has a detachable slide-out tray at the bottom for easier cleaning. It is available in two color options to match your bedroom's theme – brown rustic style and texture grey. Ylovecl Wooden Dog Crate is designed for dogs and puppies that weigh between 11 and 25 lbs and measures 25L x 19.5W x 24.5H.
Pros
Doubles as a nightstand
Drawer with 1A current charging
Slide-out bottom tray
Sturdy and durable materials
Cons
Only suits small breed dogs
8. Best with Storage: PawHut Wooden Dog Kennel
A one-stop shop for all your pet's needs, this decorative dog crate is both practical and elegant. In addition to the crate space that will give your pet a cozy little nook to retreat to, this furniture-style kennel also has a built-in side cabinet with three adjustable levels where you can store their food, toys, leashes, and other pet necessities. Solid and stylish, it is made from steel and particleboard wood in an attractive white and walnut color combination that will fit in seamlessly in any decor, from rustic to minimalist. As an added bonus, the crate comes with a removable and washable soft cushion for your four-legged bestie. PawHut Wooden Dog Kennel measures 38.5″ W x 19″ D x 27.75″ H and suits small breed dogs up to 33 lbs.
Pros
Attractive design
Built-in storage side cabinet
Raised bottom
Cushion included
9. Best for Chewers: PENN-PLAX Dog Crate
Just because your pooch is a curious chewer doesn't mean you have to forego the idea of a decorative dog crate! This durable, chew-resistant crate for dogs is a great choice for milder chewers that might be tempted to nibble on their new crib, as it is made from durable metal mesh with a wooden frame. Of course, the wood parts won't withstand the gnawing, only the mesh will, which is why this crate is not meant for the more aggressive chewer. Some of the great features this decorative dog crate has include two entry and exit points, metal latches, and an included cushion with a removable, machine washable cover. PENN-PLAX Dog Crate measures 37" D x 23.75" W x 26" H and suits dogs up to 40 lbs.
Pros
Durable and solid construction
Chew-resistant metal mesh
Modern driftwood color
2 entry and exit points
Benefits of Decorative Dog Crates
Are decorative dog crates with the extra $$$? If you appreciate a beautiful and practical design, they certainly are. Decorative dog crates serve two purposes – the first is, of course, being a crate for your pet, but they can also double as furniture. With a single purchase, you'll be getting two things and you'll be able to provide your pet the comfort they require without having to ruin the looks of your living room or bedroom. Decorative dog crates come in various different designs, from those that double as nightstands and side tables, to those that can replace your coffee table or even become a centerpiece of your living space, such as a credenza crate.
In addition to housing your pooch, decorative dog crates have sturdy load-bearing tops that can support anywhere from 100 lbs to 200 lbs of weight, so you can store books or decor on top of them without worrying about them collapsing. Perfect if you're looking to kill two birds with one stone – and stay within the budget while you're at it!
We are committed to finding, researching, and recommending the best products. We earn commissions from purchases you make using the retail links in our product reviews. Learn more about how this works.

Angela Vuckovic
A proud mama to seven dogs and ten cats, Angela spends her days writing for her fellow pet parents and pampering her furballs, all of whom are rescues. When she's not gushing over her adorable cats or playing with her dogs, she can be found curled up with a good fantasy book.
More by Angela Vuckovic
Published February 25th, 2022 12:00 AM