193 Views
August 31st, 2021 12:00 AM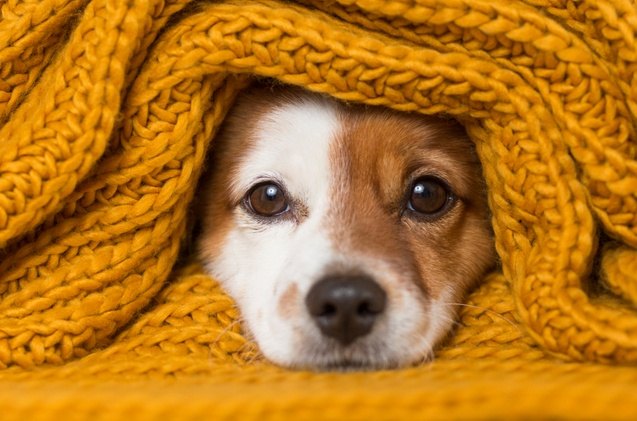 Dog blankets are specially designed for pet use and offer warmth and insulation your furry bestie needs during winter. These are the best dog blankets on the market–pick one to make sure your pooch is snug as a bug when the temperatures drop.
Some of you might think that your furry four-legged bestie will do just fine in the wintertime without your assistance. Your dog might seem fine in the snow, eager to run around and go out. But don't be fooled. Wintertime can be tough on dogs, just as it is on us. Large breeds with a lot of fur – mountain dogs especially – might do better in the winter, but most other breeds, and particularly those with smooth coats, will certainly feel the chill. And as a loving owner, you will want to do anything and everything in your power to maintain your pet's comfort and support his health all throughout the winter. Spending most of their time in a warm house can help, as can a cozy, indoor dog nook in the form of a snug bed or furnished crate. Keeping your pet dry and warm during walks is also a must. But how to bring all that one step further? With a dog blanket.
Why do I need dog blankets?
Dog blankets might sound like the basic thing that anyone has lying around the house, but the truth is far from that. Specially designed dog blankets boast warmth, insulation, and durability – and a material that can differ greatly from your personal blanket. We all know that dogs have a tendency to chew, mangle, and generally mess up any new accessory they receive – be it a toy, a jacket, or a blanket. That's why durability is important, and dog blankets need to be made from particular fabrics. Furthermore, different insulating properties are needed for small and gentle breeds, and all dogs with a short coat and a lanky frame. This means that a smart investment into a well made dog blanket will ensure your four-legged companion will remain warm and healthy throughout those cold winter days.
Not everyone heats their home the same way- and not all pets experience the cold the same way. For most dogs, though, a blankie to keep them warm and cozy is always a welcome accessory, regardless of the temperature inside your home during the colder months- even if it's reasonably warm, your doggo will love nothing better than to get snug as a bug in their insulating and plush blanket. Many owners add blankets to crates or beds where their pets spend the most time in, to make sure their dog's fave nap spot is always toasty.
Another great thing about dog blankets is the fact that they have multiple uses. You can place a blanket on the sofa, inside the crate, take with you when you travel, or just put in any place where you'd like your dog to have some extra insulation beneath him. You can also avoid your pooch leaving stains or stray hairs behind – perhaps if you're at a friend's home – by placing the blanket beneath them. Either way, blankets for dogs can really pay off – in more ways than one. Overall, they are a great thing to have in your home – you never know when it might come in handy.
Of course, there are many different dog blankets on the market – to help you narrow down your choice, we've rounded the best ones. Countless pawrents are raving about these particular pet blankies, so you can go wrong with any- just pick the one that suits your preferences and budget.
1. Editor's Pick: Furhaven Throw Blanket
This thermal lambswool throw blanket is one of the best examples of what a good dog blanket should look like. It is a layered, extra warm blanket, with two wooly, fluffy sides and a thermal mat between them. Designed perfectly to retain warmth, it traps body heat and ensures proper warmth. It has protective stitching on the sides that eliminates fraying and is totally waterproof. It is also completely machine washable to ensure quick and easy cleaning. It comes in 6 sizes ranging from small to XXX- large and 8 color options so you can easily match it to your decor. And best of all – it's cost effective.
2. Runner Up: PAWZ Road Blanket
This plush fleece blanket is an affordable but super warm option. It is made from a double-sided coral velvet polyester fabric and is ultra fluffy and soft. The edges of the blanket are covered with a stitched fabric edge, protecting from fraying. The blanket is machine washable and simple to clean. You will be surprised at how soft this blanket feels, and it is bound to provide the absolute best heating for your pet. It comes in several sizes from S to XL and has a cute polka dot pattern that adds a splash of color to your home. With a stellar rating of 4.5 stars and over 11,000 reviews, it's no surprise that this product received Amazon's Choice award and won over many pet parents.

3. Best Color Choices: Msicyness Premium Dog Blanket
This unique dog blanket is great at serving two purposes at once. It is a 100% polyester, super soft blanket, and has a unique waffle pattern all over it. This ensures extra softness and durability as well, but it also means that this blanket doubles as a protective cover as well. You can easily use it as a mat for your dog to lie onto. The double layer of the soft fabric ensures max comfort and warmth. And it too is fully machine washable, so those stains and hairs won't give you too much of a headache. It also one of the mid-range blankets, but the splurge can be well worth it. This blanket comes in sizes small, medium, large, and extra large size and 10 colors and patterns to choose from for the perfect fit with your interior style.

4. Best Shag: Best Friends by Sheri Throw Shag Dog Blanket
Now here's the ultimate fluffy blanket. This high quality, faux fur blanket can be great for puppies – but big dogs as well. The faux fur is extra plush and thick, and highly reminiscent of a mother's coat, so puppies are bound to feel cozy and secure with it. The bottom layer is water and dirt resistant and makes cleaning and dusting off the blanket a breeze. It is also completely washer and dryer safe, and that means a lot with a blanket as furry as this one. And being thick and shaggy, it also acts as a great mat for all occasions – either to give warmth to your dog or to protect the furniture from stains and hairs.
5. Best for Covering Furniture: Petmaker Waterproof Furniture Cover
Here is a blanket that can work well even in the summer months – even though it technically isn't just a blanket but a tailored cover for your sofa, too. If you want to keep your home clean – especially when you are out – this cover-slash-blanket is a perfect choice. Provide your pet with a warm place to lie down on, and protect your furniture from wear and tear, hair, and stains. It comes in different versions and can fit on sofas and armchairs easily. It is made from soft and very durable quilted polyester and is easy to clean and maintain. The sides have sewn on pockets that can hold all sorts of odds and ends, and help you keep everything tidy. A good choice for year-round warmth and protection.
6. Best Premium: PetFusion Premium Dog Blanket
As if your dog needed another reason to lay around and look ridiculously adorable. This super soft blanket from PetFusion will do the trick though. It's a bit of luxury, and let's be honest—doesn't your best friend deserve it? It's perfect for all-four seasons, with double-layer reversibility. It won't pill or pull, but WILL keep your dog wrapped in luxurious feeling microfiber plush that you may have to tell the rest of the humans in your house to stop stealing. The light inner lining gives it a bit of extra insulation and the inner seam adds a touch of style to an already pretty-incredible blanket. It's great for keeping Fifi comfy in bed or in her crate, and it's super easy to keep clean simply by throwing it in the washing machine.
Did we tell you the humans in your house will be jealous of this blanket? You might want to go ahead and buy a couple because we're pretty sure it'll be a fan favorite.
7. Best Fleece: Luciphia Fluffy Premium Fleece Pet Blanket
This is probably the softest, fuzziest, and fluffiest blanket on the market, and it sure does offer some super warmth. It is made from 100% microfiber and soft sherpa fleece, and with two sides of fluffy, you can bet it is super thick and comfy. It can be cleaned in the washer and dryer, adding to the ease of maintenance. This blanket comes in small, medium, and large sizes and one of three colors: beige, black, or grey to match your interior decor. To boot, you can pick between a single blanket or a pack that includes 3- so your pet is not without their fave blankie even when it's time for washing it.
8. Best Fluffy: furrybaby Premium Fluffy Fleece Dog Blanket
The two-sided premium blanket from FurryBaby is easily one of the best choices on the market. Extra fluffy and soft, it has two totally different sides and can fill two roles with ease. Made from 100% soft polyester fabric, it has a soft plush side and a thick fluffy side with a waffle pattern. Either way, it is a super soft and comfortable flannel blanket and can act as soft and protective padding as well. It is machine washable for easy cleaning and is also affordable as well. This fleece dog blanket is available in sizes small, medium, and large and comes in 4 color combinations to suit anyone's style.

9. Best Luxe: Bessie and Barnie Luxurious Blanket
This ultra fluffy blanket has a hefty price tag – and with good reason. Two sides of special plush, extra soft fabric, two different layers, and super cozy experience. Spoil your dog with this extraordinarily comfortable blanket, and ensure proper warmth at all times. Its unique design and a variety of bright colors will also add interest to your living room. There are 8 colors to choose from, and 6 sizes from extra small to extra-extra large to accommodate puppers of all shapes and sizes. It is machine washable and made entirely in the USA. Simply fabulous!
10. Honorable Mention: PetAmi Premium Puppy Blanket
This high-quality blanket is a great choice for puppies as well as toy and small dog breeds. It has two extra soft sides, and both are different – so you can change them depending on the circumstances. One side is thick, furry, and fluffy, while the other is soft and smooth. Both are made from the premium microfiber sherpa fleece, which ensures extra comfort and warmth. It is also great as insulation and very easy to clean. An affordable yet premium quality blanket such as this one gives great value for money.
What to consider before buying a dog blanket?
Not all dog blankets are the same. Cheap versions can easily end up being a waste of money, and thin materials won't be as efficient. That's why it is important to choose wisely and to thoroughly take all features into account. If you have a flexible budget, you can go for the top quality choices without giving it a second thought. But even if you are on a tight budget, you don't need to worry – there are viable options with feather-weight price tags. And we are here to guide you through all the important features you'd want to see in your dog's blanket so you can make the best choice, whatever your budget is.
Water resistance
A blanket that's designed for dogs is bound to be in for a rough ride. It needs to be able to withstand wear and tear, dirt and dragging, hairs and stains – and water! With dogs, wet "accidents" are much more common than pawrents would want- especially if you have a puppy. And sometimes, water and other… fluids can get spilled on the blanket. Luckily, some of the blanket designs have a water-resistant fabric or a coating that will not soak up the urine, slobber, or any other spilled fluid. And in the wintertime, that can be a lifesaver.
Fabric
All dogs are prone to chewing things around them, especially puppies. There is also the risk of constant wear and tear that a blanket must endure, and that is why you want to ensure that your blanket is made from durable fabrics. Luckily, durable doesn't also mean uncomfortable – today's designs successfully blend in that fluffy warm feeling and a strong underlying layer. This provides a longer "lifespan" for the blanket.
Size
You want to pay special attention to the available sizes of the blanket you'd like. It's the same as when you're buying clothes, essentially – you need to keep in mind that not all dimensions will fit your pet. Larger breeds need a lot of coverage, so always opt for large sizes in that case. But if you have a small pupper, the smallest size will likely be enough. Also, remember that a little bit of extra material can be a good choice. That way you will have the option of tucking your pet and even doubling the blanket to provide even more warmth and a snug, cozy nook for your dog.
Washability
Dogs and mess always go together. No matter what happens, dirt and hair and all sorts of stains will inevitably appear on the blanket. It's one of those things we just have to deal with as dog owners. And that is why it would be the best thing to purchase a blanket that can be washed in the washing machine. It can save you a ton of effort and make things easier, safer, and much more hygienic. Furthermore, you should consider investing in a lint and hair roller – it can help you to quickly sweep up any loose hairs that are accumulated on the blanket and to maintain a clean home.
Should you buy an electric dog blanket?
Electric blankets have proven to be popular with humans, but are they really that efficient and safe for your pet? The truth is, while electric heated dog blankets can work in some circumstances, they are generally not all that safe. The electrical components can be sensitive to spilled liquids and dog chewing, and that can either lead to trouble or really short service life of the blanket. The best use of these electric accessories is under supervision- and never without your presence. But remember that leaving a dog unsupervised with such a blanket is not advised.
Moreover, the extra heat will most likely not be needed, unless you're in a really cold environment. A regular fluffy, quality dog blanket will do just fine in almost all situations.
Another possible solution are thermo-reflective blankets and dog beds. These special materials efficiently utilize the natural temperature of your pet and reflect it so no heat escapes, and regular body temperature remains. And, if you need that extra warmth boost, you can always go with heating pads for dogs.
How to know if your dog is cold
Sometimes it isn't so easy to understand how your furry friend feels, and it can be very difficult to spot the symptoms of overheating or low body temperature. Wintertime can be particularly tricky – dogs are energetic and will eagerly spend their energy outside, even when its snowing and freezing. But the sudden shift from cold to warm and a prolonged stay on the frosty air can quickly require a prompt rise in body temperature. If you notice shivering, wheezing, or a dry nose, you must quickly heat your pupper up. In these situations, a blanket comes in handy. It is an easy way to trap heat and to prevent the temperature from falling down further. But thin, cheap blankets usually won't do the trick. Opt for a thick, fluffy blanket that really offers some insulation. Also, if your dog has a thin coat, you should buy a dog vest to protect them.
All in all, investing in top quality, cozy dog blanket can only be a smart move – no matter the season. Because any move that will guarantee your dog's wellbeing and allow you to be prepared in all situations will always be a smart move. And when you know that your pupper is having a cozy snooze and enjoying himself, your heart will be warmed as well!
How cold is too cold in the house for dogs?
It all depends on the dog- if you have a big Siberian Husky accustomed to the cold, you don't have to worry about your house being too breezy, but a tiny Chihuahua with short fur might be shivering as soon as the temperatures drop. As a general rule, seniors, puppies, small breed dogs, and dogs with short (or no) hair feel the cold more intensely, so when the temperatures in the house are below 65 to 75 degrees Fahrenheit, it's time to bust out a blanket or a dog sweater. Some large breed dogs and double-coated breeds might feel comfy at slightly lower temperatures, but still, it's best to keep your house toasty for your and your pet's sake.
At what temperature do dogs need blankets?
A general rule is that dogs are safe at temperatures of 45 degrees and above, but safe doesn't necessarily mean comfortable. When it's cold for you in the house, it's highly likely that your pooch is feeling the chil, as well. This is particularly true for puppies or seniors, as well as dogs that don't have long or thick fur, but all dogs will appreciate a layer of warmth when the temperatures drop.
Do dogs like fleece blankets?
Who doesn't love fleece blankets? Even our four-legged dogs appreciate the softness, plushness, and the warmth that fleece blankets provide. To boot, being snuggled under a fleece blanket can recreate the sense of being in a small cozy den and play into your dog's natural dening insitics- helping reduce their stress and inducing a soothing sense of calmness and comfort.
How often should I clean my dog's blanket?
A good rule of thumb is to wash your pet's bedding once a week to keep it clean and fresh-smelling. Of course, this is not a rule set in stone: whenever you notice staining, odors, or build-up of grime, toss the blanket in the washing machine, even if that means washing it every other day. This is particularly true for incontinent dogs, dogs that are not potty trained, or messy pooches that track mud or leave tufts of hair in their bed.
Additional resources:
We are committed to finding, researching, and recommending the best products. We earn commissions from purchases you make using the retail links in our product reviews. Learn more about how this works.

Angela Vuckovic
A proud mama to seven dogs and ten cats, Angela spends her days writing for her fellow pet parents and pampering her furballs, all of whom are rescues. When she's not gushing over her adorable cats or playing with her dogs, she can be found curled up with a good fantasy book.
More by Angela Vuckovic
Published August 31st, 2021 12:00 AM