593 Views
We're committed to finding, researching, and recommending the best products. We earn commissions from purchases you make using links in our articles. Learn more here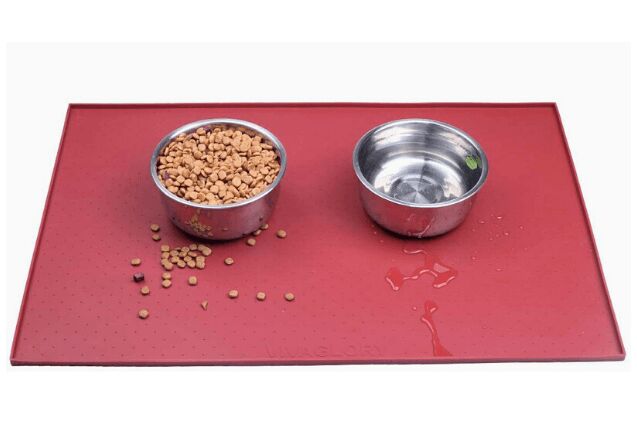 Dog feeding mats are ideal for messy eaters as they'll keep the mess away from your kitchen floors. There are plenty to choose from, though, so read on to find out which mats are the best choice for your pet's food and water bowls.
Let's be honest- dogs are not the tidiest beings on the planet. Yes, your kitty might refuse to go potty in a dirty litter or wash herself until she's spotless, but you'll see no such dedication to cleanliness in dogs. Pooches are messy little gremlins in most cases: they'll get dirty and stinky on purpose (rolling in smelly stuff is one of their favorite pastimes, after all) and we know that they'll eat put anything in their mouth, from dirty sticks to other dog's poop. But hey, we still love them to bits, nastiness and all. However, just because your pooch wouldn't mind living in a pigsty, it doesn't mean you have to. Many of our canine besties are known for their messy eating habits, which leaves your kitchen floors with water stains, dried bits of food, and kibble crumbles – everywhere. Naturally, this means that you have to clean up after your dog every time they eat and that can be exhausting (and not always doable when you free-feed). That's why dog feeding mats are such a popular product with pet owners: they help contain the mess and make sure you don't have to play maid to your pet if you want your home to be clean.
Well-designed and well-made dog feeding mats are meant to catch all the dinnertime debris – whether it's dry or wet, stains or chunks, it's all the same as nothing will end up on the floor under your greedy eater. Even if your dog doesn't always make a mess while he eats, it's smart to put a mat under their bowls to prevent damage to the flooring in case he does. Wooden floors can get damaged by spilled water (ranging from staining to warping) and cleaning out bits of embedded food from the carpets can be particularly tiring- and any remaining pieces and crumbles can lead to mold or become inviting to insects. In a nutshell, any pet pawrent should use dog feeding mats- they're inexpensive, simple to use, and offer plenty of benefits. They even come in different styles and designs to meet individual preferences and fit different interior decors.
Naturally, it can be difficult to fish out the right type of mat for your needs when there are so many on the market. Often, people lose their patience and just go for the first product that matches their budget- but there are plenty of factors to consider when buying dog feeding mats that could influence your decision. To make sure you're getting the best bang for your buck, read on to learn more about what makes a good dog feeding mat- and see which dog feeding mats are considered to be the best your money can buy.
1. Editor's Pick: Hoki Found Silicone Waterproof Pet Food Mat
Affordable, durable, and convenient – everything you want from dog feeding mats in one place! Hoki Found waterproof pet feeding mat is made out of premium FDA-approved silicone which is incredibly easy to clean. Either wipe down the dirt and debris with a wet cloth or pop the whole mat in the dishwasher for deep cleaning when needed. To boot, this mat has a raised outer lip that will contain spills and mess safely so you don't have to rely "just" on the fact that it is waterproof. The size of this mat makes it perfect for small and medium dog breeds and it is available in black, teal, grey, and eggplant purple.
2. Runner Up: Hubulk Feeding Mat for Large Dogs
The larger the pooch, the bigger the need for a feeding mat! Big dogs are messy eaters even when they don't want to be and keeping the floors clean under them can be a challenge- as the feeding mat has to be big enough to "catch" all that spills and stains. Luckily, Hubulk feeding mat is designed with large and extra large dog breeds in mind. Not only that this waterproof feeding mat is big enough (it comes in large, extra large, and extra-extra large), but it also features raised edges that add another layer of safety. Available in a range of colors, these dog feeding mats are made from hypoallergenic, food-grade silicone that's easy to clean and safe for your pet.
3. Easy to Clean: Reopet Silicone Dog Cat Bowl Mat
Easy to clean, spacious, and cute to boot, this silicone pet bowl mat will effortlessly contain spills, stains, and crumbs. Made from non-toxic, heat-proof, and waterproof silicone, Reopet Silicone Dog Cat Bowl Mat will effectively prevent your pet's food and water reaching the floor underneath. The design features slightly raised outer borders to make sure no food pieces or liquid escapes the surface of the mat, and it's very low-maintenance, as well. Just wipe any grime with a damp cloth for regular maintenance, and when it's time for heavy-duty cleaning, simply pop this pet bowl mat into the dishwasher and it will come out looking like it's brand new again. Reopet Silicone Dog Cat Bowl Mat comes in two sizes and 8 vibrant colors to match any interior.
4. Best Waterproof: PetFusion Waterproof Pet Food Mat
With anti-slip raised bumps on the face and the bottom of the mat, you can rest assured that both the mat and the bowls on it will stay firmly in place. No skidding and spilling! The raised edges also help contain the mess within the tray, keeping your floors protected. Made from premium, FDA-approved silicone that is naturally antimicrobial and resistant to staining, this feeding mat will give you years of use with proper care. Easy to clean, it can be wiped down or washed in the dishwasher. PetFusion waterproof mat comes in small, large, and extra large and in beige, blue, and gray colors.
5. Best Silicone: Leashboss Splash Mat XL Dog Food Mat
The extra large surface area of this high-quality waterproof silicone mat makes it suitable for big dogs- which is not often the case with dog feeding mats. The mat also boasts an extra tall lip (.6 inches) that will certainly keep all the spills on the mat – whether it's food or water. Since the mat is made from food-grade silicone that is safe for dogs and hypoallergenic, it means that you can wash it in the dishwasher for effortless maintenance.
6. Best Personalized: Drymate Personalized Pet Bowl Placemat
Nothing beats personalized accessories for your dog- that way, everyone knows who's the real star of the household from the get-go. Drymate Personalized Pet Bowl Placemat can be jazzed up with your pet's name(s) and already comes in a whopping 35 patterns and styles, so not only that you'll get a personalized mat for your pet, but also one that can easily be incorporated into any kitchen or living room's decor. Available in sizes small or large, Drymate Personalized Pet Bowl Placemat is made from a patented phthalate and BPA-free material that absorbs and contains liquids and wicks away moisture and has waterproof backing that will prevent the liquid from seeping through to the floors. Easy to clean, this stylish pet bowl mat can be washed in the washing machine or scrubbed manually if you prefer.
7. Best Textured: Aspen Pet Feeding & Watering Pet Mat
The textured surface of this plastic feeding mat is ideal for all kinds of messes: from kibble crumbles, to wet food, and water, it will keep everything away from your floors and carpets. The bottom is non-skid so it won't slide around, not even on tiles or hardwood floors. Made from PVC, this feeding mat is durable and easy to clean. The "oversized" dimensions make this mat suitable for dogs of all sizes.
8. Best Premium: Vivaglory Pet Food Mat
Who says you can't get a premium feeding mat on a budget? Vivaglory placemat for dog bowls is both affordable and very well-made. The FDA-approved food-grade silicone is non-toxic and easy to keep clean after your messy eater finishes dinner: simply rinse under water or wipe with a cloth. You can even toss it in the dishwasher! The material is durable and resistant to staining and with raised edges, you don't have to worry about spills. This mat comes in different colors and two sizes – small and large.
9. Best Pattern: Stellarie Chern Pet Feeding Mat
Slip-resistant and durable, this bowl mat has an unusual texture that makes it ideal for preventing messes. The groves on the surfaces trap even the tiniest kibble crumbs (no wonder this feeding mat can double as a litter mat!) and thanks to its water-resistant backing, it is suitable for catching liquids as well. Stellarie Chern Pet Feeding Mat comes in two sizes and it is made from non-toxic PVC material that's durable and effortless to clean- you can either vacuum the crumbs, or simply rinsed under running water- easy peasy! The pliable texture means you can roll up the mat when it's not needed and store it compactly, so it is also great for travels.
10. Best for Mess: ME.FAN Dog Food Mat
Perfect for messy eaters, this dog food mat is large, waterproof, and has raised edges- no kibble or water splashes will ever reach your flooring. ME.FAN Dog Food Mat is made from high-quality, food-grade silicone that's resistant to heat, durable, and reusable. Elegantly designed, this bowl mat comes in teal blue, orange, black, and grey and features a raised paw-shaped texture for that extra touch of cuteness. The design is also very practical, too, as it has raised edges to keep the mess contained and a hanging hole for easier storage if you prefer not to leave it out the whole day. Thanks to the fact this material is heat-proof, you can effortlessly clean it- when wiping down the grime doesn't cut it anymore, simply put the mat in the dishwasher and the persistent dirt will come right off.
Tips for dealing with a messy eater
Some pawrents are blessed with dogs that eat carefully and at a normal rate, but those cases are rare- if we're being honest, most of us dog owners can admit that our pets act like they've never seen food before every single time dinner is served. The bowls are sliding all over the place under your dog's greedy attacks, rumbles and bits of food are flying all around it, and when they drink water – they slurp it so forcefully and carelessly that they always spill some around the bowl. That's particularly true if you have a bigger dog or a greedy eater that snarfs up his whole meal in seconds. So how do you deal with the mess- or, rather, try to minimize it in the first place? Here are some tried and true tips on how to deal with your dog's messy eating habits:
Mess-proof the dining area
Opt for dog bowls that are deep enough that flying bits of food from your eager pet's mouth are more easily contained. Similarly, the bowls you pick should have a non-slip bottom to prevent them from sliding during the meal and spilling the contents. Also, you should use a dog feeding mat to catch the bits and pieces of food and spilled water that could ruin your floors.
Build better eating habits
If your dog eats his food too fast which is why he's making a mess in the first place, it's important to get him to eat at a normal pace, primarily for his health and better digestion. Slow feeding dog bowls can help with this, so consider getting one for your kibble-greedy pooch.
Does your pet eat once a day? Try splitting his meal into several smaller ones throughout the day to minimize the meal-related excitement. This way, your pet won't be overly eager to eat and make a mess in the process. Similarly, if there's anything that could be contributing to their excitement and restlessness during the meals, such as eating in the company of another dog, eating in a room where there's a crow or a lot of things happening, etc, be sure to address that.
Check for underlying health issues
Your pet might be dropping bits of food and water because he's having gum or teeth issues or maybe he's not seeing so well anymore. Before you blame your dog's messiness on his lack of good manners, check to see if it's not something out of his control that's causing him to be a messy eater- especially if they haven't been one from the get-go.
What to look for in dog feeding mats
You might think that there's not much to look for in a feeding mat- it's, after all, just a placemat for your dog's bowls, so what's the fuss about? While, in theory, you can use anything you have on hand that could do the trick, there's a reason why there are various dog feeding mats on the market with thousands of raving reviews by pet parents: they are specially designed to be used for this purpose and when done right, they will exceed your expectations. The "trick" is knowing what your options are and what to look for to get the best value for money- and an efficient solution for the mess your pet is making.
Materials
The first thing to consider is the material, as dog feeding mats are available in different ones, most popular being silicone, plastic, and absorbent fabric. Plastic dog feeding mats are usually hard plastic trays who are popular for their simplicity and cheapness, but there are soft PVC options, too- very similar to litter mats. Silicone dog feeding mats are flexible and lightweight but stay put on a variety of surfaces with ease, and are loved for their ease of cleaning, as well, since most of them are dishwasher-safe. Lastly, fabric feeding mats are mostly chosen because of their absorbent powers since they can soak up plenty of liquids and prevent them from reaching the floors- ideal if your pet tends to spill water.
Size
Bigger is definitely better in this case! If your feeding mat fits the bowls barely, it's highly likely that your pooch will still manage to spill some of his food or water on the floors. Go for those dog feeding mats that have a wider surface and will catch debris that is bound to be flying around.
Added protection
You should give advantage to dog feeding mats that are waterproof, as they don't just offer a physical barrier that keeps the food and minor spills away from your floors. With a waterproof mat for your dog's bowls, no mess shall pass! No more warped wooden floors or moldy carpeting due to your pet's nasty eating habits. Similarly, if the design allows it, dog feeding mats with raised edges are also a great choice, as they'll contain the mess (dry or wet) inside the mat no matter what.
Maintenance
What would be the point of dog feeding mats if they were a hassle to clean? As something that is used to contain the mess from food and water, a feeding mat will get stained and messy real quick, so it's natural you'll have to clean them quite often. After all, a mess is still a mess, be it on the mat or on the floor! That's why most pet parents prefer dog feeding mats that can be washed in the dishwasher or cleaned with a bit of soap and water- simple is the goal here, as you want to bring the hassle down to a minimum.
Style
While your pooch probably won't tell the difference, you will: the design matters to many and there are options to suit everyone's taste. From muted single-colored options to printed colorful ones, personalized with your dog's name and everything in between, you'll have no trouble finding exactly the style you want.
How often should I clean the feeding mat for my dog?
Cleaning up after your pet can be quite a chore- after all they are so talented at making messes. When it comes to their feeding mats, chances are that you'll have to lightly clean them on a daily basis: empty any kibble bits or food pieces from the mat at the end of the day and take a damp rag and wipe down any food remains or grime. To sanitize and thoroughly clean feeding mats for dogs, you can clean it with a vinegar and water mixture every week (or every couple of days, depending on your pet's messiness) or if it is made from heat-proof silicone, wash it in the dishwasher.
What size feeding mat should I get for my dog?
The messier the pet, the bigger the mat should be. The whole purpose of a feeding mat is to successfully catch food bits and spills your pet makes, so there should be plenty of room around the bowl(s). If you're unsure, just go a size up from what you'd think suits your pet- it's better to be safe than sorry! Luckily, mats come in all sizes from the smallest for one bowl to extra large suited for giant breeds and their dining area, so you shouldn't have a problem finding a perfect match.
We are committed to finding, researching, and recommending the best products. We earn commissions from purchases you make using the retail links in our product reviews. Learn more about how this works.

Angela Vuckovic
A proud mama to seven dogs and ten cats, Angela spends her days writing for her fellow pet parents and pampering her furballs, all of whom are rescues. When she's not gushing over her adorable cats or playing with her dogs, she can be found curled up with a good fantasy book.
More by Angela Vuckovic
Published July 14th, 2021 12:00 AM