60 Views
November 24th, 2021 12:00 AM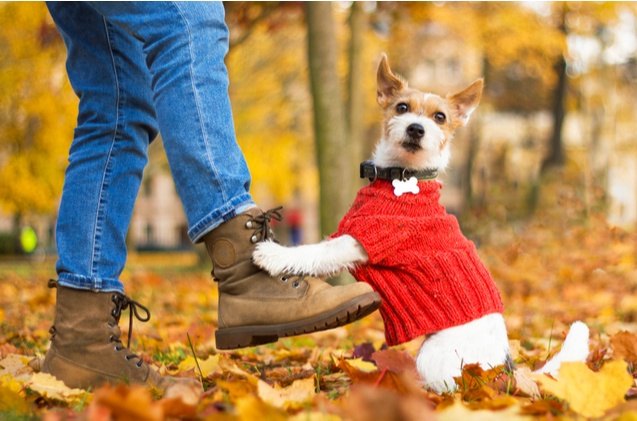 Small dog sweaters keep our tiny companions warm and toasty when the temperatures drop. Read on and find a perfect pick for your precious pooch!
Your petite pooch might have a heart of a lion but he certainly isn't built like one. The feisty and vibrant personalities of small breed dogs often make us forget how sensitive and fragile they are–and how much they depend on us to stay safe. This is particularly true when it comes to staying warm in the colder months of the year. Unlike some big breeds that boast a furry double coat that would keep them toasty even in the Siberian tundra, small dogs usually struggle to keep warm in the winter. And it's all about physics, really: the smaller the pooch is, the larger surface area to volume ratio is. This means that tinier dogs have more skin in comparison to the volume of their internal organs, which is the ideal combination for faster loss of warmth. And it's not just that that makes small and toy breed dogs more susceptible to the cold.
Another great insulator is body fat- and most small dogs don't have it enough to keep them warm. And if they do- it's a sign of obesity, which opens up a whole new world of trouble. In other words, the potential advantages that mother nature could have given petite pooches for warding off cold are sparse, so it's up to you to make sure your dog is not shivering throughout the winter. The best way to do that, of course, is to dress up your pooch in winter-appropriate gear. In areas where the winter temperatures drop way below freezing point, winter jackets might be needed to keep your pet dry and toasty in the blizzard. In milder climates, where winter is chilly but not too extreme, small dog sweaters are a great way to ensure your pooch is comfortable outside. Similarly, small dog sweaters can be a great way to warm up your pooch indoors if the situation requires it (hairless dog breeds, for instance, might benefit from this) or to stave off the chill in the autumn evenings.
When it comes to small dog sweaters, you won't be limited by any factor apart from the size. There are thousands of designs to choose from so any pooch can find a perfect fit for their needs–and a pawrent match for their budget. Whether you want a cozy knitted pullover or a fleece-lined warm sweater for your petite companion, we've got you covered. Our list of best small dog sweaters includes all the best sellers, with different options for every pooch. The only thing you need is to choose one! And if you're unsure about the size and the fit, scroll on to learn more about how to properly measure a small dog for a sweater.
1. Editor's Pick – Stinky G Dog Aran Sweater
This stylish dog sweater is ideal for petite pooches–and it's affordable to boot! It comes in a range of sizes that suit toy and small breeds- the smallest size is a fit for dogs between 3 and 6 pounds, and the largest for pets up to 20 pounds. The combination of wide ribbing and Aran stitches offers a timeless appeal and really makes this sweater look more luxurious than its price tag indicates. It is made from acrylic yarn that feels soft and pleasant to touch, and can be washed in the machine–so keeping this sweater spotless will be no hassle at all. Available in eight different colors.
2. Runner Up – PASRLD Dog Sweater Leopard Pattern Dog Turtleneck Sweater
Go bold or go home! Nothing says your pet is a diva like a leopard print outfit, and PASRLD Dog Sweater Leopard Pattern Dog Turtleneck Sweater will make sure they look as cute as possible while strutting their stuff. Not only does this warm and cozy sweater have a stylish leopard print, but it also comes in red. blue, lilac, grey, yellow, and two shades of pink to make sure that your dog's outfit matches their leash, accessories, or mood for the day!
Stretchy and soft, this pullover-style sweater is super easy to put on and comfy to wear, so even if your pooch is not a fan of dressing up, they won't mind wearing this sweater when they go to the doggie park. The material is low maintenance, too, as you can wash it by hand or on a delicate program to keep your pupper smelling fresh while looking fly.
3. Best Sweater Dress – HAPEE Dog Sweater Dress
If your little pooch is a lady and she knows it, then a plain-looking sweater just won't cut it. This showy, stylish HAPEE Dog Sweater Dress is a great way to keep your pooch toasty and comfy and fashionable to boot. The crimson red color of the dress paired with cute heart print amps up the adorableness factor through the roof, but the two layers of ruffles that create a skirt are what really make this sweater stand out. An outfit worth of any special occasion- or just the walk around the block, if your pupper is feeling extra.
Made from durable and soft acrylic yarn, this sweater dress is not for really cold weather- it is more suited for indoor wear and light autumn chill. It is machine washable and low-maintenance (unlike your four-legged fashionista), and comes in a variety of sizes for different dog body shapes.
4. Best Coverage – Fitwarm Turtleneck Knitted Dog Sweater
If your cold-sensitive pooch requires more coverage and warmth when the temperatures drop, your standard pullover-style dog sweater won't cut it. If it's not yet jacket weather but most sweaters seem too light, this long-sleeved version will be a great transitional piece. The snug fit and the coverage of all four legs certainly contribute to the sweater's warmth, but it's the choice of materials that takes the cake. The combination of high-quality mid-weight stretchy knit and faux fur parts will keep your pooch snug as a bug–and be easy to clean as well. This sweater is available in a range of sizes that fit toy and small breed dogs.
5. Best Cute Hoodie – Hip Doggie Bumble Bee Dog Sweater
I mean… how cute is this? Your pooch will put a smile on everyone's faces as he struts his stuff in this bumblebee sweater! Made from chenille that's extremely soft and pleasant to touch, this small dog sweater is not just adorable but comfy as well. The plush acrylic knit fabric can also be machine washed and tumble dried on low so no worries if your little bee gets some mud on his new outfit. Sizes are a match for small pooches–but check the dimensions for an exact fit.
6. Best Classic – Barefoot Dreams CozyChic Ribbed Pet Sweater
Not all pet parents love dressing up their pets in flashy outfits- some prefer to keep things simple and go for timeless designs. Barefoot Dreams CozyChic Classic Mickey Mouse Pet Sweater is an excellent choice if you are a fan of classic dog fashion and want something that's functional and elegant both. This turtleneck is made from fluffy, heavenly soft polyester that also happens to be very durable and easy to keep clean. Machine wash it on a gentle cycle with a pet-safe detergent and it will look and smell like new for a long time!
You can choose between carbon black or cream to coordinate your outfit with that of your dog or simply to find a color that suits your pet's coat the best. The material is warm enough for most pooches, but extreme weather will call for a stylish coat over the turtleneck, so be prepared if you live in such a climate.
7. Best Luxury – kyeese Fashion Dog Sweater Dress
Another design for four-legged ladies, this sweater dress will keep your pet cozy and fashionable at the same time. The ruffle on the edge gives it that special cuteness factor! This sweater dress is made from a high-quality acrylic yarn that can be machine washed and tumble dried. And as if this design wasn't great enough, the sweater also has a smart leash access hole on the back- so you can combine it with your pet's harness! It comes in extra small and small sizes.
8. Best Classic – BINGPET Turtleneck Dog Sweater
This beautiful dog sweater is ideal for parents that don't like their pooches to look flashy- but still want people to appreciate how stylish their doggo is. The combination of dark brown yarn for ribbing and cream tweed yarn for the body of the sweater makes a beautiful contrast, complemented by a back applique–paw, reindeer, or bone. It features a leash access hole on the back, as well as an adjustable collar (high or low). Best suited for small breed dogs–with a range of sizing choices available.
9. Best Budget – CHBORLESS Pet Dog Sweater
Cheap but cute–a winning combination in many a pet parent's opinion! This cotton-blend sweater for dogs is simple in its design which makes it easy to put on and convenient to maintain (it can be machine washed). Choose between 10 color options for your pooch and one of 6 sizes that are a match for toy and small dogs ( the sizes run small so be sure to check the dimensions first).
10. Best Turtleneck – Blueberry Pet Chenille Striped Dog Sweater
Turtlenecks are a great way to make sure your pooch is snug as a bug when the temperatures drop as they'll be covered from neck to tail. Blueberry Pet Chenille Striped Dog Sweater is made from the softest, warmest chenille that will not just keep body temperature optimal but will feel like a warm embrace rather than a restrictive piece of clothing. In addition to being made from a great material, this turtleneck sweater is also very stylish and comes in burgundy red, chic grey, dark green, dark plum, dusty rose, and mustard base color, striped with contrasting white.
The chenille fabric is also very durable and will keep its vibrant color and soft feel for a long time, even with regular wear. You can machine wash this dog sweater for greater convenience, just don't tumble dry it. The sweater has a hole on the back to allow you to easily connect the leash, as well, so if you're looking for something cute your pet can wear on walks- look no more!
11. Best Bad-Boy Pick – Chilly Dog Tattooed Mom Dog Sweater
Who said your pet can't flaunt some cool tats? There's no need for needle and ink when you got a sweater this cool! Hand-knit following Fair Trade guidelines, this trendy dog sweater is made from soft and warm wool. This means that not only your doggo will be the coolest dog on the block wearing this, but he will also be super toasty and cozy in it. Wool is a natural insulator and regulates temperature, so your pet can wear it as a coat in autumn and milder winters, or as a sweater inside the house when it's really freezing outside.
The sweater comes in one unique style with the traditional MOM sailor heart tattoo motif on the back on neutral grey background. The front part of the sweater that goes over your pet's chest is striped in darker grey and white. In other words, there's no chance your pooch will be unnoticed in the doggie park! Chilly Dog Tattooed Mom Dog Sweater comes in multiple sizes and this particular is meant for dogs that weigh 40 to 60 pounds.
How to measure a small dog for a sweater
Dogs come in all shapes and sizes: there's plenty of variety within the small dog category, too. In fact, some would argue that small dogs are the most diverse when it comes to their body shape! You have the elongated Dachshund, the stubby French Bulldog, and the miniature Yorkie all lumped under one term, so it's clear that choosing a sweater for your pooch based only on description 'suitable for small breeds' isn't going to cut it. To make sure that your pet will actually fit in his new clothes, it's crucial to measure them properly.
To start with, measure the length of your pet's back: let the nape of their neck be your beginning point and the base of their tail the end. Next, measure the girth of their neck and waist- especially if the cut of the sweater isn't European (with more room around the belly) and if the sweater has a high collar. One of the most important measurements to take is definitely the width of your pet's chest as that's where dogs tend to vary. Even at the same weight as their pals that comfortably fit in one size sweater, some pets might not be able to squeeze into certain outfits purely for their barrel-chested bodies. Depending on the cut and the design of the sweater you choose, you might also want to measure the width of your pet's front legs- especially if the leg openings aren't elasticated.
In some cases, the manufacturer will state all of the dimensions above, so you can compare in detail for the right fit. But usually, it's the back length and the chest width that are used as the main points for picking sweater sizes- and if you don't think you can determine the compatibility of the fit based on these two measurements, be sure to contact the manufacturer for some additional info. After all, it's better to ask in advance than waste money on dog clothes that won't fit–or fit poorly.
Needless to say, some dog breeds are much harder to find a fit for than others. That's why it's so important to take everything into account if you want to ensure your pooch will feel comfy while he's strutting his stuff in his new sweater.
What to look for in small dog sweaters
Online shopping is always somewhat of a gamble–you can never be sure if you'll get everything right without seeing the sweater in person (or ideally, having your pet try it on). However, if you know what to look for in small dog sweaters, the possibility of missing the mark is significantly reduced, if not eliminated altogether. Just pay attention to these details and you can't go wrong!
Measurements and fit
As we already stressed, measuring your pet correctly is the most important thing. The more precise you are, the smaller the chance of getting the wrong size. Sizing between pet product companies can vary A LOT, and what's extra large for some could very well be small for others. That's why you can't go wrong if you always check the dimensions first (and not the labeled size or breed recommendation) and compare it to those of your pet.
Additionally, you should be mindful of the way a sweater is supposed to fit on a dog. It should be snug but not too snug as tight clothes can easily irritate your pet and be impossible to move around in. You want to be able to put your finger between the sweater and your pet's skin comfortably. Lastly, potty breaks are a big factor in the fit of the sweater- if you have a male dog, you need to make sure that the belly opening is high enough to avoid messes.
Compatibility with leash accessories
A lot of small dog sweaters don't have access for leash on the back–as they are meant to be used in combination with a leash and a collar. If you plan on your pet wearing a harness underneath the sweater, be sure to check if there's a hole on the back for the D-ring to go through, or if you're not a stranger to DIY projects–cut one out yourself if needed.
Type of fabric
The material of small dog sweaters varies greatly: and it definitely pays to splurge if it means that the fabric will be of a higher quality. Wool is great for colder climates as it is the best choice for keeping warm, but it can also be a hassle to clean. Cotton jersey is a good lighter option that's soft to the touch and suitable for indoor use or milder climates. Usually, it's the acrylic yarn dog sweaters or polyester blend fabrics that end up being the winning choice: they are inexpensive, easily washable, and usually warm enough for the needs of most pets.
Design
There are plenty of designs out there- from turtleneck dog sweaters to pullovers, all the way to lined knitted jumpers and hoodie-like sweatshirts. And your choice will depend on your pet's body type and your own preferences. Just make sure you don't sacrifice your pet's comfort for style: the sweater should primarily be a way to keep them warm and cozy and not a fashion statement. Although, with the right choice, the two don't have to cancel each other out!
Ease of cleaning
A dog's sweater will undoubtedly get a lot of wear and tear- if it's not dried mud then your pet's natural odor or something in between will surely make you want to wash their sweater sooner rather than later. That's why it's great when the sweater is machine washable and machine dryable–it's a minimal hassle and requires no special handling. Small dog sweaters that have to be dry cleaned or washed by hand will probably be a pain in the butt for most to keep clean, so it's best to steer clear of those options.
Additional Resources
How often should I wash dog sweaters?
Pet clothing should be washed after every week or two weeks of wear, depending on your pet's cleanliness and body odor. Some breeds have naturally stronger body smell than others, so it might be sooner rather than later that the sweater needs to hit the washing machine. Of course, that's in case that your pet doesn't get mud on the sweater, accidentally pees on it, or gets it soiled somehow- in that case, wash in between the weekly or bi-weekly schedule.
Why should I buy sweaters for my dog?
Not all dogs need to wear sweaters as they have a double-coat nature designed to help them handle the cold on their own without the need for additional layers. However, small dogs, dogs with short coats, toy breeds, or those that have no coat whatsoever need to wear sweaters not as a fashion statement but as the only way to keep their body temperature up when the weather gets freezing outside.
How do I tell if my dog is cold?
While in some cases it will be pretty clear that your pooch is freezing, it doesn't always look as straightforward as shivering from cold. Some signs that your pet is cold include seeking out cozy and snug places, hunching and keeping their tail tucked (or tucking all the extremities under the body when lying), making walks shorter in the desire to go back home where it's warm, and so on. These subtle signs all indicate that it's time to get your pet some cold weather gear to keep them toasty and snug all year round!
How can I get my dog to wear a sweater?
Just because your pet is cold or needs a sweater doesn't necessarily have to mean that they'll want to wear one from the get-go. Many dogs dislike wearing pet clothes and it takes some patience to teach them that they'll feel much better if they are clothed rather than the other way around. The best way to get your dog used to wear sweaters is to start small, by draping the sweater over their back or using it as a blanket, so they feel the warmth and the plushness of the material. Then progress to actually putting the sweater on, with lots of praise and a yummy reward once the sweater is on. This way, your pet will connect wearing a sweater to a positive feeling (and a tasty bite)!
We are committed to finding, researching, and recommending the best products. We earn commissions from purchases you make using the retail links in our product reviews. Learn more about how this works.

Angela Vuckovic
A proud mama to seven dogs and ten cats, Angela spends her days writing for her fellow pet parents and pampering her furballs, all of whom are rescues. When she's not gushing over her adorable cats or playing with her dogs, she can be found curled up with a good fantasy book.
More by Angela Vuckovic
Published November 24th, 2021 12:00 AM