41 Views
December 17th, 2018 12:00 AM
If you're an aquaristics enthusiast, then you already know that it's not enough just picking out a pretty fish tank, populate it with a goldfish or two, and call it a day. To truly create a magnificent aquarium that will impress everyone who sees it and give you peace and joy every day, you'll need to put in a lot of effort, time, and money. You will need to carefully pick out the type of fish and the breeds you want to keep. Are you interested in lovely freshwater tropical fish, such as the stunning Bettas or cute Guppies? Or do you prefer marine species more, such as clown fish or Yellow Tang?
Once you pick out the aquatic inhabitants, there's the question of the fish tank itself: from size, materials to shape, choosing aquariums and fish bowls is not always easy. Finally, you'll need basic equipment such as filters and pumps, and accessories, such as aquarium stands and hoods. Aquarium hoods, or lids, covers, and canopies as some fishkeeping hobbyists might call them, are an important part of any aquarium setup.
Although they might not be the among the first things on your list of items to get when you start a fish tank, they are definitely an aquarium accessory you don't want to miss out. In addition to housing lights, adding visual interest to the fish tank and keeping your fish safe, aquarium hoods can reduce evaporation and make maintenance easier.
Marineland LED Light Hood for Aquariums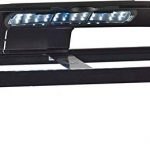 Fits most manufacturers' aquariums on the market.
Features LED lighting in a sleek, contemporary hood.
KOVAL INC. Aquarium Lighting Fish Tank Light Hood with Extendable Brackets
78 bright LEDs with 5 colors, full spectrum LEDs and makes phycophyta vivid.
78 bright LEDs with 5 colors, full spectrum LEDs and makes phycophyta vivid.
Extendable bracket makes LED light fits different size aquariums.
NICREW ClassicLED Aquarium Light, Fish Tank Light with Extendable Brackets
Super bright, energy efficient and long lasting LEDs to produce amazing shimmer to your aquarium.
Super bright, energy efficient and long lasting LEDs to produce amazing shimmer to your aquarium.
Adjustable metal brackets to fit aquarium tank from 12 inches to 18 inches.
Multiple colors and multiple lighting modes.This light is beneficial to grow plants.
Multiple colors and multiple lighting modes.This light is beneficial to grow plants.
With extendable bracket to adjust the length to fit your fish tank,fits tank 28-36inch in length.
Aqueon Aquarium Black 30″ Fluorescent Deluxe Full Hood
Designed to perfectly compliment your All-Glass aquarium.
Designed to perfectly compliment your All-Glass aquarium.
Custom fit to sit on the inside lip of the aquarium frame, which greatly reduces evaporation.
Picking the Right Aquarium Hood
So, how do you choose a perfect hood for your fish tank? Is there any difference between hoods, lids, canopies or do all these aquarium covers offer the same benefits? PetGuide.com's experts have prepared extensive resources on fishkeeping that will help anyone from seasoned aquarists to beginner hobbyists. Our informational guides and reviews help you choose the best model of aquarium hoods for your own fish tank, making sure that the cover you end up buying fits both your tank and your budget.
When it comes to aquarium hoods, plastic aquarium covers are considered to be the most common. There are two reasons why plastic aquarium hoods are so popular: they're budget-friendly and their roof-like shape makes them ideal for housing aquarium lights. Instead of having to deal with complicated installations of lightning or fitting a custom-made lid on their fish tank, a lot of owners opt for plastic aquarium hoods that come with the lights already attached, meaning all you have to do is simply place them on your tank.
However, these hoods tend not to be as durable as their pricier counterparts, and they won't help with evaporation and maintenance. In case your needs are simple and your aquarium is not too big or complex (like reef tanks), plastic hoods will do the job well enough. Granted, you will have to pay special attention to the specifications of each of the models, as the light fixture quality and dimensions will be different with every brand- thankfully, PetGuide.com is here to help with our in-depth reviews of plastic aquarium hoods. We can ensure both your wallet and your fish will be happy with your choice!
Role of an Aquarium Hood
In reality, the most important role aquarium hoods have is to keep your fish safe. Contrary to the popular belief, aquarium hoods are not installed as to keep other animals out of the tank (such as a curious kitty or a silly pooch), but rather to keep fish in it. A lot of people who are new to fishkeeping are not aware that fish, especially freshwater species such as Bettas, are prone to jumping out of the tank. Additionally, less than ideal living conditions or illnesses can actually make your fish suicidal, leading them to jump out of the aquarium. By installing aquarium hoods over your fish tank, you will prevent your prized aquatic pets from ending up as a dried jerky treat on your living room carpet. Having that in mind, any type of hood will do the task that is the most important, but keeping fish in the tank is not the only quality aquarium hoods should have.
For instance, aquarium hoods made out of glass are an excellent choice if you want to combine elegant appearance and functionality. The clear glass lid will prevent your fish from venturing out of the tank, yes, but it will also maintain water at an optimal level for a longer time, minimizing the need for cleaning. Glass lids prevent evaporation as they sit tightly on the tank's top, and this will make maintenance that much easier. Additionally, the aquarium lighting won't be exposed to water, which will increase the lifespan of your bulbs significantly. Of course, there are downsides to glass aquarium lids, as well: be sure to read more about these fish tank covers on PetGuide.com before you make a final decision.
Price vs. Function
Ironically, the aquarium hoods that are usually the most expensive ones are also those who are the least functional. Wooden aquarium hoods or canopies, as they're also called, are used only for aesthetic purposes, as they're usually custom made to complement the aquarium stand or the furniture in the aquarium room. While it's undeniable that aquarium canopies are stunning and add visual interest, they are not a necessity- but rather a luxury. If you want to splurge on your little aquatic empire, PetGuide.com has selected the most stylish canopies to review.
Creating and maintaining an aquarium is not always easy. Thankfully, fishkeeping resources at PetGuide.com will make sure that your experience with aquaristics goes as smoothly as possible. From comprehensive buying guides on everything from aquarium itself to help to pick out the perfect inhabitants for your new tank, our experts have you covered. Additionally, once you pick out all the equipment and products you need for a thriving underwater ecosystem, our guides on aquarium care will help you keep your plants and fish healthy and happy with their new living environment. Published December 17th, 2018 12:00 AM