50 Views
Best Flea Treatment for Cats
We're committed to finding, researching, and recommending the best products. We earn commissions from purchases you make using links in our articles. Learn more here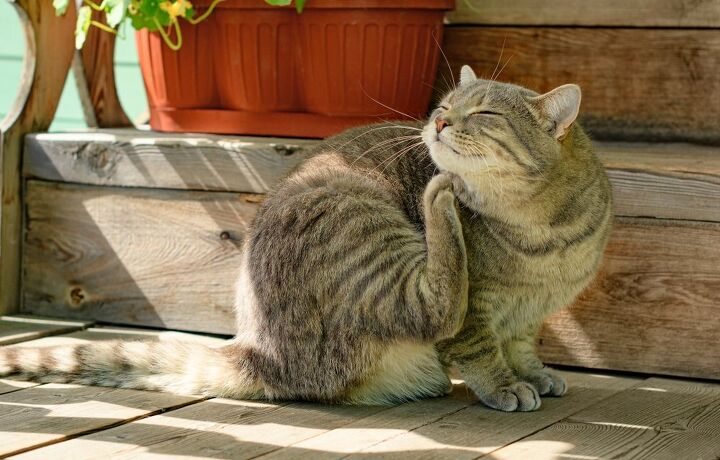 Flea treatment for cats doesn't just help your pet get rid of an irritating, nasty parasite but it also helps prevent a myriad of issues fleas can cause to felines. Take a look at the most effective flea treatment on cats on the market and make your pic
Is your kitty scratching like a maniac? In most cases, the reason for this is a flea infestation. Just like dogs, cats can also fall prey to these pesky little parasites. Fleas love nothing more than making a home out of your pet's coat and a snack of their blood: the bites are not just unpleasant but the saliva fleas release in the process irritates their skin and makes them scratch incessantly. In addition to being highly unpleasant, fleas in cats can cause a lot of trouble. Cats infested with fleas can lose hair and get inflamed skin thanks to flea allergy dermatitis, they can become anemic, or become ill from some of the diseases this parasite transmits such as Bartonellosis, cat scratch fever, or infestation with tapeworms.
To prevent all this hassle and make sure your kitty stays happy and healthy, you need to eradicate fleas from their fur once and for all. Flea treatments for cats come in many forms, from collars to topical products to chewable tablets, and can successfully kill fleas in various life stages, as well as prevent future infestations. Of course, not all types of flea treatments for cats will work for your pet. Some can be given only to certain age groups, others won't work if your cat is not cooperative, and some require some extra care, e.g. not letting your pet get wet for a certain period of time. This is why you should do the research beforehand- to make sure that the treatment really works for your pet's individual needs. We've rounded up the best flea treatments for cats that the market has to offer so any pet parent can easily find the perfect match for their kitty- in no time.
Easy to apply, highly efficient, and reasonably priced, Advantage II Flea Treatment and Prevention for Small Cats ticks all of the boxes with ease. This spot-on treatment comes in liquid form and is applied to the back of the neck. The active ingredients in the formula start working in 12 hours and continue for 30 days after application- making this a monthly treatment and prevention for continued protection from these parasites. This topical treatment kills fleas on contact so they won't have to bite the cat to die- and it also kills fleas in all stages (eggs, larvae, and adults) breaking their life cycle and preventing future generations from infesting your pet.
Runner up: TevraPet Actispot II Flea Prevention for Cats
In case you want a flea treatment for cats that's budget-friendly and no hassle whatsoever, then TevraPet Actispot II Flea Prevention for Cats which comes as a 6-month supply will be just the thing for you. Available in two variants, for small cats that weigh between 5 and 9 lbs and those chunky kitties that weigh over 9 lbs, this topical flea treatment gives you tailored options to choose from. It's easy to apply as all it takes is squeezing a few drops from the tube on the back of your pet's neck and you're all set: they'll be protected for the next 4 weeks. The treatment will kill adult fleas on contact and disrupt their lifecycle by stopping eggs, larvae, and pupae from reaching adulthood.
Customer's choice: Cheristin for Cats Topical Flea Treatment
Fast-acting and suited for multi-pet families thanks to its versatility, Cheristin for Cats Topical Flea Treatment can be used on kittens and adult cats alike. The formula is efficient and safe enough for all cats and kittens over 1.8 lbs of weight and 8 weeks old, so you can use it on multiple felines in your home regardless of age or throughout your cat's life. Quick to kill those pesky parasites, this formula starts eliminating fleas within 30 minutes of application and will kill 98-100% of them in the first 12 hours. Not unlike most spot-on treatments, it will also require a monthly application- thankfully, there are 3 and 6-month supplies available as well.
Best waterproof: Frontline Plus Flea and Tick Treatment for Cats
If your cat likes to take a dip in the summer (believe it or not, many do) or you're worried that if they get caught in the rain their flea treatment will be rendered ineffective, you'll need a waterproof spot-on such as Frontline Plus Flea and Tick Treatment for Cats. Even if your pet is immersed in the water completely or takes a bath, it doesn't matter- this treatment will keep on working! The two active ingredients in the formula work to kill both adult fleas on contact and disrupt the life cycle by eliminating eggs, larvae, and pupae. It is meant for cats older than 8 weeks and heavier than 1.5 lbs and will provide a month of protection against fleas.
Best collar: Seresto Flea Tick Collar for Cats
For those that prefer collars over other types of flea treatments for cats, Seresto Flea Tick Collar for Cats reigns supreme. Not only does this collar keep away fleas from your pet but it also repels ticks- and yes, they also attach themselves to cats, too. In addition to repelling these parasites, it also kills them on contact, in the case of fleas, it works on adult and larvae forms. The collar starts working instantly- as soon as you put it on, it does its magic and continues to do so for up to 8 months. Very impressive and with minimal hassle for you! The collar is odorless and has 3 visibility reflectors, so it's a great accessory for outdoor cats to boot.
Best oral treatment: CapAction Oral Flea Treatment Cat
In case you have no issue getting your kitty to open up, you'll love the simplicity and the effectiveness of CapAction Oral Flea Treatment Cat. One tablet alone is enough to kill all the fleas pestering your pet within a day: a fast-acting formula, it will start killing the fleas just 30 minutes after the cat swallows the pill. There isn't a set amount of time this flea treatment works for-you just give your pet the pill again if you notice them scratching. If you have an indoor cat, this could work great, because the chances of re-infestation are low if you treat the environment as well.
Best for kittens: Natural Chemistry Flea Shampoo for Cats & Kittens
Most flea treatments for cats work on cats older than 12 weeks, but what if you have a kitten younger than that that's infested with fleas? This is a common issue, and the easiest solution is to give them a bath with a gentle yet efficient flea shampoo such as Natural Chemistry Flea Shampoo for Cats & Kittens which is suited for kittens and cats of all ages. This mild botanical formula will help get rid of the nasty buggers without irritating your pet's skin and coat thanks to the key ingredients that naturally eliminate fleas such as clove oil, cedarwood oil, and cinnamon oil. Of course, this is not a lasting solution- it can keep fleas away for about a week- but if you need something that's natural and safe to quickly get rid of fleas on kittens, this is the one to go for.
Best for treating home/yard: Adams Flea and Tick Home Spray
To successfully get rid of fleas once and for all, you'll have to treat your pet(s) and space they spend time in simultaneously. Use a flea exterminator such as Adams Flea and Tick Home Spray to spritz their bed, favorite blanket, or areas around the home or the yard where they spend the most time in. This insecticide spray kills a range of critters, including fleas, flea eggs, flea larvae, ticks, bed bugs, cockroaches, and more. Once sprayed, it can keep fleas from the treated area for up to 7 months! Just be sure not to spray it on your pet and to keep them out of the space you're treating until it all dries out.
Best fast-acting: Capstar Fast-Acting Oral Flea Treatment for Cats
If the situation is dire, the last thing you want is to give fleas more time to wreak havoc on your poor pet. Capstar Fast-Acting Oral Flea Treatment for Cats starts killing those bloodsucking buggers within half an hour of application, making sure that all of them present on your cat's body drop dead in 6 hours after the pill is swallowed. This is an instant solution that kills adult fleas on contact but doesn't repel and prevent future infestations- for that, you should combine it with a long-lasting product such as a spot-on or a collar.
Best natural: mdxconcepts Organic Flea and Tick Control Spray for Cats
Some pet parents prefer going the natural route as the thought of using harsh chemicals on their sensitive pet sounds scary. Of course, while natural products tend to be milder, that doesn't mean that there are ineffective, and mdxconcepts Organic Flea and Tick Control Spray for Cats is a perfect example of that. By relying on botanicals, this natural flea spray for cats doesn't just kill and repel fleas at all life stages but does the same for ticks and mosquitos. The formula uses completely safe natural repellents such as rosemary oil, cedarwood oil, and lemongrass oil to banish these parasites once and for all.
How to Know If My Cat Has Fleas?
While it might be tempting to blame fleas for your cat's every itch, that's not always the case and it's important to eliminate any other medical cause for your pet's scratching. To make sure it's really fleas that are bothering your cat, look for the following signs, in addition to itchiness and irritation:
Movement in the fur
Black specks in the fur or in your pet's sleeping space (flea poop)
Excessive grooming
Lethargy (in severe infestations)
Hair loss and scabbing
Types of Flea Treatment for Cats
Fleas can be eliminated in a number of ways, but not all of them will work as efficiently- what works great for some pet owners doesn't necessarily have to work for others. Luckily, there are plenty of types of flea treatments for cats, so everyone can find a match for their cat's needs.
Spot on treatment or "drops"
This topical preventative and treatment comes in a form of liquid and is applied on the back of the neck- and unless your cat is very squirmy, it is not difficult to apply. Depending on the formula and the brand, some of these will last for up to a few weeks, and either kill only adult fleas or fleas in all life stages.
Tablets
If you're well-versed in giving your cat medicine, oral flea treatments might just be the easiest method for you. These tablets work from the inside to eliminate the fleas by releasing certain substances in your pet's bloodstream, which will kill or sterilize fleas the moment they bite your pet. Of course, the substances are just harmful to parasites- not your pet.
Collars
Some owners prefer to put a flea-repellent collar on their pet and call it a day. This might work for some situations, but in the case of more serious infestations, it probably won't do the trick. The main downside to collars is that they are limited to one area of the body and can cause irritation in sensitive cats.
Shampoos
Getting a cat to a bath might be a challenge, but sometimes the effort is worth it. Anti-flea shampoos for cats are often recommended for kittens as they tend to be mild enough not to irritate their gentle system but efficient to eliminate the flea infestation in its starting stages.
Sprays
Spritzing your kitty a few times to eradicate fleas seems like a good deal for most- if your pet is not afraid of the spray. Alternatively, flea treatment sprays are often meant to be used around the house or the yard to help eliminate fleas in the environment as well, which is an important part of the process.
We are committed to finding, researching, and recommending the best products. We earn commissions from purchases you make using the retail links in our product reviews. Learn more about how this works.

Angela Vuckovic
A proud mama to seven dogs and ten cats, Angela spends her days writing for her fellow pet parents and pampering her furballs, all of whom are rescues. When she's not gushing over her adorable cats or playing with her dogs, she can be found curled up with a good fantasy book.
More by Angela Vuckovic
Published June 9th, 2021 12:00 AM