155 Views
December 21st, 2022 9:26 AM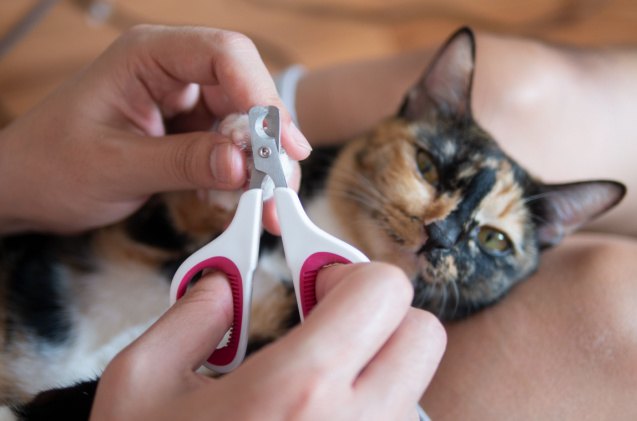 Most cats don't like having their claws clipped, but you need to keep your kitty's nails at a comfortable length. Trimming your cat's nails regularly can prevent the claws from getting stuck in the carpets or furniture and stop your cat from scratching people. If your kitty isn't sharpening their nails, the nails can also become too long and get embedded in the paw pads, which can cause an infection and be extremely painful for your cat.
If taking your kitty to the veterinarian or groomer for regular manis and pedis isn't an option, you can trim their nails at home using cat nail clippers. Nail clippers for cats are available in many different styles, but not all of them work in the same way. What the best type of nail clipper for your cat will depend on the size of your cat and your experience level. To help you find the best cat nail clippers for your kitty, we hand-picked 10 different nail clippers for cats. From scissor-style clippers to pliers and guillotines, you can't go wrong with choosing any from our list.
Editor's Choice: Shiny Pet Nail Clippers for Small Animals
Shiny Pet Nail Clippers are specially designed to be used on a range of small animals, including cats and kittens. The razor-sharp blades are made of stainless steel, ensuring a quick and clean cut. The small and rounded clipper head minimizes the risk of poking or injuring yourself or your kitty, and the angled clipper blade allows you to see and manipulate each nail for a perfect trim. These cat nail clippers feature an ergonomic grip, and the handle is finished in a rubberized coating that ensures a firm and comfortable grip. And, as a nifty little bonus, if you haven't cut your kitty's nails before, just scan the QR code on the back of the nail clipper's package to get access to a free nail clipping guide.
Pros
Comfortable and easy to hold
Sharp stainless-steel blades
Backed by a lifetime money-back guarantee
Suitable for cats of all ages
Runner Up: Purrcision Feline Cat Nail Clippers
Expertly crafted in Japan, Purrcision Feline Cat Nail Clippers have 30% thinner blades than most other pet clippers on the market. This feature makes it easier to see the cat's nails and avoid cutting too deep to injure the quick. Made from high-quality stainless steel, these small clippers have sharp blades that deliver clean cuts without tearing or crushing the nail in the process. The small, non-slip handles are cushioned, ensuring a comfortable and easy nail-clipping experience. Besides being sharp, these clippers are also very quiet, which makes them ideal for skittish cats or when trimming the cat's nails for the first time.
Pros
Thinner blades for a precise cut
Clips the nail quickly and cleanly
Easy to handle
Cushioned handles for a comfortable grip
Cons
Finger holes are too small for some people
Customer's Choice: Mr. Pen Cat Nail Clipper
These scissor-style cat nail clippers are designed to make the nail-trimming process easier for you and less stressful for your kitty. Convenient and compactly built, these cat nail clippers fit comfortably in your hand and feature non-slip grips and an ergonomic handle. The sharp and long-lasting cutting blade is semicircular in shape and angled. This design allows you to see your cat's nails while cutting, thus preventing injuries to the base of the nail. Nail trimming shouldn't be a painful experience for your cat, and Mr. Pen's razor-sharp stainless-steel blades will cut your cat's nails cleanly, quickly, and safely.
Pros
The ergonomically designed handle is easy to grip
Semi-circular blades for safe nail clips
Easy to hold and maneuver
Suitable for cats of all sizes
Cons
The scissor-like design makes it hard to open and close
Best Cat Nail Clippers with Safety Guard: Gonicc Dog & Cat Nail Clippers and Trimmers
Cutting into the quick can cause bleeding and pain and will likely cause your cat to run and hide the next time they see nail clippers. If you've ever trimmed your kitty's claws too far back, you know that a safety guard is a must. Gonicc Cat Nail Clippers are designed with a safety stop guard, which prevents cutting the quick and ensures a painless nail-cutting experience. The guard works by blocking one side of the clippers and prevents you from cutting the claws too short. An ergonomic design and non-slip handles make these clippers easy to grip, and high-quality stainless-steel blades are sharp enough to cut cleanly through the nail.
Pros
Comfortable non-slip handles
Safety guard prevents cutting into the quick
Comes with a nail file
Safety lock prevents children from using these clippers
Best Cat Nail Clippers with LED Light: Pawsibility Pet Nail Clippers for Cats
With a reinvented design, a strong cutting blade, and an LED light, Pawsibility Pet Nail Clippers have everything cat parents need for a painless and stress-free nail trimming experience. The sharp and wide cutting blades are made from high-quality stainless steel and cut straight through the nail without leaving any jagged edges. What we love the most about these cat nail clippers is the built-in LED light that illuminates the quick in the nails for a safer and easier nail-cutting experience. These nail clippers also have a built-in nail file to polish your kitty's claws to purrfection.
Pros
Built-in nail file
Comfortable and easy-to-grip handle
LED light illuminates the quick for a safer nail cutting
Sharp blades cut straight through the nail
Cons
Doesn't have a safety guard
Best Guillotine Cat Nail Clippers: Resco Deluxe Cat Nail Trimmer
Used by veterinarians and groomers, Resco Deluxe Nail Clippers work in the same way as a cigar cutter. This guillotine-style nail clipper makes quick and clean cuts if kept properly sharpened. The great thing about these clippers is that the blade is replaceable, so you can always remove the old, dull blade and replace it with a new, sharp one. Resco guillotine cat clippers are made in the United States and are covered by a conditional lifetime guarantee. These high-quality clippers don't contain plastic parts and feature comfortable, non-slip handle grips for safe and quick nail cutting.
Pros
Durable steel construction without plastic parts
Replaceable micro-honed blade
Made in the USA
Covered by a limited lifetime guarantee
Cons
Can crush the nail instead of cutting it if the blades are dull
Best Cat Clippers with Ergonomic Handles: Four Paws Magic Coat Professional Series Cat Nail Clipper
Designed to be used on cats and kittens of all sizes, these nail clippers provide easy, controlled, and comfortable nail trimming. Featuring durable stainless-steel blades with rounded tips, these professional-grade cat nail clippers lower the risk of injuring or poking your kitty while trimming their nails. Four Paws Magic Coat Cat Nail Clippers have ergonomic handles for an easy and secure grip, allowing you to work quickly and reducing your kitty's discomfort. These scissor-style clippers stay sharp for longer, thanks to a stainless-steel surgical cutting edge that cuts straight through the nail every time.
Pros
Professional-grade cat nail clippers
Suitable for adult cats and kittens
Ergonomic handle for easy grip
Sharp, stainless-steel blades guarantee a precise cut
Cons
Can be too small for larger cats
Best Scissor-Style Cat Nail Clippers: JW Pet Company Soft Grip Cat Nail Clippers
These affordably priced scissor-style cat nail clippers won't break the bank but will cut your cat's nails the same as some of the more expensive models. The smaller size makes these clippers easier to manipulate for a quick and stress-free nail cut. This feature can come in handy if you're trying to trim your cat's claws for the first time. The smaller, stainless-steel blades offer more accuracy but don't come with a safety guard, so you'll still have to be careful while cutting your cat's claws. Non-slip, rubberized handles provide a secure grip and prevent the clippers from slipping out of your hand in the middle of a pedicure session. These nail clippers are suitable for adult cats and kittens but might be too small if your cat has large and thick nails.
Pros
Easy to hold and maneuver
Smaller blades offer more accuracy
Rubberized handles ensure a stable grip
Affordable
Cons
Might be too small for some adult hands
Best Grinder-Style Cat Nail Clippers: Dremel Professional Nail Grinder and Trimmer for Cats
If you're afraid of cutting your kitty's nails too close to the quick, this Dremel Nail Grinder might solve all your problems. Trimming your kitty's nails too short isn't an option with this grinder-style clipper because it's equipped with a nail guard that prevents you from trimming more of your cat's nails than necessary. This grinder is a part of a nail grooming kit that includes everything a novice or experienced owner needs to safely trim their cat's nails at home. The kit consists of a nine-piece grooming accessory set, a USB charging cable, a power adaptor, a user manual, and a two-year warranty card. Lightweight and portable, the Dremel nail grinder can be used anywhere, and the variable speed slide allows you to adjust the nail grinding speed based on your cat's size and nail thickness.
Pros
Comes with a nail guard
Lightweight and portable design
Has a rechargeable lithium-ion battery
Offers multiple nail-grinding options
Cons
The noise and vibrations might scare some cats
Best Cat Nail Clippers for Kittens: Pet Republique Stainless Steel Claw Clipper for Cats
The small Pet Republic Claw Clippers are designed for kittens to fit around their tiny, delicate nails. These scissor-style clippers feature stainless-steel half-moon blades that are strong and sharp enough to cut through the nail in one go. The textured, soft grip handles are large enough for both women's and men's hands and offer a good grip and maneuverability. The blade's design allows for an easy claw placement, making these clippers a great option for novice owners who never trimmed a cat's nails before.
Pros
Durable and sharp blades
Non-slip, soft grip handles
Suitable for kittens and smaller cats
Easy-to-use scissor-style design
What to Look for In Cat Nail Clippers?
There are many cat nail clipper styles, ranging from scissor-style clippers and guillotine to pliers-style clippers. If you've never trimmed your cat's nails before, you might have a hard time choosing nail clippers that will cut straight through the nail without crushing or breaking it. Here are a few things you should consider to find the best cat nail clippers for your kitty:
Sharp Blades
Dull blades can break or crush your cat's nails, so always choose cat nail clippers with ultra-sharp blades. Although strong and sharp blades cost more than dull ones, they are less likely to injure your cat. Razor-sharp blades cut straight through the thickest nails instead of breaking or crushing them. Look for nail clippers with stainless steel blades to cut your kitty's claws quickly and safely.
Comfort
Trimming a cat's nails will quickly become painful for you if the clippers don't fit comfortably in your hand. The goal is to feel comfortable while holding nail clippers and be sure they won't twist, slip, or slide from your hand while you're trimming your kitty's claws. Look for cat nail clippers with ergonomic design and non-slip rubber grips that fit well into your hand, aren't too heavy, and are easy to maneuver.
Safety Guard
Many cat nail clippers have a safety guard that helps prevent clipping the nails too short. Whether you've never trimmed a cat's nails before or you've been doing it for many years, a safety guard will prevent you from cutting the quick and causing bleeding. Cutting into the quick can be extremely painful and make your cat terrified of nail clippers.
Blade Lock
Some cat nail clippers have locking blades, which can be a must-have feature if you have kids running around the house. The blade lock feature prevents anyone touching the clippers from cutting or stabbing themselves or others on accident. Locking the blades also makes the nail clippers smaller and more convenient to store until the next nail trimming session.
Size
The right cat nail clippers should fit nicely in your hand so that you can have a good grip and maneuverability. Many scissor-style cat clippers are too small and uncomfortable for people with larger hands, so consider the clipper's size when shopping. Besides fitting snugly in your hand, the clippers should also be the right size for your cat. Since kittens have tiny claws, they need much smaller clippers than adult cats.
We are committed to finding, researching, and recommending the best products. We earn commissions from purchases you make using the retail links in our product reviews. Learn more about how this works.

Angela Vuckovic
A proud mama to seven dogs and ten cats, Angela spends her days writing for her fellow pet parents and pampering her furballs, all of whom are rescues. When she's not gushing over her adorable cats or playing with her dogs, she can be found curled up with a good fantasy book.
More by Angela Vuckovic
Published December 19th, 2022 6:49 AM