495 Views
Best Couch Covers for Dogs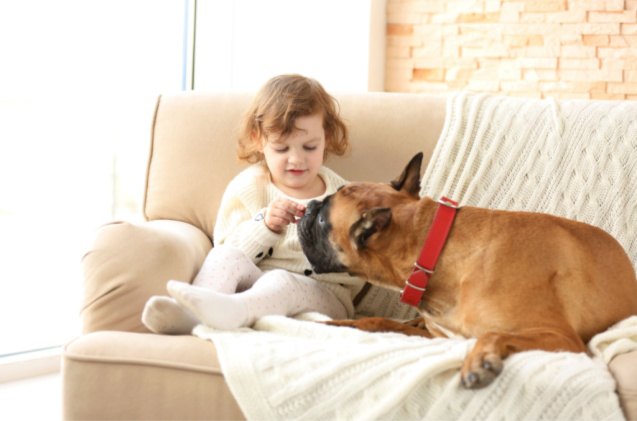 We love our four-legged besties to bits, but the truth of the matter is that they can be dirty little gremlins. Grime and stains on your furniture, floors, and in the care are not uncommon things when you are a doggo owner. Luckily, there are ways to minimize the wear and tear your pet is responsible for in the house, at least when it comes to your furniture. These couch covers for dogs are ideal for protecting your bed, armchair, or sofa, while still allowing your dog to take a well-deserved nap on them!
Thanks to these unique couch covers for dogs, you don't have to be worried about your dog sleeping on the sofa. We all know that it can be a favorite place for them to snooze, but when they are done – at the very best, you're left to deal with stray hairs embedded in the upholstery. This can be a nightmare to clean, especially if you have brand new furniture. So take a look at these great designs that won't ruin your carefully-built interior design – but complement it and preserve it at the same time.
Editor's Choice: Ameritex Waterproof Dog Bed Cover
When it's time for a quality nap, your doggo will almost always prefer your own couch or armchair instead of his own bed. But that can mean dirt, drool, or loose hair on your precious furniture! Luckily, unique designs such as this Ameritex couch cover for dogs will help keep everything pristine, without taking away your pet's special furniture privilege. This couch cover is made from a quality, waterproof microfiber material, and it features a multi-layered design. It is quite soft and breathable, but still thick enough to provide support and protection for the furniture. It is waterproof, so any accidents that could happen won't damage your couch. Another great feature is the quilted appearance – it gives it that classic charm! You can also choose from a variety of sizes and colors, which allows you to match the exact color of your living room furniture and the type of your sofa.
Pros
Waterproof and layered
Great choice of colors
Various sizes
Classic, timeless design
Runner Up: RHF Diamond Sofa Cover
If your dog's hair manages to end up everywhere – on the armrests, set, between the pillows… You need sofa protection with plenty of coverage. This fantastic design will completely cover the couch: from the backrest, the seating, to the armrests. That way, no part of the furniture is exposed, and your doggo can snooze and relax with no worries. Made from durable and comfortable material, it is ideal for protecting the sofa from hairs and nasty stains. It can be machine washed so it is always clean and fresh, and it can also be reversed for a different look. The cover features handy elastic straps that help you fasten it to the sofa more securely. It also has a soft down filling, which makes it super comfy to sit on, for both dogs and owners. And although it is not fully waterproof, this cover makes for a great protective measure that will give you some peace of mind.
Pros
Soft and comfortable
Elastic straps
Reversible design
Customer's Choice: OstepDecor Sectional Couch Cover
Every dog adores sleeping on the couch. But in these cases, you need to be prepared ahead of time. These superb couch covers from OstepDecor will be the ideal solution for preventing wear and tear. One great feature will be obvious from the get-go: these covers are sectional! This means that they come in a variety of dimensions - from small to large - and thus they can fit virtually any piece of furniture in your home. These covers are breathable and extra stretchy, while still being durable, thanks to the high-quality fabric that is used. They also have a soft velvet finish, making them extra comfy and snuggly – something all dogs love. Add to that the quilted pattern, and you got yourself a stylish couch cover that will not only protect your sofa but enhance its looks also!
Pros
Stretchy and durable
Amazing choice of dimensions
Soft velvet outside
Best Stretchy Couch Cover for Dogs: Petrilife Thickened Sofa Cover
This practical stretchable sofa cover allows you to cover virtually all open surfaces and keep your couch as pristine as it was on the first day you got it. The cover is very durable and protective – it is made from 95% polyester and 5% spandex, which perfectly combines that elasticity with durability. Even so, the material is skin-friendly and durable, as well as breathable. It is ideal for protecting a couch from loose hair and stains, but also from scratches – those claws can do some serious damage to the upholstery. Thanks to elastic bands and its design, this cover will stay firmly in place and will look just as if it was a part of the sofa to begin with!
Pros
Great design combines stretch with durability
Good choice of colors
Breathable material
Cons
Perhaps a bit challenging to fit over the sofa
Best Stylish Couch Cover for Dogs: ROOMLIFE 5 Cotton Sofa Covers
If you want to spruce up your home and make sure your furniture is stylish and unique, you might struggle with the plain old couch covers for dogs. But this design really hits home! A stylish, statement piece blanket design will look modern and elegant in any home, but will also protect the sofa from stains, hair, and accidents. This thick throw blanket features a unique selection of patterns and colors, and any choice will not fail to impress any guest. Made from cotton, the blankets are durable, soft, absorbent, and quite protective. The cover is also machine washable, making it easy to maintain and keep fresh - with minimal shrinkage. Simple and efficient, it provides a classy look while keeping everything protected and clean.
Pros
Simple design requires no fitting
Various modern patterns
Thick and protective
Best Protective Couch Cover for Dogs: Furhaven Furniture Cover for Dogs
Furhaven offers a well-made concept that covers the seating area, the backrest, and the armrests while complementing your living room decor. Made from high-quality polyester fabric, it ensures durability, breathability, and water resistance. All this is ideal for homes with dogs that love to snooze on the bed but leave a mess afterward. Thanks to its multilayered and durable design, it is considered water resistant, and won't allow dirt or hairs to end up on the bed. With its unique cushion anchors, this cover won't slip and slide all over the place but will stay just how you placed it. Of course, it is 100% machine washable, making it super simple to keep hygienic, soft, and smelling fresh.
Pros
Simple but efficient design
Cushion anchors
Water-resistant
Cons
Dull and limited color choices
Best Sectional Couch Cover for Dogs: Deep Dream Sectional Couch Covers
Thanks to these sectional couch covers, you can easily adjust to any piece of furniture in your home, be it standard or totally unique. Made from durable polyester fiber and finished with soft crystal velvet, these covers are very tough and will easily protect your home from loose hair, stains, or dirty pupper paws. They come in a variety of sizes, and you can cover anything you think of: combine smaller pieces to cover a couch or use a large size piece for your bedroom – the choice is yours. Besides durability, these covers also have comfort: the velvet is soft to the touch and great to snooze on. Best of all, they are machine washable and can be kept fresh and hygienic at all times!
Pros
Great quality and design
Fantastic choice of dimensions
Good durability
Anti-slip design
Best Plush Couch Cover for Dogs: Dekeyoo Pet Couch Protector
There is nothing that dogs love more than a plush, fuzzy, furry, and snuggly spot to snooze on. Thanks to this plush couch cover, your sofa or armchair can quickly become that favorite spot, without having to deal with pet hair or scratches in return. It is made from 100% polyester and features a shaggy surface that dogs naturally love. Another unique aspect of this design is a half-circle raised edge that will give your pet a place to rest their head on. This also makes the design very versatile, allowing you to use it on the sofa, the armchair, bed, or even on the floor! And it is this versatility that really makes this design stand out.
Pros
Protective raised edge
Great for puppies and adult dogs alike
Shaggy fuzzy design
Cons
Leaves part of the bed uncovered
Best 3-Cushion Couch Cover for Dogs: BESTSWEETIE Couch Cover
For a quick and stylish solution, blanket-style couch covers are ideal. Whenever you want to protect your couch or armchair in a second, just use a blanket cover and you're done! This design is simple, elegant, and above all – efficient. Its smooth and soft surface, simple design, and stylish frilled end will look amazing in any home, and accentuate your good taste. But more importantly, it will cover the entire sofa and keep it safe from loose hair, dirt, and stains. It is made from durable and soft suede material and can be fully machine washed, keeping hygiene top notch. Simple, unique, elegant - and efficient design. What's not to love?
Pros
Stylish tasseled ends
Soft suede fabric
Doubles as elegant decor
Best Reversible Couch Cover for Dogs: PureFit Reversible Quilted Sofa Cover
Good designs always allow versatility – such as these nifty reversible couch covers for dogs that can be changed whenever you want. They are made from durable polyester and microfiber and are ideal for protecting the couch from hair, stains, and dirt. Thanks to the special elastic bands, this quilted cover can be securely fastened to the couch and will not move. The quilted design makes it comfy and soft and gives it that classic look that everyone loves. Besides all this, it is important to know that this cover can be easily machine washed for fresh and hygienic daily use.
Pros
Unique reversible design
Secure and ideal fit
Plenty of colors and sizes to choose from
Soft and durable
Cons
Doesn't stay in place on leather
What to Look for in Couch Covers for Dogs?
When purchasing your couch cover for dogs, you need to take a lot of things into account. Throwing a classic blankie over the couch won't do the trick – you'll need something more reliable and customized to reap the benefits. Before buying, consider these main features of quality couch covers for dogs.
No dog owner can escape drool, pee, or vomit – it is just something that dogs can't really control and it's bound to happen at some point. If you let them sleep on the sofa, these things can be a big issue. Thankfully, couch covers for dogs will keep them at bay. Look for water-resistant designs that will keep liquids from penetrating down to the sofa beneath it.
Just because it's practical, it doesn't mean it has to look frumpy! You can still keep your home looking stylish and elegant while still protecting the couch. This can be a challenge with common designs, so look for something unique. Designs with tassels or bold patterns can be just the thing you need and will add a real breath of fresh air into any living room.
Durability is by far the most important feature of couch covers for dogs. Look for classic high-quality materials such as polyester or cotton as they can take a lot of wear and tear which is common with dogs around. Tossing, turning, "digging", drooling, chewing – all these are common quirks of pooches, and they can have a toll on furniture. But not with a couch cover! Of course, machine washing also requires durability, so keep that in mind.
We are committed to finding, researching, and recommending the best products. We earn commissions from purchases you make using the retail links in our product reviews. Learn more about how this works.

Angela Vuckovic
A proud mama to seven dogs and ten cats, Angela spends her days writing for her fellow pet parents and pampering her furballs, all of whom are rescues. When she's not gushing over her adorable cats or playing with her dogs, she can be found curled up with a good fantasy book.
More by Angela Vuckovic
Published July 28th, 2022 3:57 PM