54 Views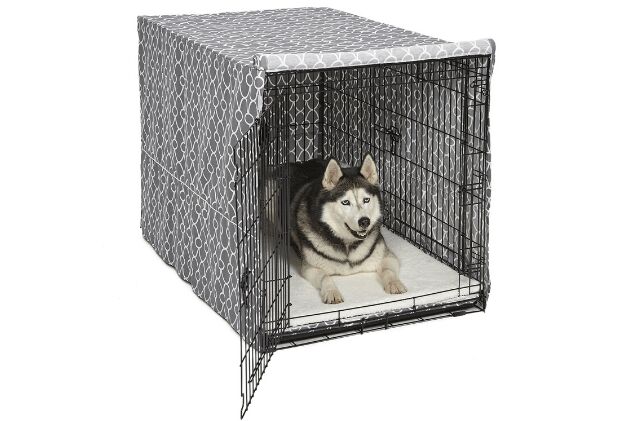 Dog crate covers might seem simple enough, but there are plenty of factors to consider before buying. Read on to learn which covers give the best bang for the buck!
Dog crate covers are a great addition to every type of crate. A nifty evolution of the design, these covers take the functions of a simple dog crate to an entirely new level. A crate cover creates a cozy and welcoming environment that is so similar to a natural dog den. It quickly creates a proper little safe haven for your four-legged companion and can help with reducing fear and stress. Moreover, these covers can help with sleep, as well as providing shade during the sunny summer days. And when your beloved pet is simply not in the mood to hang out with the crowd in the house, a covered crate will be the perfect place for him to unwind and have some privacy and peace.
For many pet parents, a dog crate is an indispensable part of their pet's routine. It can help so much when you are trying to train your furry friend to live in the house – especially puppies. Snug and cozy dog crate will act as a den or a trusty dog house that your pup will quickly recognize as its own. And as dogs will never soil their den, it comes in as a very useful potty training tool. Crates can also help greatly with curbing a dog's anxiety, especially when you are not at home. If frightened and insecure – or simply naughty – your pet might find solace in chewing and shredding some tasty piece of furniture. But when there is a cozy den, a place that they think is secure and snug, they will certainly be more relaxed.
There are a lot of options for dog crate covers, and the choices on the market are varied. As a result, you might find it difficult to narrow down your choice and settle on just one crate cover. DIY solutions are always an option of course, and even a simple blanket can be a crate cover if you're in a hurry or your budget is super tight. But the truth is – it won't do the trick, especially not if you need something for the long run. Real, professionally designed dog crate covers are made with attention to detail that ensures they offer maximum efficiency and do exactly what they should. There are several materials that are popular, all of them sturdier and tougher than a simple blanket. Why? Because certain dogs – particularly puppies- can have a tendency to dislike you "decoration" of the crate and proceed to chew and tear away the cover. With special materials such as durable nylon fabrics and heavy-duty zipper connections, you can also successfully defeat the dog's habit of trying to remove the cover.
In order to help you navigate through the many available choices, we've rounded up all of the best dog crate covers on the market today and listed all the pros and cons that these products can have. We'll take you through the best materials and share important tips – read on to find out more!
1. X-ZONE PET Indoor/Outdoor Dog Crate Cover
Here is a well-rounded, good quality, mid-range crate cover that has a lot of good design elements and really provides a lot of features for its affordable price. The first thing to notice is the durable Oxford material, which is weatherproof and very tough. No need to worry about breathability – the design comes with several carefully placed windows, which are kept in place with velcro. You can freely open up for ventilation. The cover is fully machine washable for ease of maintenance. X Zone fits 30 inch, 36 inch, and 42 inch crates.
2. HiCaptain Double Door Dog Crate Cover
The defining feature of the HiCaptain crate cover is certainly the large foldable "doors" on both sides of the cover. These large flaps cover the entire side and can be rolled up to allow an open crate and plenty of fresh air. There is also the main frontal flap, as well as a narrow meshed window on the back. The cover is made from durable polyester material and is durable and weatherproof. The flaps have zippers and once closed they offer a snug and darkened environment with plenty of air still in circulation through the back window. A good cover with a reasonable price tag, it comes in five different sizes.
3. Pethiy Dog Crate Cover for Wire Crates
In case you need something cheap but decent, this poly-cotton blend cover will fit the bill. Available in four different colors and patterns as well as 5 different sizes to fit most crates, this versatile and breathable cover boasts five flaps on all sides of the crate. It's easy to use (hook and loop system will keep everything covered and cozy) and it's easy to clean in the washing machine. Ideal if you want something that costs under $30 but won't fall apart in days.
4. Pet Dreams Complete 3 Piece Crate Bedding Set
If you are looking for something more luxurious, this exclusive three piece set is a great choice. Pet Dreams offers a complete set for you to furnish your pet's crate with all the necessities. Included in the price are a durable crate cover, a soft bumper for the sides, and a warm and fluffy crate pad for your furry friend to sleep on. All the items are securely connected to the crate, and the crate cover has two large flaps for needed ventilation. Even though the price tag might be a bit steep, this comfortable and luxurious 3 piece set is definitely worth the investment. Available in 6 sizes.
5. Mud River Dixie Insulated Kennel Cover
This could very well be the mother of all crate covers. One of the finest high-quality designs on the market, this detailed crate cover is perfect not only for indoor use, but also for travel, camping, and general outdoor adventures. Made from durable, two-ply poly fabric, and having added MicroLite 3 insulation, this cover is both weatherproof and insulated. In the winter it retains heat, but in the summer it won't get hot. The outside of the cover has three medium-sized flaps with mesh windows. There are also several pockets and pouches where you can easily store all of your odds and ends. One of the best choices on the market today, this multi-use cover comes in four sizes.
6. Midwest QuietTime Defender
A simple and affordable, straightforward design, this basic crate cover has all the essential features. It is made from a durable and repellent fabric and has one front and two very large side flaps. These can be opened and secured in place with velcro. The fabric has a Teflon protective coating, which ensures that water and dirt and similar spills won't stick. One interesting aspect of this cover is the lovely pattern design that breaks up the simplicity and really makes the dog crate a fitting addition to your home. It also comes in five sizes.
7. Pet Spaces Adjustable Kennel Cover
Here's another good choice for all of you adventurers. This durable cover from Pet Spaces successfully combines both heavy-duty and general use elements. The fabric is durable and totally weatherproof, with reinforced seams and meshed side windows. The cover has drawstrings that will allow you to fit it more snugly to different crate models. Offering one of the best designs on the market, as well as a fantastic balance between price and quality, this cover is certainly a smart investment, especially if you love to travel with your pet.
8. Explore Land Dog Crate Cover
Whether you're in the process of training your pooch, furnishing their crate to make it cozier, or need a sturdy cover for your dog's crate when you travel, Explore Land Dog Crate Cover has you covered (pun intended). Easy to install, clean, and store away when not needed, this heavy-duty cover is made from sturdy water-resistant 600D polyester with blackout properties. This means that it will block the sunlight or cold winds- perfect for dog shows, traveling, or playtime outside! With multiple lockers and sew-in zippers, this cover will stay snuggly on the crate for as long as you need it to. The openings can be easily rolled up to provide your pet with fresh air and a view of their surroundings. Explore Land Dog Crate Cover comes in 5 sizes, offering coverage for crates measuring 24", 30", 36", 42" or 48" and in lattice print in two colors: brown or blue.
9. Molly Mutt Rocketman Kennel Cover
Another basic, but very well made design, the Molly Mutt cover boasts an interesting print design to transform your pet's crate from drab to fun. Made from 100 percent cotton fabric and fully washable, this cover provides all the coziness that your pupper needs without taking away from convenience or style. The constellations print is not colorful or showy, so it will fit in beautifully in most modern apartments. Available in multiple sizes.
10. PetsFit Double Door Cover
If you like to have plenty of options, this PetsFit cover gives you exactly that. It is made from a two-faced durable Oxford poly fabric and has a lot of flaps. Two large ones for the entrances, as well as two meshed side windows and a huge upper flap. This allows you to easily shift from a darkened and cozy crate to a fully open and ventilated one with a 360-degree view for your pet. One of the more affordable designs on the market, it fits 30 inch, 36 inch, and 42 inch crates.

Crate training and benefits of dog crates
A lot of conscientious owners turn a blind eye to training methods that involve dog crates. Some people think it is either not effective, or cruel, or too stressful for your pet. But none of these are true at all. In fact, crate training is one of the more natural-feeling training methods for dogs. And it's all because of their denning instinct.
This idea is centered around the fact that dogs in the wild used to have a den- and it remains dog's natural instinct to seek out a little safe haven of its own, a cozy den, an indoor dog house, or just a darkened, warm place to rest in and snooze. So, in a sense, crate training your dog can actually be a benefit for your pet as you're introducing them to a crate that can serve that purpose for them. In any situation that might occur, your pet will have a personal little nook that is his own and feels like safety.
But here is an even more important benefit of crate training – treating separation anxiety. This is a big burden for countless owners around the globe, especially those who live alone with their pet. Having to go to work, to the gym, to the store – basically anywhere – and having to leave your pet dog in the house or the apartment on their own, can be the biggest challenge. Dogs depend on and crave your company, so once you leave to work and close the door, they think it is the end of the world. This is common for all overly affectionate pets and is known as separation anxiety. If not particularly accustomed to being alone, a dog might do some odd things because of their anxiety. They can tear furniture, chew cables, rummage through the bin, mess up the toilet paper, or just leave a smelly "present" in the middle of the carpet. You're likely familiar with at least some of these scenarios. But many owners who crate trained their dog can tell you one thing – they don't have this problem. A big part of a dog's natural instinct is that the "den" – or in this case a darkened, snug crate – can be a comforting place. Instead of tearing the place up when you are out, your pet might seek refuge in his own little house, where all is well and warm. So you should not be surprised when your dog voluntarily heads on into his cozy crate.
But of course, your pet needs to be properly introduced to his new surroundings, and preferably at a young age. This all depends on you and the way you approach the training part. Your pup needs to associate the crate with safety and comfort, and not with negative connotations. It is a good idea to use treats as you allow your dog to investigate the crate step by step. Eventually, the barrier will be overcome and the natural "den" instinct will fully come into play.
What to look for in dog crate covers
You can use a dog crate cover to give your pooch a secluded spot in the house, block sunlight so they can take a nap during the day, soothe them when transporting them to the vet's office – there are plenty of ways how crate covers might come in handy. When you take into account its numerous uses, you will quickly understand that quality is the main factor here and that DIY solution might not work out well. Here is our little list of things to keep in mind.
Material
The material from which the cover is made can play a big role in the overall quality. Cheaper covers can often be made from non-breathable and thick nylon materials which can have a strong smell and almost no ventilation. On the other hand, soft fabrics can be easily torn up if your dog is a bit mischievous. Finding the perfect middle ground between the two is important, and many brands are offering specially designed materials that are weatherproof, breathable, and rugged as well.
Ventilation
While you do want to create an illusion of a cozy den for your pet, you don't want to overdo it and create what will essentially be a hot and smelly prison. That's why you would want to find a cover with pre-designed features such as flaps. These flaps can be folded easily and allow an outside view and good ventilation. Some fantastic models even have little mesh-covered openings, which allow ventilation but still protect from too much light and insects.
Cleaning
With your four-legged mess-maker around, these covers won't stay clean for too long. That's why it is important to find a crate cover that is made of washable fabric. Many of the models are fully machine washable, and that is the best solution. The more affordable ones have a wipe-clean fabric that can also work well. But the cheapest ones made from thick nylon fabrics are very difficult to clean, so keep that in mind! No one wants a smelly dog den in their living room – your pooch included.
We are committed to finding, researching, and recommending the best products. We earn commissions from purchases you make using the retail links in our product reviews. Learn more about how this works.

Angela Vuckovic
A proud mama to seven dogs and ten cats, Angela spends her days writing for her fellow pet parents and pampering her furballs, all of whom are rescues. When she's not gushing over her adorable cats or playing with her dogs, she can be found curled up with a good fantasy book.
More by Angela Vuckovic
Published May 10th, 2021 12:00 AM