52 Views
August 25th, 2021 12:00 AM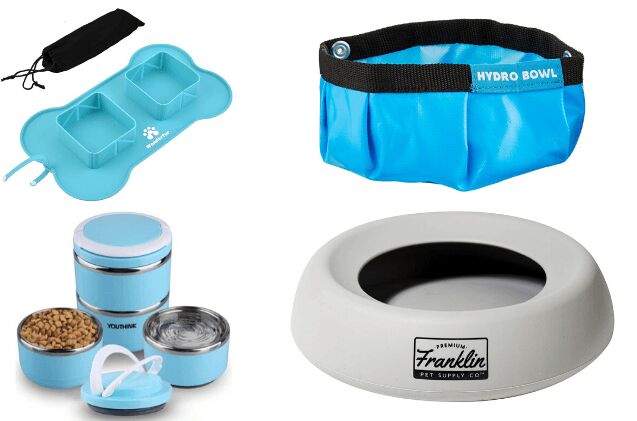 Dog travel bowls ensure your pet stays hydrated and fed wherever you go – no fuss, no improvisation needed. Take a look at our selection of these nifty travel accessories and choose something nice for your four-legged adventurer.
A lot of dog owners really enjoy traveling with their beloved furry companions. Particularly in the summer, getting out of the house can be the highlight of the day (or week) – whether it is to visit the park, a walk by the river, or perhaps even getting away for a short weekend trip or a camping adventure. Whatever option you choose – and there are many – you will quickly understand how important it is to be properly organized if you want to make your travels and outings truly pet-friendly. From proper accessories to gear designed especially for travel purposes, there are plenty of products that can make matters so much easier and more convenient.
Why do I need travel bowls for my dog?
To make sure your pet will stay fed and hydrated wherever you go, whether it's a long road trip or an afternoon at the park, you have to have a bowl and drinkable water nearby. And that is exactly where dog travel bowls come in handy! One of the most convenient travel accessories to have lying around, these nifty collapsible bowls are easy to carry around, very compact, and super efficient. You can easily pack them in your purse or overnight bag – simply whip out your collapsible travel bowl, and fill it up with fresh drinking water. Your pet will stay hydrated, energized, and safe at all times. And no need for DIY solutions or crazy inventions. No need to get dirty, or have your pet drink from unsanitary containers. Keep it simple, keep it safe, and keep it clean – dog travel bowls make it all possible. The same goes for when it's dinner time: if you're traveling with your pet, you want them to get their meals from a sanitary, convenient container and that's just what these compact bowls offer.
We've rounded up the best dog travel bowls on the market to help you make your pick- just scroll on to find a match for everyday use, camping, traveling, or all of the above.
1. Editor's Pick: Kurgo® Mash & Stash Collapsible Bowl
The Kurgo brand's expertise needs no special introduction. Their well known Mash & Stash portable water and food container is a fantastic, collapsible solution that really takes up no space at all. This dishwasher safe bowl is made from approved food grade silicone and can hold up to 24 fluid ounces. The unique triangular design perfectly caters to your pet's eating habits, and the ridged sides leave nothing clinging to the sides. Added to the rim is a loophole for additional carrying options. Of course, the bowl is collapsible and can be carried even in your pocket. A fantastic solution from Kurgo!
2. Runner Up: Alfie Pet Fabric Collapsible Travel Bowl
Compact, portable, and convenient for travel, camping, or long hike in the outdoors, this collapsible pet water bowl folds down to less than an inch thin and features a nifty carabiner clip and a metal D-ring so you can attach it anywhere from your belt, purse, to your pet's leash or collar for easy immediate access. Despite being very compact when folded and zipped up, this collapsible travel bowl can hold up to 50 ounces (6.25 cups) of water or food, so it is best suited to the needs of small and medium-size breeds. With durable nylon outer and waterproof lining, this travel bowl is suited for water, wet food, or dry food. Easy to clean and washable, it will be your new favorite accessory for any outdoor adventure.
3. Best Traditional: YOUTHINK Travel Dog Bowls Set
You think that travel bowls always need to be collapsible to be convenient? Well, think again! This brand offers a traditional, straightforward solution, packed in a modern and high-quality package. This cute set of two bowls combines the pair into a single easy to carry unit. The bowls fit into one another and are separated with leak-proof rubber seals. This means that you can fill them with food and water at your home, and safely head out to the park knowing that you can offer refreshments at any time. The outer layers are FDA approved BPA free food grade plastic, while the inside is stainless steel layered. The cover also features collapsible handles for ease of carrying. Roughly 37 ounces combined capacity, and a cute, nifty design make this travel bowl package simply one of the finest on the market.
4. Best for Road Trips: DogBuddy Travel Bowls
When you go on long roadtrips or camping with your pet by your side, you need to come prepared. This double set of bowls will make sure your pet doesn't go hungry or thirsty even for a minute when you're out and about. Made from food grade silicone that's free of BPA, PVC, or phthalates, these pet-safe collapsible pet bowls measure 6 inches in diameter and each holds 2.5 cups of food or 20 oz of water when opened halfway and 3.5 cups of food or 28 oz of water when opened fully, which makes them a perfect fit for small dogs. Fully collapsible, these silicone travel bowls are compact when zipped up in their case- and as the case is attached to the bowls, it acts as a nifty tray to contain minor spills.
5. Best Compact: CoolerDog Pocket Bowl Dog Bowl
What if you could fit a travel dog bowl in your pocket? This ingenious design allows you to do exactly that, as this square-shaped bowl folds down to a wallet-like pouch you can easily stick in your pocket before you go on a walk or a hike in nature. This way, water will always be at reach without bulky pouches to deal with! The pocket bowl comes in two sizes: small which holds 24 oz of liquid or large that holds 56 oz of food and water. As a result, this travel dog bowl is suited for big doggos and small breed pooches alike. What's more, there are two more options that come with two bowls, in either small or large, so you can have a double bowl setup suited for both water and food,, all at the tip of your fingerprints.
6. Best for Hiking: RUFFWEAR Bivy Bowl
Improve your outdoor adventures with this unique Ruffwear design that is made to endure the toughest trails and the most challenging wild environments, while still allowing for some quality eating and drinking for your pupper. Made from waterproof, unique, and highly durable welded fabric, this bowl features built-in ridges for quick collapsing and extremely easy storage. It is also very lightweight, weighing in at only 2,96 ounces (84 grams) but it boasts a capacity of 1.6 liters. A defining feature of this bowl is the high walls, which is great for those messy eaters that always spill some extra around. And as if all that was not enough, the bivy bowl features a reflective circle rim, allowing you to spot it even after dark. A camper's dream come true!
7. Best for Vacations: Winsee Collapsible Dog Bowls
This nifty design from Winsee helps you take care of both food and water – in one go! Replicating your pet's bowls at home, these collapsible and flexible bowls will be the ideal replacement for when you're on the go. Winsee Collapsible Dog Bowls are made from premium flexible food-grade silicone, which is safe and 100% lead and BPA-free. This unique design also features a non-skid silicone mat that will ensure no sliding on flat surfaces, and will also catch anything your pet might spill while eating and drinking.
The bowls fold up flat when not in use, and can be stored virtually anywhere. An added carabiner clip will help you secure it to a place you choose, making it ready for use whenever.The bowl comes in two sizes- small and large- the small can hold up to 15 oz or 1.9 cups of food or water at full height, and the large one up to 4.5 cups of food or 35 ounces of water each, which is quite a good capacity for any dog breed.
8. Best for Camping: Arcadia Trail™ Collapsible Travel Bowl
Small, collapsible, lightweight – these are the defining features of the Arcadia Trail travel bowl. And, quite frankly, that is all you need when you are out and about. Made from FDA approved silicone, this bowl is durable and flexible. It has a 2 cup capacity (450 ml) which is more than enough for most pooch's needs. Make travel easier and lighter, with this very efficient solution- the added stainless steel carabiner clip makes carrying all the easier.
9. Best Basic: SLSON Collapsible Dog Travel Bowl
Traveling with your trusty doggo friend can be such a fun experience, but also one that requires timely preparation. Plenty of accessories can make this challenge less daunting, and travel bowls are one of 'em. SLSON Collapsible Dog Travel Bowl is a practical choice in so many ways. A convenient, basic design, this bowl is great to always have around even when you're not going on a vacation. And thanks to its unique design, it takes no space at all so it won't be a hassle to have it with you. It is made from premium food-grade silicone that is totally safe for your pet, and also easy to maintain, being dishwasher safe. Without any toxic materials, it is ideal for both food and water.
The basic dimensions are good for roughly 1.5 cups of dog food or 12 ounces of water. An added carabiner buckle helps you attach it somewhere convenient, ensuring you don't lose it while on your adventure. When collapsed, this bowl is just a disc – and can be carried literally anywhere, your pocket, backpack, leash, or your car's glove box. With this nifty accessory, your pet will never again be thirsty on the road!
10. Best No Spill: Petmate No Spill Bowl
If the ride is bumpy, a classic travel bowl won't cut it: they are easily tipped over and have no lid to speak off that could contain the spill if it happens. This no-spill travel bowl is designed particularly to prevent spilling of water, so it is perfect for car trips- or clumsy pets that always seem to find a way to knock over their water bowl when drinking. Made in the USA from study plastic, it holds 6 cups (48 oz) of water and features a convenient lid that prevents spills – you can fully turn it over upside down and the water won't spill. Easy to clean, this travel bowl is dishwasher safe – just toss it in for a cycle and it will be fully disinfected and good as new!
Advantages of dog travel bowls
Hydration is a really big issue during the whole year, but even more so during the summer months. The same things go for both us and our pets, and even though we all enjoy the sunny days of summer, it's no excuse to neglect our pet's basic needs. When we decide to take our dog with us, whether it is a cross country RV journey or a traditional camping trip, you need to ensure that clean water is always on hand. Dehydration is no joke – fail to provide water to your pet and you risk lethargy, exhaustion, disorientation, and a string of issues you really don't need. This is enough to let you know that water is always needed close at hand, even when you think your pet can manage a few hours without it- they really shouldn't.
And what better way to offer the water to your pet than in a nice portable dog travel bowl? Always there when you need it, this accessory is a quick and easy solution to all water and food situations. No more bulky sets or huge bags – these collapsible designs are extremely easy to carry around and will fit into a bag, a backpack, and even your pockets. And even though they can be collapsed to a fraction of their size, they still don't lose any of their toughness and durability. And when you are out and about, camping or in the park, durability really comes as an important aspect. And as we all know, durability is the big deal with all dog accessories – they need to be able to withstand the tossing and turning, biting and nibbling, and all else in between.
Dog travel bowls are not only good for offering water and keeping your pupper hydrated but they are also a good option for when it is dinner time! If you are out camping, we sure hope you brought a bit of dog food for your pet's needs. Well, no need to look for DIY solutions or dump the food on the ground – with a nice collapsible travel bowl, your pet can eat in style, just like at home. And that is what is so great about travel bowls – they keep everything clean, sanitary, and healthy. No more improvisations or cheap, clumsy alternatives. No more water out of the palm of your hand or suspicious-looking roadside containers and taps. Clean, FDA approved, and sanitary containers can now be right there in your pocket – and all the better for your pet! You can make things easier for yourself and your four-legged friend – and with that, you can both enjoy your next adventure together.
Features to look for in dog travel bowls
There are some essential details that make dog travel bowls really worth the money, and these features all need to be taken into account. This will ensure that your purchase works well for your needs and gives you the best bang for your buck. While it is always better to invest in a pricier option – smart investments that actually help us and our pets are always the proper choices- you don't have to break the bank to get a quality set of bowls that will last you a long time. The market today is filled with fantastic options and unique new designs, and making your choice can be challenging. That's why you have to know what you're looking for to make the right choice- and these are some features that all dog travel bowls should have:
Durability
With travel bowls, durability becomes imperative. With traveling, camping, and general carrying about, these bowls do see a lot of wear and tear. And not to mention the damage your pet can make – the nibbling and chewing in moments of boredom happen all too often. Luckily, many brands today offer unique FDA approved silicone and rubber solutions with durable plastic elements that stood up well to all tests canines put them through. Of course, it is really important to opt for approved materials that are food grade and safe, so don't sacrifice safety over durability's sake.
Size
Size is equally as important. Always consider the size and breed of your pet when you are making your purchase. Getting a too small or too large bowl can defeat the purpose, and leave your pupper shortchanged. Small ones simply won't contain enough water or kibble, and having to always refill them will be a hassle. But an overly large travel bowl is difficult to carry around and often cannot be collapsible. Opting for something in the middle is often the best possibility.
Design
There are several unique design options available on the market today. You can opt for whatever fits your needs, but in general, the collapsible travel bowl design is the most common option. Not only is it flexible and durable, but can be collapsed to a fraction of its true size – and that makes traveling that much easier. You can also look for nifty carrying hooks or carabiner clips. With these, you will not risk losing your bowls, and you can even hook them to a backpack for easy and hands-free carrying. Of course, colors and patterns also fall into the overall design- you get to pick something both pretty and functional at the same time.
Portability
Now, what would a travel dog bowl be without being portable? You want to find a lightweight, small, and inconspicuous version that won't be a hassle to carry around wherever and however you go. On camping trips, there are already enough of odds and ends and bits and bobs that you need to take care of. That is why a simple pair of dog travel bowls will be no nuisance whatsoever. And for anyone who is always on the go and loves traveling comfortably – this means a lot.
We are committed to finding, researching, and recommending the best products. We earn commissions from purchases you make using the retail links in our product reviews. Learn more about how this works.

Angela Vuckovic
A proud mama to seven dogs and ten cats, Angela spends her days writing for her fellow pet parents and pampering her furballs, all of whom are rescues. When she's not gushing over her adorable cats or playing with her dogs, she can be found curled up with a good fantasy book.
More by Angela Vuckovic
Published August 25th, 2021 12:00 AM