63 Views
February 25th, 2022 12:00 AM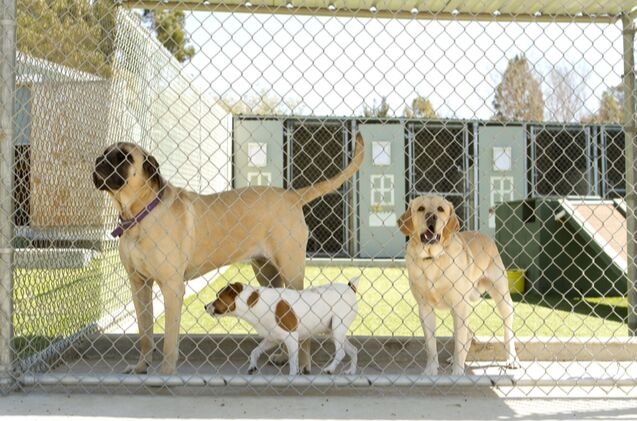 The best kennels on the market combine quality with a clever design – they are comfy, spacious, and easy to assemble. Take a look at our choice of the best kennels and make your pick!
Every doggo needs a place of their own. Whether indoors or outdoors, a kennel is a great solution to provide your pet with a safe enclosure in which they can feel cozy and protected. This is especially important if you don't have a fenced-in yard, but you still want to offer your pet a chance to enjoy the weather and fresh air. Dog kennels come in a variety of shapes, sizes, and designs, and will suit most seasons of the year! This list brings you the best kennels on the market – you just have to find the one that suits your pet the best.
1. Editor's Choice: Neocraft My Pet Companion Dog Kennel with Roof Cover
Outdoor kennels are a great option for owners who want to provide their pets with some safety in the yard while still allowing plenty of room and freedom. Don't have a fenced-in yard but still want to let your dog out for some fresh air? A kennel such as this one from Neocraft becomes an ideal addition to your household. Made from alloy steel, this kennel is sturdy, weather-resistant, and quite stable – all the crucial things a kennel needs to have. The design is full of clever features, the most notable being a weather-resistant roof cover. In case of rain, snow, or extreme heat, this roof quickly transforms the kennel into a snuggly and safe shelter for your doggo. The kennel also has protective double doors for easy feeding and entering. Furthermore, you are given complete freedom in arranging the kennel's shape. Opt for the classic house shape, or simply make it into a protective fence, an enclosure, or a playpen. And when the kennel is not in use, simply fold it for storage out of the way. Super convenient!
Pros
Great for outdoor use
High-quality roof
Weather-resistant
Durable
Foldable
2. Runner Up: Houseables Metal Dog Kennel
A reliable dog kennel needs to be sturdy and stable. Houseables is a brand that did not skimp on its design, opting for heavy-duty, high-quality galvanized steel for their product to ensure that. Not only does this make it strong and stable, but also resistant to the elements, such as rain or snow. Of course, your doggo won't be left out in the rain: an added waterproof tarp provides sufficient protection from rain, and shade from the sun if need be. The kennel features a spacious door, and a special Up & Over lock design. The dimensions are also great, since they are quite spacious and allow plenty of space for your dog to move and stretch (58.7 x 24.5 x 11 inches).
Pros
Solid metal construction
Stable
Sturdy locks
Waterproof tarp roof
3. Customer's Choice: unipaws Furniture Style Dog Crate
Kennels come in all shapes and sizes. And, as such, they aren't exclusively an outdoor thing. Indoor kennels and cages are a great way to provide your pet with a cozy spot to snooze in. Alas, indoor kennels can be intrusive and out of place, ruining the overall ambiance in your home. This unique design from Unipaws combines classic furniture elements with the usual kennel design to provide you with a functional new addition to the home. This classic square kennel has plenty of room for your pet to lie and stretch comfortably, with spacious double doors for easy access. But the white wooden finishings make this wire kennel a totally stylish piece of furniture. A lovely little side-stand or a coffee table, this kennel is a truly multifunctional piece. Still, don't think that your big doggo will fit: this design caters only to dogs under 40 lbs. Nevertheless, it is an incredibly cozy little den. And with up to 150 lbs of support weight on top, its uses around the house are endless.
Pros
A unique blend of furniture and kennel
Fits in most home designs
Doubles as a side table
4. Best Welded: Amazon Basics Welded Outdoor Wire Crate Kennel
Amazon Basics goes all-out on the classic outdoor kennel design making it a reliable choice for a variety of dogs. First of all, it's the size which measures 101.57 x 72.05 x 48.03 inches. This spacious and comfy kennel is great for dogs of all sizes and breeds and will leave no dog in an uncomfortable position. Of course, it is quite durable as well, being constructed from high-quality, treated metal with stylish black glossy paint. A great ratio between height and width ensures ample stability on most terrains, while a stylish black tarp roof provides all the protection against the elements that is needed. This overall design is ideal for those summer months when dogs just adore being outside. But if you don't have a fenced-in yard, this kennel will guarantee that they are protected and safe, without being cramped, constrained, or neglected.
Pros
Tough welded build
Spacious for dogs of all sizes
Weatherproof
Black tarp roof
5. Best for Big Dogs: Carmyra Large Outdoor Animal Kennel
If you neglect your pet's need for free space, you might endanger their well-being and put their health at risk. That's why plenty of space is a very important factor when choosing outdoor kennels. Although advertised as a chicken coop, this kennel is so much more and caters to all kinds of pets. Place it in an ideal position, and you provide your dog (or dogs) with all the free room they might need. This kennel is made from heavy-duty, anti-rust, zinc-coated metal that can withstand all the elements and provide ample stability. Carmyra offers these kennels in a variety of sizes: from large to enormous! Of course, there is an added weather-resistant roof to provide your pets with protection from rain or sun. It is anti-ultraviolet and also thermoregulating. And even though it might seem that this huge kennel is hard to assemble, the truth is the total opposite: a special quick-connect design allows for set up in just minutes.
Pros
Extra large
A variety of sizes to choose from
Great for several dogs at once
Very affordable
Cons
Requires a lot of yard space
6. Best Budget: Midwest Homes for Pets K9 Dog Kennel
This outdoor kennel is perfected for small to medium-sized dog breeds and is the ideal choice when you need a safe and confined space for your pet to spend warm and sunny summer days outside. The kennel has a classic square shape with a flat roof and is made from durable heavy-duty galvanized steel with a chain link mesh as well. Take notice that this is not a kennel for rainy weather or snow! Not only is the roof flat and cannot disperse the rainwater, but it is also covered with sunscreen mesh. This is designed to protect your pet from direct sun heat and to offer shade, and not much more. Nevertheless, this design has everything your pet needs to chill outside while being protected from harsh sun rays. A secure latch guarantees your dog's safety, making this kennel great for unfenced yards.
Pros
Great for summer months
Outdoor and indoor use
Durable
Full entry door
7. Best Folding Kennel: New World Pet Products Folding Metal Dog Crate
You might not need a kennel that is designed to stay in one place, but rather a portable design you can move around or take with you on travels – a foldable kennel design is just the thing then. When not in use, this New World kennel can be folded for easier storage, and when assembled, it becomes a convenient doggo shelter for both indoors and outdoors. It is great for small and medium-sized dogs and has a protective leak-proof plastic bottom. It is made from highly durable coated metal, with strong hinges that allow you to collapse the kennel when it is not in use. This makes it super thin and easy to fit under the bed, behind the closet, or in your garage or shed. Just keep in mind that there is no sunscreen or rain protection in this design. This kennel is made for just clear weather days or indoor use.
Pros
Foldable
Takes up little space when stored
Outdoor and indoor use
8. Best Wooden: FEANDREA Wooden Dog Crate
Here is another great way to transform your pet's indoor kennel into a useful and stylish piece of furniture. This innovative Feandrea design combines a sturdy metal cage with wooden sides. That way it doubles as a cozy doggo nook, and a fully functional side table! The sides are made from durable particle board with a burned wood pattern, while the kennel itself is made from sturdy galvanized steel. Also included is a slide-in plastic leak-proof tray, that helps with any food and water that ends up spilled or potty accidents. And with the smart addition of lockable double doors on each side, you can safely put the kennel-slash-side table into a corner while still providing your pet with a quick exit. And what is even better is the fact you can choose from three sizes that cater to small, medium, and large dogs. What a great way to blend in style and functionality!
Pros
Can double as furniture
Stylish burned wood look
Double doors
Easy assembly
9. Best Portable Kennel: SportPet Designs Kennel
Classic portable kennel designs such as this one from SportPet are an ideal way to provide your doggo with a basic and cozy nook that can keep them protected indoors, outdoors, and during travel. Perfect for that challenging trip to the vet or an airplane ride, these kennels can be held in hands thanks to four special handles or rolled on the ground with the help of four sturdy wheels. The kennel itself is made from durable high-density plastic, with a decently sized wire mesh door. Also included are two food and water bowls, ensuring that your pet has everything that's needed during a trip. Of course, with the addition of three side windows, your pet has all the light and fresh air that they need. A classic design that is helpful in many diverse situations.
Pros
Great for travel
Four wheels for easy moving
Safe and solid build
Added food and water bowls
10. Best Extendable Enclosure: LEMONDA Extendable Dog Fence with Door
This unique design doubles as both an open-top kennel, and a modular enclosure – a combination that can solve a variety of problems when pet safety is considered. Perfected for both indoor and outdoor use, this kennel is made from heavy-duty metal material with a premium powder coating. This makes it stable and weather-resistant as well. One of the best features of this design is the modular aspect. You can reshape the enclosure to be a classic square shape, or extend it for extra room and leisure for your pet. Sadly, this design does not come with a roof, so you should use it only indoors or outdoors when the weather is favorable. But even so, this design does everything right!
Pros
Completely adjustable
Modular design
Heavy-duty build
Exceptional stability
What are the Main Benefits of Kennels?
You simply cannot keep your pet inside all the time. They too need to exercise and experience the outdoors. But, of course, you are in no position to always take them on a walk or to the park. An easier option on those busy days is to let them into the yard. Alas, not everyone has a protective fence – and even if you do, some dogs are keen on jumping over it. A kennel is an ideal solution. When used outside, it provides plenty of protection for your pet: it guards against the elements, such as rain, snow, or excess heat, but it also keeps your pet safe and confined.
Another benefit of an enclosure comes when it is used indoors. A kennel can make a great cozy nook for your dog. We know that this is very important, as it simulates a natural "den" space. Find a corner in your house to put in a kennel, and fill it with pillows and toys. Your pet is quickly going to claim it for themselves.
We are committed to finding, researching, and recommending the best products. We earn commissions from purchases you make using the retail links in our product reviews. Learn more about how this works.

Angela Vuckovic
A proud mama to seven dogs and ten cats, Angela spends her days writing for her fellow pet parents and pampering her furballs, all of whom are rescues. When she's not gushing over her adorable cats or playing with her dogs, she can be found curled up with a good fantasy book.
More by Angela Vuckovic
Published February 25th, 2022 12:00 AM