103 Views
10 Best Interactive Dog Toys for Bored Pooches
We're committed to finding, researching, and recommending the best products. We earn commissions from purchases you make using links in our articles. Learn more here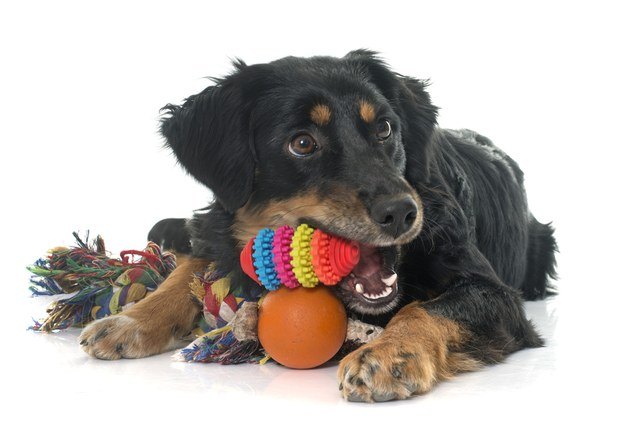 Best interactive dog toys keep your pet engaged, entertained, and help develop their cognitive skills–find out which deliver on the promises and how to find the right type of interactive toys for your dog's needs.
You'd be hard pressed to find a pooch that doesn't love at least some kind of toys. After all, there are so many of them to choose from, so it's not that much of a surprise. Balls, ropes, Frisbees, chewable bones, plushies, squeaky toys, you name it- you'll probably find it in a pet store. But not all toys are designed to stimulate your pet's mind, play to their innate instincts, address behavioral issues and provide a constructive outlet for their pent up energy when they are playing on their own. Interactive dog toys are those designed to offer far more benefits than purely entertainment (although fun is definitely part of the package).
Interactive dog toys come in all shapes and sizes, with different difficulty levels, aimed at different age and breed groups. From puppy chew toys to complex puzzles, there is an interactive dog toy out there to meet every canine's preferences and cognitive skills. The only trick, though, is knowing how to pick ones that will suit your own pet. Getting them something too difficult to figure out or far too easy for their smart cookie brain will be counterproductive, as a poorly matched interactive toy won't provide any of the benefits it's supposed to.
Our comprehensive guide will help you find out why interactive dog toys are important for your pet and how to properly choose an interactive dog toy that will be a perfect fit for them. To boot, we've also prepared a list of the 10 best interactive dog toys for pets of all ages, sizes, and intelligence levels–there's a match for every doggo out there.
1. Outward Hound Ottosson Puzzle Brick Dog Toy
This treat puzzle dog toy has an intermediate level of difficulty and it can be played in 3 different ways. If your dog doesn't have much experience playing puzzles but he's been known to figure out simple interactive toys with ease, this one is a good place to start them on problem-solving games. With 20 different compartments that can hold their fave kibble, small treats, or even wet food, Outward Hound Ottosson Puzzle Brick Dog Toy is certain to keep them occupied for a long time. And when they're done salivating all over the toy, you can just rinse it with soap and water and it will be good as new for the next play session.
2. ZippyPaws Burrow Squeaky Hide and Seek Plush Dog Toy
Where did that panda go? Your dog will have a field day trying to pry out the 3 little pandas out of their bamboo home–one of them even has a hidden squeaker inside for extra fun and surprise factor. And when the pandas are out, all you have to do is stuff them back in and your doggo will have a fun task yet again. This is a great toy for dogs who love to play with soft toys, but not a great idea if you have an aggressive chewer that could rip the little pandas to shreds when you're not looking.
3. Pet Qwerks Talking Babble Ball
This motion-activated interactive dog toy will tease your dog into play by engaging their senses. When your pet touches the ball, or just sniffs it or walks by it, it will play one of the 20 different sounds–and if you don't think a talking ball will pique your pup's interest, you're wrong. Once the Babble ball babbles, the fun starts, as your dog will start pushing, exploring, and running around the ball to figure out what's that weird thing that's talking to him. Hours of fun guaranteed!
4. JW Pet Hol-ee Roller Dog Toy
Suitable for strong chewers and dogs of all sizes, this cleverly designed hollow ball can be played with as it is or stuffed with food to further entice your doggo into playing. Hole-ee Roller will quickly become your dog's favorite as it can be used to play fetch, chew toy, or a food hiding interactive toy. Made from non-toxic durable rubber and tough enough to withstand your dog's gnawing efforts, it's a good choice for dogs that need that extra entertainment when they are home alone.
Roll and flip your way to fun! Made for independent play, this interactive toy dispenses treats when rolled and tossed around, but not easily, mind you: it is encased in a tough rubber ring that will block the small kibble-dispensing hole when the inner ball rotates. This will drive your pooch bananas, but in a good way. They'll love pushing and chasing KONG Gyro toy around and trying to figure out what's the best way to get those yummies straight to their belly. The anticipation will be half of the enjoyment!
6. Busy Buddy Jack Treat Dispensing Toy
Your pet will have to work his cute furry booty off to be rewarded with an all-natural rawhide treat with this Busy Buddy Jack Treat Dispensing Toy from PetSafe. Luckily, it's the kind of job they like doing- gnawing and chewing. The Busy Buddy Jack is made with durable nylon toy that has to be twisted and chewed until the dog can gain access to treat discs, but the smell and the aroma will definitely motivate them to put in the effort needed. To boot, while he's busy getting to his reward, your pooch will also be massaging his gums on the nubbed parts of the toy, which is great for their oral health. It was specially made for tough chewers and there are different sizes for small, medium, and large dogs.
Treats are included with this toy- there are 4 all-natural rawhides rings. You can purchase additional rings separately as soon as your pooch finishes the first few. If (or rather, when) the toy gets all slobbery and gross, don't worry- just stick it in the top rack of your dishwasher. Get your pet working for their treats with this fun toy!
7. Trixie Activity Chess Dog Toy
This toy will be checkmate for your dog's boredom. Designed to give a satisfying challenge even to more intelligent dogs, this puzzle toy will rely on the appeal of treats to get your dog's brain gears going. The combination of drawers, cones, and sliders will give varying levels of difficulty and keep things interesting for longer–this interactive toy is definitely not a one trick pony. Constructed with durable, heavy-duty plastic, Trixie Activity Chess Dog Toy is suitable for cleaning in the dishwasher, so you don't have to worry about hidden germs and dirt beneath all those knickknacks.
8. SPOT Seek-a-Treat Flip 'N Slide Treat Dispenser for Dogs
The surest way to keep any pooch occupied is to involve food in the activity. It's a foolproof system! This particular treat-laden puzzle toy for pooches, however, doesn't just entice your canine friend with yummies, but it is also a fun and engaging activity that will help provide much-needed mental exercise. Designed in colors that are within the spectrum of your dog's vision, this vibrant toy creates a challenge for your pooch with flippable balls and slides that hide a yummy reward.
To get to kibble or their fave treat, your dog will have to put in some work- mental work, that is. Made from sturdy plastic, this interactive dog toy is durable and will withstand your pet's clawing and nose pokes. It also has a non-slip bottom so it can stay in place while your pet is figuring it out instead of sliding all around the room. The size makes it perfectly suited for small and medium breeds, which are often those that need the most mental stimulation in the first place.
Is there a pooch out there that doesn't love the Kong's best-selling rubber toy? I seriously doubt it. While at first glance this toy doesn't look that entertaining, the truth is very different: the design might be simple but it really does the job of engaging your doggo. The inside of the toy can be filled with all sorts of yummies: peanut butter, yogurt, frozen food, kibble, treats, pumpkin puree- whatever rocks your dog's boat and can fit inside the KONG is a go. To boot, the durable rubber is a good choice for chewers, so you don't have to worry about your pet destroying the KONG while you're at work.
10. West Paw Zogoflex Qwizl Interactive Dog Toy
Want to make those expensive treats last longer and provide an engaging activity for your pooch at the same time? Look no more. This treat-dispensing interactive toy hides your dog's favorite delicacy and makes them use their brains if they want a bite. Very durable and able to withstand heavy-duty gnawing, West Paw Zogoflex Qwizl is great for solo play. Just stuff a bully stick, dental stick, jerky, or even apple slices–and watch your pooch go bonkers trying to figure out which openings to strike first in order to get to the hidden yummy.
Why Interactive Toys are Good for Your Dog
You might think that the only benefit to interactive toys is that they're more entertaining for solo play, but that's far from it- there are so many other advantages. Not unlike us, dogs require mental stimulation to be happy and satisfied. When they don't have to challenge their minds, have a task to do, or put their cognitive skills to work, they can get anxious or bored, and more often than not- destructive. Chewing habits and other unwanted behaviors and disorders such as separation anxiety are often a product of neglected emotional and psychological needs, as pet parents can overlook that their pooch needs more than just physical exercise for their wellbeing.
Interactive dog toys are meant to engage a dog in a way that offers much-needed mental stimulation. It can be playing into their instincts, such as those for foraging or hunting, promoting the use of all their senses in order to solve a task, using food to motivate problem-solving, and so on. The goal is to make sure your pooch has a task to do before he tries to find one for himself, as their own ideas usually lead straight to trouble. Interactive toys keep them focused and entertained, which is why they are one of the most popular choices for pet parents that have to leave their dog alone at home.
For instance, dogs that get nervous when they have to be on their own in the house, or get bored when no one is around to play or snuggle with, can become destructive in your absence. Leaving them with a toy that will keep them engaged and focused on a task can significantly influence their behavior and mental state for the better.
Types of Interactive Toys for Dogs
It's not just the quality and features that differ with interactive toys. Certain variations in play styles can bring about different benefits, and knowing what advantages each type offers can significantly shorten your search for the best interactive toy for your dog.
Food dispensing and food extracting toys
We all know what gets pooches going–yummies. Using treats and food as motivation is a great training aid with good reason, because positive reinforcement is the surest way to get your dog to behave. It doesn't surprise, then, that interactive toys that use food to engage your pet in play are the most popular choice. These interactive toys can either dispense treats or kibble when tossed, bobbed, or nudged the right way, or hide a treat or a meal inside, that your pet gets to eat only if he figures out the puzzle or the proper approach to the task. In case you're unsure what would be fun enough for your pet, this type of interactive toys is a safe bet.
Sensory toys
As the name suggests, these interactive toys employ your pet's senses, whether it's their sense of smell, like snuffle mats do, or hearing and vision- by moving and/or emitting sounds. From squeaking to remotely controlled toys you can program to entice your doggo by giving them a good chase around your home.
Puzzles
Not all dogs will do well with puzzle toys. You might love your pooch to bits, but it's okay to admit he's not the sharpest tool in the shed–someone has to be the adorable doofus. But if your dog is intelligent, their smarts can quickly turn into mischief without the proper mental stimulation. Puzzle toys that have various nooks and crannies to explore, levers, knobs, and compartments to open and figure out–they build their problem-solving skills and keep their focus completely. There are varying difficulty levels to puzzle toys, so make sure you start with simpler problems before advancing your furry Einstein to more complex toys.
Hide and seek toys
Dogs like to dig- it can be because of their prey drive, burrowing or nesting instinct. So toys that require them to dig and claw and nose-nudge their way to pay off are bound to be a hit. Hide and seek interactive toys for dogs usually have plush toys hidden inside that your pet is supposed to locate and extract–all the while having the time of his life, of course.
What to Look for in Interactive Dog Toys
Once you've settled down on a type (or few) that you know your dog would love to play with, make sure to get them a safe toy that will last and give you the best bang for your buck, too. Here are the features you should look for in interactive dog toys- any toy worth its salt will tick off all the boxes.
Safety
The most important feature of any toy is that it is safe enough for your pet to use. Choose dog-friendly materials that are free of dangerous toxins, such as BPA. Also, make sure that the toy is suitable for your pet's chewing strength- not many interactive dog toys are shatterproof and suitable for aggressive chewers. If you plan on leaving your pet alone at home with an interactive toy to keep him company, it should be something that he won't be able to break and potentially hurt himself or swallow broken pieces while you're not there to supervise.
Size
Dogs come in all shapes and sizes- and ages, too–so make sure to account for those important variations when choosing a toy for your pet. A big German Shepherd might be smart enough to figure out that puzzle, but if he can flip it open with one nudge with his muzzle, he won't have the chance to use his brain. Similarly, mismatch in size is not just a potential safety problem, but it can also render the toy boring for your pooch as it won't work as intended- and that just beats the point.
Difficulty level
The same way that the wrong size of the toy can make it less entertaining for your pooch, the same can happen if you don't go for the right difficulty level. Toys that are too difficult to crack will have your pooch lose interest after a while, and the same goes for those that are too easily figured out. Luckily, when it comes to puzzles, they are rated with difficulty levels so you can gauge which to get for your four-legged brainiac.
Cleaning
A lot of interactive toys are made to be chewed, licked, and pawed at–repeatedly. Needless to say, they can get real nasty, real quick. If you want them to last without becoming a cesspool of bacteria, go for those that can be cleaned easily, without too many nooks and crannies that can harbor disgusting stuff.
We are committed to finding, researching, and recommending the best products. We earn commissions from purchases you make using the retail links in our product reviews. Learn more about how this works.

Angela Vuckovic
A proud mama to seven dogs and ten cats, Angela spends her days writing for her fellow pet parents and pampering her furballs, all of whom are rescues. When she's not gushing over her adorable cats or playing with her dogs, she can be found curled up with a good fantasy book.
More by Angela Vuckovic
Published April 9th, 2020 12:00 AM