5 Views
January 14th, 2019 12:00 AM
When it comes to dog walking equipment, in addition to a good leash, you'll need a collar or a harness to attach the lead to. Dog harnesses are a popular choice for many dog owners, as they are much less likely to cause injury than collars, and they're a better fit for some pets overall, such as large breeds, injured or senior dogs, or pooches who haven't yet mastered the fine details of walking on a leash.
Harnesses give the owner control over their pet at all times and allow them to pull their pet back without their furry friend feeling the discomfort of any kind. This is also the reason why most trainers will recommend them over pinch or choke collars, which are used for the same purposes but are considered to be aversive tools. If you fall into the category of owners who prefer or need to get a harness over a collar, how are you supposed to choose?
There are various models and types available, and literally hundreds of brands to choose from. PetGuide.com's impressive resources on dog harnesses will help any pet parent looking to find the best harness for their dog, as well as useful information on how to size their pet for harness, or how to put it on without stressing out their furball (or themselves, for that matter).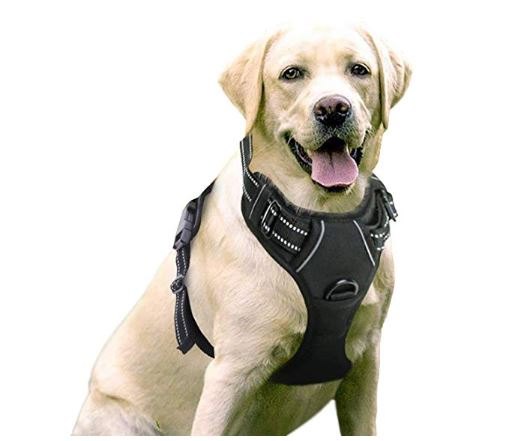 Easy on easy off design makes putting it on your dog hassle free.
Pressure is evenly distributed to prevent pulling and choking.
Ruffwear Front Range Harness
Lightweight, durable, and made for all-day outdoor adventures; Designed for easy on and off.
Lightweight, durable, and made for all-day outdoor adventures; Designed for easy on and off.
Reinforced webbing at chest stands up to pulling and gives additional control (ideal for training, too); Aluminum V-ring centered on back.
OneTigris Tactical Dog Molle Vest Harness
Comes with three detachable pouches for carrying extra gear.
Comes with three detachable pouches for carrying extra gear.
MOLLE on both side for attachment of other accessories such as magazine pouches, water bottle, snacks, etc.
Voyager All Weather No Pull Step-in Mesh Dog Harness
Made using breathable mesh fabric, this pet harness is ideal weather all year-round.
Made using breathable mesh fabric, this pet harness is ideal weather all year-round.
Our step-in safety harness allows your pet walk-ready in no time.
EcoBark Max Comfort and Control Dog Harness
No Pull and No Choke Dog Harness is double layered mesh fabric, built to last.
No Pull and No Choke Dog Harness is double layered mesh fabric, built to last.
Anti-rub technology with custom stitched cover designed to protect your pet the strap rubbing against their leg for ultimate comfort and control innovation.
Why Use a Dog Harness?
Does your pooch tend to pull you during your daily walks, making it seem like they're walking you, rather than the other way around? Or are they a curious sniffer that will tug at the leash as soon as something piques their interest? These are just some of the cases in which dog behavioral experts recommend using harnesses, both for lead training and everyday use. If you're looking for dog walking harnesses, PetGuide.com's buying guides and honest reviews will help you pick out the right one for your pet's individual needs. After all, not all harnesses are made alike: and, sometimes, those differences can have a significant impact on your pet's behavior during walks.
For instance, most pet parents decide on a standard, back-clip harnesses, usually made out of leather or high-quality nylon. While these work fine for most dogs, there are harness options designed for special uses or situations, which could turn out to be precisely what your pooch needs. Dog walking harnesses can also clip in the front, and these types are particularly suited for training puppies or minimize pulling during walks. Speaking of pulling, if you have a serious tugger on your hands, you might just need to get a no-pull harness.
Types of Dog Harnesses
The no-pull harness will tighten and add pressure on certain areas of your dog's body, such as legs or chest, to discourage them from pulling too hard. This will cause them no discomfort and yet get you the results you need- a win-win situation! Of course, there are many more types of harnesses to choose from, including vest harnesses and step in harnesses. Here at PetGuide.com, you can find out more about how these types are used in both training and dog walking, as well as get information on which harness is the best fit for your own dog.
While the majority of pet parents are looking for best dog harnesses in order to ensure your pooch is both enjoying their walks and behaving during them, some dog owners need a harness to ease their pet's illness symptoms. So-called mobility harnesses are used to help senior or sick dogs have better mobility, and are often used in cases where the pet has hip dysplasia, arthritis, joint disease, muscle atrophy, and more. These types of harnesses are designed differently than your standard ones; with supportive straps both under the chest and pelvis, joined by a larger one that follows along the dog's back. Mobility harnesses can help your pooch get around with more ease than before, and minimize the potential for further injury.
Choose the Right Dog Harness
Regardless of whether you need a dog walking harness or a mobility one, picking out the best brand, type, and model is just the half of the work. When it comes to buying dog harnesses, ensuring a snug fit will be one of the most important things to do. You wouldn't want the harness to be too loose around your pooch's body, or for its straps to be too tight and chafe their fur and skin. Not only that wearing the wrong size of the harness will make your dog uncomfortable during walks, it might endanger their safety, too, as it won't hold them as securely as it should be. Luckily, PetGuide.com has all the scoop on how to size a dog for a harness, as well as step-by-step-guides on how to put a harness on a dog without losing all of your nerves in the process.
PetGuide.com's experts reviewed different brands of various types of harnesses, bringing you only the best ones: and making sure you choose the best for your pampered furball without having to try out dozens of products before settling on a perfect one. Not only that we've done the research for you, but our furry little helpers often try out the items we review to give us a little bit of insight into how your own pooch will react. We leave no stone unturned!
In case you're looking for a whole set of walking gear for your new pet, you'll be happy to know that we've also prepared resources on both dog collars and dog leashes as well. Additionally, once you choose the best dog walking equipment with the help of our guides and reviews, head on over to our Dog Training blog, where you'll learn all about how to put your new tools to good use. With insider info and helpful hacks our experts have for you, you'll leash train your puppy in no time! Published January 14th, 2019 12:00 AM