382 Views
Best Dog Supplement for Shedding
November 22nd, 2022 12:24 PM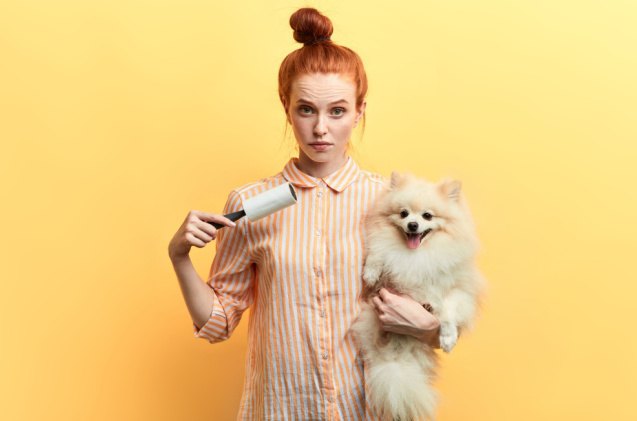 Does your dog shed a lot? Then you already know that cleaning dog hair from furniture, clothes, and carpets can seem like a full-time job when your pooch is a prolific shedder. If you can't spend one more minute cleaning dog hairs from every corner of your home, you might want to give dog supplements for shedding a try.
A quality dog supplement for shedding with the right ingredients can promote your dog's skin and coat health, which will, in turn, reduce excess shedding. However, there's one important thing to remember. No supplement is a cure-all, and even the best dog supplement for shedding can't stop your pup's shedding completely. Shedding is perfectly normal, and all dogs shed to some extent. Some breeds, like Siberian Huskies, shed a lot of hair all year round, and no supplement can change your dog's natural hair growth cycle.
However, a good quality supplement can improve your pet's skin and coat condition and help reduce shedding. The only problem is finding an effective supplement for your dog when there are so many different brands and formulas to choose from. If you don't know where to start, keep reading! To help you find the right supplement for your pooch, we've rounded the best dog supplements for shedding on the market. From liquids to soft chews and softgels, there's the right supplement for your dog on our list!
Editor's Choice: Shed-X Liquid Daily Supplement for Dogs
All-natural and scientifically formulated, Shed-X liquid supplement helps stop seasonal and everyday shedding. This supplement contains optimal ratios of Omega-3 and -6 fatty acids that help with shedding and support skin and coat health. Shed-X is also fortified with vitamins A, B6, D, and E, biotin, and minerals like zinc which treat, enhance, and maintain the quality of the dog's coat and strengthen the immune system. Use this supplement daily to eliminate excess shedding and improve the quality of your pup's skin and coat. The X-Shed supplement is easy to administer, even to picky eaters – mix it with your dog's dry or wet food and they'll be none the wiser.
Pros
Stops excessive shedding in three to six weeks
Made from natural active ingredients
Effective for seasonal and everyday shedding
Most dogs love the chicken flavor
Cons
Not for dogs with sensitive stomachs
Runner Up: Zesty Paws Salmon Bites
Formulated to support skin and coat health and reduce shedding, Zesty Paws Salmon Bites also provide free radical protection and reduce oxidative stress. These supplements are packed with wild Alaskan salmon oil, which is a source of Omega-3 fatty acids that help keep the skin hydrated. Each salmon-flavored chew also contains DHA-gold, an algae-derived source of DHA, an antioxidant blend of vitamins C and E, which reduce oxidative stress, and biotin, which helps promote skin health and reduces shedding. To reduce your pup's shedding, start with half of the recommended daily amount of salmon bites and gradually increase to the suggested daily amount.
Pros
Made in the USA
Supports skin and coat health plus a strong immune system
Doesn't contain artificial flavors, preservatives, or synthetic colors
Soothes dry, itchy skin and reduces shedding
Cons
Not all dogs love the flavor
Customer's Choice: Nutri-Vet Fish Oil Supplement for Dogs
Whether your pooch is going through a seasonal blowout or sheds a ton of hair daily, a quality fish oil supplement can reduce shedding and help keep your pup's coat soft and shiny. Nutri-Vet Fish Oil is formulated to promote healthy skin and normal shedding. This supplement comes in the form of softgels, which can be administered by hand as a treat or at meal times. Each softgel pill contains 180mg of EPA and 120 mg DHA which are marine-sourced Omega-3s that help reduce shedding and support healthy skin and coat. In addition to Omega-3 fatty acids, this dog supplement for shedding also contains vitamins A, D, and E that support skin and coat health and overall wellness.
Pros
Helps support normal shedding
Softgels are great for picky eaters
Made in the USA
Promotes joint health and mobility
Cons
The softgel pills are too big and only suitable for large dogs
Best Dog Supplement for Shedding and Itching: Vet's Best Coat Shed & Itch Relief Dog Supplement
This shed and itch supplement is formulated by veterinarians using high-quality natural ingredients that help maintain healthy skin and coat and reduce shedding. The skin and coat support come from a combination of powerful active and inactive ingredients such as MSM, Omega-3 and -6 fatty acids, yellow dock root, quercetin, and nettle leaf. This supplement for shedding is formulated as a chewable tablet, making it easier for you to give it to your dog as a treat. This supplement carries the National Animal Supplement Council seal of approval and is safe for daily use.
Pros
Made from natural plant-based ingredients
Supports normal shedding and coat health
Carries the NASC seal of approval
Helps relieve symptoms of seasonal allergies
Cons
Can cause diarrhea in some dogs
Best Liquid Dog Supplement for Shedding: PlanoPaws Omega 3 Fish Oil for Dogs
If getting your dog to swallow pills or eat chewable tablets takes too much time and effort, a liquid supplement comes in as a handy solution. This liquid Omega-3 supplement provides advanced skin and coat support for dogs and also promotes joint, heart, and brain health. Made from sustainably sourced and natural ingredients like anchovies, herring, mackerel, and sardines, this liquid supplement gives your pooch all the Omega-3s they need to stay healthy. Administering this supplement is very easy - squirt a few drops into your dog's food daily.
Pros
Made from natural, human-grade ingredients
Safe for dogs of all ages, sizes, and breeds
Reduces itching and shedding
The liquid form is easy to administer
Cons
Too strong for dogs with sensitive stomachs
Best Chewable Dog Supplement for Shedding: Chew + Heal Soft Chew Omega Treats for Skin and Coat
Whether your pooch suffers from allergies, has dry skin and a dull coat, or sheds a lot, a good dog supplement for shedding can help. This chewable supplement for dogs relies on salmon oil, fish oil, walnuts, flax, and hemp seed to provide marine-sourced and plant-based Omega-3 fatty acids to keep their skin and coat in top shape. All these essential fatty acids work on a cellular level supporting the body's natural defenses to promote skin and coat health. To boot, these delicious chews contain prebiotics, probiotics, calcium, phosphorus, and biotin, which improve gut health, help regulate skin function, and promote cell growth.
Pros
Made in the USA
Contains Omega-3, -6, and -9 fatty acids
Yummy salmon and fish flavors
Reduces shedding and improves coat health
Cons
Not suitable for dogs allergic to dried brewer's yeast
Best Dog Supplement for Shedding and Dandruff: Pet Vitamin Co Krill Oil Shed-Free Soft Chews for Dog
Does your pooch itch, scratch, and shed like crazy? This chewable dog supplement for shedding contains krill oil, zinc, vitamin E, and astaxanthin which improve skin and coat health. Formulated to reduce inflammation and encourage new cellular growth, these soft chews soothe dry and itchy skin and reduce shedding. The Omega-3 fatty acids from krill oil decrease shedding and dandruff and also support joint health and mobility by reducing stiffens and keeping the joint supple. This is a concentrated formula, so follow the manufacturer's guidelines to ensure your pooch gets the appropriate dose.
Pros
Reduces inflammation and shedding
Improves skin, coat, brain, and joint health
Tasty cheese flavor
Made in the USA in a GMP-certified facility
Cons
The pungent smell can deter some dogs
Best Dog Supplement for Shedding and Allergies: Legitpet Wild Alaskan Salmon Oil for Dogs
Finding an effective and safe dog supplement for shedding can be challenging if your pooch suffers from food intolerances or allergies. Most products contain many ingredients, some of which can be problematic for your pup, causing itching, scratching, or digestive problems. The great thing about Legitpet's Salmon Oil supplement is that it contains only one ingredient – wild-caught Alaskan salmon oil. Salmon oil is rich in Omega-3 and -6 fatty acids, including EPA and DHA, which promote healthy skin and coat and help reduce shedding. To boot, salmon oil helps support joint, heart, and immune function, increasing your pup's overall health.
Pros
Made in the USA in NSF and GMP-certified facilities
Sustainably sourced
Reduces shedding and soothes itchy and dry skin
Single-ingredient formula suitable for dogs with allergies
Cons
Not for dogs with pancreatitis
Best Dog Supplement for Shedding and Joint Health: Ready Pet Go! Omega 3 for Dogs
These chewable supplements are formulated with premium natural ingredients to support skin, coat, and joint health. The formula contains Omega-3 fish oil with EPA and DHA, biotin, vitamin E, and krill oil. These ingredients keep your dog's skin moisturized, help manage shedding, and add to the coat's shine. Ready Pet Go! Soft chews come in cheese and fish flavors and are suitable for daily use. For best results, use these chewable dog supplements for shedding consistently for three to five weeks.
Pros
Grain-free and soy-free
Made in the USA in a GMP facility
Skin, coat, and shedding support
Packed with Omega fatty acids
Cons
Chews can arrive squashed together
Best Dog Supplement for Shedding for Picky Dogs: K9 Pro Krill Fish Oil for Dogs
How many times did you have to force-feed your pup medicine? Getting a picky dog to swallow pills or eat a chewable they don't like is an impossible feat. If your picky dog is shedding more than usual, these chicken and cheese-flavored soft chews are a perfect solution. Tasty enough to tempt even the fussiest dogs, these supplements contain krill oil with EPA and DHA, astaxanthin, phospholipids, and chlorine. These ingredients help reduce shedding and itching and promote healthy skin and a shiny coat. Omega-3 fatty acids from krill oil also support heart, eye, brain, hip, and joint health.
Pros
Yummy and soft chews most dogs love
All-natural ingredients
Hip and joint support
Reduces shedding and itching
Do Dog Supplements for Shedding Really Work?
Dog shedding supplements are effective at reducing excessive shedding if they are used correctly and provided they contain the right balance of beneficial ingredients. Excessive dog shedding can sometimes be caused by an underlying health condition, in which case dog shedding supplements won't work. For example, flea bites, food allergies, stress, nutritional deficiency, hormonal imbalances, and thyroid disease can cause excessive shedding in dogs. If you're concerned that an underlying health problem is causing your pup's shedding, schedule an appointment with your veterinarian and have your pooch checked out.
In most cases, shedding is normal. Even excessive shedding can be normal depending on the time of the year, breed, individual dog, and other factors. Double-coated dog breeds like Akita, Golden Retriever, German Shepherd, and Siberian Husky are heavy shedders that lose hair all year round and experience seasonal blowouts. If you own a double-coated dog and their shedding isn't caused by a health problem, a dog supplement for shedding can help improve your pup's skin and coat and reduce their shedding.
Dog supplements for shedding won't stop your dog from shedding completely. All dogs must lose a certain amount of hair during the natural hair growth cycle. The goal of supplements is to help your pooch achieve balanced nutrition that will help improve the condition of your pup's skin and coat health. This, in turn, can reduce excessive shedding that may be caused by dry, irritated, or inflamed skin and brittle or oily hair.
For dogs' supplements for shedding to work, they need to contain nutrients that support skin and coat health. Effective supplements for dog shedding should contain Omega-3 fatty acids with DHA and EPA, vitamins B (biotin in particular), and vitamin E because these nutrients are known to improve the health and condition of dogs' skin and coat. Quality dog supplements for shedding have been formulated by veterinarians and extensively tested, so you can rest assured that your four-legged friend is getting only the best. Needless to say, always consult your pup's veterinarian before including any supplement in your dog's diet.
We are committed to finding, researching, and recommending the best products. We earn commissions from purchases you make using the retail links in our product reviews. Learn more about how this works.

Angela Vuckovic
A proud mama to seven dogs and ten cats, Angela spends her days writing for her fellow pet parents and pampering her furballs, all of whom are rescues. When she's not gushing over her adorable cats or playing with her dogs, she can be found curled up with a good fantasy book.
More by Angela Vuckovic
Published November 21st, 2022 9:31 AM