61 Views
December 26th, 2021 12:00 AM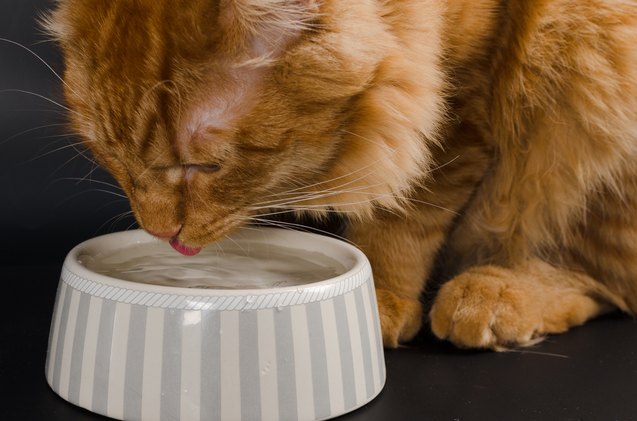 Cat water bowls should be pet-safe, practical to use, and easy to clean. Check out our selection of the best cat water bowls to suit your feline friend's needs!
Nothing is more important than staying hydrated. And the same is true for your feline friend! Cats can require a lot of water throughout the day – a properly hydrated body is a healthy body. However, cats are not that keen on drinking water. In the wild, they would get all the moisture content they need from their prey, but now when they are domesticated pets, they have to rely on us to provide the water they need.
A great way to make sure that your pet will drink up is to choose the right kind of cat water bowls. But selecting a good water bowl can be a challenge. There are many different designs out there, and not all of them will work well for your pet. Check out our selection of cat water bowls and find a design that works best for you and your cat!
1. Editor's Choice: LIONWEI LIONWELI Ceramic Elevated Cat Bowl
When cat water bowls are considered, it is all about healthy and pet-friendly materials. Also, it is important that your pet has a healthy posture that minimizes the risk of digestive issues and pressure on the joints. This great design combines these two important aspects – an elevated cat water bowl made from eco-friendly ceramic! The bowl is raised on a stand made from natural untreated wood, while the bowl itself is made from 100% porcelain ceramic. The whole design is quite stable thanks to the equally spaced four legs, and the elevation is perfectly suited for cats. The stand also features four non-slip pads, so there won't be any accidental sliding on smooth surfaces. The bowl is dishwasher safe and easy to clean, ensuring top-notch hygiene at all times.
Pros
Eco-friendly materials
Dishwasher safe
Can be used with or without the base
Cons
Can be too tall for some kitties
2. Runner Up: Y YHY Cat Water Bowl
Sometimes, it's the simplest designs that really do the trick. This by-the-book design works perfectly for cats. It is a slightly raised bowl thanks to its simple stand and is also very stable as well. The bowl is made from quality, durable ceramic, and features a non-skid base. One great feature here is the level marking on the inside. Marked for around 300ml, this helps you track the amount of water your feline friend drinks throughout the day. This can be very important for maintaining a healthy daily routine. The unique shape and the raised bottom create a natural and healthy angle for your cat to drink from. All in all – a great design that comes in blue, grey, or white.
Pros
Water level markings
Elevated stand
Ceramic bowl
Cons
Bigger cats could tip it over
3. Customer's Choice: MILIFUN Cat Food and Water Bowl
Here's a smart design that efficiently tackles two tasks – all at once. This two-in-one concept provides your cat with food and ample water, without the need for separate bowls and all the extra mess. The specially designed base contains one recess for the water and another for the pet's kibble. The latter is designed to be tilted 15 degrees, offering your cat the perfect eating angle. The water is supplied through a special 300ml water bottle, which fills up the bowl sporadically and evenly throughout the day. That way, you can ensure that the right amount of water is consumed by your pet. Every part of this setup is made from table-grade PE material, which is pet-safe and can be placed in the dishwasher. Combined with the little nifty details, you get a reliable and efficient two-in-one solution.
Pros
Non-toxic material
Food and water bowl together
Easy water supply
4. Best Fountain: iPettie Neverland Cat Water Fountain
How to take the cat water bowl design to a whole new level? Make it a fountain. A cat water fountain offers a continuous source of fresh and filtered water for every pet of the household – cats included. This fountain is made with a 4-stage circulation and filtration system, which ensures only the cleanest and freshest water for your cat – at all times. The ultra-quiet pump makes virtually no sound and won't deter your wary kitty. There are three different flow designs that are made to fit your pet's preferences: a gentle flow, a flower waterfall, and a flower bubble. The water is filtered thoroughly, and a special sponge will catch any accidental hairs and specks of dust that fall in. With this nifty accessory, you can rest easy and not worry about water refilling. The fountain does it for you!
Pros
Durable and quiet
Running, filtered water
Food-grade, BPA-free materials
5. Best Self-Refilling: PetSafe Gravity Water Bowl
Sometimes, the most efficient water supply requires zero batteries or fancy systems – gravity alone does it for you! PetSafe relies on this simple method and delivers a reliable cat water bowl. The design comes in three different sizes, depending on your cat's needs or the number of pets you have. The concept is super simple: the water is stored in a large container and is dispensed into a water bowl below. As the cat drinks, the water remains at a constant level. The bowl is made from hygienic stainless steel, while the rest is made from BPA-free materials. But that is not all. PetSafe took another crucial step and included a special carbon filter that helps remove bad taste and odor from the water, making it fresh and clean for your cat. If you are looking for a simple and efficient solution for when you work long hours, this is it.
Pros
Simple and efficient design
Keeps the bowl full
Easy to disassemble
6. Best Stainless Steel: Our Pets Durapet Cat Bowl
Durability is very important with cat water bowls. Plastic can get worn out quickly, but stainless steel is much tougher. This simple water bowl is made from high-quality stainless steel and can hold 2.25 cups of water. It has a permanently bonded ring at the bottom, preventing sliding and skidding on flat surfaces. The bowl is dishwasher safe, which allows you to always keep it clean. To boot, it is a great option for cats that have feline acne – stainless steel will not cause this type of irritation and won't harbor bacteria as plastic can.
Pros
Easy to clean
Durable
Non-skid bottom
7. Best Ceramic: Bone Dry Paw & Patch Ceramic Cat Water Bowl
Of all the typical materials used in pet food and water dishes, ceramic is by far the most eco-friendly and is fully pet-safe to boot. Ceramic is also quite durable and super easy to clean. What's not to like? Bone Dry offers this straightforward ceramic cat water bowl, and it does the trick for most kitties. It is deep enough to hold plenty of fresh water (3 cups), and its top lip makes for easy drinking. Furthermore, a silicone rim at the bottom will prevent skidding and sliding on flat surfaces. These nifty bowls are decorated with a range of patterns that fit well into any interior and come in 5 colors to choose from. What's more, this sturdy porcelain ceramic bowl is fully dishwasher safe and very easy to clean! A great choice through and through.
Pros
Pet-safe, durable material
Dishwasher safe
Plenty of styles to choose from
Cons
Silicone rim can come off
8. Best for Messy Pets: Vivaglory Cat Water Bowls 2 piece Set
When your feline friend is thirsty and hungry, they don't care much about the mess they make. In fact, some cats make a habit of splashing water out of their bowl just for the fun of it! These Vivaglory bowls are a good solution for felines that spill around their water. The secret is in the specially designed silicon base that has raised edges and a central groove in which the bowl sits. When food or water gets spilled, it won't go far, and it won't land on the carpet or the floor. The silicone pad keeps it all in place. The bowls are made from stainless steel and are also durable. Both materials are non-toxic and eco-friendly, and super easy to clean. The mats are extra-large, which is ideal for those super messy eaters and drinkers.
Pros
Food and water bowl set
Wide silicone mat to gather water
8 color options
9. Best Cooling: The Coldest Water Cooling Bowl
No one likes to drink warm and stale water. Yuck! But this is a big issue for pet owners: how to keep the water in the bowl fresh and cool? The Coldest Water has the answer. This unique design has a triple wall that is super insulated and made with high-quality materials. Thanks to this, it acts like a thermos of sorts, keeping the water in the bowl always cool and refreshing. On the bottom is a non-slip pad for that extra stability, and the bowl itself boasts a "no sweat" technology, keeping the bowl dry. The bowl and the walls are made from durable stainless steel, which adds to the hardy and robust design. Here's a piece of smart engineering to make sure your kitty always has refreshment, even in hot weather!
Pros
Keeps water cool for a long time
Non-slip pad
Durable and well-designed
10. Best Non Skid: Neater Pets Outdoor Style Camping Bowl
What is worse than water spilled all over the floor? If your pet is particularly clumsy or mischievous, you'd want a water bowl with a non-skid bottom. Neater Pets makes special emphasis on this: their water bowl has a super-wide base and a rubber ring around it. This design prevents skidding and slipping, but is still easy to remove and clean. The bowl itself is made from a quality stainless steel core and a vintage enamel cover on top. This makes it a great solution for camping and outdoor activities when you want to bring your pet along.
Pros
Unique stainless steel enameled design
Doesn't skid and can't be tipped over
Perfect size for cats (16 oz)
What are the Most Important Features to Look for in Cat Water Bowls?
Choosing a cat water bowl might seem like a straightforward affair. But if you want to ensure the best possible results for your cat, you'd want to look for these important features instead of grabbing the first pretty bowl you come across.
The last thing you want is toxic substances leaching into your pet's water or causing skin irritation – that's why you always have to go for pet-safe materials. Avoid plastic that isn't labeled as BPA-free or food-grade, and choose ceramic or stainless steel whenever possible. Your kitty will thank you!
As with every other pet-related accessory, hygiene is paramount. You need to keep everything clean in order to prevent a buildup of bacteria. This is especially important for your cat's water source. Of course, this means that you will have to clean your cat's water bowl almost daily. And because of this, you want a design that is easy to clean and disassemble and is dishwasher safe. This saves a lot of your time and ensures that your pet has no exposure to harmful bacteria.
Of course, it goes without saying that you need a cat water bowl with a good capacity. Having a small and shallow dish requires frequent refilling, and it becomes very hard for you to keep track of the amount of water that your cat consumes throughout the day. Cat water bowls with special containers included allow you to pour water just once or twice per day, and that makes things easier. Water fountains are even better, offering a constant source of fresh water for your cat to drink as it requires. A good rule of thumb is that cats need 3.5 to 4.5 ounces of water per 5 pounds of bodyweight – let that guide your choice of bowl capacity.
We are committed to finding, researching, and recommending the best products. We earn commissions from purchases you make using the retail links in our product reviews. Learn more about how this works.

Angela Vuckovic
A proud mama to seven dogs and ten cats, Angela spends her days writing for her fellow pet parents and pampering her furballs, all of whom are rescues. When she's not gushing over her adorable cats or playing with her dogs, she can be found curled up with a good fantasy book.
More by Angela Vuckovic
Published December 26th, 2021 12:00 AM