6 Views
Top 10 Meowy Catmas Gifts for Cats and Feline Fans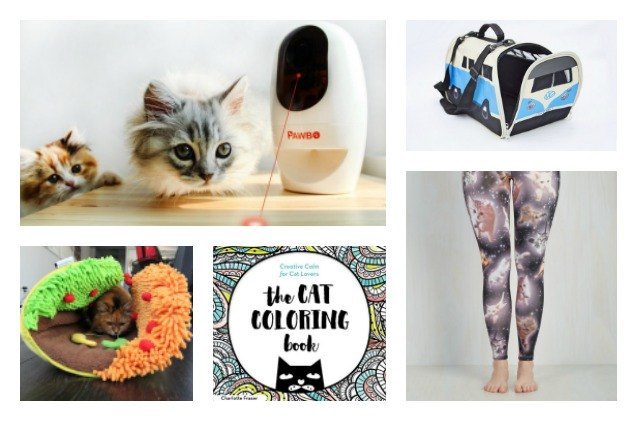 Feline Navidad! Got a kitty or a crazy cat person on your holiday shopping list? Wrap up one of these meowy catmas gifts for cats and the people who love them.
If you're looking to make a fashion statement, check out Modcloth's "Crazy Cat Lady Couture" line of clothing. We love the " All I Want for Christmas is Mew Pullover," a not-so-ugly Christmas sweater that will get you kissed under the mistletoe. And the pullover is perfectly paired with " Kitty Constellations Leggings" – they're out of this world!
An exciting new peek-a-boo toy that cats love, the PetSafe Cheese features fun mice that pop out of either side of the cheese to keep cats moving and engaged in play. The unit automatically turns off after 10-15 minutes, while the Play While You Are Away mode allows cats to play even when you're not there.
3. The Cat Coloring Book: Creative Calm for Cat Lovers
They say that cuddling with cats is an amazing stress reliever. That must mean that coloring cats has to be the next best thing! The Cat Coloring Book is the purr-fect way for cat lovers to unwind and enjoy some much needed feline time.
4. Business Cat: Money, Power, Treats
Wouldn't it be great if your boss was a cat? Other than a hairball bonus, it would be hilarious… kind of like Business Cat! He's the only big-business tycoon boasting his own private executive litter box and luxury mega cat condo, the dashing Business Cat misses meetings because he's stuck in trees, sends emails while napping on keyboards, and demands to be let out, then in, then out again.
Best. Cat. Mat. EVER! Taco Meoow can be used folded, like a taco, or flat, like a tostada. To make a taco, twist two of the red pom-poms together. Its moldable edge wire keeps it held in place (so nothing spills out). The taco gives kitties a place to explore, or a snug place to hide. Beneath the soft fleece fabric is a layer of celophane that adds an enticing 'cracking taco' sound.
6. VW Campervan Pet Carrier
BEEP! BEEP! When your cat has to travel in hippy (or hipster) style, pack him up in this classic VW Campervan Pet Carrier.
The NoBowl system not only allows cats to satisfy their inner tiger, but battles one of the biggest problems today's indoor cats face – obesity. Instead of leaving out a bowl of food, the NoBowl mice allow you to put just the right amount of food inside them, and then make your cat work for his keep.
8. Cavertin Women's Novelty Socks with Gift Box
Nothing says "holiday time" better than colorful and goofy Christmas socks. Just like those iconic "ugly" sweaters, Christmas socks are part of the festive fun and make a great stocking stuffer. If you want to surprise your cat-loving friend (or yourself) with a unique present during the holidays, these novelty socks can be ideal. Adorable and fun, the socks are patterned with quirky, glass-wearing kitties. But the real deal is on the soles – each sock has a different sole inscription, which makes up the sentence: "I can't get up right now, the cat is on my lap". Which is a sentence any cat owner has said a few times in their lifetime! When your feet are the only thing poking out from under the blankets, you can let everyone know why you are so awkwardly still- your cat's comfort is far more important than the Christmas party, after all.
As much as these socks are a novelty gift, they are still comfy and cozy. The socks are made with 76% cotton, 21% nylon, and 3% spandex, combining warmth and elasticity. Of course, they can be machine washed, without any fear that the goofy messages and images will wear off!
9. Kitt-a-Boo Peeping Cat Wall Hook
Hello! Just popped up to welcome you home! This little Kitty loves to play Peek-a-boo – just hang something on his tails and he'll pop out of his little box and surprise you.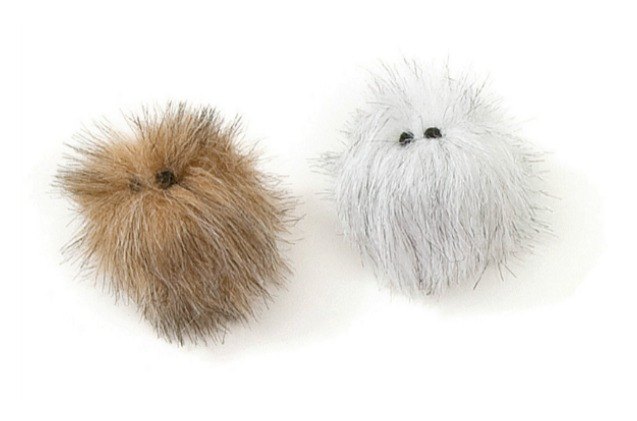 Did the cat just puke up a hairball? Nope, it's just West Paw Design's Hairball Catnip-Filled Toy. With its fuzzy faux fur, USDA organically grown catnip and an attention grabbing bell, this adorable hairball is designed to give your kitty hours of enjoyment.

Amy Tokic
Amy Tokic, Editor of PetGuide.com, is a passionate animal lover and proud pet parent of Oscar, a Shih Tzu/Chihuahua cross, and Zed, a Japanese Chin. Her love of animals began in kindergarten, when she brought her stuffed dog Snoopy into class with her every day. Now, she writes about her adventures in pet ownership and tirelessly researches products, news and health related issues she can share with other animal enthusiasts. In her free time, Amy loves perusing used book and record stores, obsessing over the latest pet products available and chasing squirrels with wild abandon (a habit attributed to spending too much time with her pooches).
More by Amy Tokic
Published May 4th, 2021 12:00 AM