4.2K Views
Should My Dog Wear a Winter Coat?
November 9th, 2023 4:18 AM
We're committed to finding, researching, and recommending the best products. We earn commissions from purchases you make using links in our articles. Learn more here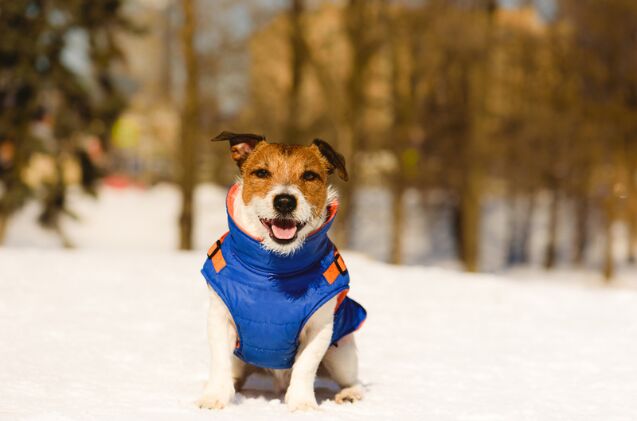 As the temperatures drop and winter approaches, many pet parents face a common question: Should my dog wear a winter coat?
It's a valid question! After all, we bundle up before heading out into the ice and snow. Why shouldn't our dogs? This article will explore the considerations, benefits, and potential downsides of winter coats for dogs. Plus, we'll share the coats we use to keep our pups warm and cozy.
Let's get started…
Do All Dogs Need a Coat in Winter?
The short answer is no. Not all dogs need a winter coat to stay comfortable in the colder temperatures. In fact, some dogs will be more comfortable without a winter coat. That leaves us with one more question – how do you know if your dog will need a coat this season? Here are a few factors to consider:
Breed & Coat Length
What breed or breed mix is your dog? Some dogs, like the Alaskan Malamute, Siberian Husky, and Keeshond, were specifically bred to handle the colder temperatures. These dogs have thick double coats, including a water-resistant guard coat and a plush, warm undercoat. If you own one of these dogs, you may see them relaxing outside, happily napping in a snowbank. They thrive in cooler weather but struggle when the temperatures climb.
On the other end of the spectrum, some dogs were bred to live in warmer climates. These dogs have short coats, offering little protection from the winter cold.
Age
Your dog's age could make them more sensitive to changes in temperature, both heat and cold. If you have a young puppy or a senior dog, they may need a little extra care and attention. Not only do they feel cold faster, but the low temperatures could worsen the discomfort of a senior dog's arthritis or other joint problems. Even if your dog once thrived in cold temperatures, they may struggle in their older years.
Disease or Illness
If your dog is currently living with a disease or illness, it can compromise their ability to regulate their body temperature effectively. Your dog's condition can impact many aspects of their well-being. It may weaken their immune system, causing dehydration or interfering with proper circulation.
Contact your veterinarian if you're unsure whether your dog's illness could impact their ability to handle the cold.
Activity Level
Are you heading outside to hang out in your yard, or are you planning to engage in something more active like a hike or skijoring? As your dog's muscles are engaged and working, they are producing heat that raises the body temperature.
If your dog occasionally needs a light jacket, they may not need one during heavy activity. On the other hand, if your dog is usually okay when you're going for a walk, they may need a light jacket or sweater if they are going to be standing around.
What Temperature Should My Dog Wear a Coat?
Determining the temperature when your dog needs to wear a winter coat will depend on the factors we discussed. For example, a short-coated dog may need a coat when the temperature reaches 32 F. Meanwhile, a double-coated dog could be comfortable in far colder temperatures.
How Do I Know if My Dog is Feeling Cold?
If there is no rule for when a dog should wear a coat, how do you know if one is needed? Just like with people, every dog handles temperature differently. The only way to know when your dog needs a coat is to learn to recognize when they are starting to feel cold. Of course, your dog can't talk and tell you that they are feeling chilly. Instead, we must pay close attention to their body language.
The most common signs that a dog is cold include:
Shivering or shaking
Whining or barking
Acting uncomfortable or anxious
Lifting and holding their paws up off the ground
Standing in a hunched posture, tail tucked between their legs
Lying in a circle, tucking their nose under their tail
Seeking places to hide
Do you suspect your dog may feel cold or unsure if you are picking up on their body signals? You can quickly check your dog's body temperature by touching their stomach or around their ears. If these areas are cool to the touch, your dog is likely feeling cold.
During the cold winter months, your dog is at risk of hyperthermia and frostbite. If you notice any of the above signs, act quickly. Bring your dog indoors into the heat or outfit them with proper winter gear, including a coat and, potentially, a set of dog boots.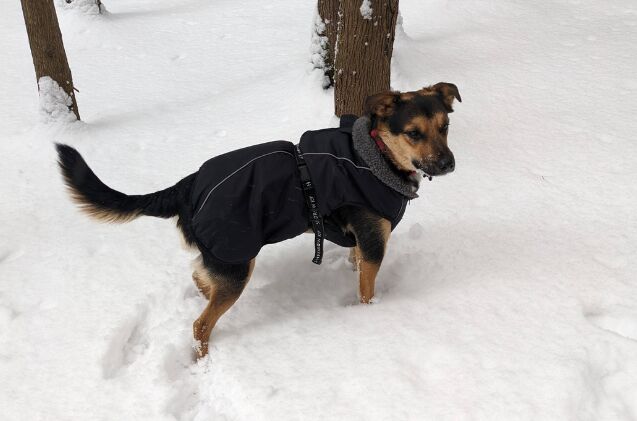 What to Consider When Shopping for a Dog Coat
Now that we have established when (or if) your dog should wear a coat, let's dig into the details about the coats themselves. There are several different styles and materials to choose from. Here are a few factors to consider to help you on your shopping journey:
Size
One of the most obvious things to consider when shopping for your dog's new coat is the size. If the coat is too small, it will be uncomfortable and could restrict movement. If the coat is too big, it may create a tripping hazard. In both situations, it won't offer the level of protection from the elements that it would if fit correctly.
Take a moment to measure your dog carefully before shopping in person or online. You need measurements of their neck, chest circumference, and the length of their back from the base of the neck to the base of the tail. These measurements will allow you to use a brand's sizing guide for online purchases to find the best fit.
If possible, I recommend bringing your dog to a local pet store to try on several different jackets. Just like shopping for human clothing, each brand's coat will fit differently. You may find that one is better suited to your dog's size and build than the other options on the market.
Season
When discussing the use of a coat, we usually talk about the bitter cold of winter. However, that's not the only season where a coat could be beneficial. Depending on how sensitive your dog is to temperature changes, they may benefit from a light jacket during the early spring or late fall seasons. You can also purchase rain jackets to keep your pup dry regardless of the temperature.
Material
To select the best material for your dog's jacket, you must consider the primary use. Do you need something waterproof for wear outside in the elements? Are you looking for something cozy for your dog to wear around the home? Your dog's new coat could range from a light fleece sweater-style jacket to a heavily insulated winter coat with a water-resistant or waterproof shell.
Pay attention to breathability, especially in dogs that will be engaging in winter activities like skijoring or hiking while wearing their new coat. Otherwise, your dog may be at risk of overheating, even in winter.
Style
The two key factors to consider regarding style are the ease of use and, of course, the overall appearance of your dog's new coat.
Consider your dog's comfort level with clothing. If they regularly wear shirts and sweaters, it may not bother them to have a coat put on. However, if your dog never wears clothing outside of their coat, they may be unsure about it. A coat that must be slipped over your dog's head could cause anxiety, creating a negative association with the jacket. For dogs that are new to or unsure of clothing, search for a coat that is as easy to put on/take off as possible.
Check the adjustability of the coat. Can you easily adjust the sizing to suit your dog's body shape? The better the coat fits, the more effective it will be in keeping your dog warm.
Finally, choose a coat that speaks to your dog's personality. There are so many different coats available in a variety of colors and patterns. You may love the look of a coat with a faux fur collar or one that showcases your favorite sports team. This is the fun part of coat shopping!
Budget
How much are you hoping to spend on a dog coat? Knowing your budget before you start shopping will help you narrow the options. Keep in mind that there is some truth to the saying, "You get what you pay for." You want to ensure you get a quality coat that will keep your dog warm.
You don't have to break the bank for a good coat. Keep an eye open for sales. You may be able to take advantage of a Black Friday sale or similar deal. Shopping during the off-season is another excellent way to find a high-quality coat at a fraction of the price.
Other Features
Finally, there are a few other features you may want to consider when shopping for your dog. Do you regularly walk in dark or low-light conditions? If so, search for a coat with reflective details that make them easier to see. Do you hike with your dog during the hunting season? A coat with blaze orange and neon yellow coloring, like a safety vest, will make your dog more recognizable to hunters, decreasing the risk of an accident.
Other features we have seen in dog jackets include:
Sleeves
Rear leg cover (like a snowsuit)
Heating elements
Dog poop bag pockets
Harness integration
Detachable layers for multiple seasons
Our Go-To Dog Coats
While our older two dogs are double-coated and thrive in the winter snow, our youngest pup isn't as lucky. He wants to be outdoors with the others but will start to shiver after being outside for a while. We have several coats and sweaters for him, but the two we use and trust most are the Shedrow K9 Chinook Dog Coat (as shown in the photo above) and the Hurtta Expedition Parka.
Both coats cover not only his back but also his stomach, which was essential to us. Being smaller, he is often right in the thick of the snowbank when he's walking. They offer several different adjustment points, allowing us to fit the jacket better to his body and prevent snow from getting into them. This also ensures the jacket will easily move with him as he runs through the snow.
Finally, both Shedrow K9 and Hurtta are well-known for making high-quality pet gear. These coats are a great long-term investment, providing reliable protection from the elements year after year.
Final Thoughts – Should My Dog Wear a Winter Coat?
Does your dog need to wear a coat when the temperatures drop? There is no "right" answer. Instead, you must pay attention to your dog's body language and how comfortable they are at different temperatures. If you have a short-haired dog, a young puppy, or a senior, there is a good chance that they will be more sensitive to temperature changes and need an extra layer of protection earlier in the season. However, even dogs that generally thrive in the winter may need a coat during the most extreme temperatures.
Pay careful attention to the size and adjustability of each coat to find the best option for your dog. The better the coat fits their body shape, the more effective it will be in keeping the cold air and snow out. Consider other features that could benefit your dog and their lifestyle, like reflective elements for night safety.
Most importantly, look for a coat that makes your dog feel comfortable. This includes a coat that is easy to put on/take off and allows for a full range of motion as they run and play outside in the snow.

Britt
Britt Kascjak is a proud pet mom, sharing her heart (and her home) with her "pack" which includes her husband John, their 3 dogs – Daviana, Indiana, and Lucifer – and their 2 cats – Pippen and Jinx. She has been active in the animal rescue community for over 15 years, volunteering, fostering and advocating for organizations across Canada and the US. In her free time, she enjoys traveling around the country camping, hiking, and canoeing with her pets.
More by Britt
Published November 9th, 2023 4:18 AM