420 Views
Best Cool Dog Dens to Chill Out In
December 30th, 2021 12:00 AM
We're committed to finding, researching, and recommending the best products. We earn commissions from purchases you make using links in our articles. Learn more here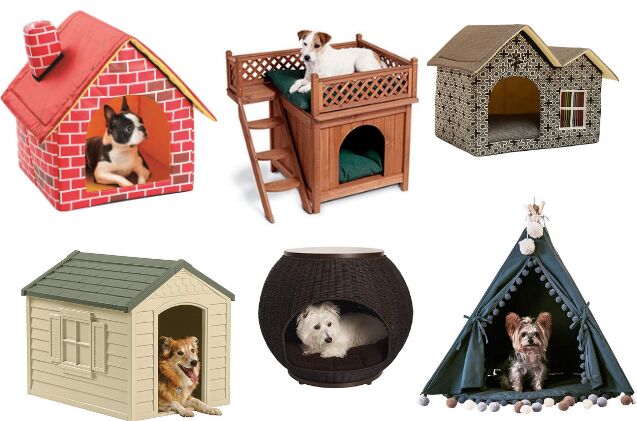 When your dog is ready to move on up, go for a crash pad that's really deluxe! Here are the coolest indoor and outdoor dog houses your pooch can settle down in.
1. Editor's Choice: Merry Products Room with a View Pet House
If you're going to get a house for your pet, why not make it two stories and with a view to boot? This high-quality wooden house has little stairs that give your pet the rooftop experience for when they want to soak up the sun or watch over their territory, and a small "room" for them to nap when they get tired from running around the yard. This quaint-looking dog house is made from natural cedar that has a calming, woodsy scent that can help your dog relax while in the house and, to boot, cedar is a natural bug repellent so no room for pesky fleas or other critters in your pet's new pad.
Easy to assemble, this dog house comes with included hardware and instructions and boasts removable roof and bottom panels for easier cleanup. Its size makes it best-suited for small dog breeds.
2. Runner Up: DEStar Durable Waterproof Plastic Pet Dog House
How adorable is this little plastic house replica? Just imagine it sitting near your flower beds, giving your four-legged helper a place to have a nap away from the sun or the wind while you do your thing in the garden. Idyllic!
3. Best Portable: WOWOWMEOW Portable Pet Indoor Soft Dog House
Easy to clean and to store, this cute little house from durable oxford cloth and comfy sponge will give your pooch their very own home inside a home. Available in 6 different designs to adapt to every living room style, this plush house will be your dog's new favorite spot for naps. Thanks to easy assembly that takes only minutes and the fact it folds flat, this dog house is a great choice for travel. The roof is removable with full hooks and loop closure and it can be taken up or down as needed.
Keep in mind that this is a very small house that is suitable for dogs up to 14lbs such as Teddy, Poodle, Schnauzer Pekingese, Bichon Frise, Papillon and so on.
4. Best Cabin: Precision Pet Products Outback Log Cabin Dog House
If you want your doggo to lounge in style while you're outside, you can't beat a canine-sized log cabin. Made from solid cedar-stained fir wood, this outdoor dog house is ideal if you want your pet to have a sturdy safe haven, but without having to sacrifice style.
5. Best Teepee: Harrage Folding Teepee House
Okay, it isn't a "luxury house" but it's hella cute and can roll up for easy storage. Plus, those fluffy pom poms are to die for!
6. Best Bed: The Refined Canine Igloo Deluxe Pet Bed
Need to save space? There's no need to sacrifice style, thanks to the Igloo faux rattan bed – it's a dog house and end table all in one! While your precious pooch snoozes inside, rest your coffee cup on top of their cozy cave or decorate it with a vase. After all, this indoor dog house looks more like a high-end living room decor than a pet product! The faux ratan this pet igloo is made of is waterproof and easy to clean and the soft cushion inside it is machine washable, all making for effortless maintenance.
7. Best Outdoor: Petsfit Outdoor Dog House
A trendy outdoor house for dogs with a deck and a window, the weatherproof Petsfit house is made from kiln-dried cedar and treated with natural color stain. Suitable for small breeds, this outdoor dog house features a removable raised floor and top opening for easy cleaning. Thanks to the adjustable feet that allow you to level the house on uneven ground, you can put this cozy little pad anywhere you'd like. The design is superb, and the house itself very robust and durable- which accounts for the slightly higher price tag. But don't let that deter you: after all, you'd want only the best for your four-legged bestie, right?
8. Best Tent: Best Pet Supplies Pet Tent Soft Bed for Dogs
Every doggo loves a little cozy nook of their own, as dogs are naturally inclined to favor small "dens" as safe havens. This natural, wild instinct can be perfectly replicated even at home – with a cozy dog den. Best Pet Supplies Pet Tent Soft Bed for Dogs is a unique tent-shaped den that is not only super snug and comfy, but also gives your pet a place to call their own. This plush tent is made with premium soft materials like linen, corduroy and faux suede, and is lined with soft poly-foam for extra comfort.
This tent is simple in design and won't stand out in your home – a soft beige corduroy surface makes it blend in with every house decor. Of course, every doggo den can tend to get stinky after a while – but not to worry. This tent is totally machine washable and will retain its shape every time you clean it.
9. Best Popup: Furhaven Pet House
Did you know that you could lounge and watch TV with your dog without them having to climb on the sofa? This ottoman-style indoor dog house is perfect for dogs who can't or shouldn't be up on the bed but still want to cozy up to their humans. While you get your feet up and unwind after a long day, your fur baby will be right there, napping in the cozy, comfy nook of this ottoman house. Doubling as a footrest, this dog house is incredibly sturdy – it can support up to 130 pounds of static weight, so don't worry about putting your feet up when your pet is snoozing inside. Thanks to the clever pop-up design, this dog house is super easy to assemble as it takes only seconds to get it up – or disassemble and fold flat for easier storage.
10. Best Decor: Petsfit Indoor Wooden Dog House with Wire Door
An indoor dog house that doubles as a crate that doubles as a stylish piece of furniture? Sign us up! This wooden house with a wire door can be used to crate your pooch or simply to give them a safe corner of the home where they could nap or chill undisturbed. Furthermore, the attractive design makes sure that this dog house doesn't feel out of place- wherever you decide to put it. The bottom of this wooden house is removable to make cleaning easier and allow you to reach all those tough spots with ease. The size of this house makes it a good fit for pets that are less than 30 lbs.
Do dogs like sleeping in a den?
You've probably heard about dog denning instinct – in the wild, our dogs' ancestors would use maternal dens, or put simply, give birth and care for litters in small, cave-like places that were cozy and securely hidden away from predators. This instinct survives to this day, as our pets seem to find comfort and peace in cozy nooks of their own, so it's safe to say that most, if not all, dogs love sleeping in dens. Envelope beds, dens, cave beds – these will all give your pet that soothing, comfy place of their own where they can hide from the business of the day and get some much-needed peace and shut-eye.
What to consider when choosing dog dens?
While dogs love sleeping in cozy little nooks, you still need to make sure that the den you pick is spacious enough for your pet to comfortably curl up inside it. In addition to the dimensions of the den, you should also pay attention to the materials: they should be soft and warm if you want to use them indoors and rugged and weatherproof if meant to be used outdoors. Of course, the den should also be easy to clean as you'll have to keep everything tidy and odor-free and you don't want something high maintenance. Lastly, consider the design and how it fits in with your own style – there are plenty of options to choose from so you won't have a problem matching your dog's den with your living room furniture or backyard decoration.
How often should I clean my dog's den?
If your pet is spending time in their den on a daily basis, it stands to chance that it will pick up dirt, hair, and other grime fairly quickly. To keep everything clean and hygienic, wash everything on a weekly or a bi-weekly basis. If it's an outdoor den, take out all the bedding and wash it and air out the house itself, and if it's an indoor den made from fabric, follow the manufacturers instructions and either spot clean or wash in the machine.
Additional resources:
We are committed to finding, researching, and recommending the best products. We earn commissions from purchases you make using the retail links in our product reviews. Learn more about how this works.

Angela Vuckovic
A proud mama to seven dogs and ten cats, Angela spends her days writing for her fellow pet parents and pampering her furballs, all of whom are rescues. When she's not gushing over her adorable cats or playing with her dogs, she can be found curled up with a good fantasy book.
More by Angela Vuckovic
Published December 30th, 2021 12:00 AM