102 Views
Top 10 Dog Carriers For Fashionable Trekkers
December 8th, 2021 12:00 AM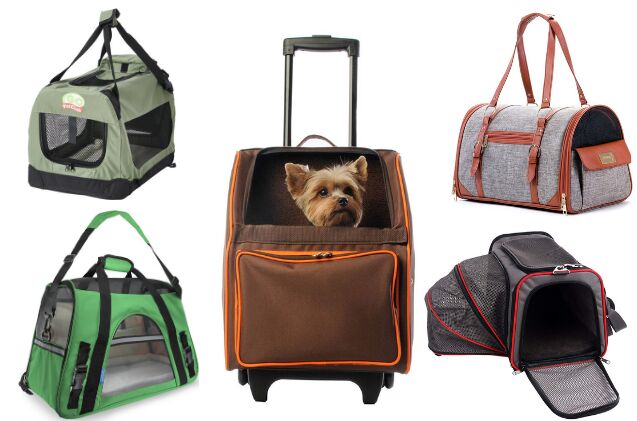 Have dog, will travel! From road trips, to hikes, to far-off destinations, bring your pooch along for the adventure with these fab dog carriers.
One of the things I love about having a smaller dog is that he is conveniently compact for my traveling pleasure. Oscar loves to tag along with me in a travel bag – in fact, he prefers it to walking (lazy little bugger, though it's not like I can blame him). But I have a certain style when it comes to the ideal dog travel carrier. Not only does it have to carry my dog, it also needs to boast a comfortable design, plenty of storage space and envy-inducing glares from anyone who peeps it. Modest, I know- but that's how I roll. With all of these prerequisites in mind, I present to you my Top 10 Dog Carriers For Fashionable Trekkers.
Before you choose, be sure to think about a few of the following:
Size Matters
Measure your dog's length, height and weight before you buy and be sure you have the correct size. They need to be able to turn around easily as well as curl up or stretch out as they so choose. Start from where his collar sits on his back to the base of his tail and then add a few inches. For shoulder height, go from the top of their shoulders to the ground and add two or three inches. If you're looking at wearable carriers, make sure your dog will be cozy and comfy against your body. Check the manufacturer information.
Whatcha' Doin'?
When choosing a carrier, think about what you're using it for. If you're only looking to have your pet near and dear when you're roaming around on the weekends, look for lightweight and easy to carry as well as comfy for your dog. For flying, you'll want to be sure of the guidelines of each individual airline carrier. Check with them. Then double-check, seriously. If you need something for regular transport, consider hard-topped for safety in the car.
Stylin' and Profillin'
There are a few different carrier styles to check out when buying a dog carrier:
Soft-sided carriers are the ones you typically see most smaller dogs hanging around in (see what we did there?). Some are even airline-approved (though we reiterate–check!) and they're usually lightweight and easy to carry around. They're also the easiest for folding and storing, but be sure to get the right size for your dog.
Standard hard-sided carriers are often preferred because they'll offer a bit more protection for your doggo and they're pretty easy to clean, comparatively. Hard-shell carriers are the way to go if you're flying but your dog is too big for an under-the-seat carrier. They're also nice if your dog does daily doggie care as you can protect them in the car.
Wearable dog carriers are just that–ones you wear. Who doesn't want their fur baby with them always? The thing is, these are typically only practical for a little dog, though some are getting more acceptable for bigger dogs, especially as a backpack.
1. Editor's Choice: SleepyPod Mobile Pet Bed
You may remember me stealing one of these bad boys from my Top 10 Steals From Global Pet Expo. And really, who can blame me? The SleepyPod Mobile Pet Bed is complete comfort on the go and quite a looker to boot. On the inside, it's covered with luxurious ultra-plush foam that will make your tiny pupper feel cozy as a royal. On the outside, a removable sturdy mesh top keeps a lid on pets who don't like to travel and makes sure that your journey is completely safe for your pooch. The Mobile Pet Bed also comes with a sturdy shoulder strap and seat belt handle that's perfect for any road trip.
2. Runner Up: Snoozer Wheel Around 4-In-1 Pet Travel Carrier
If you can't decide which type of carrier will suit you best, why not get four for the price of one? It's unbeatable logic at an unbeatable price tag as well. The Snoozer is a truly multifunctional pet accessory that can be used as a rolling pet carrier, backpack, bed, and a car seat. In other words, wherever you go, however you travel, this carrier will be there to keep your doggo comfy and safe while he's keeping you company. Whether you want to travel by plane (Snoozer fits under most airplane seats) or have a dog-safe backpack with you when your pooch gets tired on walks, this overachiever carrier can do it all- and more. An indispensable accessory to any pet parent who's often on the go!
3. Customer's Choice: Paws & Pals Airline Approved Pet Carrier
A tried and true travel accessory for proud small dog pawrents, this gorgeous Paws & Pals carrier in shamrock green is flight-ready and canine-approved. The removable fleece travel bed with a raised bumper for head support makes any trip cozy for your pet, and the padded strap makes it comfortable for you to carry them. Win-win for both sides of the party! Another great thing about this carrier is that it will be a great choice for year-round use thanks to optimal ventilation through fully washable mesh screens maximize airflow so your pupper doesn't get overheated when you're going away on summer vacation.
4. Best for Airline Travel: Sherpa Original Deluxe Carrier
What makes this carrier so vital for the pet jetsetter is that the Original Deluxe is approved for use on most major airlines, and the small and medium sizes are included in Sherpa's Guaranteed On Board program. The Guaranteed on Board® program is a collaboration between sherpa and Delta and American Airlines, and it means that, as long as other standards are met, your pet will be always able to board the cabin if one of these approved carriers. In addition to its official airline recognition, this pet carrier includes many other useful perks such as mesh panels for ventilation, a seat belt /luggage strap, a faux lambskin liner and top and side entry.
5. Best for Hiking: Outward Hound PoochPouch Front Dog Carrier
A must have for the outdoorsy small dog owner, the PoochPouch backpack lets you bring your dog to every adventure. Who better to be your trusty sidekick than your four-legged soulmate? Your compact companion will feel quite comfy in this carrier as it's well-ventilated due to mesh sides, and it also has padded back and bottom that provide some much-needed cushioning. The harness attachment and the drawstring top are a great touch as they ensure your pooch doesn't get too daring- and stays safely in place even if they are wiggly but by nature. Also, it doesn't hurt that you can pack essentials such as poop bags or treats inside the front pocket- no need for extra luggage.
6. Best Stylish: Mr. Peanut's Airline Approved Soft Sided Pet Carrier
Who said that dog carriers can't be both fashionable and sturdy? With a clever design, you can get the best of both worlds: the fashionable statement accessory and a functional piece of pet equipment. The Mr. Peanut's Airline Approved Soft Sided Pet Carrier might look like a stylish overnight bag, but don't let that fool you into thinking that it's not practical or comfortable for dogs. This high-quality pet carrier has a plywood base insert and removable fleece pad, a thin steel frame, a waterproof exterior and it even comes with a built-in leash in the interior, for even more security. To boot, the dimensions of this voguish carrier ensure it fits under most airplane seats. No need to compromise on style when travelling with your pet in tow.
7. Best 2-in-1: Gen7Pets Commuter Pet Carrier & Car Seat
Nothing will ease your mind more while travelling than knowing your four-legged friend is safe and sound all snuggled up in their carrier. And if you spend a lot of time driving around in a vehicle with your pooch, you'll love this 2 in 1 pet carrier and car seat.
On top of all of its amazing features that will keep your pet comfortable and provide you with plenty of storage space, what really sets this carrier apart is that it's been crash tested for secure travel. It features specific hooks and loops to keep them locked in place while driving. As an added bonus it's also TSA approved!
8. Best with Wheels: Snoozer Roll Around 4-in-1 Pet Carrier
If you're too posh to carry, why not pull? Strolling around with your doggo in tow was never more stylish thanks to this clever design. The Snoozer Roll Around 4-in-1 Pet Carrier lets you cart around your pet while travelling in style, ensuring both maximum comfort and safety for the cutest cargo. This pet carrier on wheels can also be used as a backpack, a carry on and a car seat as well – gotta love luggage that multi-tasks! With lots of ventilation, two exterior zipper pockets for storage, three mesh panels, and a removable base plate, you'll never jet set without it again. To boot, it also comes in different color choices and sizes- so any jetsetter can match it to their tastes.
9. Best Lightweight: GoPetClub Soft Portable Pet Carrier
This lightweight, foldable carrier in trendy sage green might not look like it, but it's actually incredibly durable and sturdy. It can really take a punch so to speak: even after a lot of trips under its belt, it won't look worse for the wear. The combination of steel interior frame and tough water-resistant nylon shell will keep your petite pooch safe in transport, with two zippered doors and large mesh screens for more comfort and breathability. Even in warm weather, your pooch won't overheat or feel cramped thanks to the optimal airflow. In addition, this carrier comes with two attachable storage bags included- all your pet's knickknacks will be close by. As practical as it gets!
10. Best Spacious: Petsfit Expandable Travel Dog Carrier
Just because your pooch is small doesn't mean that he or she won't appreciate some extra lounging space! Those tiny legs will certainly appreciate some room to sprawl- long car rides can be exhausting and the mesh side addition to this carrier gives your pooch enough room to stretch and take a quality nap. Hey, it's all about making sure your pet is cozy, after all. And don't worry- the lockable zippers won't allow your doggo to wiggle out of his comfy enclosure. He'll be perfectly safe while getting some shuteye!
We are committed to finding, researching, and recommending the best products. We earn commissions from purchases you make using the retail links in our product reviews. Learn more about how this works.

Amy Tokic
Amy Tokic, Editor of PetGuide.com, is a passionate animal lover and proud pet parent of Oscar, a Shih Tzu/Chihuahua cross, and Zed, a Japanese Chin. Her love of animals began in kindergarten, when she brought her stuffed dog Snoopy into class with her every day. Now, she writes about her adventures in pet ownership and tirelessly researches products, news and health related issues she can share with other animal enthusiasts. In her free time, Amy loves perusing used book and record stores, obsessing over the latest pet products available and chasing squirrels with wild abandon (a habit attributed to spending too much time with her pooches).
More by Amy Tokic
Published December 8th, 2021 12:00 AM