33 Views
Best Gift Guide For Dog Lovers
January 31st, 2022 12:00 AM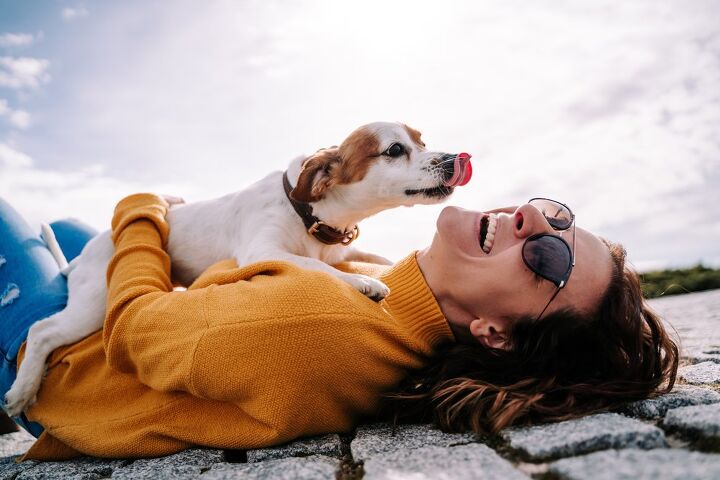 I love putting this gift guide together – it's all the stuff that I want to open up on December 25. But on the flip side, I really want everything listed here, so if it's not under the tree, then I have to buy them myself. Gah – such a double-edged sword! I'm hoping that you can steal a few of these ideas for yourself or a dog lover on your list. Without further ado, I present my Gift Guide For Dog Lovers.
1. Editor's Choice: Daybreak Scuffs
I hate getting out of bed in the winter because the floor is icy cold on my tender tootsies. But the Daybreak Scuffs from LL Bean ($49.95) would definitely cox me out of my toasty cocoon. The Daybreak Scuffs aren't just for around the house – thanks to their anti-slip rubber sole, you can wear them outdoors, too. They come equipped with a coral fleece sock lining for warmth and comfort, and my favorite part of the scuffs have to be the felt pooch running across your feet!
2. Runner Up: Boosk Decorative Heavy Duty Book Ends
These fun and playful bookends from Boosk are a great way to liven up your shelves. They're also made from a strong and sturdy frame, so you don't have to worry about placing them next to large, thick books. These adorable pups are handpainted and come packaged in a gorgeous black and gold box (seen above) that makes for a great gift box. Whether they're going on your bookshelf, in your kid's room or on a table, these versatile bookends are a great option.
3. Best PJ Set: PajamaGram Women's Pajamas
You need a little extra warmth in the winter months, but you don't want to sacrifice your style. Sure, flannel is warm, but man, it sure can be ugly. This PJ set is made from a mid-weight flannel and sports a boyfriend fit so you can stay warm without overheating. And just look at all those adorable winter-ready pups! These jammies will be your go-to outfit this winter, thanks to their cozy and relaxed-fit. Because they are quite generous in size, you might find them to be a little oversized. If you like the fit and feel of these cute PJ's you're in luck – they come in nine different patterns!
4. Best Book: Dogs Rule, Nonchalantly
Over the holidays, I plan to catch up on my reading. And I'll be sitting down with a mug of hot chocolate while reading Dogs Rule, Nonchalantly. It's an illustrated hard-cover book highlighting the art of renowned artist Mark Ulriksen (you may have seen his work in The New Yorker). The book is filled with insightful, lighthearted and funny tales from Ulriksen's life experience with dogs. I know I can relate to more than a few of these doggy truths! Dogs Rule, Nonchalantly is a thoughtful gift that will go over extremely well with any dog lover on your list.
5. Best Tote: Disney Tote Travel Bag
We all have baggage – some of us just carry it better because we have a stylish and memorable tote bag, like this cute Disney tote bag. It was hard to narrow it down, since there are so many fun and cheeky options on the market, but I chose this one because hey, you're never too old to enjoy Disney. This officially licensed bag is a great way to show off (or test) your Disney knowledge. Try and name as many of the beloved Disney pooches as you can!
6. Bets Boots: Joules Women's Molly Welly Rain Boot
Splish, splash, these are the perfect boots for walking your dog in the rain (or snow). Rain boots never go out of fashion, and Joules Women's Molly Welly Rain Boots are no exception. I adore the pattern of pups in rainboots and hats – these cute dogs will be following your every step when you wear them. Made from rubber, the Joules Women's Molly Welly Rain Boot feature hardwearing soles, improved tread for grip and can be easily wiped clean with a damp cloth.
6. Best Pillow: Generic Dog Printed Throw Pillow Covers
The Fbcoo "Dog Kisses Fix Everything" Decorative Throw Pillow Cover will add a touch of style to your couch. The pillow's simplistic design features an elegantly written yet cheeky quote printed in beautiful handwriting on a non-toxic, odorless and durable fabric.
Now keep in mind, this cover doesn't come with the pillow so you'll have to find your own 18 by 18-inch filler, but the cover itself is made from thick, textured linen. And when it gets dirty (because your dog is laying on it), it zips off and can be thrown in the wash on a gentle cycle.
7. Best Necklace: Custom Pet Nose Print Necklaces
Sniff! I am coveting a Custom Pet Nose Print Necklace ($210-$290), made from Oscar's cute little snout. Artist Kaleen Wolfe creates these wearable symbols of your affection, which are custom-made from a non-toxic molding of your dog's nose. Crafted with sterling and recycled silver, it also comes with an 18″ chain that holds the pendant close to your heart. As an extra touch of love, each pendant is finished with your pet's name engraved on the back.
8. Best Oven Mitts: RED LMLDETA Oven Mitts Set
With all of the holiday cooking and baking happening, why not add a new set of oven mitts to the mix? These fun eco-friendly and heat-resistant gloves are made from high-quality silicone and polyester cotton to ensure your hands are both comfortable and safe when you pull those fresh cookies out of the oven. You can also find them in a beautiful blue color or buy matching potholders to complete your set!
9. Best Decorative: Jonathan Adler Menagerie Collection
If you've ever wanted to fill your home with dogs, you're in luck! Jonathan Adler's Menagerie Collection is full of stunning ceramic dogs. These decorative dogs feature subtle layers of pattern and decoration, and are finished with a soft satin matte glaze. Choose from the Terrier, Dachshund, Whippet, Basset Hound and Staffordshire Spaniel. Added bonus: these pooches are easy to train and don't leave a mess!
We are committed to finding, researching, and recommending the best products. We earn commissions from purchases you make using the retail links in our product reviews. Learn more about how this works.

Amy Tokic
Amy Tokic, Editor of PetGuide.com, is a passionate animal lover and proud pet parent of Oscar, a Shih Tzu/Chihuahua cross, and Zed, a Japanese Chin. Her love of animals began in kindergarten, when she brought her stuffed dog Snoopy into class with her every day. Now, she writes about her adventures in pet ownership and tirelessly researches products, news and health related issues she can share with other animal enthusiasts. In her free time, Amy loves perusing used book and record stores, obsessing over the latest pet products available and chasing squirrels with wild abandon (a habit attributed to spending too much time with her pooches).
More by Amy Tokic
Published January 31st, 2022 12:00 AM