5 Views
Readers' Picks: The Best Fish Products on Amazon, According to You
February 15th, 2018 12:00 AM
We're committed to finding, researching, and recommending the best products. We earn commissions from purchases you make using links in our articles. Learn more here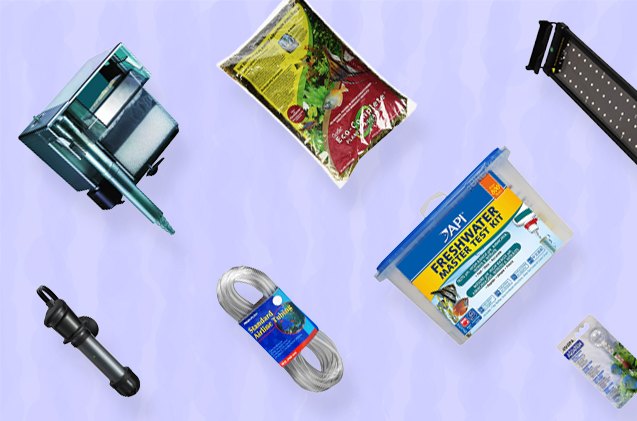 This list isn't at all fishy — it's based on your purchases. We went over the most popular fish-related items bought by our readers on Amazon last year to bring you this rundown.
We thought it would be fun to write a product guide about the brands and items our readers already love and trust. After all, so many fish-owners can't be wrong; you're all experts at what works best in your tanks. From thermostats to water testing kits and aquarium substrate, here are a few of the bestselling items from 2017:
Penn Plax standard airline tubing
For fresh and saltwater tanks, this standard 3/16-inch diameter tubing is non-toxic and promises not to kink or crack.
AquaClear 50 Power Filter
The AquaClear Power Filter is a multi-stage filtration system designed in a hang-on style that produces a silent waterfall while keeping the bulk of the device outside the tank. The filters preserve beneficial bacteria while keeping the water clear. The 50 Power Filter is good for tanks containing 20 to 50 gallons; chose the right version to suit the size of your tank. All models come with a two-year warranty.
This bestselling test kit includes seven bottles of testing solutions, four glass test tubes with caps and a color card to help you read the results. With this kit, you can test the most important parameters of a freshwater tank, including pH, nitrates and ammonia. Designed for weekly water monitoring, other versions of the master test kit are also available to measure the health of reef and saltwater environments.
Marina floating thermometer
This four-and-a-quarter-inch floating thermometer with suction cup simply sticks to the side of fresh and saltwater tanks. Its easy-to-read display indicates the safety zone for most tropical fish.
For freshwater aquarium plants, this black substrate is designed to be a complete substrate but can also be used as a bottom layer for a non-carbonate substrate. It contains all the major and minor trace elements required to feed plants and promote healthy root growth.
Tetra HT10 submersible aquarium heater
A No. 1 Amazon bestseller, this HT10 heater has a built-in thermostat set to maintain a water temperature of 78 degrees Fahrenheit — a setting ideal for most tropical fish. The 50-watt model is designed for covered aquariums holding two to 10 gallons, for anything larger, you'll want to purchase the 100-watt heater.
For use over a glass or clear plastic canopy, these aquarium light fixtures come in four sizes and feature extendable mounting legs. There are two light settings: bright white and blue LEDs for daytime and blue for night. Nichole Jankowski
Nichole Jankowski is the commerce editor for VerticalScope, the parent company to PetGuide.com, and the editor of sister-site WiseGuide.com. If you've recently bought a product you'd like to see featured, let her know at njankowski@verticalscope.com or on Twitter @WiseGuide_.
More by Nichole Jankowski
Published February 15th, 2018 12:00 AM