52 Views
Best Aquarium Heaters for Tropical Fish
March 20th, 2021 12:00 AM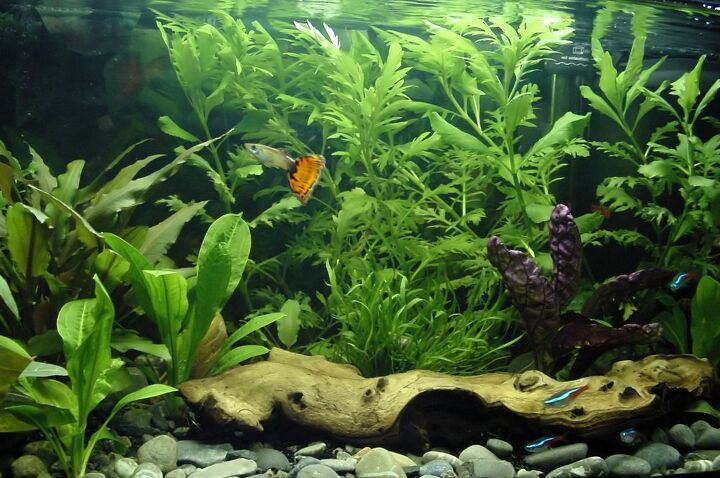 Just because you don't live in the tropics, it doesn't mean you can't have a tropical tank. Here are our picks for the best aquarium heaters for tropical fish.
The key to keep your aquarium fish happy and healthy is to create a captive environment that mimics the natural habitat for your fish. Most species of aquarium fish that are popular among aquarium hobbyists are tropical fish. Unfortunately, many of the people who keep them don't live in tropical climates. This is where an aquarium heater comes in.
Aquarium heaters are designed to help you keep your fish tank at a stable temperature – ideally, one that is perfect for your tropical fish. The best aquarium heater will be properly sized for your tank volume, easy to program, and simple to maintain. If you're not sure what to look for in an aquarium heater for tropical fish, keep reading to see our top picks.
The Best Aquarium Heaters
When it comes to choosing an aquarium heater, you have a variety of models to consider. While most tanks do well with a submersible heater, you might decide that an inline heater or under-gravel heater is a better choice. Take the time to consider your options before making the choice that is right for you.
Here are our top 10 picks for the best aquarium heaters for tropical fish:
One of the most popular aquarium heaters, this model comes in 100-watt, 200-watt, and 200-watt sizes. It has an LCD temperature display and a range of 68 to 93 degrees Fahrenheit. It also features a slim profile mounting bracket and automatic shutoff.
Marineland Precision Heater
Available in eight sizes ranging from 50 watts to 400 watts, this heater is highly versatile and very affordable. It has an adjustable temperature dial that allows you to set the temperature within 1 degree and has an automatic shutoff switch for safety.
Cobalt Aquatics Neo-Therm Heater
This adjustable heater comes in six sizes for tanks up to 55 gallons and it features a submersible, super-flat design. It is energy efficient and programmable with a simple one-touch system to set the temperature between 66 and 96 degrees F.
Aquaeon Submersible Water Heater
The Aquaeon Submersible Water Heater is a fully submersible glass water heater for fish tanks and aquariums. It offers precise temperature setting to 1 degree, ranging from 68 to 88 degrees F. This particular water heater is 200 watts and is meant for tanks up to 75 gallons. Made with quartz shatter resistant glass, it is safe to use inside your tank and it won't shatter everywhere if you accidentally drop it when cleaning your tank. The Aquaeon Submersible Water Heater is UL approved and has an automatic safety shut off and overheat protection, so you don't have to worry about the tank's water getting too warm for your fish.
The Aquaeon Submersible Water Heater also comes in a wide variety of sizes (a quick search on Amazon will lead you to the right direction) and all of them feature a shatter-resistant construction with an LED indicator light.
EHEIM Jager Thermostat Heater
Choose from eight different models ranging from 25 watts up to 300 watts, all priced under $35. This heater is full submersible and features a TruTemp dial to recalibrate the heater for precise temperature regulation. It has a thermo-safety control that automatically turns it off when the water dips too low.
Aquatop Quartz Glass Aquarium Heater
Available in sizes ranging from 50W to 300W, this submersible heater is easy to use and highly affordable. It has a highly visible temperature setting as well, so you can adjust it quickly and easily.
ViaAqua Quartz Glass Submersible Heater
This heater is made from high-quality quartz glass for durability and it is fully submersible. It has visible temperature settings and is designed for use in both freshwater and saltwater tanks.
Hydor In-Line External Heater
Designed for external use with a canister filter (or something similar), this heater is easy to use and offers high-precision electronic temperature control.
Tetra Submersible Aquarium Heater
One of the more affordable aquarium heaters on the market, the Tetra Submersible Aquarium Heater is an electronic thermostat that automatically maintains water temperature for your tropical fish. It monitors the water temperature and heats up to the temperature you set, which allows it to prevent overheating. There is a small LED indicator light attached to the top of the thermostat tube that lets you know if the heater is actively working or when it has reached the appropriate temperature.
The Tetra Submersible Aquarium Heater uses silicon carbide crystals that are known to heat up faster and provide better heat distribution within the tank. The glass tube is heat and shock resistant so you don't have to worry about it shattering inside or outside the tank. The Tetra Submersible Aquarium Heater is 200 watts and can heat up tanks up to 30 gallons. It is an affordable option for your tropical fish aquarium.
Hygger Titanium Aquarium Heater
Available in four models ranging from 50 watts to 500 watts, this heater is easy and reliable. It comes with a submersible heater you can install in the tank and an adjustable thermostat you can program.
What to Look for in an Aquarium Heater
The purpose of an aquarium heater is to warm the tank water to the ideal temperature. Some aquarium heaters are completely programmable – you can choose the temperature you want, and the heater will turn on and off as needed. Other heaters simply heat the water within a certain range, so know what you're buying before you make your choice.
Here are some things to look for in an aquarium heater:
Wattage: The wattage is a measure of the heater's power – the higher the wattage, the more powerful the heater and the larger the tank it can heat.
Programmable: Some heaters allow you to program the heater to a set temperature or range while others are automatic and not adjustable.
Readability: Not all aquarium heaters come with a temperature gauge – some simply have a light that goes on or off when the tank temperature reaches a certain range.
Safety: This is of particular concern for submersible heaters – make sure it has an automatic shut off and be sure to install it with a drip loop.
Remember, choosing a style of aquarium heater is only half the battle – you also have to choose one that is the right size for your tank. Very large aquariums may do better with two heaters spaced out along the back wall for more even heat distribution.
In the end, all you really need in an aquarium heater is one that is properly sized for your tank volume. If you have a large tank, you might even consider installing more than one.

Kate Barrington
Kate Barrington is the loving owner of two cats (Bagel and Munchkin) and a noisy herd of guinea pigs. Having grown up with golden retrievers, Kate has a great deal of experience with dogs but labels herself a lover of all pets. Having received a Bachelor's degree in English, Kate has combined her love for pets and her passion for writing to create her own freelance writing business, specializing in the pet niche.
More by Kate Barrington
Published March 20th, 2021 12:00 AM