646 Views
Best Aquarium Stands and Cabinets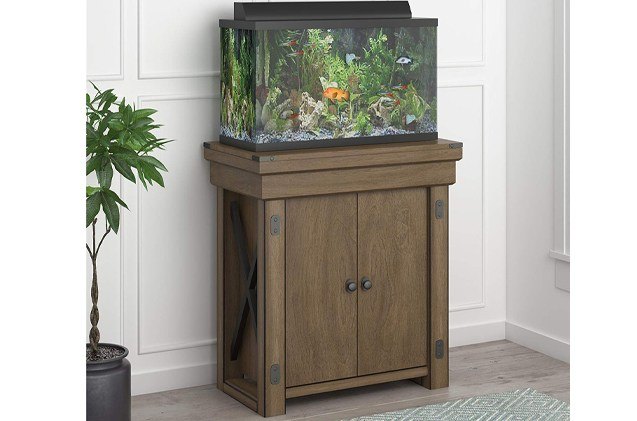 You can't just put a full aquarium on any piece of furniture – it has to be made to take the weight of your tank. Here are our picks for awesome aquarium stands and cabinets.
When it comes to starting a home aquarium, it is easy to get caught up in the excitement of choosing the perfect decorations and the best equipment. While you certainly need to spend some time thinking about these details for your tank, you may want to start at an even more basic level – choosing the tank itself and the appropriate stand or cabinet.
An aquarium stand or cabinet is an important purchase because it will have to hold the considerable weight of your aquarium when it is completely full. To help you decide which stand to buy, we've accumulated some shopping tips below as well as the top picks we recommend.
Best Aquarium Stands and Cabinets
When it comes to aquarium stands and cabinets, there are a variety of different styles to choose from. Take what you've learned in the previous section and keep those tips in mind when reviewing our list of the top 10 best aquarium cabinets and stands below.
Here are our top picks for the best aquarium stands and cabinets:
1. Editor's Pick: Ameriwood Home Aquarium Stand
If you're looking for an aquarium cabinet that looks great and works well, this is the model for you. Available in four sizes to accommodate tanks up to 75 gallons, this stand is made from laminated particleboard with a woodgrain finish.
2. Runner Up: Imagitarium Brooklyn Metal Tank Stand
Made from solid steel to ensure stability, this aquarium stand also has adjustable feet so you can keep your aquarium completely level. It features a simple modern design in a black finish that goes well with any décor.
3. Best Double: Aqueon Forge Aquarium Stand
Available in two sizes, this aquarium stand is made with a durable steel construction and a rust-resistant powder coated finish. Because it has a unique design, you can place an additional aquarium on the lower shelf with no problem. Plus, it has an easy 7-step instruction kit for assembly.
4. Best Classic Design: Imagitarium Preferred Winston Tank Stand
If you want an aquarium cabinet that offers sturdy support and lots of storage, consider this wooden tank stand. It is sized for tanks up to 29 gallons and it has adjustable shelving for convenience and comes in an attractive espresso finish.
5. Best Modern Design: HG Fluval Flex Aquarium Stand
If you have a smaller aquarium but still want to display it properly, this wooden tank stand is a great choice. Designed to support a 15 gallon gallon fish tank, HG Fluval Flex Aquarium Stand is sleek, elegant, and minimalistic- so the flora and the fauna in your aquarium can really be in the spotlight. This aquarium stand is easy to assemble and sturdy and comes in a modern and easy to match white finish that looks great in any space. In addition to the surface for the tank, the stand has two more shelves of storage space or room for decor, as you can use it to store the supplies for the aquarium or display decorative items that complement your tank. HG Fluval Flex Aquarium Stand measures Size : 14.4" in width and 29.5" in height.
6. Best Decor Option: Aquatic Fundamentals Steel Aquarium Stand
If you're looking for an aquarium stand that doesn't detract from your home décor, this is a great option. It features a classic scroll design and is very minimalistic so your aquarium is the focus. Plus, it is moisture resistant.
7. Best Basic: Imagitarium Newport Wooden Tank Stand
This 20-gallon aquarium stand is very simple in design which means that it's also easy to set up. It has a clean, modern design and is quick and easy to assemble. It also has nylon adjustable feet for leveling your aquarium.
8. Best Simple Design: Aquatic Fundamentals Aquarium Stand
Available in five sizes to accommodate aquariums up to 75 gallons, this aquarium cabinet features a sleek and simple design. It has a front door with adjustable shelving for storage and has an open back except for the support brace to accommodate all of your cords.
9. Best for the Biocube: Coralife Designer Biocube Stand
This particular aquarium cabinet is specifically designed for use with the Coralife Biocube tank. It features a sleek and simple design that will meet your needs without detracting from the look of your aquarium. It has rear electrical holes and sturdy, elevated feet. Plus, it is made with waterproof materials for safety and stability.
10. Best Rustic: Ameriwood Home Wildwood Aquarium Stand
You don't necessarily need a big or heavy stand for a smaller aquarium, so consider this option. It is sized appropriately for tanks up to 20 gallons and it adds a touch of rustic flair to your home décor.
What to Look for in an Aquarium Stand
If you're planning to keep a small aquarium under 5 gallons, you can probably just place your tank on a counter or directly on your desk. For larger tanks, however, it is important to make sure that they are fully supported. A tank full of water is very heavy and you don't want to run the risk of having the stand collapse, sending your entire tank crashing to the floor.
Here are some things to look for in an aquarium stand or cabinet:
Think about the size of the aquarium you've chosen – the bigger the tank, the sturdier the stand will have to be.
Make sure you've chosen a stand appropriate for the shape of your tank – some stands are built for rectangular tanks while others can accommodate bow-front models.
Choose a stand or cabinet made from sturdy materials like metal, plywood, or particle board – plywood is generally the material of choice.
Think about where you intend to place your aquarium and choose a model that works well with your home décor in that area.
Consider how easy the stand or cabinet is to set up – some models require a significant amount of assembly while others are much simpler.
Think about the height of your aquarium stand or cabinet in conjunction with the size of your tank – you want your tank to be visible but not so high off the ground you can't reach in.
Choosing the right aquarium is only half the battle – you also need to pick the right stand or cabinet to put it on. Whether you're looking for something sleek and simple or something with a lot of storage, one of the options we've reviewed above could be the perfect fit.
Types of Aquarium Stands
Aquarium stands come in two main types: open aquarium stands and closed aquarium stands. Open types are made from lightweight materials and are not suitable for large, heavy fish tanks: the maximum weight capacity of most open stands is about 40 to 50 gallons. As for closed stands, the situation is much different. These impressive aquarium stands are usually made from wood or steel, and they can support even the largest fish tanks out there. These types of stands are also referred to as fish tank cabinets, as they usually boast a spacious storage space situated above and below the aquarium, where you can put all your fish food and other gear- not only everything will be handily located at one place, but you'll be able to hide tools and equipment away from plain sight, leaving only stylish cabinet fronts that frame a majestic aquarium.
How to reinforce a fish tank stand?
It goes without saying that you want the fish tank stand to be sturdy enough to safely hold your aquarium, but sometimes they require additional reinforcements to meet the standards. An easy way to reinforce a fish tank stand at home is to add wooden supports on the bottom of the board that holds the tank, from front to back, and evenly spaced. You can also notch the legs if you are handy with power tools for extra support. In case your fish tank stand is made from metal and needs reinforcement, the only way to do that is to weld the pieces together, which does require a lot more skills and access to different tools.
How to level a fish tank stand?
Shims get the job done! When you're leveling a fish tank stand, you don't need to move the aquarium around- it's the stand itself that should be adjusted to ensure that the tank is level. The easiest and most effective way to do this is to use shims, which are basically thin and tapered pieces of material, either wood or metal that you place under the stand's legs until the whole setup is level.
We are committed to finding, researching, and recommending the best products. We earn commissions from purchases you make using the retail links in our product reviews. Learn more about how this works.

Kate Barrington
Kate Barrington is the loving owner of two cats (Bagel and Munchkin) and a noisy herd of guinea pigs. Having grown up with golden retrievers, Kate has a great deal of experience with dogs but labels herself a lover of all pets. Having received a Bachelor's degree in English, Kate has combined her love for pets and her passion for writing to create her own freelance writing business, specializing in the pet niche.
More by Kate Barrington
Published June 21st, 2021 12:00 AM