21 Views
Best Automatic Aquarium Feeders
April 27th, 2021 12:00 AM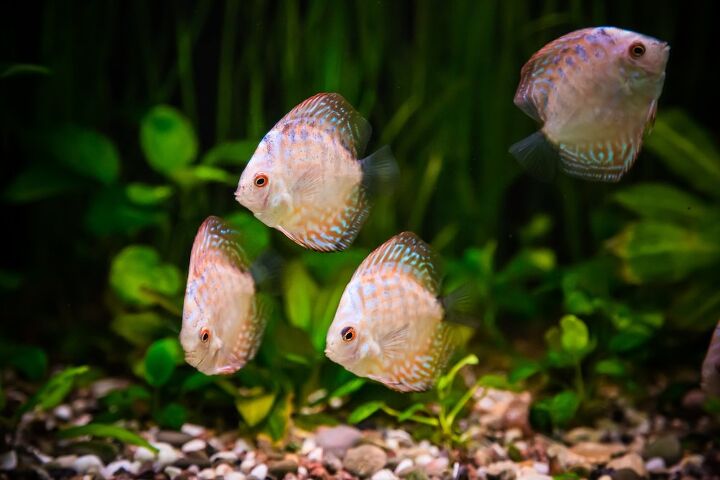 We've put together some tips for choosing and using an automatic aquarium feeder and our top 10 picks for the best automatic aquarium feeders.
When you go out of town for the weekend or head out on a longer trip, you want to know that your pets at home will be taken care of. It's easy enough to drop your dog or cat off with a friend or to take them to a boarding kennel, but what about your aquarium fish? You can't exactly throw your fish tank into the car and drop it off with a friend, so what do you do? An automatic aquarium feeder could the be simple solution you're looking for and it'll be good for more than just your weekend away.
In this article, we'll explore the subject of automatic aquarium feeders. You'll learn some tips for choosing and using an automatic aquarium feeder and our top 10 picks for the best automatic aquarium feeders on the market.
The Best Automatic Feeders for Aquariums
There are plenty of automatic fish feeders on the market, but they are not all created equal. It's a good idea to get an idea what the options are before you start shopping so you are at least familiar with the technology and what an automatic feeder can and can't do. From there, you can choose the model that best suits your individual needs as well as your aquarium.
Here are our top picks for the best automatic aquarium feeders:
1. Zacro Automatic Fish Feeder
This automatic fish feeder runs on batteries or it can be charged by USB, so you don't have to worry about it not working while you're gone. It features a 200ml large-capacity feed bucket and can be programmed for up to 4 feedings per day.
2. Torlam Auto Fish Feeder
An electric, programmable automatic fish feeder, this unit allows you to set feedings at any time of day with up to four feedings per day. Choose from two different methods to install the feeder and enjoy the moisture-proof design to keep your food fresh.
3. Eheim Automatic Feeding Unit
If you're looking for an automatic fish feeder that is simple, affordable, and effective then look no further. This feeder features an easy setup with a handy guide as well as an integrated fan and ventilation system to keep your food dry.
4. Petacc Automatic Fish Feeder
This programmable fish feeder is incredibly easy to use, and it has a large 200ml food storage capacity. It offers two methods of installing the feeder and has a moisture-resistant hopper to keep your fish food fresh without risk of jamming.
5. Fish Mate Aquarium Fish Feeder
This low-cost aquarium fish feeder can be set to serve up to 14 meals for your fish, including as many as 4 meals in a single day. It uses an easy to set reliable quartz timer, making it easy for you to see the scheduled feedings at a glance. Each meal, food is slowly released over a 2+ hour period, keeping your fish active while also helping to reduce the risk of overfeeding.
The feeder can be mounted easily onto the aquarium hood or onto the edge of your glass aquarium with the provided. Unlike some of the other feeders on this list, the Fish Mate feeder is relatively small. It is designed for use on a small to medium sized aquarium (with a maximum recommended size of 40 gallons). However, if you do have a larger aquarium, you can easily set up an additional Fish Mate feeder. It requires a single AA battery which will last, on average, over 1 years' time with continuous use.
6. Uniwood Automatic Fish Feeder
This automatic aquarium fish feeder is quiet and stylish, not to mention larger than the average feeder. It features a moisture-resistant hopper and an energy-saving design to help you get the best bang for your buck.
7. Shyfish Mini Automatic Fish Feeder
We love the silhouette of this mini fish feeder as it will compliment the look of your tank. You have the option to use the auto feeder that will allow you to feed at up to five different intervals with five different proportion choices. The feeder is battery operated and has an LED light indicator for when your batteries are running low. If you have a modern style in your home or aquarium, we think you will agree you will love the look of this little feeder. You will also love how it sounds too, as it is almost silent.
8. PROCHE Digital Automatic Fish Feeder
If you're looking for a feeder that is easy to set up and control, try this option. It features an adjustable slider to change the portion size and you can schedule up to four feeding times per day with 1 or 2 rotations each feeding.
9. TOPBRY Automatic Fish Feeder
Choose from two methods to install this aquarium fish feeder and enjoy the large capacity storage hopper. It enables you to add food easily from the top and you can schedule 4 feeding times with 1 to 3 rotations each time.
10. Lefunpets Automatic Fish Feeder with 2 Food Dispensers
The Lefunpets Automatic Fish Feeder feeds all kinds of fish food, including flakes, pellets, powders, and strips and is suitable for most of pet fishes, turtles, newts and frogs feeding. It has two separate food dispensers a 50g and a 100g food dispenser. There is also two timing for your automatic feeding either once or twice a day (12h/24h). But you don't always need to use the auto timer as you can use the manual feeding option by pressing manual feeding, and this will not change your automatic feeding settings. There are multiple options of how to attach to your tank and you can control the amount of food you want dispensed through the automated system.
Keeping your aquarium fish fed is important for their overall health and wellness. If you're worried about going out of town or you're looking for a way to take a little bit of the load off your own shoulders, consider installing an automatic aquarium feeder. There are plenty of options that don't cost a fortune – simply check out our top 10 picks above!
How to Use an Automatic Aquarium Feeder
Aquarium fish do not need a lot of food at one time. In fact, overfeeding is one of the most common problems among home aquariums and it can wreak havoc on your tank and on your tank inhabitants. If you're worried about feeding your fish too much – or the opposite problem of not feeding them enough – consider automating the entire system. An automatic aquarium fish feeder is a simple solution to all of these issues, and they are very easy to find.
Here are some tips for using an automatic aquarium feeder:
Choose an automatic feeder that is appropriately sized for your tank – the more fish you have, the larger the feeder you'll need.
Consider different models to determine how many feedings you want to be able to automate – some can dispense multiple feedings a day.
Take a look at the technology and choose accordingly – some automatic fish feeders are digital and programmable while others simply dispense food after a predetermined number of hours.
Choose the right food to use in your feeder – automatic fish feeders are not recommended for live or frozen foods because they aren't staple on their own.
Avoid over-filling your automatic fish feeder – you should still only be offering your fish as much as they can eat in two to five minutes at each feeding.
Clean the feeder thoroughly before you fill it each time and make sure you position it properly on the tank, so it doesn't get wet.
Now that you have a better understanding of aquarium feeders, you probably see the wisdom in keeping one around, even if you don't use it on a daily basis.

Kate Barrington
Kate Barrington is the loving owner of two cats (Bagel and Munchkin) and a noisy herd of guinea pigs. Having grown up with golden retrievers, Kate has a great deal of experience with dogs but labels herself a lover of all pets. Having received a Bachelor's degree in English, Kate has combined her love for pets and her passion for writing to create her own freelance writing business, specializing in the pet niche.
More by Kate Barrington
Published April 27th, 2021 12:00 AM