372 Views
Best Sponge Filters for Aquariums
November 22nd, 2021 12:00 AM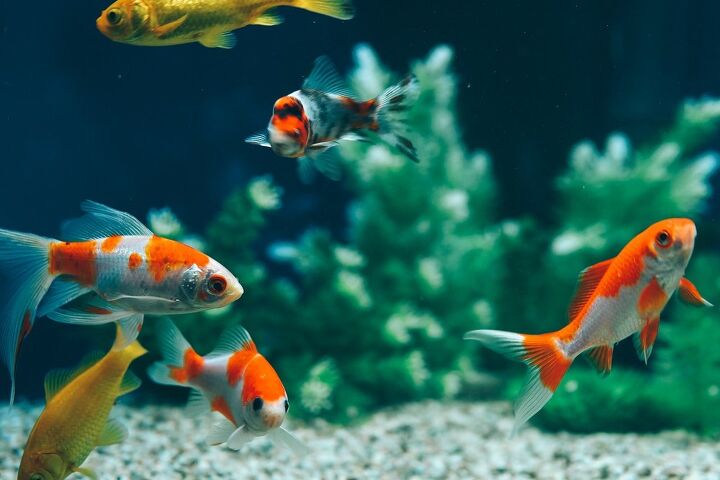 When it comes to keeping your aquarium fish healthy, high water quality is a must. Filtration is essential to remove solid and dissolved wastes, keeping your tank water free from toxins that might harm your fish. There are a number of different kinds of filters designed to provide mechanical, chemical, or biological filtration – some filters offer all three. Sponge filters provide mechanical filtration and, over time, may provide biological filtration as well.
While sponge filters may not be the ideal filtration method for all aquariums, they certainly have their applications. Read on to see our top picks for the best sponge filters for aquariums.
Before you go shopping for sponge filters, think about how you're going to use the filter – this will help you determine the right size. If you're not using the sponge filter as your sole source of filtration, the size may not matter as much. You should still consider other factors, however, such as the pump you use and the quality of the sponge itself.
Here are our top picks for the best sponge filters for aquariums:
1. Editor's Choice: Aquarium Technology, Inc. Hydro-Sponge Filter
This sponge filter comes in four different sizes to accommodate tanks up to 125 gallons and you can purchase up to 4 in a pack. Not only is this sponge filter easy to use, but it offers high flow volume with a 1-inch diameter lift tube.
2. Runner Up: Uxcell Aquarium Biochemical Sponge Filter
Designed to deliver both mechanical and biological filtration, this sponge filter is powered by a simple air pump and comes with the airline adapter you'll need to hook it up. The dense, high-quality foam ensures that the filter will be long-lasting and that the filter won't trap fish fry and is perfectly safe for smaller fish such as dwarf cichlid, guppies, and similar. This sponge filter is extremely cost-effective, and you can purchase up to 6 at a time to stock up. The dimensions of the filter are 4.5" by 8" and it can be used in aquariums up to 20 gallons.
3. Best Double Sponge: Hygger Aquarium Double Sponge Filter
Do twice the work with a single filter using this double sponge filter. Not only does this filter use two sponges, but each side has a compartment for filter media balls for added biological filtration. As the sponges are made from fine 60ppi material and are not coarse, they will offer more useful surface for beneficial organisms to live on. The sponges are easy to maintain as they are easy to take out to be cleaned or replaced – when cleaning, don't use tap water – just rinse or squeeze the sponge using the water from your tank. The set includes one double sponge with 2 containers, 2 spare sponges, and 1bag of ceramic media balls. This filter comes in two sizes rated for tanks up to 55 gallons.
4. Best Set: Aquaneat Aquarium Bio Sponge Filter
This sponge filter comes with everything you need to connect to an air pump. In addition to the sponge filter itself, it comes with 4 feet of airline tubing, a control valve, a tee, and a non-return check valve. It also comes with 4 suction cups to keep the tubing in place. It is easy to set up and clean, too: just install an airline into the unit and turn on the air pump, and when it's time for cleaning, simply rinse and squeeze the sponge in water from the aquarium. There are 3 sizes to choose from: small which is meant for tanks up to 10 gallons, medium that is suited for aquariums up to 20 gallons, and large which can be used in tanks that are up to 60 gallons in capacity.
5. Unique Shape: Lefunpets Biochemical Sponge Filter
Available in four sizes, this sponge filter accommodates tanks from 5 to 80 gallons. It features a unique cylindrical shape with 6 vertical stripes, providing plenty of surface area for beneficial bacteria to colonize. It is easy to set up and keep clean: all parts of the sponge filter are detachable, so when it's time to do some routine cleaning, just submerge and squeeze the sponges in aquarium water (never use tap).
6. Best Small Choice: Aquaneat Small Bio Sponge Filter
Ideal for betta tanks and fry tanks, this small sponge filter is compact but still offers two separate sponges to maximize biological filtration. It is easy to install using an air pump and it creates minimal current. This bio sponge filter is suited for small tanks up to 10 gallon capacity.
7. Best Ceramic Bio Filter: Upettools Aquarium Biochemical Sponge Filter
This double sponge filter combines a 7-layer ribbed sponge design with ceramic bio filter media to support biological filtration with ease. It is suitable for freshwater and saltwater tanks, and the oxygen port can rotate a full 60 degrees for easy installation. This filter is designed to work best with a 55-gallon fish tank.
8. Best Space Saving: Powkoo 9-Layer Corner Sponge Filter
Perfect if you want to save space, this corner sponge filter will not take up too much room in the aquarium and will do a stellar job nonetheless. With 9 layers made from fine 60ppi material it offers space for beneficial organisms and provides mechanical and biological filtration, as well as an increase in oxygen levels in the tank. Thanks to the fineness of the material, this sponge will prevent baby fish from being sucked inside the filter. Offering both filtration and aeration, this sponge filter is easy to set up and clean: just connect the airline tube to the air pump and the air inlet in the lift tube and you're all set, and when you want to o regular cleaning, just squeeze the sponge in aquarium water. This sponge filter is a fit for 10-gallon to 40-gallon tanks.
9. Best for Smaller Fish: Honoson 2 Pieces Sponge Filter
This convenient kit includes two sponges and 2 pieces 10 feet airline tubes to make sure your tank stays free of dirt and debris as well as aerated to improve your fish's life quality. It suits aquariums up to 60 gallons and it's easy to set up and maintain. Just hook up the airline tubes you get with the kit to an airline pump and turn it on, and when the sponges get dirty, simply rinse and squeeze out any gunk and nastiness in water – but be sure to use water from your aquarium and not tap water. This sponge filter is suited for smaller fish such as dwarf cichlid, guppy, killifish and can also be used in hatcheries, maternity tanks, and fry tanks as it won't suck up fish as it produces low currents.
10. Honorable Mention: Zanyzap Pre-filter Sponge
Turn any 2-stage power filter into a sponge filter with these pre-filter sponges. Simply slip them over the filter intake system and all water will be filtered through the sponge. The sponges provide space for beneficial bacteria to grow and they help prevent small tank inhabitants from accidentally being drawn into the filter.
Tips for Using a Sponge Filter
A sponge filter is exactly what it sounds like – a filter that utilizes a sponge to remove waste from aquarium water. These filters typically use an air pump or powerhead to siphon aquarium water through the sponge where waste and debris gets trapped before the water is returned to the tank. Over time, beneficial bacteria colonize the sponge to provide biological filtration.
Here are some tips for using a sponge filter:
Choose a sponge filter when gentle filtration is required – fry tanks, betta tanks, and hospital tanks are the ideal application.
Use a sponge filter as a pre-filter for cannister filters to help remove large particulate matter that might otherwise clog the line.
Consider using multiple sponges with your filter – this adds to the biological filtration and means you can stagger benefit, so you don't disturb all the bacteria at once.
Pair your sponge filter with another filter to provide chemical filtration – this is particularly important for species of aquarium fish that are sensitive to water chemistry.
Think about the placement of your sponge filter – you can hide it behind aquarium decorations to avoid having an unsightly sponge affecting your aquarium aesthetics.
Clean your sponge in water from the tank – just submerge the sponge and squeeze it to remove accumulated particulate matter.
Sponge filters work well for applications that require gentle filtration, but they aren't ideal as a sole filtration source for larger tanks. These filters provide surface area for beneficial bacteria to colonize and they help remove solid wastes from the water column. If you're considering a sponge filter, keep the tips provided above in mind and consider one of the options we've recommended.
Are sponge filters better than regular filters?
Your choice of filter will depend on the type of tank you have, but sponge filters are generally considered a universally good choice. The filtration they provide is twofold: mechanical by trapping debris and particles, and biological by growing bacterial colonies on its surface as the sponge matures. However, thanks to the fact that they produce a gentle flow, sponge filters can be better than regular filters for tanks with sensitive and delicate fish, small fish breeds, or hatcheries and maternity tanks.
How effective is a sponge filter?
Sponge filters are pretty effective, as they clean the aquarium biologically and mechanically. They are a better choice for smaller tanks, though, and might not be as effective in a larger aquarium. In these cases, aquarists often use more than one sponge filter if low currents are a priority, or combine a sponge filter with another type of filter for more effective filtration.
Does a sponge filter have to be fully submerged?
Yes, a sponge filter needs to be fully submerged as it is an internal filter. If you don't submerge it fully, it won't aerate the water and filtrate it properly. The sponge filter should sit on top of substrate, with airline tubes connected to a pump that is outside the aquarium.
Are sponge filters good for fish tanks?
Yes, sponge filters are great for fish tanks, especially those that house fish offspring or gentler, more sensitive types of fish. Sponge filters induce a gentle flow and won't suck in fry, kill fish, guppies, and similar fish as can be the case with some other types of filters – they also work great for betta tanks as these fishes prefer low current waters. As for their effectiveness with cleaning, you'd be surprised how well these work – and how easy they are to clean.
Do sponge filters clean the water?
Yes, sponge filters are quite effective when it comes to cleaning the water in the tank – after all, filtration is their primary function. The dirt and debris such as fish waste and uneaten food particles will be trapped on the sponge as it cleans mechanically, and after beneficial bacteria grows on the surface of the sponge, it will also provide biological filtration. In other words, sponge filters don't just trap large particles, but can help to break down ammonia and nitrite in your tank.
We are committed to finding, researching, and recommending the best products. We earn commissions from purchases you make using the retail links in our product reviews. Learn more about how this works.

Kate Barrington
Kate Barrington is the loving owner of two cats (Bagel and Munchkin) and a noisy herd of guinea pigs. Having grown up with golden retrievers, Kate has a great deal of experience with dogs but labels herself a lover of all pets. Having received a Bachelor's degree in English, Kate has combined her love for pets and her passion for writing to create her own freelance writing business, specializing in the pet niche.
More by Kate Barrington
Published November 22nd, 2021 12:00 AM