877 Views
Best Vet Recommended Cat Food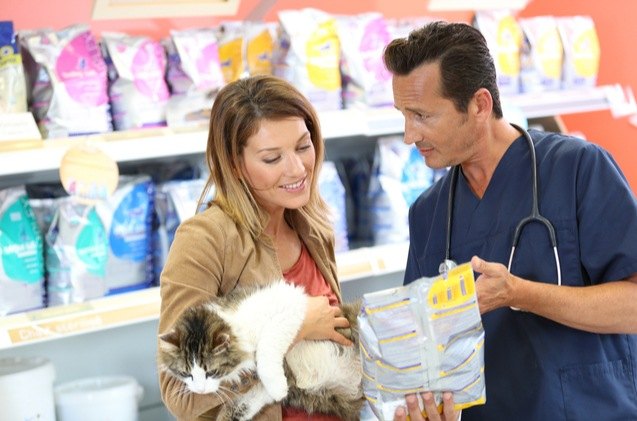 Vet recommended cat food comes with the backing of experts which can give you peace of mind about the quality of food you serve to your pet. We've rounded up the best vet recommended food that's not only praised by veterinarians but also loved by kitt
Cats are well-known as finicky creatures, but they are especially picky and fussy when it comes to their food. Most kitties will not eat anything you serve but will be rather choosy, favoring a certain texture or flavor of food, so it can be difficult finding the right type of food for your pet's refined tastes. On top of that, cat food shouldn't just be tasty but it should be nutritious and balanced as well. Needless to say, it's a challenge- so why not go for a formula that an expert says will be great for them? Vet recommended cat foods are made from high-quality ingredients and have a formula tailored to meet all the nutritional requirements of your pet. Often, these formulas are adapted for specific health conditions that many cats face, such as urinary problems or diabetes, and help your pet get healthier or put their symptoms under control through a proper diet.
Of course, there are many vet recommended cat food options out there, from those tailored for certain life stages or health status to different types from kibble to pate, as well as a ton of flavor to choose from- whether it's the classics such as beef and chicken or exotics such as quail that your kitty likes on their plate, there's a match. To help you figure out which vet recommended cat food deserves to be poured in your feline royal's bowl, we've rounded up the 10 best options on the market for you to choose from.
A well-balanced diet is a foundation for good health, and this complete formula is created by nutritionists and veterinarians to make sure that you're feeding your cat only the best. Hill's Prescription Diet w/d Multi-Benefit is dry food for cats that need a little bit more than just healthy kibble: its ingredients help cats keep their weight and glucose levels optimal and promote urinary health. A vet-authorized level of L-carnitine and a unique blend of soluble and insoluble fiber may help keep your kitty lean without compromising on flavor or feeling of fullness.
And remember, you need to consult your veterinarian before getting any vet-authorized food.
2. Runner up: Wellness Complete Health Dry Cat Food
Formulated for indoor cats, Wellness Complete Health Dry Cat Food has all the essential nutrients your kitty needs to thrive. Cats that live exclusively indoors have different needs than those that burn off calories hunting and running around the neighborhood so this formula is adapted to that. Due to the fact that indoor cats are less active, it is enriched with L-carnitine to help keep their weight under control and it boasts lean protein as its main ingredient- you get to choose between salmon and chicken. To boot, this vet recommended cat food is also grain-free and contains no GMOs, meat by-products, wheat, corn, soy, or artificial colors, flavors, and preservatives.
3. Customer's choice: Iams Proactive Health Adult Indoor Weight & Hairball Control Dry Cat Food
In addition to extra fluff, what's another thing that most pet cats struggle with? Hairballs! That's why this perfected formula strives to offer all the nutrients needed to keep your kitty lean and those hairballs out of their system. Iams Proactive Health Adult Indoor Weight & Hairball Control Dry Cat Food is made with chicken and turkey ensure that protein is abundant, and fortified with L-carnitine for weight management- but it's their proprietary fiber blend with beet pulp that is the star of the formula as it prevents hairballs from forming. No more being woken up by the sounds of your cat vomiting out hair!
4. Best for urinary health: Forza10 Active Urinary Dry Cat Food
Unfortunately, problems with urinary health are quite common for cats. From repeating urinary infections to struvites that form in the bladder all the way to kidney stones, kitties have it rough when it comes to urinary health which is why it's essential to provide a diet that could help keep all those issues under control. Forza10 Active Urinary Dry Cat Food is created by veterinarians for cats struggling with urinary issues: it has acidifying properties to prevent the formation of crystals in the urine and low magnesium content as well. In addition to being great for UTIs and bladder struvites, this vet recommended cat food is enriched with essential fatty acids, therapeutic plants, and contains no corn, wheat, or soy to make sure it also supports your cat's overall health.
5. Best for kittens: Royal Canin Feline Health Nutrition Mother & Babycat Dry Cat Food
Babies need special nutrition once they are weaned to make sure they get all the important nutrients they need to grow healthy and strong! Royal Canin Feline Health Nutrition Mother & Babycat Dry Cat Food is created for nursing mothers and kittens from 1 to 4 months of age so it is packed with antioxidants and vitamins. The kibble is tiny and easy to chew, and easy to digest as well as is fortified with probiotics and prebiotics. Additionally, to make sure your tiny kitten's brain is developing properly, the formula is enriched with DHA that will promote optimal cognitive function. The next best thing after their mother's milk!
6. Best grain-free: Castor & Pollux Organix Organic Dry Dry Cat Food
Cats are obligate carnivores, and don't really need all those carbs to stay healthy- in fact, too many carbs can be harmful to a feline. Castor & Pollux Organix Organic Dry Dry Cat Food is not just formulated without any grains whatsoever (and as such a great choice for pets with gluten sensitivities) but it is made from fully organic ingredients certified by USDA and cooked in an organically certified kitchen in the USA. The formula relies on organic free-range chicken and sweet potato to nourish your kitty and it is packed with superfoods such as organic flaxseed, organic cranberries, and organic coconut oil to boost their immune system.
7. Best wet food: Weruva B.F.F. OMG Grain-Free Natural Wet Cat Food Cans
For felines that prefer wet food, Weruva B.F.F. OMG Grain-Free Natural Wet Cat Food Cans are a healthy yet yummy choice. Drenched in chicken broth gravy sauce, this wet food will give your pet all the hydration they need while nourishing their body with proteins, minerals, antioxidants, and vitamins. This vet recommended food is minimally processed and free of grains and gluten (no soy, corn, or wheat), GMOs, carrageenan, MSGs, artificial colors, flavors, and preservatives. Clean and tasty, this formula comes in several flavor options including grass-fed beef and salmon, chicken and salmon, duck and tuna, chicken and pumpkin, chicken and lamb, and chicken a turkey. A little something for anyone!
8. Best for sensitive cats: Blue Buffalo Natural Veterinary Diet Gastrointestinal Support for Cats
Kitties that vomit or get an upset stomach from certain foods need specially formulated food to promote better digestion and keep them happy. Blue Buffalo Natural Veterinary Diet Gastrointestinal Support for Cats uses readily digestible proteins, carbs, and fats in its formula, which not only makes the food easier to digest but it also ensures your pet absorbs all the nutrients from food despite their gastrointestinal issues. The unique blend of ingredients such as prebiotic fibers and antioxidants promotes a healthy microflora and the fact that this kibble is grain-free only helps prevent any potential tummy issue. Say goodbye to cleaning up diarrhea and vomit after your feline friend!
9. Best for seniors: Purina Pro Plan Senior Canned Wet Cat Food
When they reach golden years, cats need to have a special diet- one that will support their aging body with plenty of nutrients but won't make them gain extra weight while doing so. Purina Pro Plan Senior Canned Wet Cat Food is said to "improve and extend the life" of cats that are over 7 years of age, which is what every owner wants for their elderly pet: more time with them and a better quality of life in senior years. Available in 9 different flavor options, this vet recommended wet cat food is enriched with antioxidants beta carotene and vitamin E, and prebiotic fiber to support a healthy immune system and promote better digestion in senior cats.
10. Best for picky cats: Farmina Natural And Delicious Chicken And Pomegranate Grain-Free Formula Dry Cat Food
Cats are notoriously picky eaters, and if your pet is among those felines that get choosy over what type of food is in their bowl, you'll have to go all out to make sure that the food they like is actually healthy for them. Luckily, Farmina Natural And Delicious Chicken And Pomegranate Grain-Free Formula Dry Cat Food is formulated for such cases: yummy and irresistible, this vet recommended food for picky eaters cleverly sneaks in plenty of healthy ingredients in the formula and doesn't compromise on flavor. Made with chicken and pomegranate, this grain-free kibble is enriched with antioxidants, minerals, and vitamins needed for your pet to thrive. It contains no corn, soy, wheat, or peas, or lentils that could be harmful to your pet and eliminates plant oils from the formula. Only the good stuff- with a delicious taste!
Wet or Dry Food: Which to Choose for Your Pet?
Vets recommend both wet and dry food, so how should you know which of the two would be a better fit for your cat's actual needs (and not her greedy appetite)? Both kibble and canned food for cats have their pros and cons so it's up to you to figure out which fits your pet's health status and lifestyle better- and your budget, too.
Dry cat food is the most common option out there- not only that there are tons of options to choose from, but it is convenient and cats tend to love eating it. Just make sure to choose kibble with high-quality ingredients with protein at the top of the list as cheap, filler-laden kibble won't be healthy for your cat.
Wet food is not only nutritious and tasty, but it also has a high moisture content. Cats tend to drink very little water as they naturally get all the water they need from food but that's not the case with kibble. If your pet doesn't drink enough water, wet food might be a better option. However, beware- wet food is often higher in calories so don't overfeed to avoid obesity issues. Also, it is more difficult to store wet food as it can spoil fast when opened, so you have to have planned meals instead of leaving the food out for your cat to free feed like you can with kibble.
We are committed to finding, researching, and recommending the best products. We earn commissions from purchases you make using the retail links in our product reviews. Learn more about how this works.

Angela Vuckovic
A proud mama to seven dogs and ten cats, Angela spends her days writing for her fellow pet parents and pampering her furballs, all of whom are rescues. When she's not gushing over her adorable cats or playing with her dogs, she can be found curled up with a good fantasy book.
More by Angela Vuckovic
Published July 26th, 2021 12:00 AM