175 Views
Best Dog Food for Pitbulls
October 19th, 2021 12:00 AM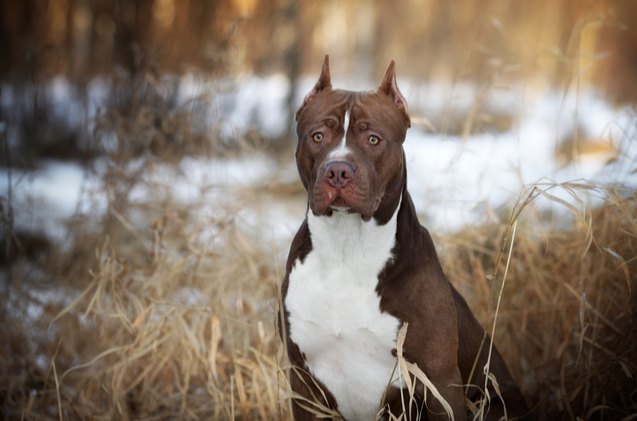 Dog food for pitbulls is formulated to meet the specific dietary requirements of this powerful, active breed. Read on to find out the best choices on the market today!
There are a lot of misconceptions surrounding pitbulls. Some say they're mean, others say that they aren't too smart. But in the end, it's all about the owners. Pitbulls can be affectionate and gentle dogs and thrive in a loving environment. However, one thing is true about these doggos – they are powerfully built and can be healthy and muscular animals. To maintain this majestic size and to ensure a healthy body, you will need to provide a proper diet.
These specifically created dog foods boast all the important nutritional values that can benefit pitbulls in particular. Whether you need to promote good digestion or ramp up that protein intake, these foods got you covered.
1. Editor's Choice: Bully Max High-Performance Super Premium Dog Food
Pitbulls are strong and muscular dogs – it's just the way they are! And to keep them so healthy and strong, you will need to give them food that is rich in protein and nutrients. And Bully Max is just the thing: it contains around 535 calories per cup – which is much more than your usual dry kibble. Of course, it also contains 30% of proteins and 20% of healthy fats, both of which are instrumental in maintaining a balanced and functioning health system. This food contains no grains and no artificial additions, like preservatives, flavors, or colors. Bully Max is great for both adults and puppies and guarantees that all the nutrient requirements are met.
Pros
Calorie-dense food
Rich in protein and fats
Great for all life stages
2. Runner Up: Blue Buffalo Wilderness High Protein Dog Food
Nothing beats the flavor and texture of wet dog food. Blue Buffalo is a veteran brand when it comes to the very best in dog nutrition. Each can of their Wilderness food is jam-packed with proteins and vitamins. This pack contains 12 cans of delicious trout and chicken-flavored food that is ideal as both a tasty treat and a full-fledged meal. Real meat is the number one ingredient of this food, with the addition of some needed complex carbs and chicken livers. Of course, there are no by-product meals, grains, and artificial additions included in this food. Best of all, wet foods such as these contain plenty of moisture, which is great to keep your pitbull friend happy and hydrated.
Pros
Real trout and chicken in the formula
Economy pack
Rich in nutrients
Cons
Wet food might take getting used to
3. Customer's Choice: CRAVE Grain Free High Protein Adult Dog Food
Pitbulls are strong dogs with healthy appetites and Crave is here to satisfy all their foodie needs. This quality dog food prides itself on real meat as the number one ingredient- either beef or chicken, the choice is yours. It's high protein content is perfect to nurture those muscles and keep your dog strong and healthy. Some healthy veggies are also included and act as the source of some much-needed fiber. This food is great for pitbulls in all life stages and can be served both dry and mixed in with wet food, for an even tastier result. With a balanced list of ingredients, Crave food fills out all the necessities: it is rich in vitamins, proteins, and minerals and boasts a high protein content. And all that with zero grains, artificial flavors, and preservatives. Natural wild food – brought to your dog!
Pros
Real meat as the primary ingredient
Healthy and balanced ingredients
Grain-free
4. Best Budget: Purina ONE Smart Blend Natural Dog Food
Purina needs no introduction. This iconic ONE dog food is a true blend of all the important bits and pieces that constitute perfectly healthy nutrition. With a chicken and rice formula, you know that your pooch will get a balanced ratio of protein and fiber. Of course, real chicken meat is the number one ingredient here, bolstered by a dual-defense antioxidant blend and containing real and delicious little meaty morsels in each kibble piece. The whole blend is supplemented with essential vitamins and minerals and has a naturally high protein content. All of this is mandatory for adult pitbulls – it guarantees that everything runs smoothly.
Pros
Real chicken as the first ingredient
Helps support joints
Tasty morsels of meat
5. Best High-Protein: Victor Classic Hi-Pro Plus
For every large dog breed with plenty of muscle, protein is a crucial supplement. It helps keep the body strong and healthy. Victor dog food aims to deliver exactly this. This premium dog food is ideal for strong and physically active dogs – pitbulls included. It contains around 88% proteins from real meat sources (blend of beef, chicken, pork, and fish), 2% protein from plants, and 10% proteins from grains. This makes up for a 100% protein content in just one bag of food. It also contains the brand's unique VPRO blend of supplements, which contains minerals, vitamins, probiotics, prebiotics, and mineral complexes. All of this guarantees the healthiest diet for your strong pitbull.
Pros
Ideal for athletic pitbulls
Great for muscle building
Super rich protein content
6. Best with Chicken: IAMS Minichunks
There is no doggo that can resist chicken! This is great since real, lean chicken meat is one of the healthiest foods out there. These IAMS mini chunks are based on a unique and healthy chicken and whole grains recipe, which ensures plenty of health boosts for your dog. One of these is balanced digestion, thanks to the included fibers and prebiotics, while the other is overall body health, thanks to the antioxidants and minerals. This food contains a few artificial ingredients and zero fillers. It is great for mixing with wet dog food for the ultimate result.
Pros
Ideally-sized bites
Balanced nutrition
Great for mixing with wet food
Cons
Contains preservatives and some artificial ingredients
7. Best Wild Game: Taste of the Wild Dry Dog Food
There is no better way for your dog to get in touch with their wild side than through some wild game-based food. Taste of the Wild aims to recreate the primal diet experience with their unique blend of roasted bison and roasted venison meat! Both are pasture-raised, which ensures that the meat used is of the highest and healthiest quality. Of course, the taste of this kibble is wholly unique, and irresistible to dogs. As an added benefit, it contains a plethora of healthy nutrients. It is rich in protein and contains a lot of important Omega 3 fatty acids. Included probiotics promote healthy digestion, along with high fiber content. It's no secret that the true wilderness diet is the number one natural source of all that is good for your dog. And this unique blend proves that!
Pros
Great for the digestive tract
Rich in good bacteria
Pasture-fed venison and bison
Cons
Could take some getting used to
8. Best for Joint Health: Royal Canin Large Breed Dog Food
Pitbulls – some of the strongest doggos out there – can grow to a considerable size. To keep all that size functioning perfectly, your pet will need some high-power fuel. And this Royal Canin dog food is exactly that. Specifically designed for large and giant dogs, this kibble is filled with all the essential nutrients for big breeds. With plenty of protein and vitamins, it promotes muscle growth and healthy joints. The latter is especially important for large dogs with a lot of energy, as it slows the wear and tear of the joints and keeps your pooch agile for longer. This kibble boasts high digestibility, and contains a good dose of healthy Omega 3 fatty acids, with ample levels of beneficial DHA and EPA. All of this combined guarantees the healthiest possible diet for your pitbull. Add to this the irresistible texture and great taste, and you'll soon find out it's your dog's new favorite.
Pros
Balanced nutrients
Great for energetic large dogs
Promotes joint health
9. Best Natural: Wellness Complete Health
Wellness offers you this complete natural dog food that focuses on balanced nutritional values. Great for pitbulls and large dog breeds, this special formula is crafted for whole-body health. It promotes energy and replenishes strength, boosts immunity, ensures healthy teeth and gums, and also benefits the digestive tract. As an added bonus, it also guarantees a healthy and shiny coat. For pitbulls, this can be especially important. Quality chicken meat is the main ingredient here, and it offers plenty of natural proteins. Added to the mix are blueberries and spinach – among other goodies – and these contain plenty of important antioxidants and fibers. Flaxseed is also included, which is rich in Omega 3 and promotes a healthy coat. All in all, this is a true complete dog food that pitbulls can really benefit from.
Pros
Easy to digest
Tasty and rich in nutrients
No artificial preservatives
Cons
Can lead to loose stool in some dogs
10. Best for Picky Eaters: Rachael Ray Nutrish Dish
Quality dog food needs to have a balanced array of nutrients in order to provide a complete set of benefits, and Rachael Ray's signature Nutrish Dish meets these standards. It contains real meat, fruit, and veggies that you can see – meaning that your pitbull pet will get only the quality ingredients in their food. The chief ingredient here is farm-raised beef or chicken, and it is the primary source of animal protein. Boosted with diverse minerals and vitamins, this food is a true health bomb. Of course, this brand prides itself on zero grains and gluten ingredients, and no artificial flavors or preservatives. Also, you are given a great and diverse choice of packaging sizes, as well as two flavor options: beef and brown rice, or chicken and brown rice. Your dog is bound to love this – and you will see the changes!
Pros
U.S. farm-raised beef or chicken as the primary ingredients
Delicious flavor
No corn, soy, or wheat
Cons
Not for sensitive stomachs
What to Look for in Dog Food for Pitbulls
Strong and healthy pitbulls are somewhat like bodybuilders. They have a lot of muscle mass, and their body needs plenty of fuel to stay healthy. However, eating a lot of junk food won't help maintain a lean look – in fact, it can lead to a whole lot of problems. That's why it is important for your dog to have a balanced intake of the following key nutrients. A lot depends on that!
Protein
You often hear muscle-building athletes talking about a lot of protein. A strong and muscular pitbull is just the same: they need plenty of protein throughout the day in order to stay in their prime. Protein helps rebuild and maintain muscle, and this in turn guarantees that your pet is in their best form. However, a lot of regular food simply does not contain enough protein. Thankfully, dog food for pitbulls is rich in protein – and this ensures quick and visible results. Boosted energy, improved mood, and a lot of lean muscle – your pitbull friend will become his or her best!
Anti-oxidants
Antioxidants are found in many veggies and fruits and are a crucial component of a healthy diet. Many pit bull dog foods contain added antioxidants, as they boost the immune system, and can stave off cell damage. Furthermore, it has been found that antioxidant-rich foods will have a positive effect on your dog's skin and coat health. If you want your pitbull to have a shiny and smooth coat, look out for these nutrients. Of course, veggies and fruits are not important just for this. They are also a source of fiber, which in turn promotes good digestion. You can't go wrong with greens!
Vitamins
You just can't go wrong with vitamins. Both dogs and their owners don't consume enough vitamins on a regular basis. You should look out for dog foods that are rich in vitamins such as E, C, and B12- among other goodies – as this will bring a whole string of benefits for your pet. A functioning and strengthened immune system, high energy levels, and a healthy body are just some of the many benefits you can observe. If your dog food doesn't have satisfying levels of vitamins, you should always consult your vet to provide suggestions on supplements.
We are committed to finding, researching, and recommending the best products. We earn commissions from purchases you make using the retail links in our product reviews. Learn more about how this works.

Angela Vuckovic
A proud mama to seven dogs and ten cats, Angela spends her days writing for her fellow pet parents and pampering her furballs, all of whom are rescues. When she's not gushing over her adorable cats or playing with her dogs, she can be found curled up with a good fantasy book.
More by Angela Vuckovic
Published October 19th, 2021 12:00 AM