387 Views
Can My Dog Have Fish Oil?
September 15th, 2020 12:00 AM
We're committed to finding, researching, and recommending the best products. We earn commissions from purchases you make using links in our articles. Learn more here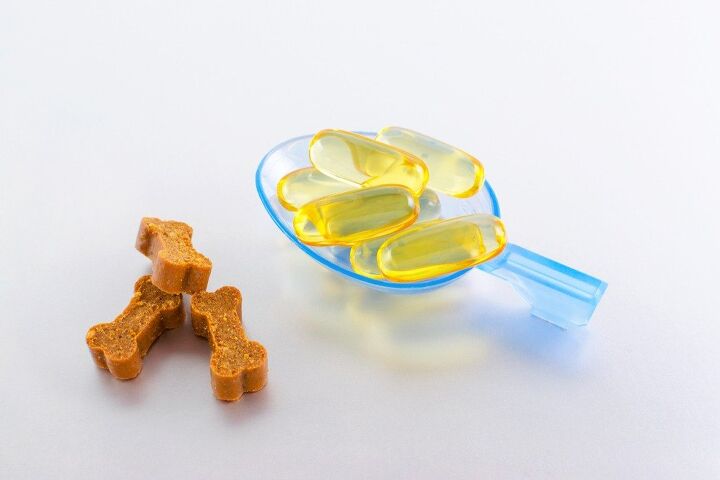 We know about the benefits of fish oil for humans, but what about for dogs? Here's what you need to know about fish oil and dogs.
As humans, we're familiar with the many health benefits that come from fish oils through the Omega-3 and -6 fatty acids. But what about dogs? Can dogs safely consume fish oils?
The answer is yes, but with a little caution. Adding fish oils to your pooch's diet can help promote a healthy coat, improve skin conditions, and alleviate joint pain by reducing inflammation. It can also help improve your dog's immune system and overall heart health.
However, it's not an instant fix for all dogs. Breeds with known digestive issues should move forward gradually and with the OK from their veterinarian.
Tips for introducing fish oils to your dog's diet:
Know the recommended dosage for your size of dog. A good rule of thumb is 75-100 mg/kg of weight. So, for a dog that weighs 25 pounds (11.35 kg), he would need about 1,000 mg (or 1 gram) of fish oil each day.
Begin with a low dose and gradually increase – particularly when dealing with digestion issues. Or, try by first introducing him to the actual fish flesh then graduate to the oil.
Pure Wild Alaskan Salmon Oil for Dogs & Cats
Forget gel caps and soft chews. With this powerful Omega-3 natural fatty acid you just add a couple of quick pumps to your pet's food. It's easy, tasty and he receives all the nutritional benefits needed to support a lustrous coat, hip, heart and joint health. 32 ounce size.
Welactin Omega-3 Skin and Coat Support
Dogs love the flavor of this nutrient-rich Omega-3 fatty acid and you'll love that it's made using peppermint oil so you never have to deal with fishy breath. These easy to swallow gel caps make delivering an excellent source of EPA and DHA as easy as tossing them in the air. 120 soft gels.
Zesty Paws Omega 3 Alaskan Fish Oil Chew Treats
These treats are chock full of nutrients including not only Omega-3 and -6 fatty acids but organic hemp seed oil, Omega-9, Vitamin C, Vitamin E and Biotin. Together, this powerful supplement will keep his coat shining and his heart and joints healthy. All in a tasty treat that takes the guesswork out of dosage. 90 chew treats.
Natural Dog Company – Skin & Coat Omega Supplement
Pooches love the tasty salmon and pea flavors this chewable fish oil supplement delivers. And you're going to appreciate how easy it is to give your dog the ideal dose of nutrient-rich Omega-3 and -6 vitamins he needs for a soft, shiny coat, healthy immune system and pain-free joints. 90 chews.
Active Chews Pure Omega Fish Oil for Dogs and Cats
This all-natural fish oil supplement tastes great and, unlike baked treats, it uses a no-heat, no-cook process to ensure 100% potency. Loaded with Omega-6 and -9, Omega-3 fatty acids, Vitamins C, E and H they're ideal for healing dry, itchy skin and for promoting optimal heart, brain and joint health. 120 soft chews.

Mary Simpson
Sharing space with three seriously judgy Schnoodles and two felines who prefer to be left alone. #LivingMyBestLife
More by Mary Simpson
Published September 15th, 2020 12:00 AM