3.1K Views
Natural Health: Brewer's Yeast Benefits For Dogs
We're committed to finding, researching, and recommending the best products. We earn commissions from purchases you make using links in our articles. Learn more here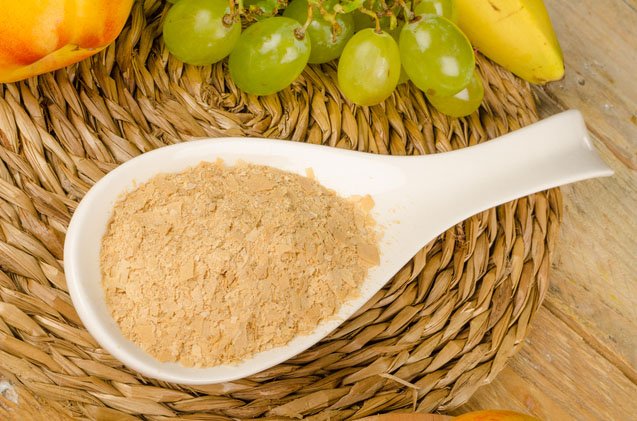 Looking to add a natural supplement to your pooch's diet? You'll find Brewer's yeast benefits for dogs may help sort out a few pesky health issues. We all want to make our dogs a little healthier. Here's an easy way to do it!
There are so many stresses involved with caring for a furbaby. We all want our dogs to live their best, fullest, and healthiest lives. However, ensuring that happens is a constant challenge. When it comes to your dog's health, you may be easily overwhelmed by the sheer number of options that you have in terms of treatments and supplements. The list is seemingly endless. In recent years, many dog owners have begun to turn toward more natural remedies for everyday problems as opposed to subjecting their dogs to prescription drugs and other non-natural substances that aren't good for their little bodies. One supplement that has become increasingly popular with pet parents lately is brewer's yeast. This is a special supplement that can make a remarkable impact on your pet's wellbeing when used properly. It's flying off the shelves an into the homes of pet parents everywhere. So, let's explore this intriguing ingredient and the Brewer's yeast benefits for dogs. You might be surprised by what it can do.
Brewer's yeast is made from a type of fungus called Saccharomyces cerevisiae and its primary use is in making beer. This type of yeast is also rich in nutrients (Note: No, this does not mean that a frosty brew is considered a vitamin! We wish that were true too, but sadly it's not.), so it can be used as a nutritional supplement as well. Brewer's yeast contains chromium, selenium, protein, and a number of B-complex vitamins. This supplement is available in several different forms. For human consumption, brewer's yeast comes in a powder that can be stirred into milk or juice. When it comes to brewer's yeast for dogs, however, it can be taken in tablet form or mixed into the food as a powder. There are several options, so there is certain to be one that will fit into your pup's lifestyle.
Benefits of Brewer's Yeast for Dogs
Because it is so rich in such a wide variety of nutrients, brewer's yeast has several health benefits for dogs. One of the most notable benefits is related to the chromium content found in brewer's yeast. Chromium is a trace element that helps to maintain blood sugar levels in the body. Brewer's yeast is also rich in antioxidants which can make your dog's skin healthier and his coat shinier. If your dog tends to suffer from itchy and dry skin, brewer's yeast may be helpful. This supplement can also help to reduce stress and calm your dog's nerves thanks to its high concentration of B-complex vitamins. Another benefit of brewer's yeast is that if your pet receives daily supplements of brewer's yeast, it may help to repel biting insects like ticks and fleas. Just a little added bonus if your dog has an unfortunate tendency to attract pests into it's life.
Tips for Using Brewer's Yeast
A good rule of thumb to follow when giving your dog brewer's yeast is to feed him no more than one tablet or one teaspoon per day. The exact dosage that is recommended will vary depending on your dog's weight, so follow the instructions on the package carefully. It is also important to note that some dogs may be allergic to yeast. If your dog happens to be allergic, he will likely develop dry and itchy skin, possibly even a rash. If this happens, stop supplementation and wait for the rash to clear up. If the rash clears, do not give your dog any more brewer's yeast. However, if the rash continues, it is likely due to some other cause and you should take your dog to the vet. Rashes are to be taken seriously. Never consider this to be a minor side effect and continue treatment. Stop feeding the pup brewer's yeast immediately.
A Few Things to Consider Before Giving Your Dog Brewer's Yeast
As with any other supplement that you might consider adding to your dog's diet, it's a good idea to consult with your veterinarian prior to adding brewer's yeast to the mix. You'll want to make sure that brewer's yeast is safe for your personal pooch and his doggy needs. This is especially true if he has been diagnosed with a health condition or if he is taking medications or other supplements. For example, certain anti-depressant and anti-anxiety medications might not interact well with brewer's yeast and lead to health problems. Also, if your pooch has been diagnosed with yeast allergies, or if he's prone to developing yeast infections, the brewer's yeast should be avoided (too much yeast is never a good thing). Plus, experts recommend that you avoid giving brewer's yeast to a dog that is immunocompromised. That would be a mistake.
As mentioned above, the amount of brewer's yeast that you should add to your dog's diet will depend entirely on his weight, so dosages will vary depending on size. However, in big dogs, the higher amount of brewer's yeast that would be necessary to be beneficial may also cause unwanted side effects (Again, too much yeast is never a good thing!). For example, the brewer's yeast dose for a large dog might result in symptoms like intestinal pain or an upset stomach. Therefore, canines that have been diagnosed with any type of bowel disease, as well as dogs that have colitis, shouldn't be given brewer's yeast. It won't end well for them and will cause problems.
Large dogs aren't the only ones that might suffer from side effects after taking brewer's yeast. All dogs might experience gas as a side effect as well, so this is definitely worth considering before you give your pooch this supplement. This is especially true if your pet, regardless of his size, is prone to digestive problems. We all know that dog farts aren't exactly the best part of being a pet parent, so it's always wise to do everything that you can to limit the gas that your pup produces.
Also, when shopping for a brewer's yeast product, look for the highest quality options that are sold by reputable brands. Your veterinarian might be able to point you in the right direction in this regard. So check in with a vet before committing to any sort of brewer's yeast supplemental routine. Your vet is the most qualified person to determine how much of the supplement to add to your pooch's diet (if any). Also, make sure read the label carefully, checking for any other ingredients that have been added to the yeast. You'll want to avoid any brewer's yeast product that contains other ingredients that won't agree with your dog. Some of these products have many sneaky ingredients, so stay vigilant and read those labels.
Finally, it's also important to be aware of the fact that this yeast can be high in calories. There are roughly 80 kilocalories in just an ounce, but if the brewer's yeast has been mixed with an omega-3 oil or other ingredients, there would be even more calories than that. Therefore, if your dog is having trouble maintaining a healthy weight, or if you are hoping to help your dog lose some weight, you need to take this into consideration. You don't want adding a supplement to your dog's diet to improve their health to backfire. After all, this is supposed to improve your pet's life, not make things worse. And, when determining your dog's daily caloric needs, add in the calories that he is getting from the brewer's yeast supplement to ensure he's not eating an excessive amount of calories. It's a tricky balance to maintain, but definitely worth it for the sake of your dog's longterm health.
If, on the other hand, you have a healthy adult pooch and you and your vet have concluded that brewer's yeast can serve as a helpful supplement to his high-quality diet, you can give him a small dose to allow the benefits of the brewer's yeast to take hold. Start small and then build. Suddenly making a dramatic shift in your dog's diet can have unexpected consequences. So take this responsibility seriously. Do the research and make sure you are giving your pooch the best chance of success when adding any supplement to his diet.
Best Brewer's Yeast Supplements for Dogs
Brewer's yeast supplements make matters easier for pet parents when it comes to dosing and administration, and the fact that they add more beneficial ingredients to the formula makes them even more effective for our pets. Look for different combinations to get different benefits: from those supplements that double as a flea-preventative to those that focus on preventing shedding, there's a choice to match any problem. If you are looking for a more palatable or a more potent version of brewer's yeast, check out these supplements for your pet.
1. Nutri-Vet Brewers Yeast with Garlic Chewables
The proven combination of garlic and brewer's yeast acts twofold- it will support your dog's skin and coat health, and it might work as a deterrent for fleas and external parasites. The formula contains B vitamins, minerals, and antioxidants that are beneficial for your pet's overall health and can assist with a range of skin and coat conditions. To boot, these chewables are liver flavored, so you won't have a problem coaxing your pooch into takin them- he'll snarf them up as a treat.
2. NaturVet Brewer's Dried Yeast Formula Plus Vitamins
NaturVet's Brewer's Yeast Formula with Garlic Flavoring is made with premium debittered yeast. Dogs and cats both love the taste of these made in the USA chewables and they're good for them too. Packed with B-vitamins and Vitamin C, they keep your pets' skin and coats healthy, while also protecting them against free radicals that can age them prematurely.
They're great as a supplement or as a 'treat' for your pet–we won't even tell them they're good for them too.
3. Only Natural Pet Brewer's Yeast and Garlic Skin Coat Supplement
If you're looking for a holistic way to keep your best pals pest free, Only Natural Pet Brewer's Yeast and Garlic Skin and Coat Chewables may be the answer. They're holistically formulated by a veterinarian to make pests sta away. How? With the unpleasant smell of garlic and brewer's yeast–but don't worry, you won't smell a thing and neither will your dog or other dogs. The chewable tablets can be given on their own, or you can crush it if they aren't going to fall for the 'here's a turkey treat' trick. (We think they may, though…they're delicious.)
4. PetNC Natural Care Brewer's Yeast Dog Supplement
PetNC Natural Care Brewer's Yeast supplements give your pets added dietary fiber, garlic and minerals to help them be healthy from the outside in. Dietary fiber helps ensure a happy gut, and the added garlic and minerals will make your pet's skin healthy and their coat smooth and glossy. The savory flavor makes your pets think they're getting a treat, and who says they're not with this veterinarian-formulated chewable. It's good to be used intermittently or as a supplemental as needed to strengthen coat and skin.
5. Thomas Labs Brewer's Yeast Powder Dog, Horse and Bird Supplement
If you want to promote the overall health of your dog, horse or bird, this Brewer's Yeast and Garlic supplement powder from Thomas Labs will do the job. The powder has B-complex vitamins, chromium, selenium and garlic as well as vital amino acids that support your best friend's energy levels and help prevent excess shedding. The powder makes it easy to give to them in their food, and keeps them feeling full of vim and vigor all their days.
Brewer's yeast can provide a number of nutritional benefits for your dog. Not only can it improve his skin and coat health, but it may help to calm nerves and maintain stable blood sugar levels. It can be something of a miracle supplement that will make a huge impact on a variety of aspects of your dog's life. However, all supplements have potential drawbacks and need to be approached cautiously. This is something that needs to be slowly mixed into your dog's diet and monitored carefully. It is not a magical powder that will instantly have a positive impact on your pup's life. So take your time, do the research, talk to a vet, and slowly introduce brewer's yeast into your pup's diet for the best results. To get your pet started on brewer's yeast, head to the pet store and look for brewer's yeast tablets of the right dosage for your dog's size.
Are you sold on Brewer's yeast benefits for dogs? Do you already use it as a supplement? If so, what improvements have you seen? Please leave your comments below. We'd love to hear from you.
We are committed to finding, researching, and recommending the best products. We earn commissions from purchases you make using the retail links in our product reviews. Learn more about how this works.

Kate Barrington
Kate Barrington is the loving owner of two cats (Bagel and Munchkin) and a noisy herd of guinea pigs. Having grown up with golden retrievers, Kate has a great deal of experience with dogs but labels herself a lover of all pets. Having received a Bachelor's degree in English, Kate has combined her love for pets and her passion for writing to create her own freelance writing business, specializing in the pet niche.
More by Kate Barrington
Published July 5th, 2021 12:00 AM