715 Views
Why Feeding Your Dog Liver is Awesome
April 30th, 2020 12:00 AM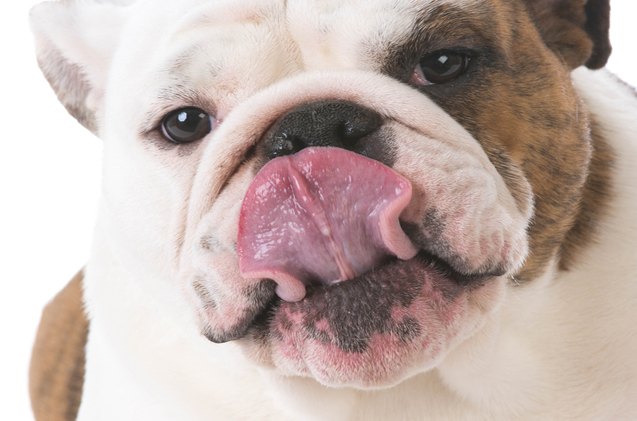 You may shy away from this organ meat, but liver is a doggy delicacy! Full of nutrients and protein, here's why you should serve your pooch more liver.
Many dog owners say that their dogs will eat anything and everything – especially things that look unappetizing to us. When it comes to organ meats like liver, however, something that may look or taste disgusting to you is actually healthy (and tasty) for your pup!
Why is Liver So Good for Dogs?
Liver is a type of organ meat and, as such, you may not think about feeding it to your dog in the same way you might feed him chicken or beef. Organ meats like liver, however, are extremely rich in nutrients and they are a vital part of your dog's diet. In fact, the raw food diet for dogs focuses specifically on raw organ meats like liver in combination with raw bones and muscle meat. Not only is liver very rich in protein, but it also contains healthy fats and key nutrients. Liver is a good source of vitamin A, iron, copper, phosphorus, and zinc as well as various B vitamins and essential fatty acids.
Vitamin A is one of the most important vitamins a dog needs in his diet – it helps to aid digestion, keeps his reproductive organs working well, and it acts as a powerful antioxidant. Various B vitamins (especially vitamin B12), help to protect your dog's mental health and they also help to prevent anemia. Iron, an essential mineral, plays a role in many important functions such as brain development, regulation of body temperature, and metabolism – this mineral can be found in abundance in fresh liver. Liver also has an anti-fatigue factor which can be particularly beneficial for active and working breed dogs. It is important to note that the nutritional value of liver is highly affected by heat, so avoid cooking it if possible.
It is generally safe to feed your dog small amounts of liver once or twice a week as a nutritional supplement to his regular diet. It is up to you whether you feed your dog pieces of fresh liver or you can purchase liver treats online or at your local pet store. Liver treats make it easy to keep track of how much you are giving your dog – this is very important because feeding your dog too much liver can lead to an overdose of vitamin A known as hypervitaminosis A. For small-breed dogs, one or two liver treats twice a week should be safe while medium-sized dogs can have 3 or 4 treats twice weekly and large breed dogs can have 5 or 6 treats. You can feed your dog liver from chicken, beef, lamb, or pork – even bison – but be wary of liver that comes from wild game because you cannot guarantee the quality of the organ meat.
As is true for all things, liver is a food that should be enjoyed in moderation for your dog. While it provides some significant health and nutritional benefits, there can be too much of a good thing. Stick to the recommendations provided above and your dog will experience the benefits of liver as much as possible.
If you are not too crazy about the idea of handling liver or giving your pooch raw organ meat- or don't know where to source it- there are still ways to ensure your dog gets to enjoy this delicacy and reap the benefits it offers. High-quality dog liver treats are made from single ingredient (animal liver) and can make sure your pet has a safe, non-messy, readily available source of essential nutrients. The trick is finding those that combine perfect flavor, superior ingredients, and an affordable price tag- but there are options that offer everything you need. These are our choices for best liver treats for dogs- just pick those that will match your pooch's flavor preferences.
These treats are made with a single ingredient and they boast both a superb flavor and crunchy texture that dogs love. The main ingredient is American-raised beef liver that's been slow-smoked for 24 hours before being packed in the bag- and this is what makes sure that the treats have that distinct hardness and crunchiness to them. All natural, healthy, and delicious- these beef liver treats are a fave of many with good reason!
Stella & Chewy's Freeze-Dried Lamb Liver Treats
If your pooch is allergic to beef or simply dislikes the taste of it, these are a perfect alternative. You might just want to switch things up a bit, too, and have your pooch try out something new and lamb liver is a healthy treat to introduce to their diet. This is also the only ingredient of these treats, and it's freeze-dried raw lamb in question- so no heavy processing or added flavoring. Perfect if you want something healthy and yummy both!
PureBites Beef Liver for Dogs
Sourced and made in the USA, these liver treats are all about what's good for your pooch. Made from freeze-dried beef liver- and only that!- these yummy goodies have all the nutritional value of raw liver without the ickiness factor and the risks raw meat organs can have. Easy to digest and naturally savory, these budget-friendly treats will have any doggo salivating.
Stewart Pro-Treat Chicken Liver Treats
If your pooch is crazy for all things chicken-flavored, he might also prefer chicken liver to beef or lamb. These single-protein treats are USDA-certified, as well as sourced and made in the Midwest. The pure chicken liver is freeze-dried to retain all of its health benefits and savory taste without the risk of bacteria that could happen with the raw liver.
Whole Life Pet Products Beef Liver Treats
For your precious pooch- only the best. These high-quality treats are made from human-grade beef liver and processed in the USA with the highest safety standards in place. The liver is freeze-dried from 15 to 20 hours to preserve nutrients and achieve that texture and savory taste dogs adore. And the fact that they're minimally processed and without added chemicals makes these liver treats all the better or your four-legged bestie!
We are committed to finding, researching, and recommending the best products. We earn commissions from purchases you make using the retail links in our product reviews. Learn more about how this works.

Kate Barrington
Kate Barrington is the loving owner of two cats (Bagel and Munchkin) and a noisy herd of guinea pigs. Having grown up with golden retrievers, Kate has a great deal of experience with dogs but labels herself a lover of all pets. Having received a Bachelor's degree in English, Kate has combined her love for pets and her passion for writing to create her own freelance writing business, specializing in the pet niche.
More by Kate Barrington
Published April 30th, 2020 12:00 AM