187 Views
April 29th, 2021 12:00 AM
We're committed to finding, researching, and recommending the best products. We earn commissions from purchases you make using links in our articles. Learn more here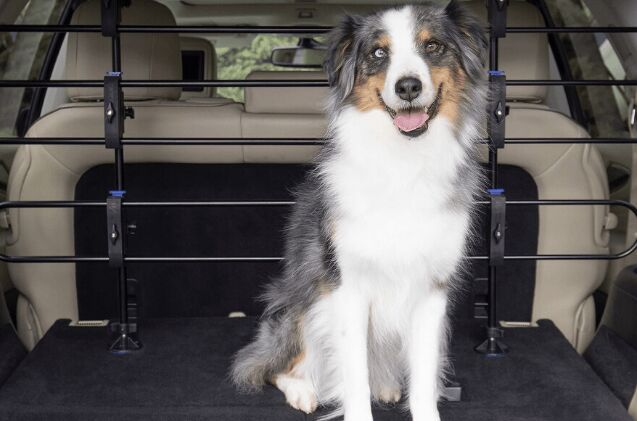 Dog car barriers keep curious pets safely away from the front of the car and eliminate cute but dangerous distractions while you drive. This nifty car accessory is a must for proper pet travel safety – read on to learn more about them and how to choose the right one for your needs!
For many pet owners, traveling without their pets is not an option. And why would it be? With more and more pet-friendly places we get to share with our four-legged besties, there's a ton of options for adventures and relaxation with our pets right by our side. Naturally, this also means that you have to think about your pet's safety as well as the safety of others. There are many risks that come with pet travel, especially when you're driving. Whether it's a long road trip or a short vacation, or just driving to visit the vet's office, when your dog is with you in the car, you will have to take necessary safety precautions. Not only that you have to think about protecting your pooch in case of an accident, but you also have to prevent your pet from causing a ruckus inside the car and potentially causing an accident himself, and one of the essential tools for this is a dog car barrier.
Sometimes, pet owners prefer using a travel crate, car booster seat or car harnesses for dogs to safely restrain their pets while they drive but these travel accessories are not the most convenient solution for every dog. Your pet might be anxious in a crate (or it can't fit in your car), and tethering your pooch could be insufficient to keep them from being mischievous while you drive. That's where car barriers for pets come in handy. Dog car barriers are meant to separate the front part of the car from the back (where the pooch is). This prevents your pet from climbing over to the front of the car or distracting you while you drive. At the same time, a dog car barrier is designed so it doesn't obstruct your view of the back – essential for driving safety. In addition to preventing your pet from accessing the front of the car and possibly cause an accident, a car barrier can provide some protection in case you are in one, too. If your pet is not tethered in the moment of impact, a car barrier would prevent them from being propelled forward or through the windshield.
Naturally, there are differences between types of dog car barriers – from the materials used to the design, not every model will suit your car and your pet. To help you find the right match in no time, we've rounded up the best dog car barriers on the market – you can't go wrong with any on our list. Read on to learn how to make car drives much safer for your pooch and yourself!
1. Bushwhacker Deluxe Dog Barrier
This sturdy and tough dog car barrier combines the best of both worlds to provide optimal safety. The frame of the barrier is made from lightweight aluminum tubes that help the barrier retain its shape at all times (regardless of your pet's efforts to shift it). The mesh fabric of the screen is scratch-resistant and tear-resistant – it gives good visibility, optimal airflow, but prevents your pet from accessing the front of the car. The Bushwhacker Deluxe Dog Barrier is 50 inches wide tapering to 42 inches at the top, which fits most cars and small SUVs.
One challenge that many dog owners face when trying to get their dogs situated for a long road trip is providing enough space on the back seat for them to comfortably lay down and relax while still buckled in. This is largely due to the gap that exists between the back seat and the front seat. Sure, that area serves as important legroom when it's a human sitting there, but it's nothing but a nuisance for our dogs! Not only does the Kurgo Dog Backseat Bridge solve this problem, but it also provides a barrier to keep the pet away from the front seat AND creates valuable luggage space when travelling.
The backseat extender sits on the back seat, creating a 'bridge' across the gap that can support up to 100lbs. It can also be folded to allow for sharing of the backseat with another passenger. In the back of the seat divider between the front seats, you will find a cup holder and a pocket for extra storage. Additionally, the space below the extender can also be used for storage. The reversible black and Hampton sand colors will help the bridge to match any vehicle interior.
3. Jumbl Pet Dog Barrier for SUV's
Designed to keep your pet safe in the cargo area of the car, this steel wire dog car barrier is a perfect match for SUVs, hatchbacks, and most cars – as it has adjustable side panels. The sides can be lengthened and shortened with a simple turn of the knob and the whole construction attaches to the headrest, so the barrier is not difficult to set up. The design of this car barrier makes it a good choice for pets that would tear a mesh-style barrier and require something sturdier.
4. Solvit Front Seat Net Pet Barrier
If your pooch is generally well-behaved in a car and you want to have a barrier just in case of unexpected situations, this mesh car barrier is a solid choice. It is made from micro-mesh that's easy to see through, but also easy to rip if your doggo is naughty. The design covers only the center front part of the car (in between the headrests and seats) so if your dog is keen on putting his head in the front, he can do it from the sides- another word of caution for pawrents with mischievous pets!
5. PetSafe Happy Ride Metal Dog Barrier
Your pet's safety during car drives- as well as your own- should be your primary concern and any distractions should be decreased to an absolute minimum. To help prevent a particularly rowdy pet from jumping in front of the car while you drive, you'll need a barrier that's reliable, tough, and offers good coverage- and that's precisely what PetSafe Happy Ride Metal Dog Barrier provides. The tubular design of this dog car barrier makes it lightweight and sturdy at the same time- it will stay in place no matter how much your pooch tries to change that.
This barrier uses clasps to attach to the car and boasts rubberized top and bottom caps that not only make sure that the barrier doesn't move an inch, but it also ensures that there are no rattling sounds when you hit a bump on the road. Additionally, PetSafe Happy Ride Metal Dog Barrier is manufactured with lightweight rattle-free metal, so not even your pet's attempts to reach the front of the car will distract you from watching the road. This barrier is adjustable so it will fit most cars and SUVs – it can be used to section off the back seat or cargo area.
6. AUTOWN Car Dog Barrier
If your pet is not too strong or doesn't aggressively try to climb in the front seat, but you still want something in between the front and the back, this lightweight net barrier is a good choice. While it won't deter a big, rowdy pooch determined to ride shotgun, it will do the job for a small or medium-size dog. The net is made from thickened polyester fiber that's stretchy to boot – so it doubles as a storage space for your pet's toys or other travel necessities. AUTOWN Car Dog Barrier attaches to the front seats with hooks and it's a match for most car makes and models.
7. rabbitgoo Dog Car Barrier
Traveling with your doggo can be a dream- but it can be a nightmare, too. To keep everything under control and to prevent your pup from disturbing you while you drive, you can rely on a sturdy and efficient dog barrier. The rabbitgoo Dog Car Barrier design leaves no margin for error and covers all the bases. Made with steel bars, this wire mesh barrier features an adjustable design that makes fitting a breeze. With one main panel and two smaller, adjustable side panels, you can fit this barrier into any SUV or a passenger car.
One of the many great features of this design is the no-tool attachment style. With the help of strong straps and buckles, the barrier is attached to the car seats and stays in place at all times. Depending on the type of your vehicle, you can opt to leave the two side panels attached or removed. A simple screw knob helps you remove them altogether if you need to. This adjustability is one of the major advantages of this reliable design.
8. Honest Luxury Quilted Dog Car Seat Cover
Why not get two travel necessities with one purchase? This high-quality quilted waterproof car seat cover will keep your seats spotless and protected and make sure that your pet can't climb in the front at the same time. The anti-slip cover will envelop the whole back seat and the sides, too, and the front flap restricts access to the front, acting as a barrier. Made from Oxford cloth in four layers, this car seat cover is not just functional but comfortable as well! Due to the design and dimensions, it will fit most cars with bench back seats.
9. Wellbro Dog Car Backseat Barrier
Not all dogs act like Tasmanian devils as soon as you hit the road- and it's those moderately curious pooches that this car barrier is meant for. In case your pet isn't the type to try and jump over the barrier or go crazy clawing at chewing at it, this nylon mesh barricade will do the trick. Wellbro Dog Car Backseat Barrier is made from durable nylon fabric and soft EVA interlayer, with a sturdy net in the center- this will allow your pooch to see what's happening in the front but prevent them from reaching that area of the vehicle.
The adjustable straps with swivel hooks make this dog car barrier effortless to install and versatile, as well- this barrier fits a range of vehicles, from regular cars to SUVs and trucks. The dimensions of the barrier are 24" by 24" so it is large enough to fit any gap between seats with ease.
10. High Road Dog Car Barrier
With a budget-friendly price tag, quality materials, and clever design, this car barrier offers great value for money. This car barrier is adjustable and easy to attach but with multiple connecting points, it's actually sturdy and stays in place regardless of your pet's antics. The coated mesh screen sits firmly on the cushioned steel frame and allows your pet to see what's up in the front while keeping them safely in the back. The dimensions of the High Road Dog Car Barrier make it a universal fit.
What are car barriers and how to properly use them
As we've mentioned above, dog car barriers are designed to keep your pet from climbing over to the front of the car. The barrier is usually attached to the front seats for stability and made from materials that allow good visibility to ensure road safety. In most cases, the choice is either breathable mesh fabric or plastic or aluminum bars (or mesh) design. Alternatively, the material can also be tough, solid fabric – but only for those barriers that don't go all the way up and won't restrict your view of the back. This type of barrier is usually a 2-in-1 car seat cover that can restrict access to the front area to some degree, and it's meant for tethered dogs. As they can't jump over to the front, you won't need as much coverage – a car seat cover that can be attached to the front will somewhat limit their access and can be a good choice.
The setup of dog car barriers is simple as most of them require a few minutes of time and basic skills – usually, all you'll have to do is loop the attachments around the front seat headrest, and you'll be all set. In the case of tougher barriers that are made from metal or plastic, the process might be a bit more complex than that but still nothing that requires tools or hassle.
Even though the main goal is for the barrier to be sturdy enough to keep your pet from wiggling his way to you while you drive and it's important that it can stay in place – but you will have to be realistic. If your dog jumps constantly or scratches at the barrier throughout the trip, it can come apart or shift in place, so if you have a pet that's not well behaved during car rides, a car harness in combination with a barrier would be a better choice. Also, in case your pet is an aggressive chewer, no mesh fabric can hold him restricted, so opt for materials that are more durable.
What to look for in dog car barriers
Your pet's safety should always be your primary concern – choose the barrier with care. Not all dog car barriers are made alike, and, unfortunately, not all of them do what they promise, so it's important to choose those that are durable, convenient, and a good match for your unique needs (car model, pet size, pet behavior, etc.). Here are some important things to consider when buying dog car barriers – to make sure you'll get the best bang for your buck.
Fit
This is one of the first things to consider when buying a dog car barrier – will it fit your vehicle make and model? Luckily, most dog car barriers are a universal fit, but it still pays to check before buying. Choosing a barrier whose dimensions or fastening design don't suit your car can damage your seats and it will be insecure for you to use it even if you somehow manage to attach it.
Placement
There are two main types of dog car barriers, based on the placement. First, the standard car barrier that goes behind the front seats to prevent access from the back seat. The second type are dog car barriers that are meant to be installed behind the back seat of the car to make sure that your pet can't pass to the cargo space- or climb from it to the inside of the car. The second type is usually meant for SUVs and vans, and the first can be used on all types of cars. Regardless of the placement, though, you should make sure that the barrier you chose really covers all the areas that could allow access to the restricted area in question – especially if you have a small dog.
Durability
Let's face it- not all dogs are well-behaved in the car and will be sitting quietly so the barrier is there just in case of unexpected scenarios. Some doggos are rowdy and curious and will scratch and paw at the barrier, so it's best to opt for those that are made from materials resistant to wear and tear expected with pet use.
Coverage
The amount of coverage you need will depend on different factors, but mostly the size of your dog and their behavior. Bigger dogs and those more likely to misbehave need barriers that cover the passage between the front and the back completely or almost completely. In case they are petite or super crafty, be sure to pay attention to the small openings on the bottom or sides where they could exploit the design flaw to wiggle their way through. Of course, for smaller pets and dogs that are not too rowdy, something that goes halfway up (like car seat covers or smaller car barriers) will do just fine.
Material
There are various materials used to make dog car barriers – but you can split them into two categories: soft and hard. Soft dog car barriers are usually made from intertwined ropes or tough mesh fabric which allows visibility and keeps dogs restricted to the back seat. They are easy to install, store and use- and they are budget-friendly. However, if you know your dog is going to test the limits of the barrier once you're on the road and you don't plan on tethering them, you might want something a bit more difficult to destroy or shift around. Hence the hard car barriers for pets! They are made from plastic or lightweight metals in form of bars or wire and will stand up well to pawing and mischievous pooch trying to demolish it. Of course, there are some potential downsides – they are not as easy to attach and remove when you please (they are removable and easy to install, the process is just not as effortless as it is with soft barriers).
We are committed to finding, researching, and recommending the best products. We earn commissions from purchases you make using the retail links in our product reviews. Learn more about how this works.

Angela Vuckovic
A proud mama to seven dogs and ten cats, Angela spends her days writing for her fellow pet parents and pampering her furballs, all of whom are rescues. When she's not gushing over her adorable cats or playing with her dogs, she can be found curled up with a good fantasy book.
More by Angela Vuckovic
Published April 29th, 2021 12:00 AM