35 Views
April 26th, 2021 12:00 AM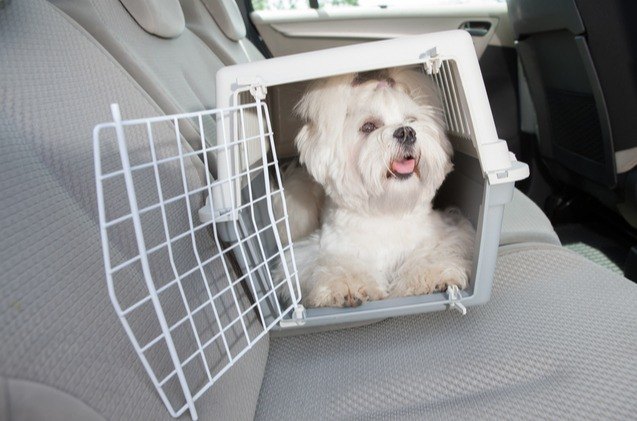 Dog travel crates make sure your pet can safely accompany you on your trip–whether you're in a car, train or plane. Of course, not all travel crates will give your pet the comfort and security he requires, so make sure to read on for the scoop on the best ones the market has to offer.
You'd be hard-pressed to find a pet pawrent that doesn't want to take their four-legged bestie everywhere they go. Taking your pooch with you on dinner dates, movies, clothes or groceries shopping–I mean, there's nothing that couldn't be made better with your pet's company. Not surprisingly, one of the most important things for dog owners who travel is figuring out how to take their pet with them–or in the case that's not doable, how to make sure they are well-taken care of in their absence, often in dog boarding or with a pet sitter. But when you need to travel with your dog, whether it's a road trip or a plane ride, you need to make sure you are well-prepared to ensure both your pet's comfort and safety while he accompanies you.
For most modes of transport, dog travel crates are a suitable way to keep your pet safe. Whether you're driving a car, riding on a train or a plane, dog travel crates will be a must-have accessory. When you're using public transport, there are certain rules and regulations you'll have to meet if you want Fido to go on a vacation with you, so you'll have to make sure that the travel crate or carrier you chose fits the requirements of the company you're using to travel. That's why airline-approved dog travel crates and carriers are a must for when you're flying to your desired destination, and even certain railway companies have their own requirements when it comes to dogs on board- many of them demand that a dog is crated when on the train. In your own car, you might opt for dog booster seats or car harnesses for dogs if your pet is not too large or rowdy, but in case their size or behavior demands it, a travel crate will make sure you can focus on the road and your pet is comfy until you reach your destination.
There are many different types of dog travel crates out there- the variety ensures that pooches of all shapes and sizes can find the right fit and that you can find the perfect type of crate for your preferred mode of transportation regardless of your budget. As a result, though, it can be difficult finding the perfect travel crate without having to spend hours researching–so we've made it easy for you. To make sure you can find the best travel crate for your dog in no time, we've rounded up the best dog travel crates for a pet-friendly trip.
Petsfit Sturdy Wire Frame Soft Pet Crate
Robust, easy to store, and budget-friendly, this travel pet crate is perfect for long car rides–and it can double as a regular indoor crate, too. Made from 600D Oxford cloth for durability and toughness, this soft collapsible pet crate features three ventilation mesh windows (that can be covered if need be) and a soft, machine-washable mat to ensure superior comfort during the time your pet is crated. Petsfit Sturdy Wire Frame Soft Pet Crate comes in two sizes that fit small and medium size breeds, respectively.
Made in the USA and approved by most airlines, Petmate Sky Kennels boasts a heavy-duty, high-impact plastic shell that is durable and virtually impossible to chew through–especially considered that it is paired with heavy-duty steel wire bars on the doors and the side windows of the crate. In addition to the crate, you'll also be getting a clip-on food and water cup, and a "Live Animal" sticker that is a must when your pet has to be placed in the cargo. This pet travel crate comes in small, medium, intermediate, and large size and it is perfect for traveling by plane.
AmazonBasics Two-Door Top-Load Pet Kennel
If you're on a tight budget but still want to make sure your pet is safe and comfortable during your trip, this plastic kennel from Amazon could be just what you need–in case you need to transport a puppy or a toy breed dog. With two doors, one top-load and the other at the front of the carrier, you'll have easy access to your pet at all times, so if you need a travel crate for a trip to the vet's office, for instance, you won't have to worry about getting your pet out when it's time for their treatment.
Aspen Pet Porter Travel Kennel
Tough, durable but very portable at the same time, this heavy-duty travel kennel is fully compliant with air and highway travel requirements- it is a good choice for airplanes and car road trips both. It will keep your pet safely contained and comfortable during the trip, with plenty of space for furnishing and decent airflow through the door and the sides. This also allows better visibility for the pet, which may help calm them if they are nervous or if it's their first time using the travel crate.
Made from high-quality plastics and metal screws, it will easily withstand your pet's claws and general wear and tear while remaining lightweight enough for convenient transport. To boot, plastic is incredibly easy to clean – just wipe down any dirt or dust with a damp cloth. Aspen Pet Porter Travel Kennel is available in 9 sizes (ranging from under 10 lbs to 90 lbs) and 13 different colors to match any pawrent's style.
Petnation Port-A-Crate Indoor and Outdoor Home for Pets
Even though this sturdy travel crate has an extra-strong steel structure, it is still lightweight and perfectly portable- which makes it the ideal accessory for all your vacations and road trips. Water-resistant and fully washable, this travel crate is easy to clean, so don't hesitate to take it with you when you go camping or spend the day in the great outdoors with your pet by your side. When not in use, this soft-sided crate folds flat so you can store it literally anywhere–regardless of which size you get. Petnation Port-A-Crate Indoor and Outdoor Home for Pets is available in four sizes to fit almost any pooch.
Chesapeake Bay Heavy-Duty Rolling Airline Pet Crate
With wheels that can be taken on and off as you please, this travel crate can make your life so much easier when you need to transport your pet- especially when you travel by plane. Made out of sturdy plastic and metal wire bars on all of the ventilation openings as well as the door, this travel crate will keep your pet safely constrained without compromising on their comfort. This travel kennel comes with snap/on food and water bowls included. Chesapeake Bay Heavy-Duty Rolling Airline Pet Crate is suitable for small breed dogs.
This all-in-on soft-sided dog crate can be used for training, as an indoor-only dog crate, as an outdoor crate for your adventures, and most importantly–as a safe travel crate for when you're going on a trip with your pet. Sturdy and cleverly designed, this dog crate has ventilation windows and a fleece cushion pad to make sure your pet is comfortable. The water-resistant, soft Oxford 600D fabric cover is removable and machine washable–and it comes in five different styles. 2PET Foldable Dog Crate is available in small, medium, large, extra large, and extra-extra large size.
Petmate Navigator Pet Kennel
If you want to have a reliable, tough, and versatile kennel that can be used at home and when you travel and will fit your puppy as he grows, Petmate Navigator is an excellent choice. This travel crate comes with a Grow With Me divider that ensures that the crate suits your dog as he grows–you could use this crate from his puppy stages to his senior years, as it is both adjustable and durable enough. Made in the USA from heavy-duty plastic, Petmate Navigator comes in five different sizes.
Noz2Noz Soft-Krater Indoor and Outdoor Crate for Pets
This soft-sided, foldable dog crate was designed with travel in mind: not only that it is ideal for when you're on the road, but you can also use it in the hotel room where you stay to give your pooch a safe haven and a secluded comfy spot of their own in a new environment. Sturdy but lightweight, this travel crate is easy to clean, folds flat and well-ventilated: everything you want in a portable crate for travel. Noz2Noz Soft-Krater dog crate comes in five sizes and fits dogs that weigh anywhere from under 15 pounds to 100 pounds.
You & Me Classic Dog Kennel
If you have a rowdy and energetic pooch, this travel crate is a good choice as it has tie-down slots for added restraint. Made from durable plastic with a stainless steel latching door, this kennel will make sure your dog doesn't get out during the ride–no matter how hard he tries. You & Me Classic Dog Kennel comes in extra-extra small, extra small, small, medium, and large size.
Crate training a dog for travel: general tips
Some people crate train their puppies from the get-go, both because they plan on using a crate regularly or just to make sure that in case they happen to need to crate their dog, he will not protest or feel anxious. But, in the case your pet is yet to be crate trained and you want to make sure they can travel with you without making a fuss, here are some useful tips on how to crate train a dog for travel:
Take baby steps
The most important thing, like with all types of dog training, is to be patient and start small. You can expect your pooch to instantly change his routine and take to his crate overnight! Start by letting them sniff around the crate, get inside with the doors open to explore, etc- don't expect them to be comfortable on their own from the beginning. Some dogs will adapt to a crate faster than others, but, still, it's best not to push them too fast.
Make the crate inviting
You want your pet to like spending time in a crate- so make it as cozy and inviting as you possibly can. Put their favorite blankie or cushion inside, toss in their toys, add a bowl with kibble or sneak a treat in–once your pet starts associating comfort and rewards with the crate, they'll happily stay inside the crate!
Rely on reward-based methods
Whatever you're teaching your pooch, positive reinforcement is the way to go. You can't yell at your pooch or force them to be inside the crate if they don't want it–it will only be counterproductive and not to mention cruel. Instead, give them a reason to work for–treats and praise do wonders even with the most stubborn pooches.
Test before the big day
Even when you think that your dog is completely ready to travel in a crate, you shouldn't go on a trip without testing out the waters first. Before you board your dog on a plane or put the crate in the back seat of your car, you have to be absolutely certain that they won't start to panic or try to break out and hurt themselves in the process. To "verify" your dog's readiness to be crated, leave them in a crate while you're out of the room to see how they behave without you around (use a dog monitor camera or just spy from the other room). You could also take them out for a test-drive and crate them on a short distance trip with your car–if that's an option.
Features to look for in dog travel crates
Despite what you may think, picking out a perfect crate is harder than it seems. Each pooch is unique and what works for one won't necessarily work for the other–not to mention that, in some cases, you'll have to pick a dog travel crate according to transportation mode. Needless to say, there are plenty of factors to consider before you decide on a crate for your pet, but here some of the most important ones:
Size
The first and the most obvious difference you have to account for is the dimensions of the travel crate. There are dog travel crates out there to fit the tiniest Pom-Chi as well as those designed to accommodate an adult Great Dane–so choose wisely. Measure your pet and compare the numbers rather than go by breed size as many manufacturers apply size tags liberally. As a good rule of thumb, your pet should have enough room to sit and stand upright in the crate, as well as enough space to lie down and take a nap. In the case you are looking for a dog crate for long-distance trips, be sure to go for those that have room for food and water bowls or a way to attach them to the sides of the crate.
Transportation mode compatibility
This is important if you travel by plane–as many airline companies have their own specific requirements in terms of pet transport. Some allow smaller breed dogs to be on board with you (in an appropriate carrier, of course) but many of them insist on dogs being crated in the cargo area of the plane, especially if they are larger. In case you're looking to buy a dog crate for plane travel, be sure that it is airline-approved first.
Materials
The choice of materials will depend on your needs–and how durable you need the crate to be. Usually available in wire and hard plastic, dog travel crates can also be soft-sided and made from durable fabric that folds with ease. However, have the mode of transportation in mind when choosing materials- you don't want something your pet can chew through during the ride, especially if you can't keep an eye on them.
Safety
The crate should be properly ventilated to make sure your pet will have enough fresh air and optimal temperature inside. Similarly, you should make sure that the crate is securely closed at all times because the last thing anyone needs is your furry Houdini finding his way out in the middle of your drive–so go for dog travel crates that have locks and reliable locking mechanisms in place.
Ease of storage
Unless you and your four-legged companion are bonafide globetrotters, the crate will spend most of its time in storage. Foldable or collapsible dog travel crates are the best choice for everyone that needs a space-saving solution as they can be tucked away under a bed, for instance, without requiring any storage space at all.
We are committed to finding, researching, and recommending the best products. We earn commissions from purchases you make using the retail links in our product reviews. Learn more about how this works.

Angela Vuckovic
A proud mama to seven dogs and ten cats, Angela spends her days writing for her fellow pet parents and pampering her furballs, all of whom are rescues. When she's not gushing over her adorable cats or playing with her dogs, she can be found curled up with a good fantasy book.
More by Angela Vuckovic
Published April 26th, 2021 12:00 AM