566 Views
4 Top Tether Training Tips for Dogs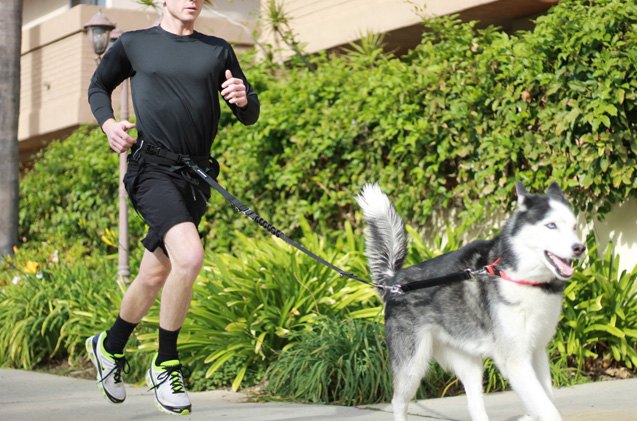 Tether training for dogs is recommended to help owners overcome potty problems, exercise or walk with a hands-free leash. Here's the proper way to tether train your dog.
When you see a dog tied up you probably feel a little pang of pity. After all, dogs are active animals and they do not deserve to be chained for long periods of time. In fact, using a chain or leash as a primary form of confinement has been shown to increase aggression in dogs.
Tether training, however, is an entirely different thing and it can actually be quite beneficial for your dog.
What is Tether Training and Why is it Beneficial?
The word "tether" is generally used to describe a short (about 4 feet long) cable with a snap on either end. The purpose of a tether is to restrain your dog for a short period of time while in your presence and it can be used as a training tool for behavior modification, bond-building, and various forms of training.
One of the main benefits of keeping your dog tethered to you is, of course, that you will be able to supervise him at all times – this is extremely important for potty training and it will help you build a stronger bond with your puppy from the very start. Using a tether will also help to keep your puppy from getting into trouble on his own around the house.
In addition to potty training and supervision, tether training can also be used to teach your puppy positive habits like remaining calm in the presence of guests. Many people also use tether training to teach their dog to run or walk on a hands-free leash – you can even train your dog to run on a tether attached to a bicycle.
No matter what you use the tether for, there are some important aspects of tether training that you need to include so your dog doesn't come to view the tether as a form of punishment. Before you actually start using the tether you'll have to get your puppy used to it and take steps to help him form a positive association with the tether.
The Top Four Tips for Tether Training
Tether training is by no means a complicated form of dog training but there is definitely a right and a wrong way to go about it. To help ensure your success with tether training, consider and employ the top four tether training tips provided below:
1. Familiarize your dog with the tether before you actually start training and teach him that the tether is associated with good things, not bad. Start by just attaching the tether to his leash then praise and reward him, working your way up to keeping hi
As is true with any type of training, it will take time for your dog to get the hang of tether training. Just be firm and consistent in your training methods and be patient with your dog as he learns. Once your training is complete both you and your dog will be able to enjoy the benefits!
Tether training can only be properly done if you have the right equipment. Dog tethers or leashes come in all shapes and sizes, but for this type of training, you will need a shorter and secure tether that allows you to keep your pet by your side without requiring you to use your hands. Some are especially great for different specific uses, e.g. for cycling with your pet and others are versatile enough for both training purposes and running. Whatever your needs are when it comes to dog tethers, though, it's important to make sure you're getting a quality leash that will make sure your pet is safe when you're out and about. To help you find the right match, we've rounded the best leashes for tether training- pick one that suits your training stage.
Well-made and fully adjustable, this hands-free dog leash ticks all of the boxes for tether training. The length of the leash can be modified from 22 inches to 40 inches and the waist belt can be adjusted to fit the same range so it can be a match for any body type. In case of emergency, the leash can be released with a quick-release clasp- a great safety feature.
Pet Dreamland Hands Free Dog Leash
Unlike most regular flat leashes, this tether is made in the bungee cord style that has shock-absorbing qualities- it's the ideal option for dogs that like to pull. The length of the tether can be adjusted as well as the belt. The leash extends from 59 inches to 76 inches, and the waist belt can be taken in to 27 inches or let out to 48 inches. A great option for joggers that want a reliable hands-free leash!
Walky Dog Plus Hands Free Dog Bicycle Exerciser
If you want to train your pet to accompany you while you cycle or want to have a handy gadget that will allow your pooch to exercise by your side, this nifty tool will allow it. The stainless high-carbon steel rod attaches to any type of bicycle with ease and the short parachute paracord leash keeps your pet right by your side- but at a safe distance that ensures your pet is not at risk from other vehicles or your own bicycle.
LANNEY Hands Free Dog Leash for Running
Designed especially for running, this tether comes with a convenient waist pack that can hold all your pooch's necessities- treats, poop bags, your keys, etc. The tether is a shock-absorbing bungee with two handles that allow you to get a firm grip on your pet in seconds if needed- which is perfect if your dog is still learning the ropes.
Pet Dreamland Hands Free Double Dog Leash
If you have two pooches you want to jog with or take on a hands-free leash walk, you'll love this clever design. Available in two sizes, small and large- for dogs that weigh between 10 and 35 pounds each and those that weigh from 35 to 150 pounds. With a bungee cord leash and grips on each, you can use this tether for pooches that are still in training and those that are seasoned pros.
We are committed to finding, researching, and recommending the best products. We earn commissions from purchases you make using the retail links in our product reviews. Learn more about how this works.

Kate Barrington
Kate Barrington is the loving owner of two cats (Bagel and Munchkin) and a noisy herd of guinea pigs. Having grown up with golden retrievers, Kate has a great deal of experience with dogs but labels herself a lover of all pets. Having received a Bachelor's degree in English, Kate has combined her love for pets and her passion for writing to create her own freelance writing business, specializing in the pet niche.
More by Kate Barrington
Published May 1st, 2020 12:00 AM