1.1K Views
Best Hydrogen Peroxide for Dogs
February 25th, 2022 12:00 AM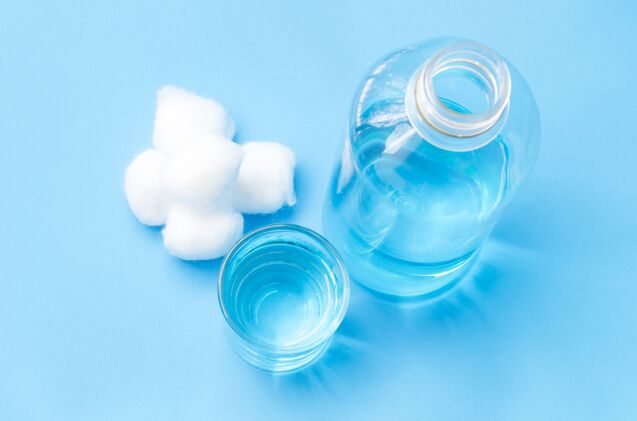 Hydrogen peroxide for dogs is a topical antiseptic that has multiple uses, from disinfecting wounds to being an efficient way to make your dog throw up in case of poisoning. It is a great thing to have on hand for all kinds of emergencies – these are the best hydrogen peroxide options for dogs.
Doggos can be quite the mischievous little devils. They are full of energy, and if you leave them without attention for even a moment, they can end up in all sorts of trouble. This means that unexpected cuts, bruises, abrasions, and scrapes can occur all of a sudden. And you will need an efficient way to treat them at once. If you fail to do so, an infection might quickly arise. Your standard 3% hydrogen peroxide for dogs is a great and affordable solution. Ideal as a first aid antiseptic and disinfectant, it is ideal for use on dogs, but anywhere else as well. Did your pooch roll into something smelly or had an unfortunate "date" with a skunk? Hydrogen peroxide will make it a thing of the past. Surface scrapes and minor cuts? Sanitize them at once. Need to quickly induce vomiting? Hydrogen peroxide to the rescue. As you can see, it is a great and reliable solution to have in the house. Here are the ten best 3% hydrogen peroxides for dogs on the market – read on and make your pick.
1. Editor's Choice: Essential Oxygen Food Grade Hydrogen Peroxide 3%
Food-grade hydrogen peroxide is great to have around the house, especially if you're a dog owner. Not only is it good as a disinfectant, but can also help with cuts and wounds, and with the removal of smells. This Essential Oxygen hydrogen peroxide comes in one 32 fl. oz. bottle, leaving you with solid stock for general use. Being 3% strong, it won't burn or cause a reaction like the stronger ones that have 12% or even 35% hydrogen. That makes it ideal for dogs and general home use. What's even better, this hydrogen peroxide is super clean and safe: it contains no toxic stabilizers, and it's non-GMO. This makes it safe for homes with gray water systems. And to top it all off, it is eco-friendly and safe for the planet. As the brand puts it: "It's good for the environment making grass greener and oceans cleaner."
Pros
Generous amount in one bottle
Non-toxic
Great for a variety of uses
Non-GMO
Cons
Can have issues with broken seals
2. Runner Up: Solimo Hydrogen Peroxide Topical Solution USP
Solimo is one of Amazon's flagship brands that deal with a variety of item categories. This topical solution hydrogen peroxide is just one of their reliable and efficient products. A great disinfectant and first aid antiseptic, this hydrogen comes in a 32 fluid-ounce bottle. For general purposes, this can last quite a while. Of course, the active ingredient here is 3% stabilized hydrogen peroxide. Any scrapes, burns, cuts, or pokes can be quickly made safe with this disinfectant. Once opened, this bottle can be effective for up to six months, with the best period being up to 45 days.
Pros
Great for first aid
Easy to store square bottle
Great for general use
Satisfaction Guarantee
3. Customer's Choice: McKesson Antiseptic Hydrogen Peroxide 3% Strength
McKesson is one of the reputable brands that have a long and impressive history. This 3% strong hydrogen peroxide is fantastic for everyday use around the house, whether you need to disinfect your kitchen or bathroom, to remedy a cut or a scrape, or to clean your dog's cut or a scrape. When applying this hydrogen peroxide, you will notice the unmistakable foaming. This is due to the release of oxygen – and that's the thing that really kills the bacteria. McKesson offers this rather small bottle with just 4 fluid ounces, but that makes it great for small first aid kits, and ideal to carry in your pocket or the backpack.
Pros
Good for first aid kits
Ideal for dogs
Effective
4. Best Antiseptic: Dealmed Hydrogen Peroxide 3% USP
Doggos can get in all sorts of trouble. Tiny cuts and scratches can be an everyday occurrence when your dog is mischievous and full of energy. That's why it is great to have some 3% hydrogen peroxide close at hand, to quickly treat the cuts and kill the bacteria and the possibility of infection. Dealmed's hydrogen is proudly made in the USA for many generations and comes in a mid-sized 16 fl. oz. bottle. It is great to have at any place: whether at your home, in the car, or in your pack. You never know when you may need a good antiseptic or a general disinfectant, whether for your dog or yourself. The bottle has an easy-open, leak-proof lid for safe and easy use.
Pros
Easy-open lid
Great for many uses
Easy for storing
5. Best Food Grade: The One Minute Miracle 3% Hydrogen Peroxide Food Grade
This super effective 3% hydrogen peroxide from The One Minute Miracle is exactly that – a quick-acting disinfecting miracle. Any little cut or scrape, any bad smell, or bacteria spot can be quickly eliminated with one swipe of this strong solution. This organic and food-grade certified hydrogen peroxide finds a multitude of uses around the house, and for every dog owner. It is great for the removal of stubborn stains, and for removing that persistent odor your doggo might be sporting, as well as inducing vomiting in case of poisoning. With over a decade of experience, The One Minute Miracle proudly guarantees the effectiveness of this product. Made in the USA, it is non-toxic and comes in a nifty glass bottle of 12 fluid ounces.
Pros
Sturdy glass bottle
100% money-back guarantee
Great for emetic purposes
Cons
Could benefit from a bigger bottle
6. Best Topical: Swan Hydrogen Peroxide Topical
Swan is one of the iconic brands when it comes to hydrogen peroxide. Just look for that unmistakable swan symbol, and you're sure to find a reliable product. This 3% topical hydrogen peroxide leaves little to be desired. It comes in a solid 16 fluid ounces bottle and has powerful antiseptic capabilities. This makes it great for everyday use, and great for pets as well – if you need to disinfect a surface wound or neutralize bodily odors, this topical solution will work like a charm. Another great feature here is the square bottle. Not only is this shape easy to store in your cupboard, but it also uses less plastic than a regular round bottle. And with it being fully recyclable, this makes Swan's hydrogen peroxide a truly eco-friendly product!
Pros
Eco-friendly square bottle
Solid amount at 32 fl. oz.
Easy to store
7. Best Gallon Pack: Hydrox Hydrogen Peroxide 3%
Proudly made in the USA, this Elgin, Illinois-based brand offers some true American hydrogen peroxide. With 3% USP strength, it is great for everyday use around the home. You can sanitize and disinfect anything you think of. It is great for pet owners too! As we all know, dogs can bring in all sorts of bacteria on their paws or snouts. A bit of hydrogen peroxide will fix it all right away. This brand offers the iconic square bottles of 16 fl. oz. that are ideal for storing in the kitchen or bathroom cupboard and will take no space at all. This hydrogen peroxide is great as an oral debriding agent, and for dogs, it is great for disinfection and emergency uses. Hydrox Laboratories was established in 1913 – with over 100 years of experience, you know you're onto something good and reputable!
Pros
Proudly USA made
Generous size for multiple uses around the home
Suited for use on dogs
8. Best Disinfecting: Viva Doria Hydrogen Peroxide 3 Percent
If you are looking for a reliable, no-hassle disinfectant for use around the house and with your pets, this Viva Doria 3% hydrogen peroxide comes as an ideal solution. A food-grade first aid antiseptic, this hydrogen peroxide is not great only for treating minor cuts and abrasions but is also ideal for dog owners as it can remove bacteria in a variety of spots, and help with odors too. It is important to remember that this is food-grade hydrogen peroxide. This makes a great difference from the technical grade one since it has no harmful chemical stabilizers and is stronger as well! Viva Doria's product is proudly made in the USA, so if you are looking for some trusted home quality, this is it.
Pros
Food grade – no chemical stabilizers
Made in the USA
Great for a variety of uses
Cons
Can lose potency fast after opening
9. Best First Aid: Dr. Lift Hydrogen Peroxide 3%
Dr. Lift's 3% hydrogen peroxide is proudly and reliably used by doctors, hospitals, and at home as well. A true multi-purpose solution, this reliable hydrogen peroxide is great to have close at hand at all times. If you are a dog owner, then you will certainly find this useful: it can help disinfect small surface wounds, de-skunking, or induce vomiting. Dr. Lift's products are proudly USA-made.
Pros
Ideal for dog owners
Good for disinfecting
USA-made
Cons
16 fl. oz. bottle might be too big for portable first aid kits
10. Best Home Use: Humco Hydrogen Peroxide 3% Topical Solution
This Humco topical solution of 3% hydrogen peroxide is ideal for various uses. At home, you can use it for treating minor cuts and scrapes, as a first aid antiseptic, an oral debriding agent, and as a sanitizer for household surfaces. As a pet owner, you can use this product to clean your dog's ear cavities, remove skunk odor, clean surface scratches, and scrapes, and keep your home dog odor-free, too. One can really find tons of efficient uses for hydrogen peroxide. This 16 fl. oz. bottle might not last you for long, though, especially since the solution is so efficient in your daily house routine.
Pros
Great for many uses
Ideal antiseptic
Great for de-skunking dogs
What are the Most Common Uses for Hydrogen Peroxide for Dogs?
Hydrogen peroxide has hundreds of uses. You can use it on humans, animals, and objects alike. Keep your kitchen counter clean, your bathroom sanitized, and your utensils free from bacteria. But if you are a dog owner, you can find uses for hydrogen peroxide too. Dogs can get dirty in many ways, and spread bacteria around the home. Put an end to it! Here are some of the most common uses for hydrogen peroxide for dogs.
Let's face it: dogs can be real stinkers, but if you're "lucky" enough to live in an area where skunks frequent, you'll soon realize what stench really is. If your pet gets sprayed by a skunk, mix 1 quart of 3-percent hydrogen peroxide, 1/4 cup baking soda, and a teaspoon of liquid dishwashing soap. Apply this with rubber gloves all over their coat (avoiding the eyes of course) and rinse them thoroughly with water, before applying shampoo for a much-needed bath.
Tiny scrapes, minor cuts, and all sorts of abrasions can be treated at home as long as they are sanitized properly so as not to get infected. Use diluted hydrogen peroxide (50/50 ratio with water) to keep wounds clean and allow them to heal quickly.
Remove bacteria and odors around the home
Bacteria can thrive on dogs. They get caught in a variety of hard-to-reach and secluded spots, and if left untreated they can multiply. Don't allow this to happen! With hydrogen peroxide a part of your cleaning routine, you can keep everything pristine and spotless. Add to detergent when you're washing particularly smelly or dirty pet stuff such as beds and cushions, or combine with hot water for a disinfecting floor cleaning solution.
We are committed to finding, researching, and recommending the best products. We earn commissions from purchases you make using the retail links in our product reviews. Learn more about how this works.

Angela Vuckovic
A proud mama to seven dogs and ten cats, Angela spends her days writing for her fellow pet parents and pampering her furballs, all of whom are rescues. When she's not gushing over her adorable cats or playing with her dogs, she can be found curled up with a good fantasy book.
More by Angela Vuckovic
Published February 25th, 2022 12:00 AM