459 Views
New Puppy Checklist – Everything You'll Need
February 24th, 2021 12:00 AM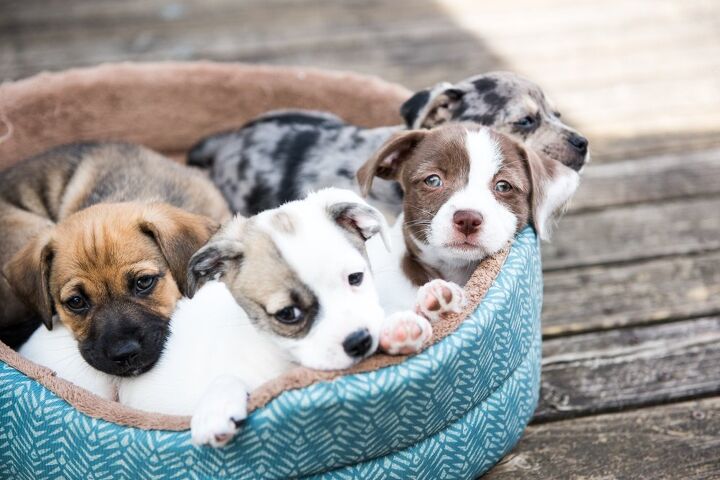 Getting your home ready for a new puppy is a big responsibility. Make life with your new puppy easier with these great products.
When you are preparing to welcome a new puppy into your home, the process has a lot of similarities to preparing for a new child. Puppies are essentially babies, and they are also new family members! Like human babies, puppies need a lot of stuff. New pups need food, bowls, treats, toys, and more. If you are looking for a: more ease, less stress approach to life with your new pup, be sure to check out this great list of recommended products.
Wellness Soft Puppy Bites Grain-Free Lamb & Salmon Recipe Dog Treats
Treats are an important component of puppy training for positive reinforcement. When considering which kind to purchase be sure to seek out treats formulated especially for puppies like Wellness Soft Puppy Bites Grain-Free Lamb & Salmon Recipe Dog Treats. These tasty, bite-sized treats are specifically formulated for dogs under one year of age. They are made from all-natural, nutrient-rich ingredients and are a natural source of DHA and Omega 3.
Nylabone Teething Pacifier Puppy Chew Toy
All puppies have the need to chew, so finding a good chew toy made especially for puppies is important. The Nylabone Puppy Teething Pacifier Dog Chew Toy is a great, durable toy that promotes healthy chewing habits with an added cuteness factor. This chew toy will keep your pup happy, busy, and entertained while promoting dental health by cleaning teeth, reducing plaque and tartar, and promoting proper oral hygiene. This veterinarian-recommend chew toy is designed specifically for the baby teeth of puppies up to 25 pounds and is not recommended for dogs or puppies with permanent teeth.
Frisco Fold & Carry Single Door Collapsible Wire Dog Crate
According to the American Kennel Club, most veterinarians, trainers, and breeders recommend crate training dogs from a young age. Crate training is an essential part of housebreaking puppies, and can offer a wide range of benefits, including safety factors and feelings of security. The Frisco Fold & Carry Single Door Dog Crate is a great choice that has been constructed to be strong and durable while providing your pet with safety, security, and comfort. It has a large single door that is easy to open, close and securely lock. There is a plastic base pan sits on the bottom of the crate that offers comfort and makes cleanup easier. There is also a divider panel that allows your crate to grow as your pup grows. This crate is easy to use, assemble and carry.
NexGard Chewables for Dogs, 10.1-24 lbs, 3 treatments (Blue Box)
It's the responsibility of pet owners to protect their pup from parasitic diseases. NexGard Chewables for Dogs is an easy to administer preventative, that does just that. NexGard Chewables are FDA-approved, veterinarian recommended medication that help prevent flea and tick infestations for a full month. NexGard comes in a beef-flavored soft chew. It's gentle enough to be given to puppies as young as 8-weeks old and dogs weighing as little as four pounds.
Purina Pro Plan Puppy Large Breed Chicken & Rice Formula with Probiotics Dry Dog Food
Considering which food to feed your puppy is an important decision. With so many options it can be hard to determine which food will be the best choice. You know you will be making a good choice with Purina Pro Plan Puppy Large Breed Chicken & Rice Formula with Probiotics Dry Dog Food. This food is formulated for puppies that will grow into large dogs (over 50 pounds as adults). Packed with protein and enriched with DHA from omega-rich fish oils and live probiotics, this food supports active growth, brain and vision development and digestive and immune health. This food contains essential nutrients to help your pup grow up strong, healthy, and happy.
American Kennel Club Fresh Scented Training Pads
Messes are inevitable, when housetraining a puppy, but you can add ese to the process with American Kennel Club's Fresh Scented Training Pads. These pads offer a learning pup an appropriate place to relieve himself, saving your carpets, rugs, bed, or furniture in your home. These highly absorbent disposable pads have six layers of protection and are infused with a quick-drying gel that helps eliminate leaks, tracking and odors. These make clean up easy and are versatile in their usage. These pads offer convenience and help keep your home sanitary and clean.
Nature's Miracle No More Marking Pet Stain & Odor Remover
Chances are your pup will have a potty accident in the house, so having a go-to product on hand for odor and stain removal is essential. Nature's Miracle No More Marking Pet Stain & Odor Remover is a great product that gets rid of stains and odors from your pet's territorial marking. Once sprayed it leaves lemongrass and cinnamon scent that discourages your pup from marking the same place again, while refreshing your house. It is beneficial to have a good product like this on hand for when you need it!
Wisdom Panel 3.0 Breed Identification Dog DNA Test Kit
Sometimes the breed or specific combination of breeds of your dog is a mystery when you bring your puppy home. But the Wisdom Panel 3.0 Breed Identification Dog DNA Test Kit is a tool that makes it easy to find out. Once you have this kit, all you need to do is swab your dog's cheek and send it off to the lab in a postage-paid box. You'll get a detailed report in 2-3 weeks. The information you receive from the DNA test includes detailed information about genetic breed risks for potential health problems. This includes the MDR1 genetic mutation test to check for multi-drug resistance that may cause severe adverse reactions to commonly prescribed drugs. The report includes a family tree going back to the great-grandparents and will detect whether your pup is a purebred or a mixed-breed.
If you're looking for the perfect toy to use for play and training, and that also satisfies your pup's instinctual need to chew, the KONG Puppy Dog Toy is a great pick. A KONG is a unique, long-lasting rubber toy that can be stuffed with treats, which can help develop and maintain positive associations and offer an appropriate outlet for instinctual chewing. The KONG Puppy Dog Toy is made of the softest all-natural rubber formula in the reputable KONG rubber toy line. It is specially designed to meet the needs of a growing puppy's 28-baby teeth while helping teach appropriate chewing behavior. The KONG Puppy Dog Toy is great for playtime too, with an unpredictable bounce, it is great for energetic puppies!
GoTags Personalized Stainless Steel ID Tag
A pet identification tag is a necessity to keep your pup safe if he were ever to run away or get lost. Once you find the perfect name for your new pup, creating a GoTags Personalized Stainless Steel ID Tag, is a smart choice. This tag durable tag is available in two sizes and has plenty of room customize it with your pooch's name, address, and emergency contact information.
When you are prepared with essential items to welcome a new pup into your home, you can focus more of your time and energy on the fun and enjoyment your new puppy will bring to your life.

Amy Tokic
Amy Tokic, Editor of PetGuide.com, is a passionate animal lover and proud pet parent of Oscar, a Shih Tzu/Chihuahua cross, and Zed, a Japanese Chin. Her love of animals began in kindergarten, when she brought her stuffed dog Snoopy into class with her every day. Now, she writes about her adventures in pet ownership and tirelessly researches products, news and health related issues she can share with other animal enthusiasts. In her free time, Amy loves perusing used book and record stores, obsessing over the latest pet products available and chasing squirrels with wild abandon (a habit attributed to spending too much time with her pooches).
More by Amy Tokic
Published February 24th, 2021 12:00 AM